Paisley's Lunatic Paupers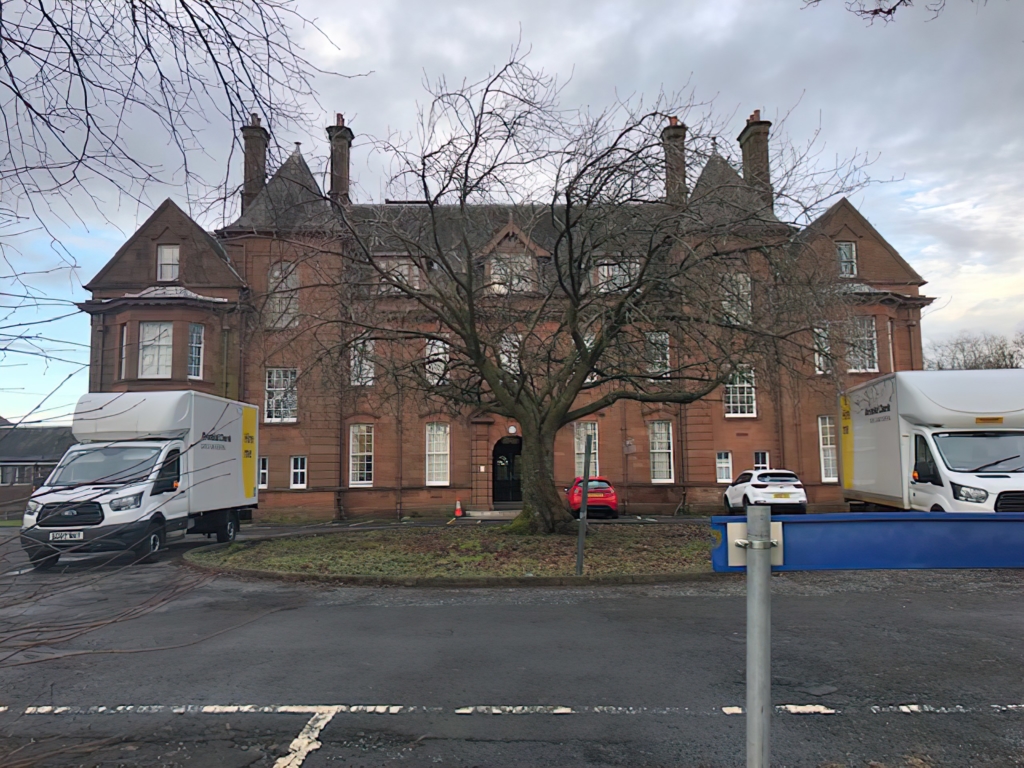 The Dykebar area of Paisley has an interesting history. Dykebar Hill, situated behind the Barrhead and Hurlet Road, was the site of a medieval fortress and, and during World War Two was one of around forty-three heavy gun emplacements built to defend Clydeside industry from Luftwaffe attacks.
Today, the area is synonymous with Dykebar Hospital. Founded in 1909 as Renfrew District Asylum, it was designed in the Scottish Baroque style by Paisley architect T G Abercrombie, whose other works include Royal Alexandra Infirmary, Paisley Grammar School, Wallneuk Church and the Territorial Drill Hall in Paisley High Street.
Dykebar has been cited as a highlight in Scottish Asylum design, one of the last remaining examples of the transformative village system of patient care. Rather than locking up 'lunatic paupers' (as they were then charmingly called) in a single institution and throwing away the key, the village system housed patients in different buildings on hospital grounds which they themselves sustained.
Male patients in Dykebar built vegetable gardens, greenhouses and potting sheds, and worked the adjacent farms growing potatoes and turnips, and raising cows, pigs and poultry. They ran tennis courts, a bowling green and aviary. Females patients worked the kitchens preparing food produced by the farms. They did the laundry and were dressmakers. The hospital had a cultural life centred around dances, concerts, films and Sunday services. The beautiful, tranquil grounds, its trees, walks and gardens were key therapeutic elements in patient recovery, and reports from the time state that the system worked 'not only as a means of supplying the asylum with farm produce and as an outlet for the labour of the patients, but in the interest it creates. The fact that the surrounding land is our own, and farmed by our own people, rounds off in a way unfelt before, the life of the Asylum Community.' Aside from the obvious gender stereotypes, it could be said that this system represented an enlightened period in the treatment of mental health, and is one of which Paisley should be proud.
However, like the Royal Alexandra Infirmary, and Paisley's former Drill Hall, T G Abercrombie's original B-listed buildings at Dykebar have fallen into disuse and neglect. The link between poor mental health, deprivation and poverty is well documented. Yet Dykebar Hospital today is a depressing sight, with patients surrounded by empty buildings and boarded up windows. The grounds and gardens are no longer tended or farmed by residents. Instead, the land has reverted to a mix of ancient woodland, lowland meadows and fens, an area of natural beauty used for recreation by the local community, a haven of peace and tranquillity in the midst of suburbia. The habitat supports several red and amber listed species of birds, including Redwing, Linnet, Song Thrush, Starling, Mistle Thrush, Grasshopper Warbler, Bullfinch, Dunnock, Reed Bunting and Kestrel, as well as Treecreeper, Jay, Tree Warbler, Chiffchaff, and Siskin, rare butterflies like Green Hairstreak, and amphibians like the Great Crested Newt. At dawn and dusk there are Roe Deer, Pipistrelle Bats and, if you're lucky, Badgers.
I am relatively new to the area and only recently discovered this beautiful wilderness on my doorstep. It was a matter of minutes before I came upon a group of Roe Deer. I then crunched over a frozen field to ancient Shaw Wood where I sighted my first Redwing. The light was copper, the sky a crystal blue, and the air pristinely fresh. In the seclusion of ancient trees, the only sound was of individual leaves falling from the branches and spiralling softly to the forest floor. Tod Burn trickles from the edge of the wood, past the former hospital playing fields, and through a valley overlooked by native trees. It's no surprise that some of the trees have Protection Orders; each is so distinctive it could only have grown into the landscape over many years.
Much of the talk around mental health emphasises a positive correlation between access to greenspace, and health and wellbeing. I was shocked, therefore, to find that the area around Dykebar is up for development. If plans go ahead, the Consortium of Barratt, Bellway and Cara Homes will demolish T G Abercrombie's B-listed buildings, as well as the surrounding trees to build 605 new homes. The NHS owns most of the land and is being forced to sell off its assets in a last-ditch attempt to prove its sustainability to those waiting with the carving knife. The development represents not only a loss of some of Paisley's best architectural and natural heritage, but the creeping suburbanisation and private takeover of the greenspace between Paisley and Barrhead. This will increase carbon emissions on already congested roads, put added pressure on overstretched education and healthcare resources, and lead overall to reduced quality of life. Locals will have to drive further afield to access greenspace, creating more emissions, gridlock and stress, or else stay in and watch YouTube with a bag of crisps, resulting in poor mental and physical health and more strain on NHS resources. Not to mention that existing Dykebar patients will be in the middle of a building site for the next seven years. Hardly therapeutic.
Local organisation, Save Paisley's Green Space, have lodged an articulate and evidence-based objection to the proposal, but there's no doubt people feel swept away by a ruthless tide of interests more powerful and remote than their own. I can't help think we're going backwards. The original concept of Dykebar is a lesson about how things could be if will-power and resources were applied in the right direction and for the genuine good of the community. The aim of the village system was to empower people, to remind them of how it feels to be a human and not a unit of industrial exploitation or, in today's parlance, a consumer. Wouldn't it be nice for all of us to rediscover how that feels?