The Rental Crisis in Corona Time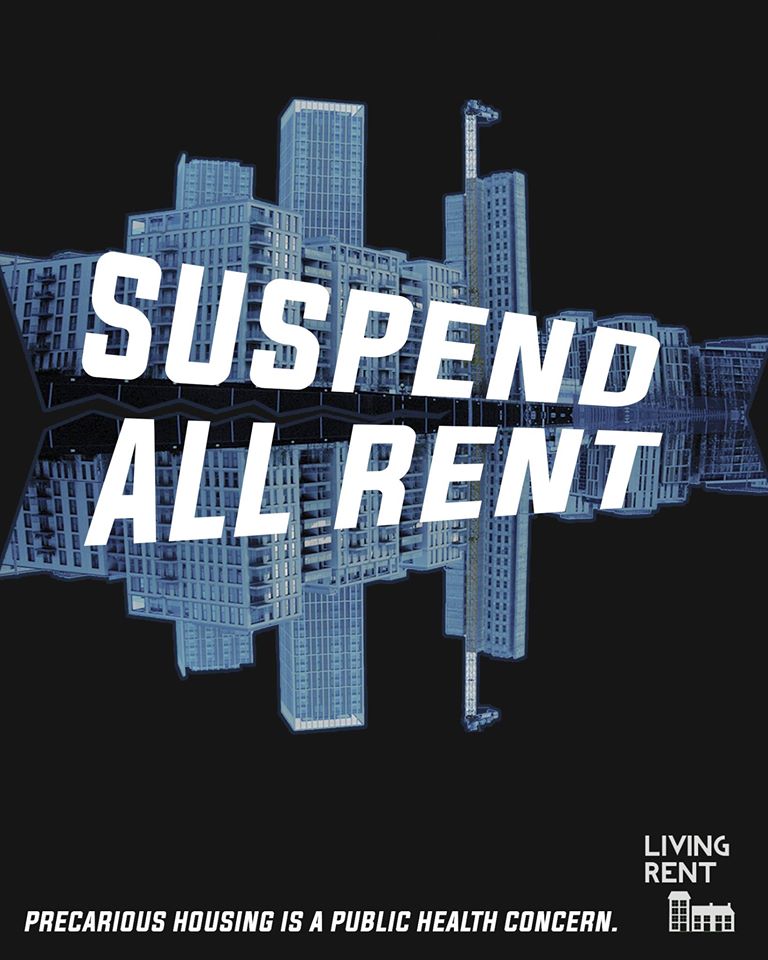 A unique situation. Unprecedented times. Force majeure. An act of god. Nobody saw this coming. Except for one enormous Covid-19 crisis racing onwards at speed, signposted with sirens: the chaos in rented housing.
With staff being furloughed from already poorly paid jobs, or being self-employed and paid nothing if they don't qualify for government schemes, a situation simmering for decades is boiling over. Rents are too expensive, and increasingly tenants are in debt to landlords. A perfect storm is here not just reality, but also, the perfect cliché. For decades, rents have been rising, work increasingly insecure and wages haven't kept pace. Shelter shared an infamous but increasingly relevant statistic that a chicken would now cost £51.18 if food had prices had risen to same febrile levels as rent.
Inevitably Scotland's property Tribunal will be gridlocked for some time. Meanwhile basic Holyrood policy seems to be, we won't evict you for a while, which isn't good enough.
Another entirely predictable crisis then: a mass of evictions due just as winter approaches, one answer is to ban all evictions in winter, as is the case in France. The SNP already reformed renting to allow for faster, less contestable evictions for non-payment of rent in return for increased security for tenants. But there are loopholes in the grand plan, such as the right for no-fault notice to be permitted 'if the owner wishes to live in the property themselves.' This is not policed, and is consequently abused: an acquaintance's landlady was possessed by a sudden desire to return to Glasgow from Surrey, not even pretending this wasn't a ruse to get rid of the tenants.
Many landlords recognise these are (unprecedented times klaxon…) unprecedented times, and can be reasonable. A newly unemployed friend has negotiated his rent down from £700 pcm to roughly £250. But that magic number is simply the cost of the landlord's mortgage payments, alongside a few expenses such as insurance. Profits in renting were once made from accumulating capital in increased property prices. Living Rent highlight bailouts for landlords.
Reliably, Labour have stumbled at an open goal. New leader 'Sir' Keir Starmer is already tacking rightwards under a light breeze, having chosen (as a human rights lawyer) to prioritise the 'human rights' of landlords. The Momentum left are outraged, but Starmer might have a valid point; it's not simple to cancel all outstanding rent debt. Housing lawyer Giles Peaker said on twitter, "Based on average rent, a full 'rent waiver' would cost £4.4 billion a month, on private rents. If we include social rents £6.4 billion a month. NHS budget is £11 billion a month. And yes, Govt would have to fund it."
A petition is being circulated, requesting the following: cancel, at the tenant's request, payments of rent, for any tenant experiencing any drop in income, cover, at the tenant's request, utility payments, for any tenant experiencing any drop in income, and halt all eviction processes due to failure to produce rent until employment stabilises. Independence supporting Green MPs are also on board with all that.
Rent debt deferral pushes the problem down the road. Few tenants have savings and renters are required to repay all rent missed over two years: the equivalent of a 12% rent rise during the worst recession for three hundred years. Universal credit is still limited to LHA rates, which were temporarily lifted for new claimants but not 'legacy' housing benefit claimants.
The amount of Labour, and SNP (not to mention Tory MPs) who are landlords, provides context to any political reluctance to enact real change. Tenants pressure group Living Rent say:
"The government's eviction ban is nothing more than a plaster; simply postponing a tidal wave of evictions that will engulf tenants when the lockdown is lifted. We need to ensure that everyone is protected and that housing remains the government's priority in defence against the pandemic. Our society is only as healthy as its most vulnerable members. The government must recognise the needs of renters — working people and families across the country. They must act to protect us now."
Another possibility is to accept that tenants cannot, and should not pay. While negotiating proper rent controls, and while building those beautiful Parker-Morris standard houses, cancel the debt to tenants, but register it as a charge on the property; when sold, this debt has a priority over any profits. Socialist Councillor Matt Kerr has the excellent idea of "… a buy-out rather than a bail out". That is a share of the profits in turn for a rescue package for rentiers.
We've once again put all our eggs in one financialised property basket (eggs which would cost £5.01 if food prices had risen at the same rate as rents.) There are too many small landlords, but also many corporate investors in the PRS. Tenants are in effect subsidising pensions for rentiers they will never have themselves. Remember too that it is not unusual for there to be no mortgage on the property tenants struggle to pay rent on. Over the past few years we've shifted from social to private housing, until recently sold below costs straight into the hands of private, even corporate landlords. This means not just that tenants are struggling, but this cost is covered by housing benefit (LHA and universal credit.)
Disaster capitalists and investors are circling to make the world even better suited to financialised property. A better answer is a massive social housebuilding programme, proper low rents, and genuine security.