The Golden Jobbie and Richard Branson's Victoria Street Folly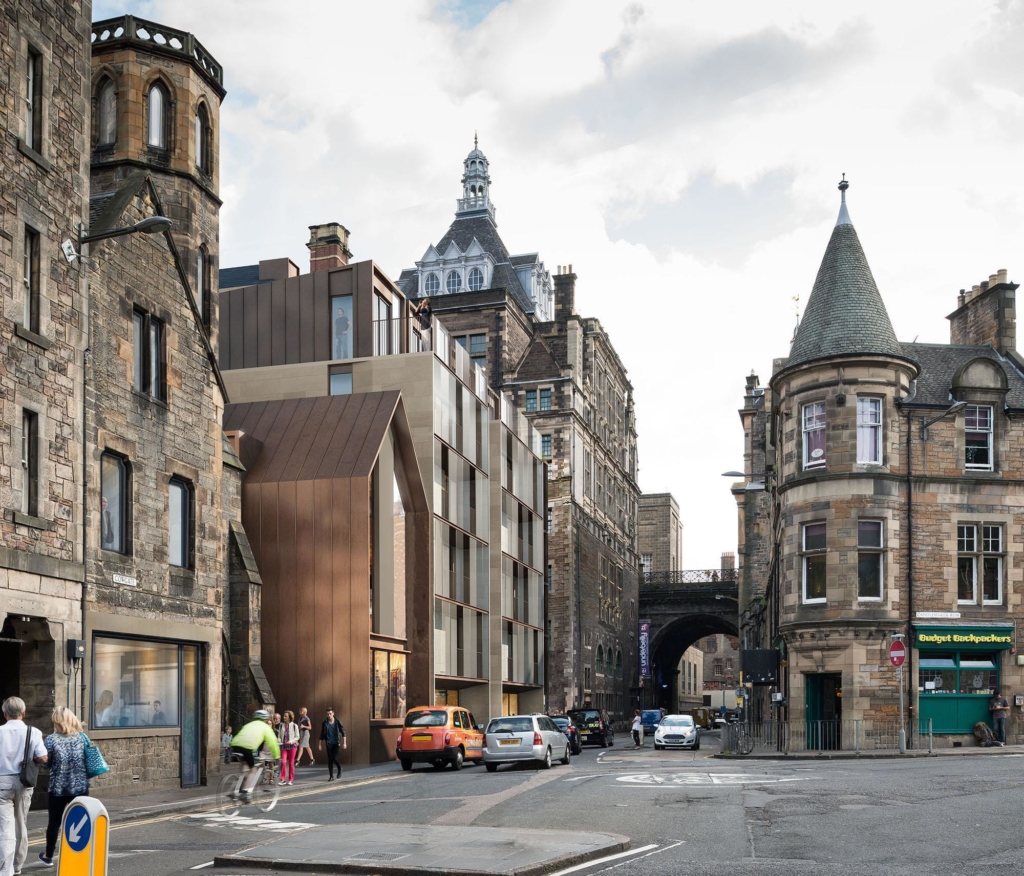 This is the third in a series on ARCHITECTURAL MODERNISM AND THE DEATH OF THE SCOTTISH IDENTITY an investigation by David J Black. Read part one here, and part two here.

And so to Tynecastle Park, home of Hearts FC, where the Planning Appeals Tribunal prepared to jalouse Duddingston House Properties et al versus objectors to their plans for the former Royal High School. On the Medici wing, a gaggle of lawyers, at least four of whom had once toiled in the vineyard of Donald J Trump.
One of this quartet was in absentia. John D Campbell QC had opposed wind turbines Donald felt threatened his views. His pleadings were blown away by the UK Supreme Court. He would later write an opinion for DHP, possibly not reflecting so well on his chairmanship of the Scottish Historic Buildings Trust. Those present who'd served Trump's cause in Aberdeenshire were Gordon Steele QC and lawyers Ann Faulds and Mark McMurray. All were now rooting for Rosewood.
The phalanx of witnesses lined up for the developer compared to the pro-bono contributors on the other side suggested that the appellants and their backers were up for a fight, so the reporters might just concede another Earthy style subversion of democracy. But who would the victors be? The name on the can was DHP and Urbanist, and the operator Sonia Cheng's Rosewood Hotel Group, but might there be others?
You bet. One named co-investor was Oaktree Capital Management of Los Angeles, whose principal, Howard Marks, is admired as a market guru. Apart from the Royal High School Oaktree's eminence gris had many other properties on his mind, what with his 30 room 'Versailles in the Sky' $52.5 million Park Avenue duplex, the $75 million spread he sold in Malibu which enabled him to buy a $23.7 million house in Beverly Hills, as well as its neighbour for a mere $9.7 million, and his $30 million ocean front haven at The Hamptons. Presumably this burden of ownership must entail lots of jetting around in Oakwood's Gulfstream 550.
Unlike the project's architects and the developer's legal team, Mr Marks has no Trump hinterland. Indeed he'd donated $200,000 to the (hopefully named) Hillary Victory Fund in 2016, exemplifying the sort of big-money dominance failed to woo voters in those rust belts where Trump triumphed.
In the cloud-capp'd towers of global finance there is much fluidity. In March 2019 62% of Oaktree was acquired by Toronto-based Brookfield Asset Management, though Marks and his colleagues retained 38% of the company and general control of Oaktree's day-to-day operations.
Once again events fall under the penumbral spell of the Trump magic circle, Brookfield having taken a 99 year lease on a New York skyscraper with a diabolical address (666 5th Avenue) for which the Kushner family had paid $1.8 billion prior to the 2008 crash. This bailed out Trump son-in-law and adviser Jared Kushner. The deal had involved drawing on the sovereign wealth funds of Qatar, a major investor in Brookfield, while Kushner had championed Saudi Arabia and the UAE which were blockading Qatar for allegedly aiding terrorists. Tricky. PR oil was duly poured on troubled waters.
Brookfield CEO of almost 20 years, former Ernst & Young accountant Bruce Flatt, had simpler needs than Mr Marks. Home for many years was a loft in New York's Tribeca which he sold for $1.87 million in 2012 – peanuts, in Lower Manhattan. He owns other New York properties, an apartment in London, and a 'modest' (Globe and Mail) brick house in Toronto.
Given his wealth, Platt is no lavish spender, grants few interviews, and apparently travels by subway. His company, however, commands stretches of skyline from Toronto to Sydney. As the biggest office landlord in London and central Los Angeles, it also owns Berlin's Potsdamer Platz and London's Canary Wharf. In total, Brookfield owns 14,200 hotel rooms, scores of shopping malls, and some 400 million square feet of commercial space in 35 countries. Mr Flatt is perhaps unaware that he now has a slice of the action in Edinburgh, such is the scale of his global demesne, though Brookfield's Glasgow-born Chief Finance Officer, Nicholas Goodman (formerly with RBS Real Estate) may be familiar with the Temple on Calton Hill.
Unravelling ownerships in the cosmology of global investment is no easy matter. It would seem that, thanks to a 'Scottish Limited Partnership' the 'person of significant control' at the Royal High School is now not so much DHP's Bruce Hare or Urbanist's David Orr, but an entity identified as Ocm Luxembourg Epf lii S.A.R.L. controlled by a fund identified as Oaktree Capital Group Holdings GP, LLC, itself absorbed into Mr Flatt's global behemoth, with its canny instinct for a distressed asset. The entity's voting rights are somewhere between 75.01% and 100%. If that figure seems a bit approximate, those in doubt could always check it with Ann Faulds' appeal colleague, Mark McMurray, who allegedly helped set things up.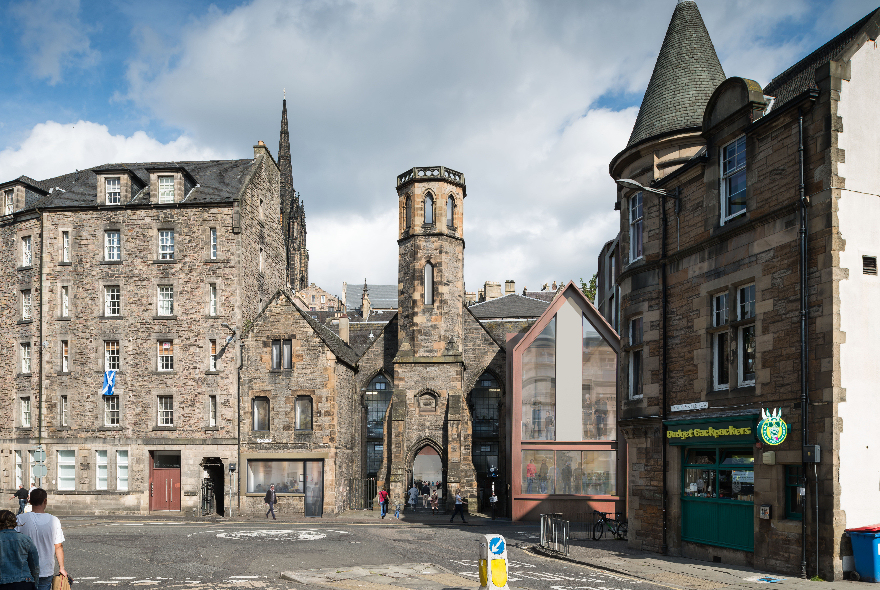 The problem for urban activists is often identifying one's adversary. In the case of the Royal High School the council opposed the hotel proposal not once, but twice – the second time unanimously – so we can't blame our councillors. We could, however, seek to persuade Bruce Flatt that his distressed asset is really a toxic asset, a tactic employed by SAVE Britain's Heritage in 2012 when the developer later acquired by TIAA, Henderson Global Investors, had proposed a rather nasty scheme for London's Victorian Smithfield Market. 'Follow the money', a catchphrase made popular by All the President's Men, was the cue for taking the fight elsewhere. According to The Guardian;
'In a first for architectural conservation, a UK heritage group has set its sights on persuading global asset management firms based in North America – to respect British architectural heritage. "The more we discover about the ownership – behind the Smithfield markets site, the more international the story becomes" said Save director, Clem Cecil. "Conservation battles will increasingly become international " – – '
The ploy worked. Tory minister Eric Pickles became an unlikely folk hero when he sent the developer packing, though Smithfield's gain would become Edinburgh's loss. The same developer rolled up at the St James Centre and received a £61.4 million subsidy from – I admit this bit is hard to believe – Labour and SNP politicians! Perhaps some anticipate being wined and dined in the Golden Turd. TIAA increased its 60% stake in Henderson to 100% in 2015, so is thus the name in the frame, even if it off-loaded 75% of the St James Development to Dutch fund APG in 2016, having failed to persuade Australia's largest pension fund to chip in.
With TIAA, following the money leads us to CEO Roger W Ferguson jr, Appointed Depute to US Federal Reserve Chairman Greenspan by Bill Clinton in 2006, but later beaten to the top job by Ben Bernanke, he became Bernake's so-called 'Rambo regulator'. A Trustee of the Endowment for International Peace, the National Bureau of Economic Research, and the New America Foundation, ex-head of financial services for Swiss Re and ex-McKinsey partner, he chaired the Committee on the Global Financial System, a central bank panel that monitored financial markets. He was also on Obama's Economic Recovery Advisory Board and the influential 'Group of Thirty.' His 2018 compensation as CEO was just over $5.3 million, though he had other sources of income, such as $410,708 he received as a director of Google parent, Alphabet inc.
Colleagues who had at various times a responsibility for TIAA's corporate governance included company president, ex-White & Case attorney Rob Leary, as well as Marta Tienda, Princeton's Maurice P. During Professor of Demographic Studies, and Robert C Clark, Austin Wakeman Scott Professor of Law at Harvard and former Dean and Royall [sic] Professor of Law at Harvard Law School. The company even had a chief ethics officer, Janice Innis-Thompson, ex-colleague of former Attorney General the late Janet Reno. We're talking power-list here, folks.
If chucking a £61.4 million bung at a rich corporation in North Carolina and the sequestration of the Royal High School are national scandals, the appropriation of land beside Edinburgh's Carnegie Library is no less so. Following the money in this case leads us to some interesting places.
At one point the Library was to be the £10.5m jewel in the crown in the world's first UNESCO City of Literature, and a 2002 conservation report suggested its listing status be raised from 'B' to 'A'. It took our sleekit local authority a mere fifteen years to act on this listing recommendation, which was conveniently triggered after a deal had been made between the council and Jansons.
Jansons had already trail-blazed Edinburgh's mid-range hotel sector with its 259 room 'SOCO' hotel development South Bridge. It picked up A-listed India Buildings in 2014 from Royal Bank of Scotland Real Estate Management after an earlier investor's plan had been sucked into the vortex of the notorious 'Global Restructuring Group' of RBS. Andy Jansons was no one-man-band, but a joint venture adjunct of what he described as a 'private family' partner, the William Pears Group.
This 'private family' controls an array of companies and subsidiaries whose complexities would bamboozle most quantum physicists. It keeps a low profile. Family founder Bernard Schleicher was a refugee from anschluss Austria who set up a greengrocer's business in Hackney, changing his name to Pears in 1939, apparently in honour of the fruit. His son Clive married a Glasgow electrical dealer's daughter, Clarice Castle, and their sons Mark, Trevor, and David now run what is believed to be a £6 billion property company, though exact figures are somewhat elusive in this case. Estimates of the number of properties they own in Britain vary from 10,000 to 40,000, which doesn't take account of their overseas interests.
Their privacy was invaded in 1998 when The Sunday Times Rich List revealed that Ma Pears was richer than the Queen. This might not have been so bad had it not coincided with unhelpful stories running in the press about the methods used to increase the value of the Pears property empire, such as informing elderly residents of a London mansion block that unless they agreed to a 200% hike in their rents they might lose their homes, which could then be upgraded for yuppies.
The Pears group was also active elsewhere. German journalists using, among other things, the Panama Papers, exposed a subfusc network in Germany, Luxembourg, and Denmark which allegedly owned thousands of Berlin properties. It seemed that in 2017 the brothers had received $53 million in rents and sales from these assets, while paying a mere $197,000 tax on that income, thanks to a labyrinth of shell companies in the British Virgin Islands, Cyprus, and other havens.
Pears' Telereal subsidiary bought 63 top properties from RBS in 2007, including the Strand HQ of the Queen's bankers, Coutts. RBS needed dosh to buy ABN Amro – cue the 2008 crash – and had reportedly offered a 10% discount on the disposal. The transactional ballet of Pears is dizzying – it made a reported $100 million from Facebook's flotation, and cleaned up on a PPP deal with the DWP. Eat you heart out, Diaghilev – your Ballets Russes doesn't even come close!
The buyer of the public land behind the Carnegie library, Dreamvale Properties Ltd, which had Andy Jansons and the Pears brothers as directors, staged a 'members voluntary liquidation' in March 2018, disposing of its interest to newly incorporated AJHoldco 1 Ltd, which had as sole director Mr Jansons. By the time the transfer of the asset was made it had enjoyed an uplift in value of some £1.5 million, rather calling into question the council's original 'best value' realisation.
Meanwhile a company registered in offshore Guernsey in October 2017 as 'India Buildings Limited' entered the fray along with venture capitalists Flemyn LLP. Described as an 'active equity company – with significant shareholder control over another company' India Buildings Limited appeared to be effective owner of the land and buildings which, in February 2018, it was announced would accommodate a Virgin Hotel.
The purchase of land which had formerly been reserved for the expansion of the library, much of it held on the city's 'Common Good Account' and therefore a subject of municipal stewardship, rather than ownership, had been a cynical asset-stripping ruse by a council which manifestly valued a cash opportunity over a cultural one. In this case, as in St Andrew Square, no regard had been paid to binding EU regulations which required that an Environmental Impact Assessment should have been carried out, while Edinburgh World Heritage Trust sold the pass yet again, ludicrously declaring that a proposed 11 story hotel in the very heart of Edinburgh Old Town would have no effect on the 'Outstanding Universal Value' of the UNESCO World Heritage site.
This wasn't the only act of collaboration. The council's own environmental officers had recommended against granting consent, since air quality in the Cowgate which already breached internationally accepted standards could only be made worse if high buildings were introduced, putting at risk the health of the public. It wasn't just councillors who ignored the recommendation. Government regulator the Scottish Environmental Protection Agency offered no comment, in effect giving the project the go ahead. Even Dr Stephen Dixon, head of Friends of the Earth Scotland and a member of the SEPA board, remained silent.
India Buildings was a quirky 1865 structure on a steep angled site on Victoria Street. An 'Old Flemish' variant of Scots Baronial, it had been a registry office until 2005, and the scene of many joyous weddings. It had been bought for conversion to a backpackers' hostel by Duddingston Developments (unconnected with Duddingston House Properties). consent being granted in 2006. An amended application for a boutique hotel was later lodged in the name of Gregor Shore.
The 2008 crash then arrived, thanks in great measure to the recklessness of RBS, which needed a £46 billion bail out from the taxpayer to save the UK financial system. With Gordon Brown's government stuck with a majority stake in a failed bank there followed one of the most egregious barefaced scams in banking history. Amazingly, the miscreants would get away with it. The government wanted to return RBS to private ownership to recoup at least some of the bail out costs. Leveraging share value was paramount, and the means of achieving this would be unscrupulous.
An action programme, 'Project Dash for Cash', kicked in with a special RBS unit, the 'Global Restructuring Group' (GRG) which, in the wake of the crash, could undertake a desktop revaluation of business lending on a 'loan-to-value' basis, void existing contracts, and restructure loan arrangements on terms so punitive that borrowers could be bankrupted. The GRG ostensibly existed to 'turn around' small businesses, but was really just a modern variant of those Cornish wrecker gangs of yore which lured ships onto the rocks before relieving them of their cargoes.
Once in a state of irretrievable distress, businesses which had been viable until falling into the hands of the GRG jackals were then sold on to another RBS group, West Register (Realisations) Limited. It was a hand in glove operation. GRG head Derek Sach was also on the board of West Register from 2004-2011. This was a clear conflict of interest, and a form of insider trading, but it was the approved modus operandum. Government oversight in the matter was fatally compromised by the fact that a division of HM Treasury, the Asset Protection Agency, had been pressurising GRG to come down hard on many of the 16,000 or so business customers which had fallen into its clutches. Britain, it seemed, had turned from a democracy into a kleptocracy. Shadow Treasury spokesman Clive Lewis later referred to this manifest sting operation as 'the largest theft anywhere, ever.'
But here's an odd thing. The head of the hotels team at the bank's so-called 'distressed assets division' or 'real estate work-out vehicle', West Register, was RBS director Duncan Poole, who had led the acquisition of over 50 hotel properties during his time there. In November 2011 he changed jobs, becoming a director at the William Pears Group as head of investment in its hospitality sector. Poole left RBS just a few weeks after West Register assumed 50% ownership of 24 Jarvis Hotels which had gone bust after the group's lenders (led, would you believe, by RBS!) had seriously restricted its cash flow by calling in its loans before term. Nice one, Dunkie!
The average punter, of course, saw none of this. The man in the limelight was now brandmeister extraordinaire Sir Richard Branson, who dropped into town in March 2018 and made much of the fact that his wife was Scottish, while his grandparents had lived in Edinburgh. This was all true – indeed his great, great grandfather, the Revered Charles Jenkins, had been Rector of St James the Less Church, Inverleith, and you don't get much more Edinburgh than that (unless you're Joan Baez, whose grandfather was Rector of much more chic St John's on Princes Street) – yet this cosy local spin couldn't conceal the fact that the UK's 7th richest person had spent 12 years living on tax-free Necker Island nursing his estimated £4.7 billion fortune.
Sir Richard's supporting acts at his India Buildings meet-the-press do included Scottish government minister Alasdair Allen and fellow hotel owner the Rt Hon Lord Provost Frank Ross – though how the latter ever got his mits on the civic chain is a mystery, given that he was famously censured for omitting his Highland hotel from the member's register of interest. Ross's favourite hobby-horse for a while was that we don't need library buildings much these days since we can dowload books on-line, and the council did indeed later cancel all subscriptions to newspapers and magazines in the reading rooms, presumably to drive down footfall so that they could do yet more asset stripping.
Another unconcealable fact was that Sir Richard's Virgin brand, rather like the moniker of the White House disinfectant enthusiast, was primarily a name over a door. While there was indeed a Virgin Hotel Group with Sir Richard as a director incorporated in London in 1993, and a recast in 2010, current operations are conducted from an HQ in Coconut Grove, Florida under CEO Raul Leal, with the first Virgin Hotel opening in Chicago in 2015.
There have been a few group hiccups. Virgin Nashville was meant to welcome its first guests just over a week ago, but has had to mothball it until later in the year; in San Francisco, where it operates under a hotel management agreement (and the coffee shop is called 'Funny Library'!) it is litigating with property owner Jay Singh; its New York construction site has been plagued by problems and delays, while Edinburgh will no way be meeting its 2020 target opening date.
The wider context also has to be considered. While it is unlikely Sir Richard will be selling The Big Issue outside King's Cross anytime soon, he's nonetheless begging the government to prop-up Virgin Atlantic – not an easy touch for an airline that's 49% owned by Atlanta-based mega-carrier Delta, and whose 51% public face is a billionaire Caribbean tax exile.
To staunch the cash haemorrhage and keep the ailing carrier in business he is selling 25% of his space tourism company Virgin Galactic (coronavirus on the moon, anyone?). The hotel trade is just as susceptible to collapse as the long-haul airline business, neither of which are in any shape to stage a medium to long term recovery. This begs a tough question. Might Virgin be fucked?
Future trends are not easy to discern at this point in the cycle, but the sectors taking the biggest hit after lock down will undoubtedly include the hotel trade. The Golden Turd, the 'Mickey Mouse Ears' Rosewood Hotel on Calton Hill, and the Branson-branded Virgin Hotel in the Old Town might not, in the last analysis, turn out to be so much sprightly unicorns, as deadweight white elephants with no viable purpose.
The fates are now waiting in the wings. As far as the Royal High School is concerned, the planning appeal reporters, after a long, costly and tortuous consideration of angels and devils on the head of a pin, issued a case update on May 11 stating 'The report and recommendations are being finalised and is (sic) expected to be issued soon to Scottish Ministers.' Might the axe be about to fall? And even if not, are there any Holyrood politicians so foolish that they would be prepared to defy two decisions of an elected council, sabotage a music school simply to further enrich plutocrats like Bruce Platt, Howard Marks, and Sonia Cheng, and wreck an A listed building which the SNP described in 1994, when the UK government proposed selling it off, as 'a national monument which should be kept for the people of Scotland and must not fall into the hands of private developers'.
As to whether The Golden Turd and Branson's folly in Victoria Street will ever deliver a profit, only time will tell. I wouldn't be betting on it if I were you, though.