Freedom's Song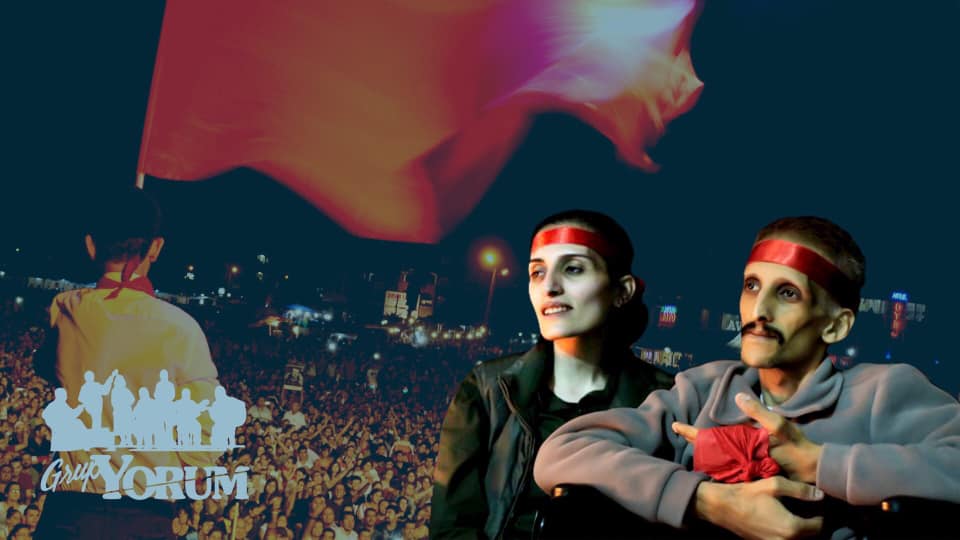 Freedom's song – solidarity with the musicians in Turkey's prisons
Can music start a revolution? The Turkish Government clearly thinks so, to judge by its treatment of the radical socialist musicians who play as Grup Yorum. The group was started by four university friends in Istanbul, in 1985, in what group members describe as the 'dark period' following the military coup of 1980. Their politics are firmly Marxist-Leninist, and expressed through platform speeches as well as in the subjects of their 'contemporary folk music'.
Grup Yorum's huge following demonstrates the strength of the desire for radical socialist politics, if not necessarily for their particular form of socialism. For their 25th anniversary concert in 2010, 55,000 people packed into İnönü Stadium, singing revolutionary songs along with the performers. And the annual free concerts that they began the following year drew in hundreds of thousands.
Nobody joining such a band expects an easy life. Concerts have been banned and albums seized, and group members have been arrested, imprisoned, and tortured. Despite this, there have always been other people ready to take their place.
In January 2016 their free concert was cancelled at the last moment, and group members arrested; and after the failed coup attempt later that year, which Erdogan has used as an excuse to crack down on all opposition and critical voices, repression faced by the group became even harder. Further concerts were banned, and the musicians were reduced to giving snatch performances from pick-up trucks and rooftops. The last three years have seen their cultural centre raided by police some eight times.
Group members were accused of membership of the Revolutionary People's Liberation Front (DHKP – C), which Turkey considers a terrorist organisation. Some were arrested; some sought asylum outside Turkey. The bassist, İbrahim Gökçek, who was arrested in a police raid on the centre in February 2019, wrote in an article for the Morning Star,
'Here is why we are on the list of "terrorists:" we are singing songs about the miners who have to work seven floors down below the earth, the workers who were killed in workplace accidents/murders, the revolutionaries who were killed under torture, the farmers whose habitats were plundered, the intellectuals who were murdered, the dwellers of the slums pushed to poverty, whose homes were demolished, the oppressed Kurdish people and those who resist oppression. Doing so means "terrorism" in Turkey.'
The prosecution case was based on anonymous witness statements, and a witness who incriminated Gökçek has (too late) asked for his statement to be withdrawn as he was forced into signing a distorted version of events.  The musicians may have dedicated songs to revolutionaries past and present, but their only weapons have been their instruments and their voices. As Gökçek explained: 'We didn't kill people. We sang songs. Damn this system'.
In the spring, five of the imprisoned musicians declared a hunger strike. In the same Morning Star article, Gökçek listed their demands:
'the bans on our concerts must be lifted; the raids to our cultural centre must be stopped; arrested members of our band should be released and their legal cases must be dismissed; and our names should be taken off of the list of terrorists.'
A hunger strike is a last resort to bring an issue to wider public consciousness. I had hoped, after writing about the mass hunger strikes to break the isolation of Abdullah Ocalan last year, that I would never have to write about a hunger strike again. This time, two of the musicians took their action right through to the bitter end, though neither wished to die. The singer, Helin Bölek died on the 3 April, aged 28. Before she died, she said, 'I would end my hunger strike action if the
y promised to let us have a concert'.  Gökçek died on 7 May, aged 39, two days after ending his 323 day fast. On 5th May Grup Yorum had put out a statement declaring, 'Our resistance has achieved political victory. The whole world has heard about our resistance. We hope that our concert application will come to a positive conclusion.'
But there has been no softening from the Turkish Government. Indeed the funerals of both musicians faced brutal police harassment and arrests, and three members of the band, including Gökçek's wife, are due to appear in court on terrorism charges on 20 May and 6 June. But the name of Grup Yorum has certainly gained a new reach. Opposition parties have spoken up in their support – the centrist CHP as well as the pro-Kurdish leftist HDP – and musicians across the world have played songs of solidarity. There have even been articles in the Guardian.
An additional reason for the government's persecution of Grup Yorum is that sometimes they sang in Kurdish. Over the last three decades, restrictions on the use of Kurdish had loosened a bit, but recent years have seen a renewed crackdown and the closing of Kurdish cultural and civil organisations. Singing in Kurdish, especially pro-Kurdish songs, is a risky occupation. No-one knows this better than Nûdem Durak, a young singer from Cizre, who is five years through a nineteen-year prison sentence
Durak comes from a poor family, and was so passionate about her music that she was given her mother's wedding ring to sell to buy a guitar. She dedicated her young life to singing and to teaching Kurdish folk songs to local youth music groups. As she explained on a short film made by al Jazeera, when she had already been accused and feared she would be arrested at any time: 'Singing in Kurdish is my heritage from my ancestors… my only crime is making art.'
The prosecutor claimed, as they always do, that she was involved with the PKK. Accusations of terrorism are the default mode of attack for anyone the government wishes to be rid of, whether they are artists or democratically elected HDP politicians who are thus denied any avenue for constitutional opposition. But, as her lawyer says on the same film, 'even singing an ordinary Kurdish song can be a crime'. She, too, was found guilty on the basis of statements from anonymous witnesses.
As if a nineteen-year sentence were not bad enough, the prison regime has been made deliberately harsh. In 2018, Durak wrote to her supporters:
'As the days go by, the conditions become more and more difficult, our living space becomes narrower and narrower. Our fundamental rights, to which we are legally entitled, such as the right to visit, the right to telephone, the right to receive a letter, etc., are violated.' 
Her guitar has been broken and her books confiscated. But, like so many Kurds for whom resistance has become a way of life, she was determined not to let this brutality change her. 'They can take everything from me, but never my tongue or my voice!' she wrote. 'I spoke about peace in all my songs and I will continue to do so.' And she sent a smiling photograph from the prison yard, marked on the back, 'Despite all that, to laugh is beautiful'.
Last year, Durak was one of the thousands of prisoners who took part in the hunger strike for Ocalan, which may have left her with weakened health. There are reports that she is not getting proper treatment for her thyroid condition, and the spread of Coronavirus to the crowded and poorly-cleaned prisons gives added grounds for concern. (Violent criminals were given early release in response to the pandemic, but political prisoners have remained inside.) https://bellacaledonia.org.uk/2020/04/20/turkeys-political-prisoners-face-a-potential-covid-19-death-sentence/
These accounts of Turkish oppression are harrowing. They are also a sign of the desperation of a government that is losing power. However, things may get worse before that power is lost completely, and pressure has to be kept up to ensure that what comes next is better. Members of Grup Yorum claim that 'those who make the folk songs of a nation are more powerful than those who make their laws'.  They are powerful because they articulate and magnify a common voice that refuses to be supressed. It is a voice that speaks for oppressed people everywhere; a voice that international solidarity can help to make stronger.
Solidarity links:
For Grup Yorum: https://freegrupyorum.wordpress.com/ and https://www.facebook.com/freegrupyorum
For Nûdem Durak: http://songfornudemdurak.org/en/ and https://www.facebook.com/songfordurak/
There are videos from both Nûdem Durak and Grup Yorum on the internet, including the whole of Grup Yorum's 25th anniversary concert.