Hard Graft with Prince Charles and Priti Patel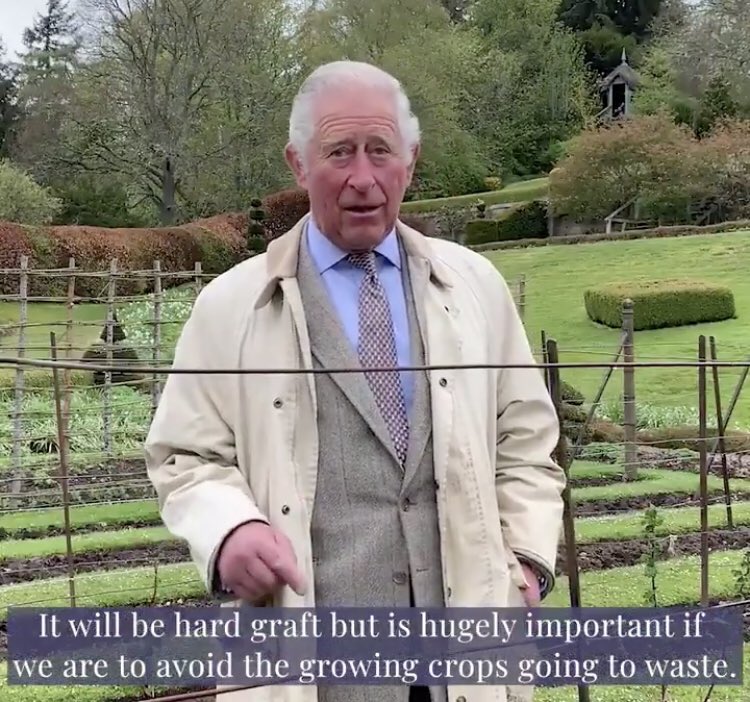 The relationship between Brexit fever (remember that?) and the Corona virus is unknown. Tests are still being carried out. I'd like to suggest that those who wanted a return to imperial measurements may be struggling with the two-metre social distancing rules, but it's Kindness Week, so I'll withdraw that conjecture. But certainly "Lift the Lockdown" seem to have more than a whiff of "Take Back Control" and even something of the now gladly faded Keep Calm and Carry On meme.
England's descent into a sort of maudling shambles of Word War memorabilia has been rapid, but the process has a long tail.
Back when the last time our industrial food system caused spiraling uncontrollable disease, there was talk of our 'National Herd", and even our "National Flock" as if we were some flapping hive of red white and blue-blooded beasts contained only by the White Cliffs of Dover to the South and the Red Wall (or something) to the "North".
Now that batty old cove Prince Charles is insisting we 'Pick for Victory". Prince Charles called upon "pickers who are stickers' to join a national effort to help farmers with the "unglamorous" job of harvesting fruit and vegetables. Charles backed the Government's initiative to bring UK workers and farmers together to ensure crops are not left to rot in the ground during the coronavirus outbreak.
The Daily Express and others enthusiastically backed the idea spouting; "In a message to all Britons (sic), Charles likened the "vital" project to the Women's Land Army, which helped boost Britain's food production during the Second World War."
There's a sort of cheery undertone to much of this madness.
You almost expect Kirstie Allsopp to pop-up with a new show called Exploitation Exploitation Exploitation, sporting a covid Cath Kidston pinnie and talking you through recipes for Rat Soup.
The dark irony of Brexit Britain having food rot in the ground because we have ejected the migrants workers who used to do this work for a pittance is sobering, as is the solution that people should do this as volunteers. The notion that people should be paid properly seems to be unthinkable in CoronaBrexit Britain.
Whilst New Zealand considers "snapping forward" to a four-day week, Britain is still, relentlessly, hurtling backwards with a death-rattle that they mistake for a war-cry.
Of course crops rotting in the ground isn't just a blow to an already fragile rural economy and a complete waste, it's a national disgrace with the FareShare network of food redistribution organisations groaning under the strain of food poverty.
FareShare's annual report 2020 describes rising need as benefit claims and unemployment soar because of the virus.
The report said they redistributed more than 24,000 tonnes of in-date surplus food from the food industry in the last financial year, a 26% increase on the previous 12 months and the equivalent of 1 million meals a week. This was used by thousands of charities, including domestic violence refuges, breakfast clubs, food banks and community centres. In just one week in April, more people signed up to volunteer to sort, pack and deliver food for FareShare than in the whole of last year.
Hunger and poverty amplified by the virus lands in a society already disfigured by inequality and into a food system already at breaking point.
The myth of a Global Britain, the slogan of the Conservative Brexiteers whose coup of the party and the government now looks like a sad pyrrhic victory and their ideas like a lonely fiction. Like the triumphant Barack Obama promising Hope and then walking into a landscape of economic despair in 2008, the Brexiteers have arrived into a world with a very different topography than they anticipated. You can visit the Sunny Uplands for exercise but only with people from within your household.
The Guardian's Op-Ed is brutal:
"The world into which Boris Johnson thought he would be launching his country on exit from the EU is not the one in which it is now adrift. Borders have closed; trade is disrupted; blame flies between nations and regions. Tension between Washington and Beijing simmers close to boiling. Even before Covid-19, UK foreign policy was warped by delusions of national grandeur. Mr Johnson's plan was for Britain to be a champion of international free trade, thwarting protectionism by the power of its open-market example. These delusions can be seen in the plan for minimal border checks on trade between Great Britain and Northern Ireland. Eurosceptics hailed the recovery of Britain's seat at the World Trade Organization as if it were a sovereign crown. In reality, that restoration is no compensation for the loss of a seat at European council summits and the surrender of influence over the regulatory architecture of a continental trade bloc. Whatever the UK can achieve in the WTO will be of second order compared with what it must first negotiate in Brussels and Washington, where it is the smaller, and therefore weaker party."
Not only has Britain changed but so too has the notion of "global".
Yet still they go on.
Never mind the astonishing prospects of Brexit still being played out to the backdrop of the global pandemic, we are now faced with the very real possibility of a No Deal Brexit resulting in World Trade terms. The government made it clear that it will not seek an extension to the Brexit transition period on 31 December – and has been clinging to that brutally stupid position with grim and stoic determination.
As that prospect looms the Conservatives are charging ahead with their legislation: Home Secretary Priti Patel brings her immigration bill to the House of Commons for its second reading on Monday.
The shadow Home Secretary Nick Thomas-Symonds has accused the government of "rank hypocrisy" for closing the door to low-skilled immigration while cheering NHS workers. Thomas-Symonds wrote to Patel saying:
"I believe the government's plan to rush through this immigration legislation is an insult to our incredible NHS staff and care workers. It is, frankly, rank hypocrisy from the government towards EU nationals – over 180,000 in England and Wales alone – who are currently working in our NHS and in the care sector, for ministers to stand and clap for them on a Thursday night, and then tell them that they are not welcome in the UK on a Monday."
Back in February when Patel announced her legislation she told TV news, that "8 million people between the ages of 16 and 64 were economically inactive" and could be given the skills to do jobs in sectors where there were shortages as a result of the new points-based system.
This is Prince Charles Land Army writ large. In times of crisis we really do come together as a country don't we?