The Ramadan Iftar During Coronavirus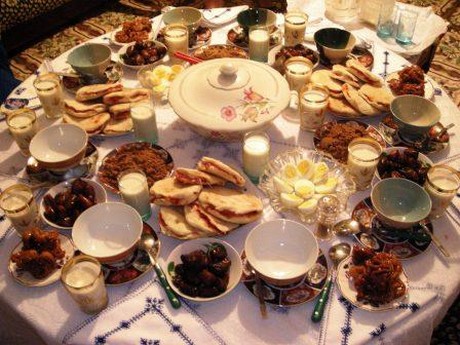 Fasting for up to 20 hours a day in the midst of a global pandemic is far from ideal. But as observant Muslims around the world have discovered this Ramadan, breaking the fast with a socially distanced iftar meal is even harder.
"It's important to feel connected physically and spiritually [during iftar]," said Susan Mubarak, a blogger based in southern Oman. "We are all in this together, fasting together and breaking the fast together… With the current pandemic, all those happy gatherings are distant memories."
Due to coronavirus, Mubarak's 2020 iftars have shrunk from painstakingly coordinated feasts shared with over thirty family members to quiet, two-course dinners with her husband and toddler. Zoom iftars, which have gained popularity around the globe as a way to break the fast virtually, are out of the question in her tight-knit tribal community, where many elders distrust the technology.
Intimate family gatherings like Mubarak's are among the smallest to disperse under lockdown. In Madison, Wisconsin, the weekly community iftar dinners that bring together the city's ethnic groups have been cancelled through the end of the month, said Nada Elmikashfi, a candidate for Wisconsin's 26th state Senate District. Madison's annual Eid Celebration, which marks the final breaking of the fast at the end of Ramadan and which generally attracts thousands of people, is likely cancelled as well.
Even traditional iftar foods have fallen victim to pandemic cancellations. Due to yeast shortages in Wisconsin supermarkets, the Sudanese cheese-filled fatayer pastries Elmikashfi loves are off the table this year. Missing specialties like fatayer are more than just absent flavors; in many households, the preparation of the iftar spread is as significant as the meal itself. According to Mubarak, even choosing the type of dates with which to break the day's fast is an "art form."
"Three-fourths of iftar is making it, since you eat so little because your stomach shrinks [while fasting]," Elmikashfi said.
The cancellation of community iftars is especially demoralizing for fasters who can't afford to cook their own meals and those who live alone or with non-Muslims. Without the solidarity of a live-in family, iftar becomes a lonely event, said Ifrah Mansour, a multimedia artist based in Minneapolis, Minnesota. Mansour is the only one of her roommates who observes Ramadan; although she usually breaks the fast at her sister's house, their shared meals are now confined to Facetime.
Celebrating alone can encourage observers to look inward and focus on the key values of Ramadan without the distraction of big events, but even this spiritual growth is usually tackled alongside friends or family during Ramadan, said Yasmin Elgabry, a preschool teacher quarantined by herself in Istanbul.
Although she was raised Muslim, Elgabry started observing Ramadan more intentionally last year, partnering with a friend who also wanted to deepen her relationship with Islam. The two began their journey together, studying the significance of prayers they had thoughtlessly memorized as kids and planning simple, traditional iftars. This year, the two are quarantined in separate countries and Elgabry said she misses the mindful Ramadan traditions they shared.
"One reason people go to the mosque is to be around other pious people – so that God will see you making that good choice to be around other good people," Mansour said. "People are missing that; we are alone, with our somewhat diminished karma bank."
Although coronavirus has changed her iftar traditions, Mansour said she is heartened by the communal resolve to respect social distancing during a holiday that emphasizes togetherness. Ramadan is a time to reconnect with fellow Muslims, particularly elders, who are now isolated for their own protection. As disappointing as iftar cancellations may be, it is a sign that people are upholding the spirit of Ramadan through acts of charity, one of the core values of the holiday.
"If 'rona comes to threaten our favorite elders, we're willing to sacrifice what we want and need the most – which is human connection, food and [time with] our loved ones," she said.
This Ramadan spirit is shining through in unconventional iftar meals and innovations.
Mosques that usually offer free iftar potlucks have pivoted to delivering meals to those in need, even extending their services to non-Muslims. Mansour began hosting a virtual scroll-making workshop, where she encourages participants to turn to poetry for the companionship they're missing this year. From her Istanbul apartment, Elgabry said she can hear the shouts of street merchants offering to deliver big, circular loaves of Ramadan pide bread, a Turkish specialty. On May 12th, Elmikashfi Zoomed into Wisconsin Governor Tony Ever's virtual iftar meal – the first hosted by the Governor's office in state history.
When Evers wished the nearly 300 attendees "Ramadan kareem salam," it was an emotional moment.
"If you had told me when I graduated high school that I would hear the Governor of Wisconsin go to the [trouble] of setting up a Zoom call for iftar, I would have called you crazy, because it was unprecedented," she said.
While social distancing has disrupted the neighborhood-wide community ifars common throughout Morocco, for many this distance has emphasized the individual's personal relationship with spirituality said Othman Moufid, an English teacher based in Fes. Simplified iftars of traditional Moroccan harira soup and baghrir pancakes, shared with one's quarantine mates, are an important reminder: "You don't need to be in gatherings to feel gratitude."