Lockdown Measures Ignite Trauma Triggers for Domestic Abuse Survivors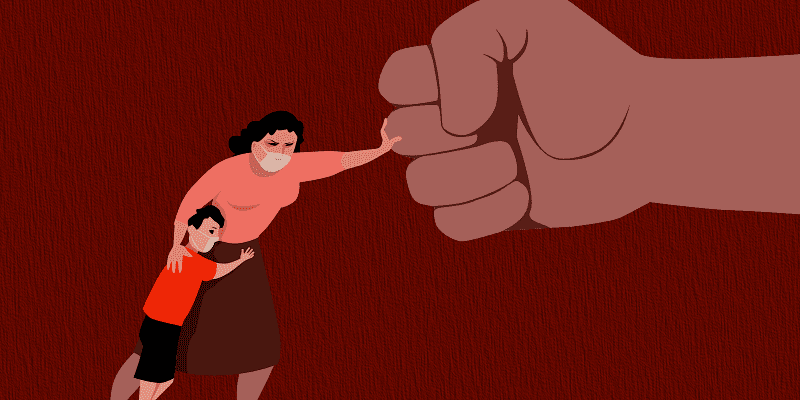 Almost a week after lockdown measures were enforced in the UK, I still couldn't get out of bed. What had once been an anxious level of denial in the days leading up to the announcement, whereby I would leave the room whenever anyone tuned into the news or discussed the impending doom, was now the overwhelming melancholy that came with acknowledging the inevitable.
Occasionally I wept dramatic tears or was compelled to leave my bed to anxiously smoke, but I mostly felt entirely numb; miserable but calm. I had disassociated. Eventually, with the gentle cajoling of my housemate, I began to function robotically enough to uphold the basic social norms; eating, showering, cleaning. Browsing social media I, like many others were inundated with running commentaries detailing communal grief, supported with hollow slogans assuring me that "we are all in this together". This didn't comfort me. I felt disconnected from everyone, like my suffering was segregated by something unfamiliar and unrelatable to most.
This might seem self-indulgent, however activists have rightly pointed out that whilst we are all in the same storm, we certainly are not all in the same boat. How an individual can comfortably negotiate the terms of a global pandemic is largely dependent on their varied social privileges; economic comfort, access to green spaces, existence or lack of racial barriers, physical safety, mental health vulnerabilities. One unexpected consequence of the Covid-19 epidemic was the heightened awareness of Domestic Abuse, highlighting how the physical safety of those still living with their perpetrators is at increased risk, evidenced by the 20% increase in referrals to Domestic Abuse services since lockdown began. Here I realised the reason why I had responded so devastatingly to the lockdown measures: whilst as a Domestic Abuse survivor who no longer is at risk of her perpetrator my physical safety is currently maintained, but my mental health as a Domestic Abuse survivor is still vulnerable.
For Domestic Abuse survivors like myself trauma continues to affect our everyday lives in innumerable ways. Trauma can present itself and influence conditions at emotional, physical, cognitive, behavioural, social, and developmental levels, including but not limited to; memory loss, anxiety disorders, depressive disorders, personality disorders, flashbacks, anger, IBS, weakened immune systems, substance misuse, suicidal tendencies and self harm. Emotionally, my symptoms of trauma include; panic attacks which at their most frequent can occur multiple times a day, depressive episodes that immobilise me for weeks, comfortable states of disassociation, long term memory loss and difficulty focussing, an inability to make simplest decisions, nightmares, flashbacks, low self-esteem, diminished trust in others and paranoia. Physically I experience insomnia, loss of appetite, delayed periods, shaky hands, a clenched jaw, bleeding gums and painful teeth. These symptoms can culminate over a time and become habitual, or can happen spontaneously when triggered by specific events. Many situations trigger me, such as returning to my hometown, whereby I routinely experience a panic attack as soon as I exit the M18. However seemingly unrelated situations can trigger me also – the Corona Virus appeared to be one of them.
Actually, it's quite a logical response. I spent years living in a reality where the world was unsafe, and it took months of therapy to become open to the idea that the world might not be entirely bad after all, only to have my initial theory confirmed by a global pandemic – the world is unsafe and scary. After further reflection I realised that lockdown conditions feel oppressively like being in an abusive relationship.
Take for example, the factors of Coercive Control:
Isolating you from friends and family?
Depriving you of basic needs e.g. food?
Taking control over aspects of your everyday life, e.g. where you can go, who you can see?
Depriving you access to support services, e.g. medical services?
Repeatedly putting you down, making you feel like you're worthless/a danger to others?
Controlling your finances?
Making you feel hopeless and dependent?
Making you question what's real and what isn't (Gaslighting)? Check.
Triggered by this unparalleled similarity, lockdown transported me to a time where I was powerless, helpless and under the control of my ex-partner. It felt like my abuser was in the same room with me. I subconsciously began to revert into habits associated with that period; an inability to make decisions for myself or leave the house without experiencing panic attacks, further isolating myself from support networks and regressing into comfortable yet unhealthy coping mechanisms like self harm, and drinking too much.
In the absence of formal therapy, it took an immense amount of internal willpower to emerge from this episode, and reflecting on those initial weeks of lockdown, it's hard to identify a single turning point. The realisation that that lockdown measures whilst necessary, exemplified how the government continues to prioritise physical health over mental health reignited my drive to advocate for myself and others Domestic Abuse survivors. For me, this meant breaking lockdown rules discretely to go on long hikes from my door to the Peak District. Instead of becoming consumed by trauma I reinforced a healthy coping mechanism and spent the never-ending days both physically and emotionally safe. Some criticised me for this, but only in a context where mental health is not prioritised, is enforcing lifesaving strategies perceived as selfish. Recovery from trauma isn't linear, fluctuating progress and regression is normal, and knowing that prevents bad episodes feeling like personal failings.