Around the World In 80 Songs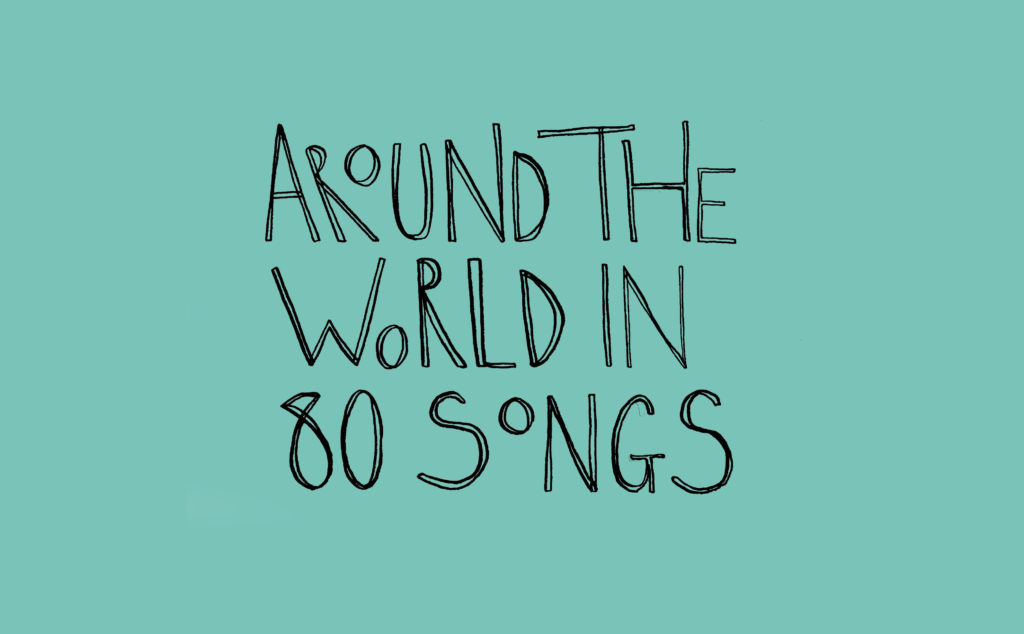 Around the World in 80 Songs was a particularly enlightened, drunken idea that my partner and I had one night in the pub – remember the pub? We recommend listening to this playlist whilst considering your nearest available globe. See if you can follow the route that we have taken.
So. Starting in Scotland we have 'Mad Cow' by 90s Glasgow band Swelling Meg, fronted by the hefty talented Cora Bissett. A sort of demonic spell of a song, it featured on a well-loved mixtape that rattled around in the car when I was a child. Next, we go to ethereal Faroese singer-songwriter Eivør's 'Trøllabundin'. The Faroe Islands are sort of like Shetland, but more.
Up to Iceland with a song from Emiliana Torrini and the Colorist Orchestra's collaborative album. Next is 'Hide from the Sun' by the mysterious Goat (pictured above), who are, at least allegedly, from Sweden. Käppee, by the Finnish Värttinä – one of my top five favourite 'shouty female harmony' bands, and the first of several to appear on this playlist. Next, spindle-shanked Danish duo Powersolo's 'Boom Babba Do Ba Dabba'. Not particularly "Danish" sounding, granted, but certainly good for a kitchen disco.
Then we have 'Hocus Pocus' by the Dutch and yodelling Focus, in to an aptly titled 'DEUTSCHLAND' for Germany, by Rammstein. Warsaw Village band's 'In the Forest' takes us in to Slovakia's Bez ladu a Skladu – credited as being one of the bands that contributed to the fall of the Iron Curtain. High praise for a band who's lead singer was only 13 years old at the time of formation.
For the Ukraine we have chosen 'Vesnu' by DakhaBrakha. This is a wonderful, theatrical band with a good KEXP session and excellent millinery. Next we have Argatu', a DJ from Romania who deals in lively mixtures of old and new, the dissonant 'Kaval Sviri', opening song from surprise hit album 'Le Mystere des voix Bulgares', Greece's Grigoris Bithikotsis with 'Drapetsona', and from Slovenia, 'Vračanje' by SKM banda.
For Italy we have chosen Adriano Celentano's nonsense song 'Prisencolinensinainciusol'. Written in a faux-English gibberish, the song sounds phonetically like American English, but is more a funky kind of glossolalia and is, ironically, rather sillier than Swiss jazz and electronica musician Brino Spoerri's 'The Silliest Tune'. Next France, and the 60s cool of 'Contact' by Brigitte Bardot. French/Spanish Manu Chao's 'Mentira' takes us out of Europe and in to Northern Africa, with Innov Gnawa's 'Bangara'.
The next two bands, hailing from Algeria and Mali respectively, fall in to the genre that is being described by some as 'Saharan Desert Blues'. A fusion of North African folk rhythms and Western Guitar-God-Rock, it is a genre of music whose wellspring is the nomadism and territorial conflict of the region. If you like this music, I would recommend the album 'Music from Saharan Cellphones'.
For Senegal we have Etoile de Dakar's 'Thiely'. Next Ghana, and Ogyatanaa Show Band's insanely groovy 'Disco Africa'. Niger, and more 'Saharan Desert Blues' with 'Eghass Malan' by Tuareg band Les Filles de Illighadad. Next, I couldn't decide on one Nigerian piece, so I didn't. I chose two. First, perhaps a slightly obvious choice with Fela Kuti's 'Water No Get Enemy' and second, William Onyeabor's 'Body and Soul'. Cameroon, and we have the oft imitated 'Soul Makossa' by Manu Dibango, who sadly passed away earlier this year. That takes us to the Democratic Republic of Congo and from Konono No1's collaboration album with Batida, 'Nlele Kalusimbiko'.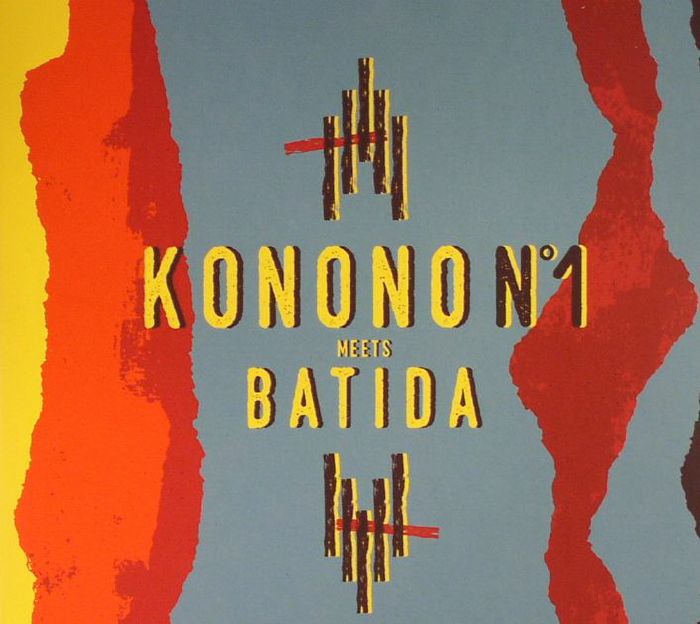 We were a bit spoiled for choice with South Africa, but decided to go with Keleketla!. 'Future Toyi Toyi' is a heavily political song, featuring the distinctive chant and stomp of the Toyi toyi – a war cry / dance used in the struggle for democracy in South Africa.
In Zimbabwe we have the Bhundu Boys and 'Foolish Harp', then the Zambian MC and poet Sampa the Great's 'Energy', Kenyan Nairobi Matata Jazz's 'Mapenzi Hayana Daktari' and in Ethiopia we have Mulatu Astatke's 'Yèkèrmo Sèw'. I would highly recommend the album 'The Story of Ethio Jazz'.
Right, that was Africa. Well, a tiny, tiny, minuscule taste of it, being the continent with the most countries in the world and the second most languages. On to the Middle East, and Yemen – a country currently being pounded by bombs sold to Saudi Arabia to the tune of £6.2billion by our very own government. Please sign this petition. This is 'Jat Mahibathi' by Yemen Blues.
Next, we have part-Bahraini psychedelic band Flamingods with 'Rhama', the Israeli Megaphonim with 'Megaphon', and two for Turkey with Altin Gün's kaleidoscopic 'Goca Dünya', and highly regarded poet of the Turkish folk tradition Asik Veysel with 'Kara Toprak'. Then the beautiful 'Sallana Sallana' by the Kurdish Ayse San, and the moustachioed "Godfather of Iranian psychedelic rock", Kourosh Yaghmaei with 'Havar Havar'.
Up to Georgia, and we obviously had to have some polyphonic singing. This is a popular table song called 'Shemodzakhili' performed by the Tsinandali Choir. For Russia we decided to go with the Soviet-Russian singer, legend and meme Eduard Khil, perhaps more commonly known as the Trololo Man. This song is the happiest thing that I have ever heard outside of a Disney film. Our apologies to the 'stans. We really tried to find something good, but Soundcloud is inundated with terrible remixes.
So, Afganistan it is, and Usta Rahim Khushnawaz & Gada Mohammad's 'Leili Kodam ast be nok-e bam ast'. Pakistan, and the mighty Nusrat Fateh Ali Khan's 'Mustt Mustt'. (Jeff Buckley cited Khan as a major influence). Two for India, we've gone with 'Roked' by the Rajasthan Express (pictured below), and 'Jaan Pehechaan Ho' by Mohammed Rafi, which you know from that advert. Then Jyotirindra Moitra, from Bangladesh, and a rather large leap up to the Mongolia-Russia border with Huun-Huur Tu's 'Ancestors'.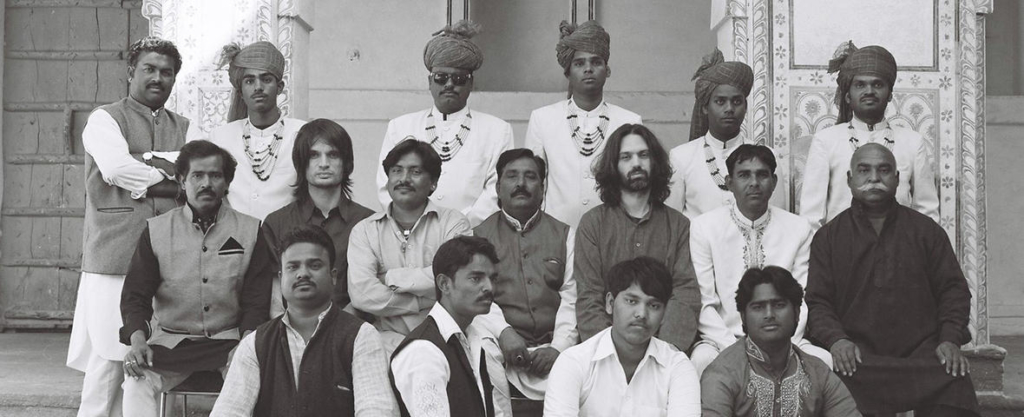 You might have noticed we quite like psychedelic rock, and for Japan we have chosen Kikagaku Moyo's 'Dripping Sun'. Down to Taiwan and the elegant voice of Chyi Yu. In China we have gone with VaVa's 'My New Swag', which – while in many ways is quite a classic rap song – uses several traditional Chinese instruments. For Thailand we have street band Khun Narin who were discovered by an LA music producer through YouTube.
From Cambodia we have Ros Sereysothea's 'Penh Jet Thai Bong Mouy'. Cambodian Surf Rock was a short-lived but prolific genre, with a bloody end. Inspired by the music they heard over American Forces Radio, many of the artists involved in making Cambodian Surf Rock disappeared or were brutally killed by the Khmer Rouge. In Indonesia we have 'Candle Light', by Benny Soebardja and Lizard. This is on a compilation album of underground Indonesian psychedelic rock called 'Those Shocking Shaking Days'; rock and roll was kept underground by the strict censorship of dictator Suharto. Then in Australia we have the embarrassingly productive King Gizzard and the Lizard Wizard, with 'Sleepdrifter'.
South America, and Chilean polymath Victor Jara. Jara wrote beautiful music about love and peace, and was ultimately tortured and killed by Pinochet's regime. Let it never be forgotten how scared fascists are of music and poetry.
Argentina, and Nathy Peluso with 'La Sandunguera'. There is so much good music from Brazil, but we have gone with 'Baiana' by Barbatuques and 'Take Me Back to Piaui' by Juca Chaves. Yet more psychedelia in Peru, with 'Sonido Amazónico' by Los Mirlos, opening track of the compilation album 'The Roots of Chicha'. Ecuador, with Nicola Cruz's 'Cumbia Del Olvido, Venezuela with kooky singer-songwriter Devendra Banhart and 'Carmensita', and that takes us in to the Caribbean and Trinidad and Tobago with 'Calypso Queen' by activist and the 'mother of Calypso', Calypso Rose.
Two for Cuba: 'Melao De Caña' by Celia Cruz and of course 'Chan Chan' from Buena Vista Social Club; one for Haiti with 'Iko Kreyòl' by Lakou Mizik, and two for Jamaica with 'Ay Ay Ay' by Nora Dean, and the perfect song for a summers day: 'Bam Bam' by Sister Nancy. In Costa Rica we have the adorable Walter Ferguson with 'Rumba en Cahuita', and in Honduras – a song that sounds straight out of a Tarantino soundtrack – 'La Sirena' by Los Robbins. Mexico, and we have gone with the Mexican-American Santana and 'Jingo'.
The USA. This was difficult. We have started with fellow Woodstock attendees Crosby, Stills, Nash & Young and their counterculture anthem 'Ohio'. We are accustomed to some of the most widely listened to musical genres emanating from North America. This is partly because of the countries cultural and economic power, but also because the country itself has been an immense melting pot. We continue with genres born of African American culture, with blues from R.L. Burnside and 'Let My Baby Ride, then on to a jazz and hip hop fusion from Guru's Jazzmatazz, and finally the clearly Celtic influenced Shady Grove by Doc Watson. This takes us to French Canada and Le Vent du Nord.
Almost home now! In Ireland we have 'The Butterfly' by the Bothy Band, which also made an appearance on that well-loved mixtape from my childhood. Then in England we have British folk rock band Fairport Convention with 'Matty Groves', a song reminiscent of almost all English folk rock songs, and we arrive home with DJ Dolphin Boy's 'Diddly Tasters'. Have a kitchen ceilidh, you've earned it!
[another version of the playlist is on Spotify with some of the songs that I couldn't find on Soundcloud]