To the Islands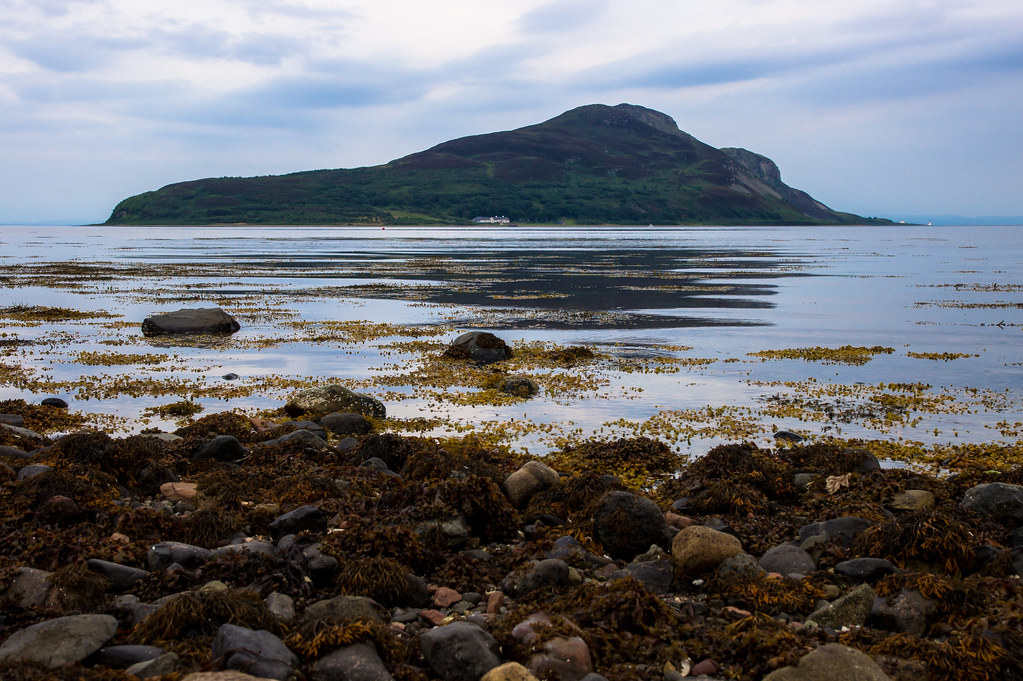 Lamlash is the second largest village on the Isle of Arran; home to just over 1000 inhabitants, as well as the first community-led no take fishing zone in Scotland.
Facing onto the Ayrshire coast and the sanctified shores of Holy Isle, its bay gently curves round to the horizon; a sand-filled crescent moon from Clauchlands Point to the outer edge of the neighboring village of Whiting Bay.
There are no street lamps, and not enough traffic to even warrant traffic lights. The solitary main road winds its way through the village, and, at certain points of the day, hours can go by without a single passing car. At night, the air is quiet with an almost sacred quality to it. The sky is a rich, enveloping, opaque darkness, save for the tiny pinpricks of light from the cottages along the distant shore, and the intricate map of stars up above. With no light pollution, each constellation can be seen clearly from the village below, in a way that no observatory or photo can quite do justice.
It was here I saw my first constellation; the Seven Sisters; Pleiades; anchored in the night sky above the ocean. My grandfather pointed them out to me as we stood outside his house after dinner. I must have been only seven or eight at the time, but even then, I could appreciate the lucid magnitude of what I was seeing; the chance to steal a glimpse into a world outside of our own and the awesomeness of existence in itself. As we silently stared at the heavens, waves crashed onto the pebbled beach before us, un-locatable in the darkness but reassuringly present.
I am immeasurably lucky to have grown up half on an island and half in the city. My childhood memories are ones time-stamped with summers spent with legs dangling off the end of a pier, and autumns trudging through damp forests. For as long as I can remember, sights that are, for many, a once in a lifetime experience were part of my daily life. My world was so saturated with natural beauty that I, at times, took it for granted.
As of July, it will have been seven months since I last crossed the sea to Arran, and six months since I've seen my grandparents, who made the island their home long before I was born. It is the longest length of time in my life that I've been away from the island, and from them.
Arran's response to the Covid-19 pandemic has echoed that of her fellow Scottish islands; a cautious, guarded approach, conscious of the fact their communities are isolated, remote and, crucially, home to a largely aging population. Day-tripper and holidaymakers have rightly been prohibited from making the journey across, and even family and regular visitors have not been allowed passage. To keep their communities safe, only permanent residents or key workers have been allowed to sail over.
And for Arran, these precautions have paid off. With only a handful of isolated cases, the islands and its villages have managed to keep the virus, which had the potential to tear through its aged and vulnerable population, suppressed. Sealed off from mainland Scotland, the sea has offered a natural barrier against the pandemic.
From the middle of July, however, this unique protection will be put to the test as Scotland reopens our tourism sector, provisionally from the 15th.
There's a bitter sweetness here, in that while we recognise how important our islands' remote location and inaccessibility have been in keeping them safe, they rely on tourism, particularly during the summer months, to keep them afloat. Without the usual footfall of tourists to stimulate their economies, countless local businesses are struggling to survive, and many have been left with uncertain futures, as they contemplate the likelihood of a year's worth of trading lost to the virus. With island living in normal times becoming increasingly expensive, over recent years many locals have been forced to leave their family homes, as the cost of living became too high. If unchecked, the economic fall-out of Covid-19 shall undoubtedly exacerbate this already existing problem.
There doesn't seem to be a simple solution to the dangers opening up our islands poses. Estranged from the island, but with loved ones still there, recent scenes from various parks and campsites showing the debris left behind by visitors has filled me with a quiet dread at the prospect of this level of disregard being unleased elsewhere. More than ever, we will need to put our trust in strangers to keep the communities they visit safe; to appreciate that what may be a fleeting beauty spot for them, is a home and livelihood for others. There is a profound responsibility in this, and one that I hope we can rise to the challenge of upholding.