Historical Role-Playing Games and Myths of the Furlough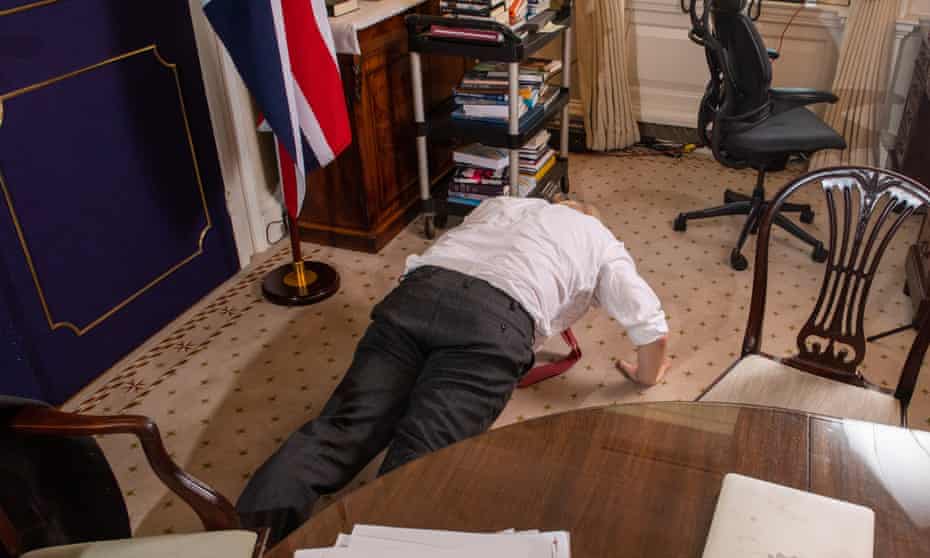 I'm liking the PM's new parlour game for the lockdown. It's called "Which Historical Character Shall I Be Today?". Early days Johnson tried out "Jesus" with ink spilt by scribes on how he had a miraculous recovery, faced adversity, became a new man, and had a cathartic experience, a covid epiphany. The code was clear enough. If we had previously thought of Boris Johnson as a lying racist sack of shit with all the scruples of a hyena, we should now reconsider him as a more exulted character, a kindly leader, risen again.
Next up Boris tried "Churchill", which worked a bit better, both being racist Tories he and his spinners had at least some common denominators to play with. The redoubtable Boris defending the White Cliffs of Dover against the Bosch, or something. This was worked on for a few weeks as the death-toll mounted, now, today, the switch was to Franklin D Roosevelt, architect of the New Deal in the crisis of America's depression.
Predictably the farce of the Prime Ministers latest cosplay quickly unraveled under the slightest scrutiny.
The SNP said: "On Monday the Scottish Government proposed the UK needs £80 billion of investment to meet the challenge of #COVID economic recovery. That would've been 4% of UK GDP – in line with Germany's plan. Boris Johnson's "New Deal" is £5 billion of repackaged Tory plans – 0.2% of GDP."
Others pointed out that the £5 billion New Deal announced by Boris Johnson is the equivalent of 14 weeks worth of the £350m a week we were promised for our NHS in 2016.
Marina Hyde quickly destroyed him in a quickly-penned piece here.
Even the BBC – whose Political and Economic Editors had been fluffing Johnson's announcement on Radio Scotland's Lunchtime Live show – had a fact-checking service that quietly destroyed his ridiculous announcements.
British political commentators, those on the inside track anyway have developed ways of describing Johnson's announcements with colorful euphemism. This collage of lies and disinformation was described as "broad-brush".
There was little for Scotland other than some over-reached hyperbole about the furlough. The PM blathered that the Union remains an "incredible partnership" that has "more than shown its worth" during the coronavirus crisis, a claim that defies any sentient understanding of what's unfolding. The furlough (and wider handling of the crisis) of comparable countries – like Denmark, Ireland or New Zealand is well worth comparison, but it contradicts the vainglorious assumptions of morbid unionism.
The Prime Minister said it was the "might of the United Kingdom Treasury" which had saved jobs and businesses through the furlough scheme before announcing a study of "cross-sea links" around the four nations, a sly reference to the ridiculous bridge between Scotland and Northern Ireland that gets sporadically wheeled out on a three month rotation.
The claims about the great stability the UK represents through the covid experience are further undermined by breaking news from the FT's intrepid John Burn-Murdoch that the "The UK government's published numbers of new cases at local authority level only include pillar 1 and *not* pillar 2 cases, meaning as many as 90% of new cases are missing from the data."
What does this mean?
Public Health England publishes a weekly breakdown of the two categories: tests from hospitals, known as Pillar 1, and tests from commercial labs that process at-home and drive-through tests, known as Pillar 2. Pillar 2 is, unsurprisingly more comprehensive.
Burn-Murdoch and colleagues explain: "According to published data for Leicester, the city recorded just 80 new positive tests between June 13-26. But health secretary Matt Hancock revealed that there were in fact 944 as he announced the decision to tighten the lockdown in Leicester, closing non-essential shops and ordering schools to shut to all non-key worker pupils by Thursday."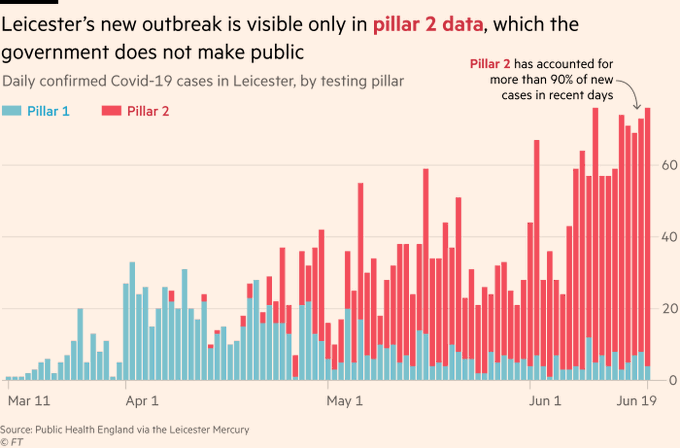 Who knows if the information about this unfolding public health disaster is mismanaged deliberately to sugar-coat the scale of death for political gain, or whether they are just so incompetent they just don't know their R rate from their elbow?
It looks increasingly likely that the UK government is deliberately concealing as many as 90% of new coronavirus cases in England, and that that decision was taken at ministerial level.
In this context, and with the good news that we are now in the fourth day in a row with no confirmed COVID deaths registered in Scotland, it's imperative that the Scottish Government control the border and monitor incoming flights into Scotland. Even if there's a political price to pay for this it is the morally right thing to do given the information we have.
So who should Boris play next at "Which Historical Character Shall I Be Today?".