Saturday Howff – Away with the Birds and the Three Degrees
howff /haʊf/. A favourite meeting place or haunt, especially a pub.
Welcome to the Howff, Bella's boozer for the cultural void and your lounge for the lockdown. Tonight the pub walls are adorned by artwork and the air is filled with bird song.

First up Hanna Tuulikki's Air falbh leis na h-eòin | Away with the Birds has been transposed into digital form where you can now indulge in these performances in film, commentary or music, listen to field recordings and dozens of bird songs. The work if the result of an amazing creative team including sound engineering, photography, a vocal ensemble and archive recordings to support Hanna's work.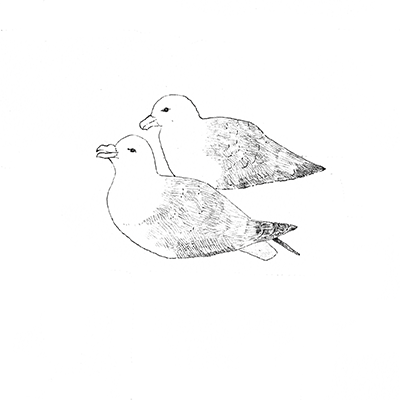 "This is an interactive version of Hanna Tuulikki's Air falbh leis na h-eòin | Away with the Birds, a project that explores the mimesis of birds in Gaelic song and the sensitive ecologies of the islands and highlands of Scotland. At its heart is a fifty minute composition in five movements, written for an ensemble of ten female vocalists. It is an extended soundscape in which Tuulikki weaves together fragments from nine Gaelic songs and five poems. Once you enter the project you can explore two hours of film, half an hour of music, over two hours of commentary, field recordings of over twenty birds, fifteen new drawings and audio recordings of nine Gaelic songs and five poems. You can share all of this content."
It's an epic collection of work, beautifully and simply presented and is ideal for the remnants of the lockdown to wile away a few hours in this real-world but other-worldy experience.
As the Art College Degree Shows go online because of the coronavirus we'll be featuring some young artists over the next few weeks.
Here's Edinburgh's 2020 Degree Show featuring work in Architecture, Art, Design, Music, Art History.
Here's Dundee's 2020 Degree Show featuring Animation, Architecture, Art Philosophy, Digital Interaction Design, Fine Art, Graphic Design, Illustration, Interior and Environmental Design, Jewellery and Metal Design, Product Design and Textile Design.
In Aberdeen the virtual degree show launches on the 10 July: "In response to the COVID-19 pandemic, a partnership between Gray's School of Art, Look Again and independent design agency Design and Code, is working collaboratively with the graduating students of 2020 to create a Virtual Degree Show. The fully immersive show, which will be curated by the students, will take visitors on a virtual tour of Gray's, visiting individual exhibition spaces for each student from Painting, Contemporary Art Practice, 3D Design, Communication Design, Fashion and Textiles and Photography courses."
From Edinburgh here's Harmony Bury's mesmerising work 'Materiality in the Scottish Landscape'  from the Art, Space and Nature MFA (see here own site here):

As well as these feasts of artwork and talent check out the New Designers show which is described by organisers as "the UK's largest design graduate show". It was set to feature the final projects of more than 3,000 students from a range of art colleges. Instead it has selected just twenty to highligt at the Virtual Design Festival across four themes of nature, gender, sustainability and geometric prints.
It's just an amazing array of talent but we loved Lawrence Parent's 'Living Blocks' which he describes as: "an open-source recipe, which can be used to produce building blocks that can support plant and insect life. Drawing inspiration from the porous structure of limestone formations, living blocks uses waste fruits, vegetables and locally sourced aggregates such as crushed shells, shingle or waste rubble from building sites, to produce a similar porous structure in a cement-based alternative.
"This project explores the ways in which we can build with nature to increase biodiversity in cities while developing our connection to nature. Currently, cities are built with clean, smooth surfaces and spaces, with little focus on natural life. Living blocks aims to provide a basic, open-source process people can use and adapt to build blocks or other shapes that provide complex, textured, bio-receptive surfaces that could provide rich ecosystems in urban spaces."
Also see Ashore by Marieke Evans
"Ashore is an intercultural community hub in an abandoned Edwardian bathhouse. It celebrates cultural diversity by bringing people together, providing them with skills and a place to share stories as well as food, workshops, education and performances.
"This adaptive reuse proposal is based on the property of Govanhill Baths in Glasgow and aims to challenge the negative connotations of immigration within the most culturally diverse area of Scotland and an area of urban deprivation. A narrative of sea crossing influences the design and nods to the setting of the public bath while honouring the bravery of refugees, who have crossed dangerous seas to get here.
"The base is cast in plaster, while acrylic interior walls and elevations provide a clear insight into the design. Photography on the walls will serve to provide context and a magazine-style booklet will present the primary and secondary research, development, design and production processes that have influenced the final design."