Positive Actions for Change in Scotland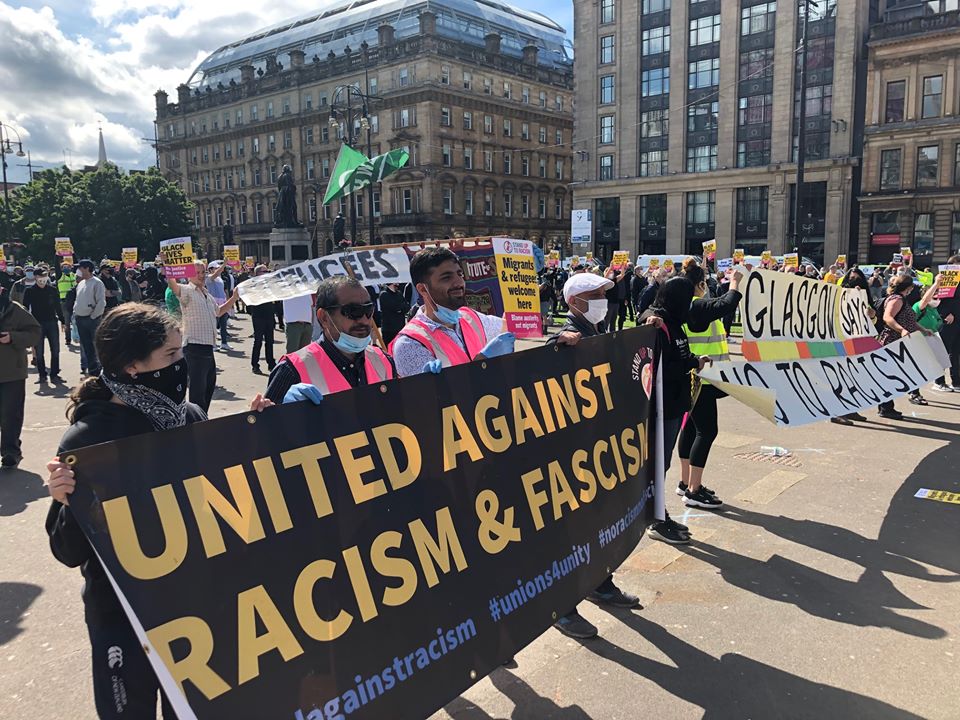 Eunice Olumide suggests three actions to change the dynamic for more pro-active anti-racist action in Scotland, including a change to the curriculum and  a Black Heritage Museum.
Like me, many have been horrified by the recent conflicts in America, sparked by the killing of George Floyd, fanned by hundreds of years of oppression and systemic racism. It is easy to think that this does not happen here but in fact statistics and personal accounts prove otherwise. When Black parents have 'the talk' with their sons or daughters, it is often about what to do when you are racially abused, attacked, or assaulted. It can be argued that much of the discrimination and racism faced by BME groups is due to the poor levels of education on the history of the Transatlantic Slave Trade and how each nation benefited economically, culturally, and socially.
The current national curriculum also does not highlight the many prominent Afro-Scottish, Caribbean, and Black British figures who have contributed significantly and positively not only to Scotland but to the UK as a whole. This has led to racial profiling, physical and mental abuse, knee-necking, and to BME groups being less likely to be recruited after achieving a degree.
Is Racism Real? a 2017 report by the TUC notes that:
"For many years trade unions have consistently campaigned against all forms of racism and discrimination in the workplace. The TUC believes that racism is real in our workplaces. The report shows that BME workers face many forms of racism and discrimination such as: verbal abuse; racist comments and jokes; bullying and harassment; physical violence; being singled out and treated differently; or discriminated against.
Our findings show that:
More than a third (37%) of Black or minority ethnic (BME) workers polled have been bullied, abused or experienced racial discrimination by their employer.
19% have experienced discrimination such as being denied training or promotion.
15% have experienced verbal abuse and 16% of BME workers have experienced bullying or harassment at work.
43% did not feel able to report their experience of discrimination to their employers and 38% did not report incidents of bullying and harassment."
The horrors of the transatlantic slave trade, brutal subjugation, dehumanisation and subsequent lack of historical archive or reparation represents one of the most tumultuous and disgraceful stains in the history of our collective historical heritage as human beings. For me racism is not calling someone a name; it is the aftershock left in the wake of such a profound system of degradation over hundreds of years, by which one group controlled another and continues to castrate them socially, politically and economically – therefore governing and limiting their potential both then and now.
The British government paid out £20m to compensate some 3,000 families that owned slaves for the loss of their when slave-ownership was abolished in British colonies in 1833. This figure represented a gigantic 40 per cent of the Treasury annual spending budget and, in today's terms, calculated as wage values, equates to around £16.5bn. Just a few of those individuals to have befitted include, former Prime Minister David Cameron, Douglas Hogg, authors Graham Greene and George Orwell, poet Elizabeth Barrett Browning, and the new chairman of the Arts Council, Peter Bazalgette. The biggest single pay out went to James Blair an MP who was £83,530, the equivalent of £65m today, for 1,598 slaves he owned on the plantation he had inherited in British Guyana. John Gladstone received £106,769 (modern equivalent £83m) for the 2,508 slaves he owned. The slaves were paid nothing.
HOW DO WE MOVE FORWARD IN THE 21TH CENTURY?
After much consideration, my focus is on positive change. Some of the ways that we can move forward as a nation right now include:
Reforming the curriculum: I am calling for a commitment and pledge from policy makers for pro-active anti-racist action. In recognition of these historic times, a meaningful step that can be taken is the implementation of a thorough and robust account of Afro-Scottish Caribbean history through the national education system. This would negotiate, rectify, and recognise those real-life events and contributions that continue to shape and support our society today culturally, socially, and economically. Sign the petition here.
African Diaspora Business Support Fund Charity: A vehicle for companies and individuals who have directly benefited from TAST to help entrepreneurs and businesses from BME backgrounds who have demonstrated real business acumen and prowess to grow their existing trades and achieve economic stability. Check out the fund here.

CONTACT:
Eunice Olumide [email protected]  and follow at @euniceolumide