The Vernacular Gaelic Community in Crisis; A Liminal Perspective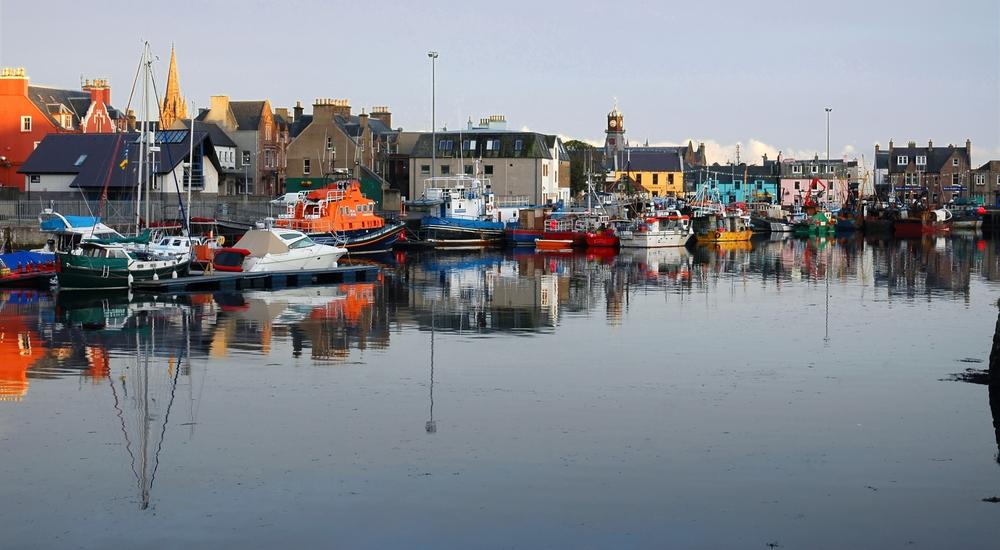 As part of our ongoing series on gaelic language Jane Nicleoid from Lewis reports. 
I'm on the Isle of Lewis as we come out of lockdown and I have spoken only Gaelic today. I had a yarn with the dog but didn't get much back and wrote a message in Gaelic to my daughter in Shetland. I spoke with a family friend for a while and then at length with his eighty-nine year old mother, as well as her young district nurse (GME educated in Inverness, Dad from Harris, still learning to say copantay instead of cooputee now that she's based in Lewis). I've spoken with my home-counties-born niece and she has returned some remarks in her own diffident but excellent Gaelic. I've 'spoken' in writing with friends on whatsapp through Gaelic. Some are new friends whom I only know because of our mutual commitment to our shared language.
While I have not had to speak any language other than Gaelic today because we're still in our lockdown bubble, I have read some Doric on a local facebook noticeboard page. The writer, perhaps emboldened to showcase his skills because of recent headlines, made a few jokes in the most glorious Aberdeenshire dialect of the tongue. The first comment beneath his post was predictable: 'This is the HEBRIDEAN hub, speak English'. Many others from all manner of backgrounds chimed in to defend him I'm glad to say, but he had by then apologised and reverted to better English than that of his critic.
This is a microcosm of where we're at most of the time in the islands, and while it's a bit tiring it is truly not too terrible because today at least I can – as a Gael –  defend the Doric speaker's right to free expression without myself being dubbed a racist. However, the only reason I feel that I can risk this, instead of fuming silently as I usually would while waiting for someone 'neutral' to speak up, is because of Professor O' Giollagain and his team's recent publication, The Gaelic Crisis in the Vernacular Community.  Hold that thought because I have another song to sing for you first. Let's call it the song of the Liminal Hebridean Gael.
You might be familiar with liminality theory and you might not but it underpins and provides a framework on which hangs much of my own understanding of my cultural and linguistic group. Because I'm going to run on about it for a bit, here's a thumbnail sketch.
The best way to consider liminality in process is by picturing a group marked out as 'other' by the mainstream. They are of place but without utility within the mainstream's hierarchies. They are excluded and sent to undertake a liminal journey of transformation in seclusion but still nearby. Stripped of identity and familiar social props they endure trials and go on to consolidate as a group. Importantly there is guidance towards growth by a master of ceremonies, usually a trusted elder. This processual journey leaves them denuded of old certainties, disassociated from their past selves and eventually much wiser to the ways of the world than when they departed.
At this point restorative ritualised practices begin, led by the trusted elder and culminating in a ceremonial return to the mainstream. They emerge from liminality appreciative of the ways of the main. They understand its rules and they know their value.  This is how the process works to integrate the divergent into the mainstream. So far so good. Sometimes however the liminal journey succeeds so completely that there is no individualism left. So, perhaps a little too far and not so good. Even the most uncritical mind will conclude that the variable outcomes for the group are likely to be determined as good or bad depending upon where you yourself stand in relation to the Hegemony. Everyone has a stance, each and every one of us.
Having understood the model, let's go on to exemplify liminality in a way that will be readily familiar. Think of a cohort of university undergraduates still in their late teens. It's their first time away from home and they're moving past the bumpy ride of Freshers week towards that first broadside: the narky essay comment from a credentialed and published academic, then onwards through countless deadlines. Watch them as they progress towards insights and synthesis of existing theory, perhaps even towards the origination of new ideas, certainly towards application and mastery of critical skills before finally we see them graduate, ready and able to engage usefully with the systems that society has put in place for its own security and growth. That's the liminal process at its best.
The lens of liminality can also make sense of the processes of individuals,  of cultural and social groups, and of entire political systems besides. That in-between condition of liminality is of itself no bad thing. It enriches us and is to be found in every society; indeed it is often behind the limen that the most interesting and progressive cultural and inter-personal expressions are nurtured and first given voice.
There can be a different outcome to the process though:  those who are 'other' sometimes continue as a liminal group; they splinter and disappear into the spaces in-between. This happens because they and the mainstream remain poles apart. Sometimes geographic separation is the reason, sometimes bad leadership of the process is responsible, and sometimes the aesthetic dimensions of the group are so divergent from the demands of the main that everyone prefers it that way. They are seldom heard from again but are oft-times mythologised and spoken of as 'other'. The Hebridean Gaels could be considered one such group for all of the given reasons and more.
We're now a little closer to understanding the theory's utility for framing and addressing our challenges but we're not quite there yet. The next part of liminality theory is rather more negative and I won't dwell on its generalised markers for too long. In this negative expression of the theory there are tricksters disguised as wise elders, there is failure of ritual and symbol,  there is command rather than trust and compliance, there is schismogenesis and permanent liminality and the largely voiceless disaffection that that brings. Are you still with me?
Okay, here we go then. I'm sure you saw it coming. Hebridean Gaels have been on a liminal journey like no other for the best part of a century; journeys within journeys within journeys in fact. Early interventions by language planners were often misguided and heavy-handed, the sensitivities of pre-existing social and educational inequalities were exploited to render speakers submissive and mute. The elders, such as they were, mere shadow-men cowed by the overwhelming rectitude of experts who did not respect or like them or us. Everyone except us was permitted a voice and an opinion on what we were doing wrong. Almost anyone else who wished it could research us but we were not trusted to examine our own position and any desire to do so was dubbed nativist. We were deemed unsuited to leading ourselves, unfit to manage our own lands and resources besides. Because of this not so historic experience, many islanders are now alienated from the language and from much else besides. Having said that, a culture cannot easily be separated from its language nor a language from its culture however much of an inconvenience our continuing existence might be, so there is still hope.
Things have improved in recent years, the initial madness of the fabled Gaelic millions has long since died down, the development agency egos have subsided and gone into retirement never to be heard of again, who can even remember their names now? TV as embodied by BBC Alba has normalised and is no more than an everyday presence like Isles FM, nothing fancy. There are adequate online resources for people who move here to enable learning the language to proficiency, something that was far from true for the longest time, and something which means that we can genuinely think of using Gaelic in public again without excluding those who are new to our communities.
There is much that is well organised by practitioners to promote and support the language, but perhaps within that formalised promotion the language is confined and constrained from evolving naturally because we just got so used to being chided and told that our way was the wrong way. Historic institutional critique has without question left families doubting themselves and choosing to leave Gaelic to the schools because their confidence in the value of intergenerational transmission has dwindled, as Cassie Smith-Christmas has shown. The external gaze is ever with us and we resist with everything we have. It feels as if Gaelic, our mother tongue, is owned by those who pander to the Hegemony and that we have been elbowed aside as not quite fast enough, not quite greedy enough or pushy enough or empowered enough to survive the dividing up of the cultural and linguistic spoils. In resisting the brain-washing we end up triggered by our now ambivalent relationship with Gaelic.
It was the humblest among us who kept the language alive through the long hard years, and in the subsequent glare of language promotion and revitalisation efforts founded on prestige and ideology, that rooted and positive liminality was largely lost. All teenagers take a break from Gaelic while they come to terms with themselves, their liminality just seems to be a universal truth. That was okay when there was an informal language system that they could hook themselves into upon their return as young adults or young parents, but that system has fragmented. We need to bring it back to vibrant life, to mould and model it consciously, to mark our engagement with it as part of a daily self-evaluation, but only we know how that should look and feel and sound.
Because of this, only those researchers who live and work in the Gaidhealtachd are taken seriously because only they will still be here once the media furore has died down. I can easily position for others Gordan Camshron as the guy with the flute from upsouth who does all those Norman MacLean recordings; Caoimhin O Donaille as the clever techy geek from Skye who routinely downs anti-Gaelic trolls on Twitter with the gentlest and deadliest of side-swipes; Conchur O' Giollagain as the Inverness professor with the funny first name that no-one is sure how to pronounce but who's been here a good while. This is only one of the reasons, besides its obvious veracity, that we accept the authority of the work and are buoyed if a little daunted by its recommendations. The writing is self-aware and the co-authors interrogate the assumptions of their scholarly field and critically examine overarching legislation and mechanisms of state, and they do so in the defence of an over-scrutinised and under-represented language minority. This is, to say the least, unusual.
Our current context of crisis as laid out by O' Giollagain et al makes for sobering reading but for many it simply confirms what we have long suspected, that the language is on its knees communally and even domestically. Despite being, let's face it, pretty niche, the research was reviewed widely in the mainstream press on publication and then discussed in the broadcast media nationally and locally, so everyone here is cognizant of at least the gist of it, and that on its own is something new. The socio-linguists who usually interrogate and interpret our culture and 'language ideologies' would be horrified if they truly perceived their limited reach at community level. If I were to name a few well-meaning souls of my own acquaintance the list would draw no more than a blank gaze and a polite nod from any of the people I've spoken to today. They come, they frame some questions pertinent to their field and their funding, sometimes they listen for specific tropes and indicators, then they go away again, and nothing really comes of it, for us at least. They may be superstars in their own small circles but they seldom even exist for us as a people.
There is rarely a right of reply or an equivalent framing from the vernacular community perspective of how our challenges should be researched and interrogated in order to be of actual material help, or of how often research falls short or is expedient and driven by tenured professors many institutional levels above the often short-contract field-researcher or student holding the mic. Because of this I have long made a point of never introducing visiting socio-linguists to my family however likeable those visitors might be because honestly who would expose their loved ones in that way?
Clearly I have a native perspective on this and through my education a cultural studies perspective and as a Gaelic teacher an educator's perspective. Whether any of this chimes with the scholarly literature of socio-linguists and language planners elsewhere is neither here nor there because this research resonates with my lived reality and with the theoretical tools with which I choose to frame it. While there is no peace or relief in this yet because of the persistence of our external framing by adherents of monolithic institutions, there is now at least some hope of agency, some permission to act in our own interests and towards our own survival.
How do we bring ourselves out of our enduring liminalities? In the first place, we do so through reclaiming and harnessing our creative expression and giving voice to the multiplicity of experiences and perspectives that make up our mercurial whole. I believe that it is from this process that the desire, what we would call the 'miann', for engagement will come. It is time for us to have a good long talk about what needs healing and putting right before we go on to speak our truth for others. For some, that talking might well begin through English – or for that matter Doric –  until we gain or regain connection with the daily use of the islands' mother tongue in all her messy and idiomatic glory.
There is some effective infrastructure in place to enable that re-emergence of the language into day to day life, as well as to facilitate the inclusion of new speakers locally, but it must not dictate our direction nor our individual and collective expression. We have to find our own way out of this because we no longer trust anyone else to know better than ourselves how to re-activate the native language of our islands.
Our  determination has to come from the grass-roots, and the language-planning infrastructure if it is to persist in the islands must scaffold and support the original Gaelic community towards their own ends as it has done for so many new communities of learner Gaels elsewhere. Otherwise where is the point of that infrastructure or the justification for the wider undertaking? If Gaelic now belongs to everyone then surely that means that it still belongs to us as well?