It's the Red Wall Stupid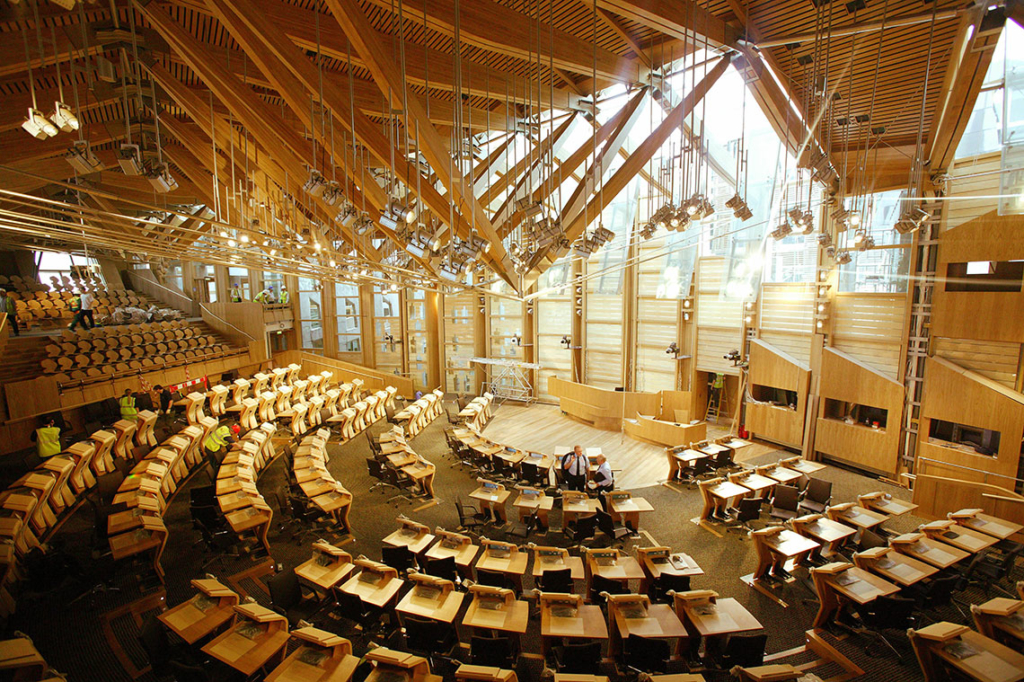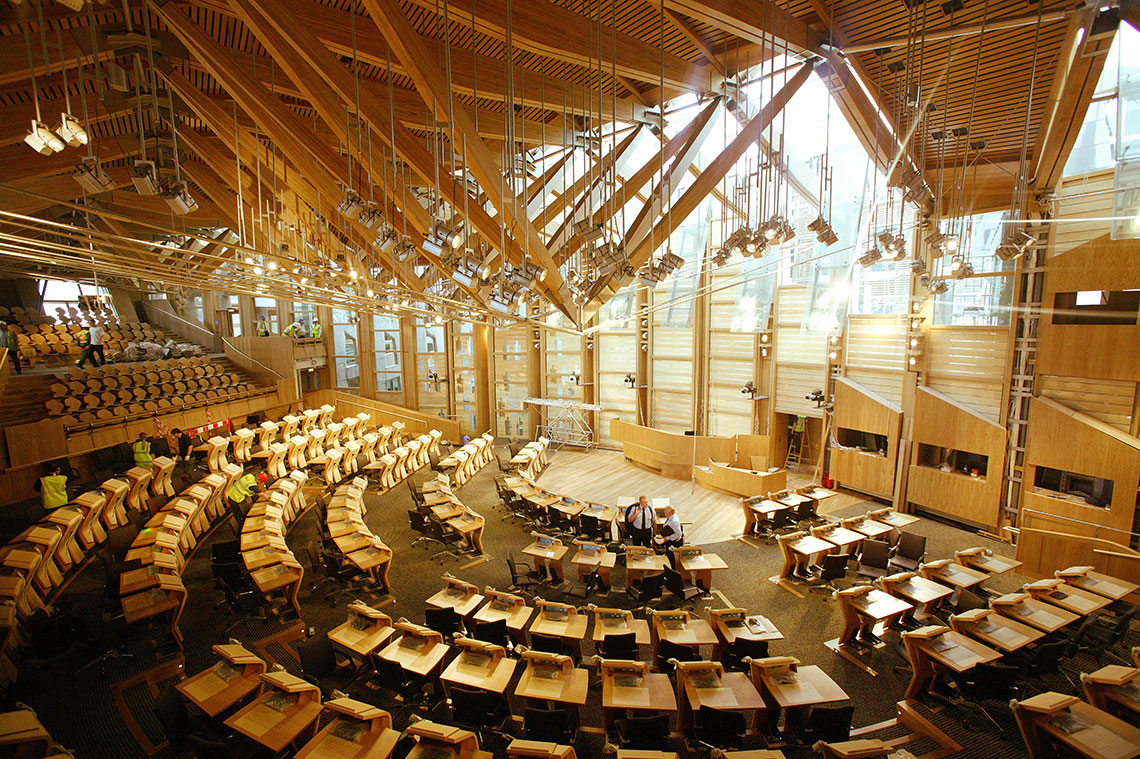 Leslie Huckfield was a former Labour MP, MEP and Government Minister. Here he outlines the attack on Holyrood power through the Internal Market White Paper which will remove Scottish Government powers over standards, state aids and subsidies and begin to dismantle Scotland's procurement powers.
This weekend, much of the mainstream media was consumed with talk of a London "power grab" from Scotland. Much of this was about chlorinated chicken. But the reality is much more critical than that. Boris Johnson's UK Government has set about dismantling devolved government in Scotland before our very eyes.
Even the respected Institute for Fiscal Studies (IFS) on Thursday called upon the UK Government to "publish an updated Block Grant Transparency Report, setting out clearly how much extra funding the devolved governments are receiving and how this is calculated". IFS concluded "Unfortunately, as it stands, a lack of illumination leaves significant scope for misunderstanding and even misrepresentation of the UK government's plans. So, can the UK government please turn on the lights?"
Anyone who warns about dismantling devolved government is usually met by cries of "I don't think they'd dare do that". But the author's experience since the 1960s shows that in politics the unthinkable happens on a regular basis. The Prime Minister in September 2019 prorogued Parliament to stop it debating Europe. He was overruled by the Supreme Court. He then withdrew the Conservative Party Whip from 21 MPs, including former senior Cabinet Ministers, effectively ending their political careers, just because they didn't support him. In the last six months, the Head of the UK Civil Service and the Permanent Secretaries of the Foreign Office, the Ministry of Justice and the Home Office have all "resigned". Johnson's support for Dominic Cummings' excursion to Barnard Castle has largely undermined the credibility of his COVID strategy. Last week he withdrew the Whip from Julian Lewis for becoming Chair of the Parliamentary Security Committee. After all this, any clash with the Scottish Government represents a minor skirmish to be taken in one's stride?
Many have overlooked that most of Scotland has already signed up to City Region Growth Deals, despite their main purpose of implementing UK Government policy across Scotland without real democratic control. To ensure that UK Government objectives are pursued, accountability to Scotland's elected representatives is deliberately minimised. Audit Scotland's January 2020 Report showed £1.42bn UK Government funding, with £1.52bn from Scottish Government for City Deals. Its Report makes it clear that "Accountability and scrutiny arrangements are still evolving, and it remains untested how accountability will work in practice".
Last Thursday, the UK Government published its Internal Market White Paper, which will remove Scottish Government powers over standards, state aids and subsidies and begin to dismantle Scotland's procurement powers. Under Procurement Reform (Scotland) Act 2014 has used its freedom to interpret EU Procurement Directives. But this will disappear since procurement is part of a single market.
In all this, the risks to Scotland's agriculture and food are major. Scotland's exports in meat, whisky, seafood, salmon, primary agriculture, dairy, distilling and brewing have doubled over the past 10 years. Food and agriculture are Scotland's biggest employers in an industry worth £15bn.
Much of this weekend's argument centred on page 23 of the Internal Market White Paper, which insists that "import standards include a ban on using artificial growth hormones in domestic and imported products and set out that no products, other than potable water, are approved to decontaminate poultry carcasses" It also says that any changes to existing food safety legislation would require new legislation to be brought before the UK Parliament and the devolved legislatures".
The justification for this tough line is on page 12 of the White Paper, which accuses the Scottish Government of withdrawing from the Common Frameworks' Internal Market Workstream, which discusses food standards. So a casual reader might conclude that it's the Scottish Government's fault.
But the June 23 Report of the House of Lords Select Committee on the Constitution tells a different story, when it expresses concern on lack of transparency and recommends on page 4 that the UK Government should report on progress on managing the 'overlapping competences' within the Agriculture Bill. This Bill gives Scotland a foretaste of what will happen when the Internal Market White Paper becomes the Single Market Bill. The Lords Report regrets that the Agriculture Bill's Clauses 40 and 42 "may make provisions requiring a devolved authority to provide information to the Secretary of State", describes this as a "potentially invasive power" and says that the Government must justify the inclusion of this power. Following its similar recommendation in its Report on the European Union (Withdrawal) Bill 2020, the Committee urges the Government to work cooperatively to "improve the Joint Ministerial Committee as the primary forum for these discussions".
Page after page in this Lords Committee Report warns of the "need for an effective system of inter government relations", expressing its "constitutional concern" over "a significant transfer of authority to the executive". Page 7 repeats the view expressed by the Lords' Delegated Powers and Regulatory Reform Committee that "criminal offences punishable by fines" represent an "inappropriately wide delegation of power" and that the "creation of criminal offences by delegated powers" is "constitutionally unacceptable". So when Scotland needs every power to protect its food standards, jobs, labour market and environment, to avoid being sacrificed on the altar of future UK trade deals, the Agriculture Bill hardly sets a benign precedent.
The backdrop for all this is the new UK political dynamic since December 2019. Johnson and Cummings need to protect Red Wall seats and to use every power to steer subsidies, investment and jobs into those areas. That's why the Internal Market paper's pages 12 and 26 make subsidy powers a reserved matter, underlining that London may legislate for a "unified subsidy control regime". So if there's a chance of offshore work for the UK, Johnson wants Teesside rather than Invergordon to benefit. Whitehall has already noted that with Prestwick and Ferguson Marine Scottish Government intervened to protect jobs and would probably do the same again. Page 44 says that inward investment is "unevenly distributed across the UK" and declares an intention "to further its ambition to level up every part or the UK". But a Johnson Government's map for steering inbound foreign investment or deciding where "levelling up" should take place isn't based on any industrial strategy but on the Times Guide to the House Commons, which shows each MP's majority.
Most Tory Red Wall MPs, who didn't expect to get elected and know they are living on borrowed time, are closely watching what happens in Scotland. From the Scottish Development Agency in 1975 and Glasgow Eastern Area Renewal in 1981 – at that time the biggest urban regeneration project outside London's Docklands – the North East has long been wary of Scotland's enhanced powers, for which there has never been an equivalent in England. Red Wall MPs also know that their region missed its chance. In a campaign honed ironically by Dominic Cummings, the North East in November 2004 voted 78% to 22% against having a devolved regional assembly, which might have gained some of the powers held in Scotland. Any apparent concession to Scotland will be watched closely by Red Wall Tories, who now have enough muscle to frighten Tory Whips.
If anyone in Scotland still reckons that for trade deals a Johnson Government has a good negotiating hand, then just watch on YouTube International Trade Secretary Liz Truss' dismal out of her depth performance on Wednesday 08 July at the Washington DC Peterson Institute's "What Role for the United Kingdom in the Global Trading System?" After the UK Government's being labelled as "Pompeo's Poodle" over Huawei, the last thing it wants is weak international trade deals undermined by Scotland and Wales Governments' not being prepared to accept them.
Another obsession in the Internal Market White Paper concerns qualifications. We are told on page 19 that "different approaches to the regulation of construction professionals, such as differing qualifications for plumbers and technicians, could limit access to skilled construction workers, and make it harder for Scottish construction companies to bid for contracts in England". Qualifications for "new professions and products play an important role in driving the UK's scientific and technological leadership". On page 38, the alarming conclusion is that "Economic modelling of regulatory differences in the regulation of construction professionals between the 'home' and 'destination' market suggest that these could build up to a cost equivalent of a 5% tariff if these differences were left unmanaged. UK construction accounts for 6% of total UK annual GVA, or £116 billion".
Whitehall civil servants must have forfeited countless precious weekends to think this up. Even where there are Scottish variants introduced by SQA, most qualifications in Scotland are based on those from London, such as City and Guilds and EdExcel. Scotland has no interest in making access to its labour market more difficult. Those same civil servants must have been exhausted when on page 74 for Scotland's different legal services they calculate an Ad Valorem Equivalent, like a tariff, of 5%. Perhaps someone should have told them that's because Scotland has a separate legal system!
For anyone who struggles valiantly onwards to page 90 of the White Paper there are the most alarming "real world implications." "Applying these percentages (for various differences) to the most recent GDP figures for 2018 (ONS, 2018), this implies a loss in GDP of £7.3 billion for the UK as whole with a loss of £3.9 billion for England and £1.9 billion and £1.2 billion for Scotland and Wales respectively". On previous pages, similar calculations use a EUREGIO (European Union) dataset more than ten years' old. On page 83 the findings of a 2016 Canadian Standing Senate Committee on Banking Trade and Commerce are quoted. On pages 36, 75 and 90, the White Paper admits that "devolution in Germany is fundamentally different to that of the UK and as the result the states have different policy levers at their disposal". Similarly, the White Paper's comparisons elsewhere with Canada, Australia and Switzerland are completely irrelevant since their devolved or federal structures have different powers or trading arrangements.
No wonder that the heading on page 38 says "Trade in services: the need to understand the context of the wider ecosystem." They might just as well have said "We have ways of making you understand" or "We will say this only once". Most Scots will conclude that you couldn't make this up if you tried!
As a postscript, there's still the saga of the 'Shared Prosperity Fund' (UKSPF) to come. UKSPF is the UK Government's proposal to replace the £780mn Scotland is scheduled to receive in European Union Structural and Investment Funds during the 2014 to 2020 Programme. Scotland has benefited considerably from EU funding, with £4bn between 1975 and 2006, and £820mn under the 2007-2013 Programme. A diligent partnership between Scottish Government, Highlands and Islands Council and the European Union has made possible considerable 'levelling up' in the Highlands and Islands. For UKSPF, there has already been a wide ranging Scottish Government's consultation and response, seeking to maintain flexibility in allocation.
David Bell at the University of Stirling has worked on formulae to allocate funds to Scotland's poorest areas. Scotland might expect to receive around £900mn. But Scotland's problem is that none of this will be given to the Scottish Government for allocation. The Fund is now part of the Johnson/Cummings strategy so that, just like City Deals, UKSPF will be used for UK Government purposes in Scotland, to be administered directly by the Office of the Secretary of State for Scotland.
If that's not dismantling Scotland's own Government, what is it?