Fringe of Colour Films Launches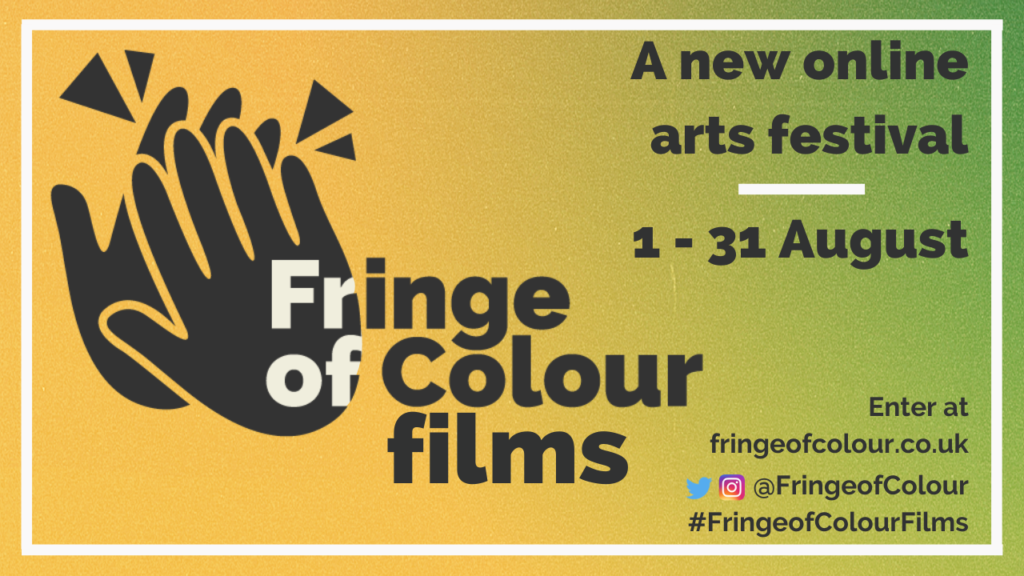 In this strange festival/non festival Fringe of Colour Films kicks off with an innovative programme of online works, Arusa Qureshi speaks to founder Jessica Brough.
In the past few years, there has been a discernible change and increase in the prevalence of conversations around diversity and inclusivity at the Edinburgh Festivals, resulting in some real progress and positive shifts. One such initiative that has been a major force behind these changes is Fringe of Colour, founded in 2018 by Jessica Brough with the aim of highlighting the scarcity of shows by people of colour at the Fringe, and the disproportionate promotion and support they receive in comparison to productions by white performers. Starting as a database of shows, the project soon developed into a free ticket scheme in 2019, providing people of colour with tickets to attend shows by performers of colour at the Fringe and beyond.
"I had been paying attention to what was going on in London around that time and the Black Ticket Project was in full swing." Jess explains about the early days of Fringe of Colour. "That was really inspiring and we thought maybe we could do something similar but appealing to venues to provide us with free tickets for young people of colour to go see these shows."
They were able to get seven Fringe venues on board that August and as a result, gave away around five hundred tickets, eventually making the ticket scheme available to all ages. That year, Fringe of Colour also received the Total Theatre Award for Significant Contribution, Dave's Edinburgh Comedy Panel Prize Award and the Creative Edinburgh Independent Award, emphasising its importance and influence on the wider Fringe landscape.
Like all other organisations, companies and venues, the cancellation of the Edinburgh Festivals forced Fringe of Colour to rethink any plans they had made earlier in the year. "We had to completely readjust what we thought we were going to be doing this summer, if anything." Jess says. "As things progressed, looking at the shows that were going online versus the ones that weren't and the people who were being commissioned to make work – we were just seeing the same bullshit that you always see with live shows. So who gets a platform? Who gets given a chance? Who gets work and who doesn't?"
"We thought, well actually we are needed here, we're just needed in a different capacity. Instead of providing people with free tickets to shows that don't exist, what we really needed to be doing was figuring out a way to address the massive losses of opportunities and work and finances for performers of colour who are being left behind and the audiences who now have this lack of content that they would have been able to engage with through us in August."
These discussions led to the announcement of a new online arts festival and publishing platform in place of a physical programme, with the goal being to create a way to engage with and appreciate online work beyond streaming the content. Fringe of Colour Films will host over 40 films made by Black and Brown people/people of colour throughout August 2020, as well as live conversations and a platform for writers to respond to the work programmed by the festival and to matters of art and performance.
As Jess explains about the programme, "Each week we're releasing about 12 films that will be up for seven days and then they'll come down and the next collection of films will go up. Some of these films are works that we have commissioned, so work where we've paid an artist to make a concept that they were already working on and haven't filmed yet, or that they have done live and haven't figured out how to film."
"On top of our own commissions, we've also been lucky enough to have people contact us and ask if they could submit work. We weren't necessarily expecting that when we were putting this together. But a couple of people got in touch to ask about submissions and we thought, well, we're putting all this effort into creating a platform so, why not? And we've got the whole month, we might as well share it with other people."
Having launched on Saturday 1 August, the festival is already proving to be a success, with people engaging widely online and on social media using the hashtag #FringeofColourFilms. All the films and events are accessible through creating an online account and paying a one-time subscription fee (£10 standard, £5 concession or £50 organisation), which goes towards festival costs and a 'Behind the Scenes' fund for people of colour in the industry who have been financially affected by COVID-19. "If you're a struggling artist, then there needs to be somebody saying I'm going to pay you to do this work and pay you what I can. That aspect of it was very important to us," Jess notes.
Programme highlights for the first week of the festival include a new sketch comedy show by Toussaint Douglass; CLUB, Esme Allman's vibrant exploration of queer black women forging space for themselves in London's nightlife; Mara Menzies' Consequence; and 'Mother Rests', a poem by Andrés N Ordorica; part of Fringe of Colour Films' series Sorry I Was On Mute directed by Hannah Lavery.
"I think we're hoping that people lean into the experience of watching online performances so really take a moment to sit down, take some time, as if you were going to get ready to leave your home to go to a venue." Jess says of the team's hopes for this year. "It's a slow approach so everything that we've got on the platform is work that has had hours and days and weeks put into it to make. We're hoping that gives people a bit more time to sit with it, talk about it on Twitter with people, use hashtags, that kind of thing."
"The last few months have felt really stressful in terms of missing content and missing work that's only been available for a day or the live event. And people are already stressed enough. We just want people to take it easy. There's so much we can learn from other people and other groups and organisations. And doing it online means we can reach pretty much anybody with a computer. We can have these conversations with people that we would never have been able to have in Edinburgh in August."
While the cancellation of the Edinburgh Festivals has left a noticeable void in the city, nowhere is this more apparent than in the creative drought that has resulted from performers and companies being unable to make, perform and bring work to Edinburgh as part of various festival programmes. Though many artists have taken their work online over the past few months in hopes of staying connected to audiences, the financial and creative strain on the industry has been huge, and will undoubtedly have long-lasting effects as we eventually move to some form of normalcy.
The pandemic has certainly forced the industry to question its framework, including who the decision-makers and gatekeepers are, who is able to make work and ultimately, who will be left once cuts, redundancies and cancellations have decimated our cultural landscape. But the Edinburgh Festivals will survive; the question is, will artists, musicians, writers and more, especially those of working class and diverse backgrounds, be able to weather the storm? Fringe of Colour continue to interrogate that very question and with this new online festival, hope to keep the conversation at the very front and centre of the future of our creative industries.
Fringe of Colour Films launched on Sat 1 Aug, and content is now available to view and read at fringeofcolour.co.uk. Join the conversation on social media using #FringeofColourFilms.