The SNP and the Lobbying Business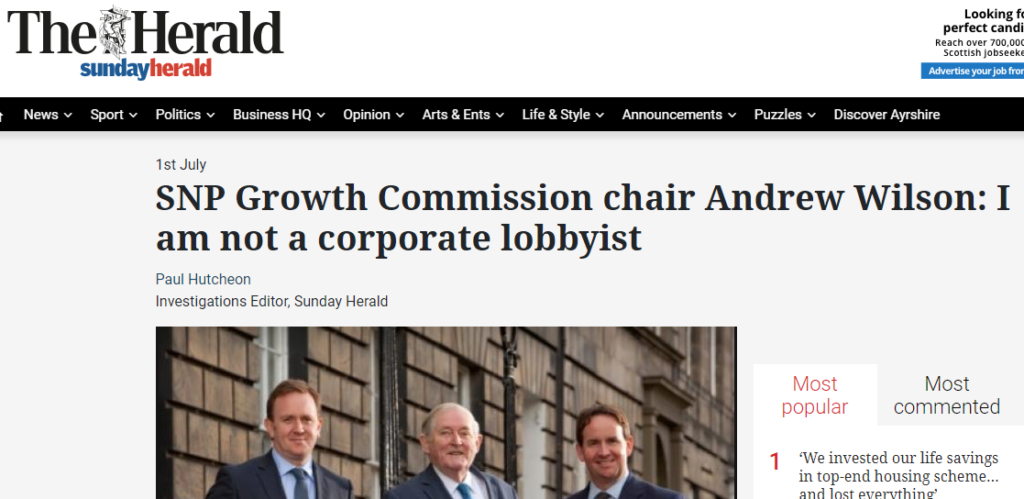 THIS week came news that the FM's former Spad (special advisor) Stewart Maxwell has left the Scottish Government to become the Policy and Public Affairs Manager at CalMac Ferries – which is also owned by the Scottish Government through a labyrinth of holding companies. Why take a demotion from government to do PR for a ferry operator?
CalMac is at the centre of a row with Clyde-based shipbuilder Ferguson Marine over the latter's contract to supply the ferry company with two new hi-tech vessels powered by liquid gas.  Ferguson won the £97m contract back in 2015. Unfortunately, construction fell behind schedule while the final bill for the ferries rocketed to an absurd £200m.  As a result, Ferguson collapsed last year, with debts of £49m to the Scottish Government, and was taken into public ownership itself.  What went wrong?
It soon emerged that CalMac, the publicly owned ferry operator, had had very little to do with the contract, which had been placed by CMAL, another of the chain of front companies that leads to the Scottish Government. CMAL is the actual legal owner of the vessels that CalMac Ferries operates.  It seems that the boys at CMAL didn't talk to the guys at CalMac and that CalMac did not even want the complicated new boats that Ferguson were building.  Meantime, CMAL kept changing the specs for the new ships, driving the Ferguson engineers bonkers, and driving up the price. The inference in all this being that somebody inside the Scottish Government was pushing the agenda for a new gas-powered ship technology and was using CalMac as the guinea pig.
Which may explain the arrival of Stewart Maxwell. His updated Linkedin entry actually has him working for David MacBrayne Ltd which is the overall holding company for CMAL and CalMac Ferries.  Which suggests he has been recruited to give the whole kit and caboodle a public relations makeover.  I wish him luck.  Stewart, of course, was a veteran SNP MSP from 2003 to 2016, when he lost his seat. At which point – in the revolving door between public office, special advisors and external PR work – he was rescued to become a paid Spad.
THE SNP'S PR ARMY
The interesting thing about Stewart Maxwell's career is that it exemplifies the "influence" conveyor belt between the SNP leadership and the business community via a legion of former party special advisors, elected members and staffers who have gone on to work in the public relations business.  Of course, working for private PR and "communications" agencies is an interchangeable career move for the modern political class everywhere.  However, for a tiny political party which does not even command office in a nation state, the SNP has been able to create organic links to the UK and global PR industry of an extraordinary nature.
Party insiders have always defended this development as being useful in offsetting media attacks through insider activity with the business community.  It is noteworthy that the former SNP cadre who go into public relations and communications still retain their support for the SNP and maintain close links with the party.  Also, many switch back and forth between the SNP and private work.  Probably no other UK party apart from the Tories maintains such close links with the PR industry as the SNP.  It is the party's secret weapon.
Consider some of the key SNP supporters active inside the communications sector:
ANDREW WILSON
Top of the list is brainy, super articulate Andrew Wilson of Charlotte Street Partners, the "strategic communications" machine funded by Angus Grossart.  After losing his Holyrood seat in 2003, Andrew became Deputy Chief Economist with RBS before switching to become the bank's Head of Group Communications.  In this post, he fronted the RBS defence during the 2008 crash which brough the bank down. Today, Charlotte Street Partners specialises in representing financial clients.  Wilson famously chaired the SNP's Growth Commission and wrote its final report, which advocated keeping the pound sterling for as long as possible after independence.  Wilson is a trusted confident of both the FM and Angus Robertson, the party's chief strategist and pollster.
GEOFF ABERDEIN
One of the least known of the SNP cadre inside the communications world is the cocky, talkative Geoff Aberdein.  He is currently global head of Public Affairs, Policy & Campaigns at Aberdeen Standard Investment, the UK's largest listed fund manager.  Mr Aberdein is also Alex Salmond's former Chief of Staff and remains a close advisor and friend – putting on the wrong side of the party leadership. Aberdein acted as go-between for Sturgeon and Salmond when the rape allegations against the latter first surfaced, which means he is likely to feature in any investigations.  Aberdein is SNP through and through, having started as a government special advisor after the election victory of 2007.  He joined Salmon's inner office in 2011 and was there till the referendum.  His rapid rise through first Aberdeen Asset Management and then the merged Aberdeen Standard is truly meteoric.  However, his professional position may be compromised by his involvement with the Salmond case.
KEVIN PRINGLE
Kevin Pringle is the very opposite of the Mad Men image of the PR professional.  He his quiet, cerebral and very likeable. He was the real brains behind the SNP's successful public messaging during the long Salmond era.  It was Kevin Pringle who transformed the public image of the modern SNP from cultural headbangers into a sensible, centrist, social democratic offering.  The effort exhausted Pringle and in 2004 he quit politics when Salmond resigned as SNP leader.  Kevin took his undoubted communications skills into private industry, becoming coms director for Centrica's Scottish Gas business.  This formed a useful two-way channel between one of the biggest energy companies and the SNP universe.  However, Pringle was called back to the colours when Salmon returned to the SNP leadership.  He reprised his role as SNP spin doctor helping the party come to government for the first time, in 2007.  Currently, Pringle has found a berth in Charlotte Street Partners.
LUKE SKIPPER
An amiable Canadian, Luke Skipper is another SNP insider who rarely breaks cover but who has played a pivotal role in the party's recent success. Skipper is currently Head of Public Affairs with Weber Shandwick, a global America public relations conglomerate – which makes him very important.  For "public affairs" in this context, read lobbyist. Not that there's anything sleazy about Skipper, who is full of North American charm and "can do" attitude.  While completing a masters degree in Scotland, Skipper worked as an intern for Fiona Hyslop, then shadow minister for education. In 2005 he moved to Brussels to work as an aid to Alyn Smith MEP. Finally, Skipper became chief of staff to Angus Robertson, running the party's Westminster operation with amazing efficiency. When the SNP returned 56 MPs in 2015, Skipper decided it was time to make some money and left for Weber Shandwick.  There he is a key linkman between the WS client base and everything at Westminster. Luke also brings SNP MPs to brief City and other business insiders on Parliamentary issues, which (in theory) helps build bridges between the party and big business.
GRANT THOMS
A career lobbyist, Grant Thoms is a well kent face in the SNP.  He currently edits the Scots Independent, the party's de facto official paper.  Grant has stood many times as an SNP candidate but sadly been unlucky. Thoms is also a former Head of Policy and Strategy with Ingeus, a US-owned, Australian headquartered, global employment services agency. In Scotland, Ingeus managed the Tory Government's infamous (and woefully unsuccessful) "Work Programme" that dragooned the long-term sick and disabled unemployed into cold calling companies for hours on end, or face DWP sanctions.  In 2016, it emerged that Ingeus was represented on the SNP Government's official advisory board on future welfare policy, i.e. a profit-seeking, private company was telling the SNP Government how to design its welfare system.  Grant is now a director of The Place Store, the political lobbying arm of a property development company called PMW Capital Investments. The Place Store handles planning applications which may explain its mixed political affiliations: aside from Thoms, other directors include Owen Thompson MP; former Edinburgh Lib Dem councillor Paul Edie; and disgraced Glasgow Council Labour leader Steven Purcell.  Some might consider such a political amalgam to be potentially accident prone.
ALEX ORR
Energetic Alex Orr is the brains behind Orbit Communications, which claims to provide "integrated PR, public affairs, digital and design services" to business in Scotland.  Orr is an SNP veteran since running the media campaign for Scotland Forward in the 1997 devolution referendum.  He stood unsuccessfully for the SNP in the 2003, 2007 and 2011 Holyrood elections, and has been a member of the party's NEC.  Orr's failure to get elected is a great pity because he is both bright and nobody's lackey. Instead, Orr has become a demon letter writer, firing off intelligent missives on political matters to Scotland's diminishing newspaper circulation.  Meantime, Orbit Communications has made a forte of handling planning applications on behalf of developers.  In my experience, Orbit is highly ethical in these dealings.  But the worry has to be that there are obvious potential conflicts of interest in the SNP's senior activists (or those from any other party) taking paid work with developers to lobby in what is a very small country, with a very small political establishment.
PAUL TOGNERI
Togneri is the Scottish end of the British Beer & Pub Association, which represents the interests of 20,000 UK pubs and brewers who provide 90% of the beer brewed in Britain.  His key job is "relationship management with Scottish political contacts", which sums it up nicely.  But Togneri is also a former SNP Press Officer and Spad.  At least he knows who to contact.
CONCLUSION
I could go on, but you get the general drift. For the record, I myself was involved briefly with friends in a small economic consultancy, advertising and coms firm during the 1990s – before I joined the SNP.  I had romantic notions of helping communities to defend themselves against Big Brother and we did some good pro bono work fighting pirate developers and attempts to run electricity pylons across virgin countryside.  But I quit after realising that defending corporate interests for cash is soul-destroying, undemocratic, politically dangerous and downright unethical.  Later, my five minutes at Westminster showed me that the Palace of Westminster is just one giant influence machine infiltrated and dominated by corporate lobbyists like Weber Shandwick.  Supposedly independent All Party Parliamentary Groups (APPGs) at Westminster are routinely funded by corporate interests.
And the conclusion?  The SNP-lobbying nexus does not work in the indy movement's favour.  As the 2014 referendum proved, it does not make business or the banks any more favourable to independence. Instead, the links between ex-Spads or elected members and current ministers gives business the upper hand.  And it is driving the SNP Government rightwards in matters economic.  We need much tougher regulation of lobbying firms.  All forms of corporate lobby meetings and sponsored meals inside Holyrood or the Palace of Westminster should be outlawed.  Former elected members or staffers should be prohibited from joining (or creating) lobbying firms for at least five years after demitting office.
Unfortunately, should any elected member raise such outlandish ideas, there will be a host of PR folk with time-served SNP credentials picking up the phone to the party leadership.  Plus they have the direct dial numbers and personal email addresses in their little black books.