Scottish BAME Writers Network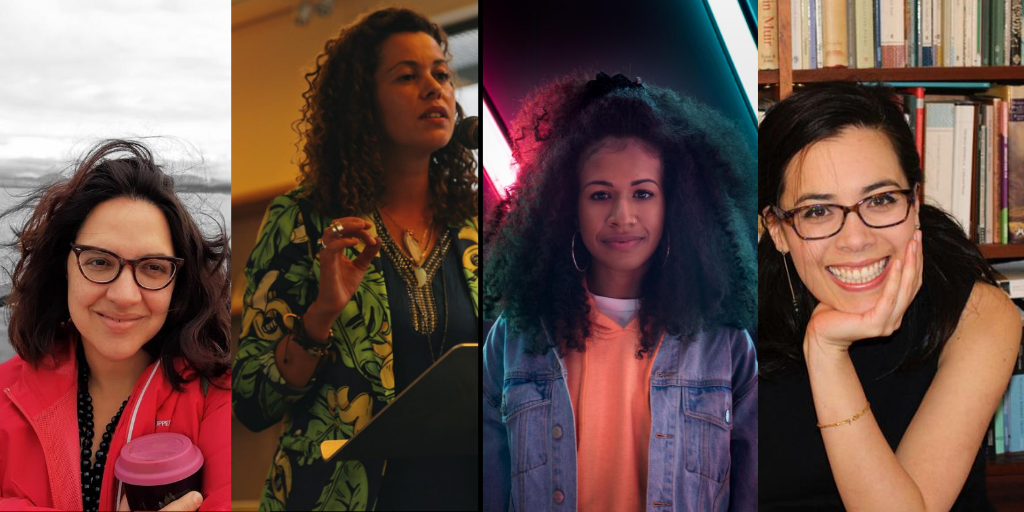 Ahead of their upcoming showcase at the Edinburgh International Book Festival, Community Development and Events Manager Andrés N. Ordorica speaks to us about the Network's current mission statement and future aspirations.
Despite its many negative qualities and unpleasant connotations, social media can also often be a hotbed for collaboration, allowing creative communities to join forces in innovative and meaningful ways. This is exactly how the Scottish BAME Writers Network came to be; through the creation of a private Facebook group. Alycia Pirmohamed and Jay G Ying set up the group in 2018, with the initial purpose of providing an online space for writers of colour in Scotland to share opportunities and experiences with fellow writers. But from there, the network has grown rapidly in both membership and esteem, going on to host events, arrange meet-ups, receive funding, and work with numerous organisations, as well as guest-edit an issue of Gutter Magazine and also win a Creative Edinburgh award in 2019. The core group has since expanded, with Andrés N. Ordorica and Jeda Pearl Lewis joining the team last year as Programme Managers; Ordorica focusing on linking up organisations and community groups and Lewis concentrating on writer development and workshops.
'On the whole, our main purpose is to serve as an advocacy group for not only writers of colour, but any person of colour who might be within the publishing sector or journalism sector.' Ordorica says. 'We look at the literary realm very broadly so it's not just about creative writing or poetry. We're also trying to advocate for freelance writers who write for magazines or are involved with journalism in Scotland, trying to really shine a light on the diverse voices that exist here, both, people of colour born and raised in Scotland and those like me who immigrate here.'
As well as doing their own programming throughout the year, the Scottish BAME Writers Network also collaborate with partners, connecting them up with relevant creatives where appropriate. 'So sometimes that might mean an organisation reaches out to us with a very specific idea.' Ordorica explains. 'Sometimes it's more about a collaborative partnership, or sometimes it's as simple as a PhD student reaching out to us to ask for help improving reading lists for a dissertation.'
He speaks passionately about the Network's wide-ranging set of activities, which clearly traverse a number of areas. As with most organisations though, all of this was thrown slightly into flux when lockdown began, with the team having to change their priorities overnight and switch to an online-only focus.
'When we were looking to shift to digital, one of the big things we wanted to do was to try to use our funding from Creative Scotland to create as many opportunities as possible where we were paying writers of colour in Scotland to create, to write what they want to write about, to run workshops they wanted to run and explore themes that are important to them.'
The Network's blog series was one of the first of their new initiatives to arrive at the start of lockdown, with writers invited to pitch and write for this new online platform, and be paid for their work regardless of level of experience. But the team was also keeping a close eye on how online events were being run and whether or not organisations, festivals and more were staying true to their prior commitments to diversity and inclusion. As Ordorica notes, 'It was really vital for us to be aware of what was happening and try to create opportunities. At the same time, we were also trying to keep tabs on what literary events were shifting online and whether they were including diverse voices or not. I think there have been positive steps by organisations that we look up to who maybe took a bit of time, but have gotten better at including more diverse voices.
"We can't have this homogeneous representation of Scotland because that's not how it is." He continues. "Yes Scotland is the smaller country compared to England, but there's still a very diverse population that exists here, both made up of immigrants, but also people of colour who are born and bred Scots. So I think we've been grateful that in the shift to digital, we have been able to platform more writers than maybe we would have done at in-person events."
The next Scottish BAME Writers Network event will take place at the Edinburgh International Book Festival, which has moved online this year for the first time in its history. The event, titled Scotland's Heritage, Then and Now, will showcase four poets and explore how poetry can speak back to Scotland's literary heritage and complex relationships with nature, colonialism, justice and language.
'We're really excited,' Ordorica says when asked about the event. 'This is our first time being at the Book Festival in an official capacity. I think something that we were really aware of was when it came to panels that featured a large majority or entirely Black or POC writers, they were often coming from outside of Scotland, which is great for us as writers; we love to be in the room and hear from their experiences and their work and the journeys they've been on. But it became really important for us to remind an organisation as big and established as the Edinburgh International Book Festival that there is diversity within Scotland and that we want to be there in the room telling our own stories.'
Chairing the event, Ordorica will be joined by Saltire Poetry Book of the Year winner Janette Ayachi, Scottish Voice for 2020 playwright and poet Hannah Lavery, performance poet Courtney Stoddart, and poet and lecturer at the University of Dundee Heather H. Yeung. The selection is purposely varied, each having different approaches to their craft and at different stages of their careers.
'Ultimately, they're all poets but they use poetry in very different ways. Scotland has such a rich history of poetry and poets that use the form to explore nationalism and identity and nature. All of the writers use their work to touch on that, but also, a lot of them, if not all of them, also address colonialism in some way. I think that's an important aspect to the conversation when you're talking about Scotland and you're featuring four Scottish writers of colour. For me, it's really key that we do it in a way that's nuanced and that is ultimately focused on the writing and the craft of the writer and how they choose to explore these issues, but celebrates them first and foremost as poets who happen to be at one of the world's biggest literary festivals.'
Though the upcoming Book Festival event is a major milestone in the Network's journey so far, another positive development has been their recent invitation to join the Literature Alliance of Scotland. Ordorica and the team certainly see this as a great step in terms of organisations seeking to truly be more representative. But it's also true that the events of the past few months have uncovered the very real worry that any significant steps made in recent years will be undone as the industry enters into post-covid survival mode. So what are their hopes for the future of both the Network and of the wider industry?
'I know that as a collective,' Ordorica says, 'we just want continuous conversation going forward and for it to be something that people really are always considering, that this doesn't get left behind in 2020. We don't want to be in a position where two years on from now, there's a kind of foggy memory of all of the promises that people were making to address anti-blackness or to really want to educate themselves to be anti-racist advocates.
'We'd love to reach a stage where we don't need to exist. We would love it if there had been such fundamental, positive and authentic changes that actually there's no need for there to be an advocacy group for Black or POC writers. But until then, I think we'll continue to be holding people to account. It's important when you want to work to uplift marginalised voices to not just be performative in your allyship. It's really about starting conversations; it's working with those who are like-minded and who want to do the work, and it's about understanding what authentic change needs to happen.'
Scottish BAME Writers Network Showcase: Scotland's Heritage, Then and Now is online as part of the Edinburgh International Book Festival on Monday 31 August, 5.30pm. All EIBF events are free to watch this year.