When Teaching Your Mother Tongue is Punished with Imprisonment: in Support for Zara Mohammadi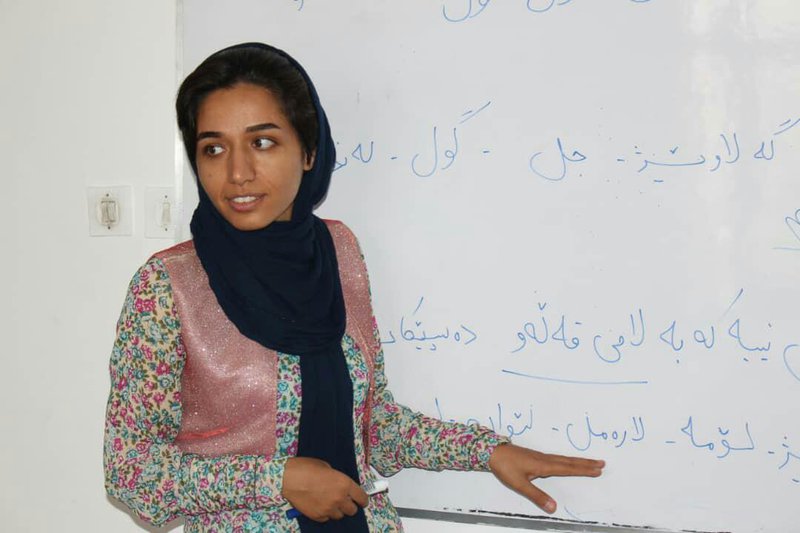 When teaching your mother tongue is punished with imprisonment: Noam Chomsky heads a statement of support for Zara Mohammadi, sentenced to 10 years in an Iranian prison for teaching Kurdish.
Older Scots will know from bitter experience what it means to have your native speech beaten out of you. Even today, when Gaelic schools have waiting lists, and popular children's books have been translated into Scots, there is widespread prejudice against those who don't or won't speak 'proper English'. This is often enmeshed in wider class prejudice, or internalised as the 'Scottish cringe'. Eradication of culture and language is always a central tool of colonialism and majority ethnic nationalism, and the preservation of 'minority' languages is never easy; but in places where ethnic nationalism is strongest and most tyrannical, cultural and language extinction can be pursued with extreme brutality.
In May, I wrote about the musicians imprisoned in Turkey for singing in Kurdish. Now I want to share a statement, headed by Noam Chomsky and signed by 85 others (mainly academics), supporting another young Kurdish woman, Zara Mohammadi, who faces ten years in an Iranian jail for the sole 'crime' of teaching her mother tongue.
Zara was a co-founder of Nojin Cultural Association in her home town of Sine (or Sanandaj in Persian), capital of Iran's Kurdistan province, and once home to a variety of rare languages and dialects. The association teaches Kurdish language and culture and has been involved in vital community actions, such as the control of forest fires. It had the approval of the provincial authority, and had spread to some hundred different towns and villages, reflecting people's desire to preserve their mother tongue for future generations.
In May last year, Zara was having lunch at her home with two other volunteer teachers from the organisation when all three were arrested. Her colleagues were released after six days of interrogation. Zara was held in solitary confinement for eight days before her family was even informed where she was, and was again held incommunicado for nine weeks from July to September. During that time, she was interrogated daily for hours at a time. She was pressed to 'confess' cooperation with opposition groups, and was told that members of her family could be arrested if she didn't agree to work for the Ministry of Intelligence.
Chris Law, the SNP's International Development Spokesman has said:
"Iran's blatant domestic discrimination against any language but Persian is bad enough, but this imprisonment, now, is only going to add to tensions in an already dangerous region. The Kurds have need of vocal international support, and we cannot turn a blind eye to the reality of their plight not just across Syria and Turkey, but in Iran as well. The powers that be of the international community have taken every opportunity to let the Kurds down over the centuries, it is time we reversed that and supported them."
After six months in detention, where she was deprived of proper medical treatment for serious health conditions, she was released on bail in December. Her trial, by Revolutionary Court, took place in February, with no-one else allowed to attend apart from Zara and her lawyer, and the sentence was handed down in July.
Initial charges of links with opposition groups were dropped, but these were not necessary. Teaching Kurdish was enough of a crime to merit ten years behind bars – one year for each of the years she had been teaching. The official charge for her work with Nojin was, 'establishing a committee and group against the stability and security of the system'.
After her arrest, Zara put out a video on Instagram in which she described her actions as 'the humanitarian duty of each individual'. 'The crimes of Zara Mohammadi', she explained, 'are: teaching her mother tongue, distributing chocolates on Mother Tongue Day, and helping the victims of flooding in Luristan,'
While Iranian government rhetoric may appear to give a degree of recognition to minority languages, it is actions that count. Zara's sentence is designed to discourage others from teaching Kurdish or attempting to preserve Kurdish culture. On top of this, there are plans to treat primary school entrants who are not proficient in Persian as 'abnormal'. While punishment of teachers is aimed at deterring Kurdish teaching outside the home, this would force families to try and use Persian in the home, so that their children are not permanently held back and stigmatised.
Zara's case was supported by Amnesty, and UN Special Rapporteurs expressed their concern. She has received international support via social media, and there is a petition on change.org. Though nothing has shifted the authorities so far, pressure has to be kept up. Those of us who are free to teach and speak in any language, can show Zara and her colleagues that they are not forgotten, and let people know what is happening.
The full statement in support of Zara Mohammadi and is set out below.
For more about the situation of the Kurds in Iran, see Scottish Solidarity with Kurdistan's 'Kurdish Tuesday' talk at 7pm on 25 August. Contact [email protected] for the Zoom link, or watch the livestream then or later here.
A Statement in Support of Zara Mohammadi
On July 14, 2020, an Islamic Revolutionary Court in Iran sentenced Zara Mohammadi to 10 years imprisonment for teaching Kurdish language on a voluntary basis. Zara Mohammadi is a co-founder of the Nojin Cultural Association, a civil society organisation focused on societal and educational initiatives, including teaching the Kurdish language and literature.
The Islamic Revolutionary Court's verdict insinuates that Zara Mohammadi's Kurdish instruction threatened Iran's "national security." It is worth noting that the Revolutionary Courts are not constitutional. According to Article 61 of the constitution of the Islamic Republic of Iran, "the judiciary power is exercised by the Public Courts of Justice [dādgostarī] …. ".
Moreover, while Iran's constitution explicitly privileges the Persian language as the country's official language and language of education and therefore marginalises other languages spoken in Iran as "tribal" and "local," it does explicitly allow the instruction of non-Persian languages (Article 15). Despite this clear stipulation regarding the legality of the use of non-Persian languages, over the past 40 years the Islamic Republic of Iran has refrained from implementing Article 15 of the constitution and consistently treated non-Persian languages as threats to Iran's national security. The Revolutionary Court's latest ruling against Zara Mohammadi is therefore only the latest instance of the Islamic Republic's securitization of the promotion, even by private individuals, of non-Persian languages.
To make matters worse, in 2019 the Islamic Republic's Ministry of Education declared that pupils' lack of Persian proficiency in preschools would be categorized as "abnormal" to be treated with special measures. The Iranian state has thus pathologized a lack of Persian proficiency turning it into a biological issue for non-Persian preschoolers.
The Islamic Republic of Iran's clear and systematic discrimination against non-Persian languages are in clear violation of several international conventions and covenants, including the United Nations' International Convention on the Elimination of All Forms of Racial Discrimination; International Covenant on Civil and Political Rights; and International Covenant on Economic, Social and Cultural Rights, of which Iran is a signatory.
We, the undersigned, condemn the Islamic Revolutionary Court's unlawful verdict, call for immediate acquittal of Zara Mohammadi and an end to discriminatory policies in Iran against non-Persian languages.
Noam Chomsky, Emeritus Professor of Linguistics, Massachusetts Institute of Technology / Cambridge, MA
İsmail Beşikçi, Emeritus Professor of Sociology / Turkey
Gil Anidjar, Professor, Department of Religion & Department of Middle Eastern, South Asian, and African Studies, Columbia University / New York, NY
Abbas Vali, Emeritus Professor, Political Theory, Boğazici University / Istanbul, Turkey
Owen R. Miller, Assistant Professor of History, Bilkent University /Ankara, Turkey
Kamal Soleimani, Professor & Researcher of Middle Eastern Studies, El Colegio de México / Mexico City, Mexico
Anthony K. Shin, Ph.D. student, Department of History, University of Minnesota / Minneapolis & St. Paul, MN
Barzoo Eliassi, Associate Professor, Department of Social Work, Linnaeus University /Småland, Sweden
Kamran Matin, Associate Professor, International Relations, Sussex University / Sussex, U.K.
Sona Kazemi, Postdoctoral Researcher of English, Mershon Center for International Security Studies, Ohio State University / Columbus, OH
Patrick Lewis, Ph.D. student, Anthropology, University of Chicago / Chicago, IL
Mofidi, Research Fellow, Netherlands Institute for Advanced Study / Amsterdam, Netherlands
Ahmad Mohammapour, Department of Anthropology, University of Massachusetts / Amherst, MA
Sherko Kirmanj, Assistant Professor, International Relations, University of Sharjah / Sharjah, United Arab Emirates
Allan Hassaniyan. Lecturer, Middle East Studies, University of Exeter / Exeter, U.K.
Muslih Irwani, Professor, Public Policy, Salahaddin University / Erbil, Iraq
Haidar Khezri, Assistant Professor, Department of Modern Languages and Literatures, University of Central Florida / Orange County, FL
Amir Sharifi, Ph.D. Lecturer/ Department of Linguistics, California State University / Long Beach, USA
Ebru Ilhan, Ph.D. student and Academic Advisor, Minnesota State University / Mankato, MN
Shadi Rohana, Language Professor/ El Colegio de México / Mexico City, Mexico
Benjamin Priest, Visiting Assistant Professor, Department of Central Eurasian Studies, Indiana University / Bloomington, IN
Djene R. Bajalan, Ph.D., Assistant Professor of History, Missouri State University / Springfield, MO
Benjamin Priest, Ph.D., Visiting Assistant Professor /Central Eurasian Studies Department, Indiana University / Bloomington, IN
Autumn Cockrell-Abdullah, Ph.D. Research Fellow/Anthropology, Global South Research Consortium, Kennesaw State University / Kennesaw, GA
Michael Chyet, Ph.D., Cataloguer of Middle Eastern languages, Library of Congress / Washington, D.C.
Ibrahim Sirkeci, Ph.D. Professor, Transnational Studies, Regent's University / London,