Camus' The Plague: A Tale of Our Times
"Plagues make exiles of people in their own country." Albert Camus's 1947 novel The Plague, depicts a "pestilence" sweeping through the Algerian town of Oran. Camus's Oran is grafted on to a unique landscape, right in the centre of a bare plateau, "ringed with luminous hills and above a perfectly shaped bay." The beauty of the North African landscape is cruelly invaded by the inexplicable arrival of a diseased rat population which goes on to wreak havoc amongst its inhabitants, bringing contagion and death. The plague changes the rhythms of life in Oran, "June's twilights" are lost in the sky, flower petals "crushed between heat and plague", the Algerian summer is "dead and all its pleasures vetoed". The townsfolk are initially incredulous. What human reason cannot explain, human reason does not want to accept, he tells us. "People fancied themselves free", he writes in his habitual tone of wry cynicism.
Camus is a master of exiled narrative. With surgical precision, he extracts his characters from their peaceful isolation and forces them into a political reality, a revolutionary event, a moment naturally unfolding in the greater narrative of life. An exile himself, Camus was born in Algeria and lived through the Algerian revolt and the country's struggle for Independence. His was a personal struggle too. He came to the end of his life at only 46 in a car accident without ever having resolved for himself the "Algerian question", the one that marked his life and oeuvre so deep like the "hurt in my lungs", as he writes in 1955.
By the time he wrote The Plague, Camus was already an esteemed figure within the French literary establishment. He grew up in a colony as a Frenchman with an "Algerian self-awareness" and was caught up in the overwhelming events of his time: the post-war desire to rebuild Europe and the consequent war of ideologies between the bourgeoisie and the hopeful communists –yet naïve to Stalin's plans to quash to Hungarian revolt with blood and tanks in the streets. Violence was in the air in January 1956, when Albert Camus checked into the Hotel Saint-George. The struggle against French colonialism was escalating, with civilians becoming the primary victims. After 14 years in France, he had decided to return to try to stop his homeland from sliding deeper into war. It was a perilous mission. Ultimately, Camus the Franco-Algerian tried to find a middle way: He advocated freedom for his birthplace and a reconciliatory settlement with France. It was not to be. Two years after his death, Algeria declared her independence in July 1962 after a brutal and long war.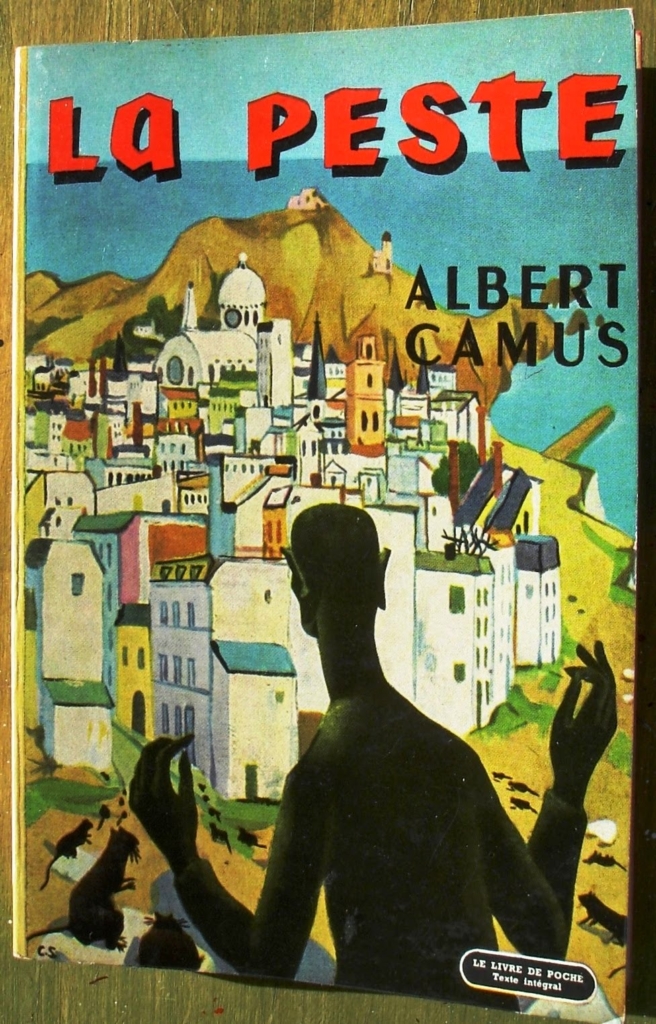 Camus's novel was written at the intersection of WWII and the new dawn, the promise of a better tomorrow. Europe's bloodied encounter with fascism made its contemporaries all too aware of Nazi genocides but also the ideological masking of its workings: fascism as "the need to deal with foreigners", "love of the motherland", "protecting your own", "let's make this country great again" and above all its diseased attachment to a charismatic ruler (usually a psychopath), its violently emotive rhetoric of confusion and lies and its strategic control of the masses to serve its dismal, monolithic entity.
Great literary works always contain a mystery of interpretation. That is why they can be read hundreds or thousands of years later and still have the same resonance. In The Plague, Camus's rat infestation is the mirror of our perennial fear for the unseen and invincible "Other", the unassailable force of dissent that we cannot seal off, whose imaginative air droplets precede their arrival and which we can try to downplay, "behaviourally" manage or artificially explain away but can never really control. For they will be back to remind us of the frailty of our human condition and of the need and the urgency to listen to and consider this unseen and inexplicable "Other".
Camus's rats work to exhibit this alterity, their claws scratching and tails thrashing in Oran's hot and dirty streets, only to die before we can work out what is happening. The novel's ironic observation that the rats can never be completely emptied out from the space of the text both literally and metaphorically should act as a warning for us: even when the vaccine comes, we will never be free from the virus because it represents difference itself: the condition of respecting and accepting the other's otherness as well as our own. Our renewed commitment to listen to the earth and her worries and our preparedness to act in the face of aggressive exploitation, attack on our hard-won rights and the rights of our fellow humans, all over our shared world.
Camus was thinking about fascism of course, but like all literary greatness he is never too far from our present history. In a letter he addressed to Roland Barthes, Camus clarifies: "The Plague should be read on several levels; but nevertheless its obvious content is the struggle of the European Resistance against Nazism." And he adds: "In a sense it is more than a chronicle of the Resistance. But it most certainly is not less."
In Camus's epidemiology, a plague is just as likely to produce hope as it is to spawn fascism: In today's reality, Johnson, Cummings, Putin, Trump, India's Modi and Brazil's Bolsonaro test the edges of what we have come to accept as methods for governing civilised society. Commentators George Monbiot and Fintan O'Toole have joined philosophers like Judith Butler, Jason Stanley and Timothy Snyder in reinterpreting fascism for our times and extrapolating the conditions in which it becomes possible, even desirable by many. Fascist politicians promote aggressively the willingness not only to break the law and decimate its constitutional safeguards but to revel in its decimation. This is the fatal step towards the replacement of a polyvocal, well-founded democracy with authoritarian terror. Fascism's warning signs are recognisable: the mythology of a romanticised past, the brutal distrust of doctors and scientists, the virulent anti-intellectualism, the derision towards the less able-bodied and those in forced poverty and the active violence against anyone perceived to be "foreign", regardless of reason or consequence.
We are now facing the threat of a belligerent, loud-mouthed and cantankerous Anglo-sphere where people are burnt alive in the middle of London because "they have no common sense" or succumb to COVID because they aren't strong enough to "take it on the chin". Black Britons and Europeans are systematically annihilated through the stealth imposition of controlling minds and shaping narrative: psy-ops, artificial intelligence-led rhetoric and imaginary "statistics" that would put Joseph Goebbels to shame for his simplistic ways of blaming the Jews for the ills of humanity. The news that we read online are algorithmically framed, harvested and captured. Of course, the British government has form on inventing controlling mechanisms and ample time to develop them through centuries of imperial rule across the four corners of the Globe. Coronavirus has given them the space and powers to conduct their "world-beating" "super-forecasting" which is little more than a massive control operation awarded billions of pounds without proper procurement procedures and managed by Faculty and Palantir, both firms tightly controlled by the obscure figures of Dominic Cummings and Peter Thiel.
Constitutional vandalism is another well-kept weapon in fascism's armoury. Traditionally, both the post-Weimar administrations and Mussolini in Italy have invoked the "will of the people", both in rhetoric and in optic ritual. Stadia filled with happy, robust, vigorously fool-bloodied people, signing and flag-waving were an indispensable tool in fascist propaganda. Constitutional procedure and parliamentary scrutiny were attacked viciously under the guise of "the will of the majority". In perfect parallel, the latest item on our contemporary agenda is control of state aid. A full-scale assault on Devolution and a blatant move to erode the powers of the Scottish Parliament is now inevitable. Without the safeguards of the European Union, devolved administrations will be amongst the first to suffer the blows of centralised rule. In Scotland, civil and political rights are protected by the Human Rights Act 1988 and provisions in the Scotland Act 1998. With the European Convention on Human Rights no longer justiciable, Scotland's legislative competencies will be severely curtailed and all areas of administration will be encroached on by the all-powerful, and omnipresent Anglo-state in all its destructive greatness.
Is the plague upon us? It is. It always was. As Camus had imagined it, fascism is a contagion: An infectious disease, never truly eradicated from the body of society. Even when seemingly absent, it lies dormant, waiting for the right conditions to allow it to break out anew. The oppression of the Other- the Jew, the African, the European, the disabled, the Catholic, the Protestant, the Muslim- is the early warning sign of history.
And once this virus has been eradicated, like the doctor in Camus's Plague, we must remember that "He knew what those jubilant crowds did not know but could have learned from books: that the plague bacillus never dies or disappears for good . . . and that perhaps the day would come when, for the bane and for the enlightening of men, it would rouse up its rats again and send them forth to die in a happy city."
Is this the time to moralise? No. It never is. Good measure, critical understanding and looking after each other will help us on our way out of this present "infestation". Scotland has already demonstrated her ability by not only containing but also suppressing the virus and this is largely due to the indefatigable commitment of her public servants to put human life and well-being before any other consideration. It is perhaps a testament to our times that COVID is mirror to reflecting the differences between the nations of the British Isles by highlighting their priorities.
At any rate, Camus is not a man moralising about the moral failings of others. He recognises his own. That's what makes him great. And there is no one better to observe, sing and create poetics in human pain than Camus himself. Let's hear him:
Pestilence isn't a thing made to man's measure; therefore we tell ourselves that pestilence is a mere phantasm of the mind, a bad dream that will pass away. But it doesn't always pass away and, from one bad dream to another, it is men who pass away […] Our townsfolk were not more to blame than others; they forgot to be modest, that was all, and thought that everything still was possible for them […] How should they have given a thought to anything like plague, which rules out any future, cancels journeys, silences the exchange of views. They fancied themselves free, and no one will ever be free so long as there are pestilences.
To the Scottish reader, Camus lends himself to a myriad wonders. Much in the same way as many of us feel in this present time, he felt himself asphyxiated; watching powerlessly, as events overtake our ability to comprehend them. His writings remain a testament to this bifurcated consciousness and monuments to teaching us that all plagues come to an end. And that, while "unable to be saints" we must always act against "terror and its relentless onslaughts", we must "refuse to bow down to pestilences, striving our utmost to be healers." The last three hundred years demonstrate that Scotland can withstand many challenges and, with fortitude and good will, still find her own voice amongst the family of nations.
Soon, it may be time to act again.