On the music and poetry of Gillian Katungi aka Paix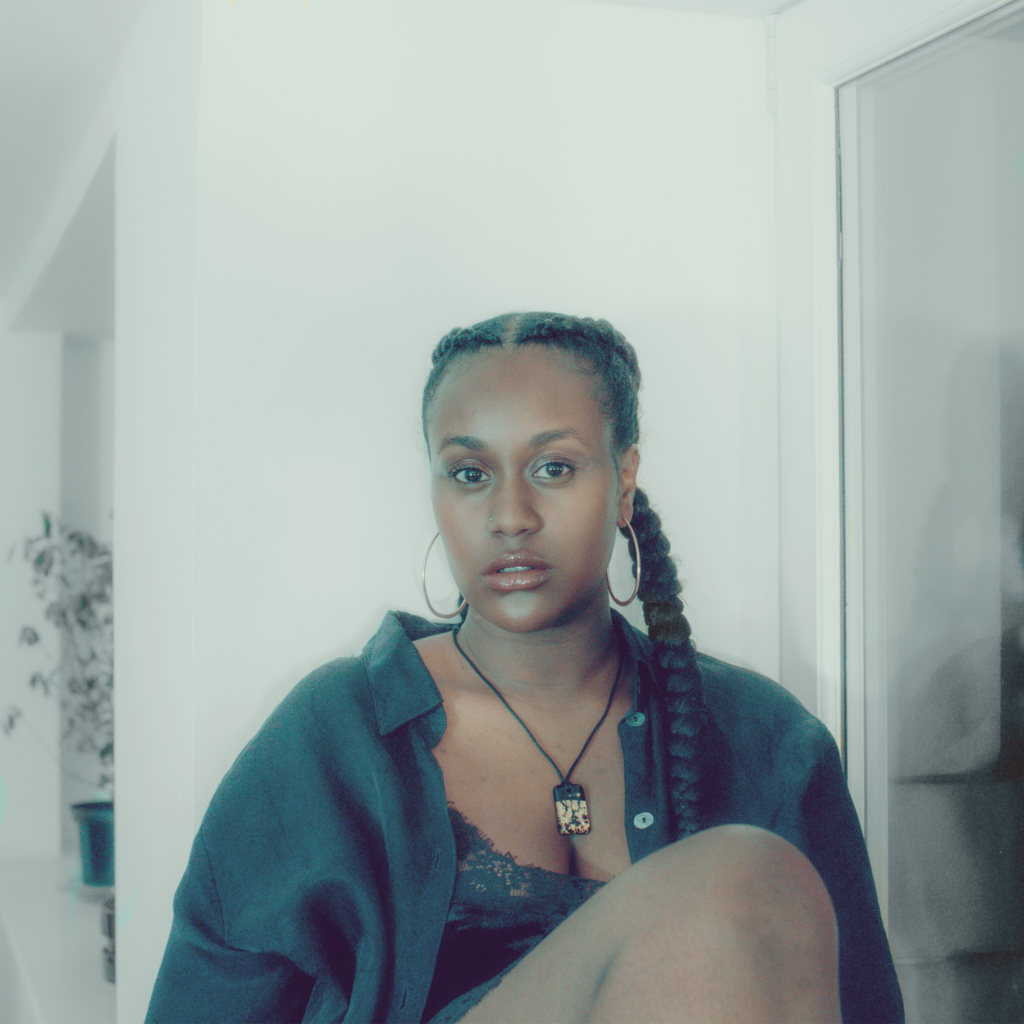 Arusa Qureshi catches up with Glasgow-based artist, performer and poet Gillian Katungi aka Paix to find out more about her start in music, her recent projects and future plans.
It's rare to come across an artist whose vocals have the ability to reverberate within your mind for days after just one listen. But that's exactly what Gillian Katungi is – a rare and extremely skilled new talent, who oozes promise with each release, project and collaboration.
"I've actually been writing and performing for most of my life, to be honest." She explains when asked about her start in music. "I've been singing, dancing, and writing since I was a kid. I took performance art at college where I developed my performance practice and was really able to explore myself as a live performer as well as use the recording studio. I think my first session artist job was at about 18 years old."
It's clear from speaking to Katungi that music and performance is an innate part of who she is, having performed throughout her childhood and even played in an indie band during secondary school. It was after leaving university in 2014 that she started searching for people to work with in Glasgow, quickly realising that collaborating with instrumentalists and producers was where she really found her home.
"I spent a few years going to all the nights I could find and trawling through Gumtree and Facebook to find instrumentalists – there was a lot of experimenting with bands and the different studios where I could develop my recording skills. I found techno nights, indie nights, poetry night and much later the jazz jams, which consisted of mostly the talented RCS students on the jazz course. But I guess I didn't fit into any of these silos and found it difficult to connect as I couldn't see any vocalists like me in those spaces."
Nevertheless, Katungi soon encountered individuals who introduced her to a thriving underground scene, where lines were being blurred and boundaries crossed and where she was able to fully explore her sound alongside other like-minded performers. From this creative discovery, Paix was born.
"Paix has been the artist name that I release music under for a couple of years now" she says, "and it really came out of a necessity to release my music under a name that represents something about me and my creative expression. I've been signing off my messages and emails with Paix since forever. Paix means peace, but not just any kind of peace – it's the kind of peace that comes about at the end of a conflict. It's the kind of peace that comes from an agreement that the fight or struggle has got to end. So this conceptualisation of peace, for me, holds deep gratitude which really resonates with me. Peace is also something I always seek and it's something people have always said they feel when they engage with me and my work."
Katungi made her debut as Paix on Mysterex's mellow 2019 single 'Self Love', going on to feature on Cold North's track 'Only One' the following month. Her first solo release and third single 'How Long' arrived earlier this year, marking a real turning point in her journey as Paix, with its subtle beats and warm piano accompaniment winding beautifully around her voice, always tender yet hugely emotive.
"I wrote 'How Long' at the end of last summer. It was a year of duality for me; artistically and professionally I was experiencing so much growth and lots of fantastic opportunities but on the flip of that I was personally going through some big and very uncomfortable transitions. I suppose it was my own season of 'the dark night of the soul' and the first part of this song was written when I was right in the thick of it."
It's a truly stunning and affecting track, with production by Gillieson emphasising its key elements and bringing the song's core feelings of pain and grief to the surface. "I met Glasgow-based producer Jedd Gillies [Gillieson] whilst dancing in the middle of the forest at Kelburn Festival," Katungi says of their partnership. "We soon realised that we had a lot in common, loved each other's work, and decided to explore collaboration. A couple of weeks later he was exploring an idea on the piano and it really resonated with me so we began developing it. The song is about journeying through the end of a close relationship; grieving the loss and wondering when you'll stop feeling that lingering achy sadness. It captures the process I went through last year and hopefully shows the turning point and the growth around that."
The video that accompanies the song is similarly introspective, emitting a meditative feel as Katungi is seen wandering at night, looking longingly or seemingly waiting for some form of resolution.
"I knew I wanted a visual for this so I reached out to young Glasgow-based Creative Director David Chukwujekwu. I really liked his focus on communicative and cinematic imagery and sent him the track. He immediately grasped its themes. He wanted to capture the solitude and internal reflection I was experiencing through a single-subject focus and multiple versions of myself in one space. I think we achieved that and I'm really proud of the project."
As with many artists, lockdown has proved to be a strange period creatively but Katungi explains that she's been lucky to have recording studio equipment at home, which has kept her immersed in her music. But as she notes, it's also been useful for her to be able to use the time to pause and reflect. "I think I've really tried to be patient with myself and soothe the part of me that is used to being busy, so I've also tried to not place too much pressure on myself to be productive during a stressful time. I saw a quote that said "you're not working from home, you're at home during a global crisis, trying to work" It's really resonated because we're all grieving and deserve time.
"One of the things I've started doing during lockdown is recording my thoughts verbally," she continues. "I'd highly recommend it. I think it started because I had writer's block and was feeling really clogged up. Writing songs and poems is a big part of who I am, but this anxiety of the period was quite paralysing at first. I started thinking about how people developed concepts, ideas, and creative thoughts before writing things down and I arrived at oral storytelling. I guess I've always used my phone to capture ideas and melodies on the go, but this is more intentional recording. I also think it'll be good for the archives to look back on such a historically significant time."
As well as recording at home during lockdown, Katungi has spent the time taking part in a number of virtual gigs, which she comments has enabled her to explore a new way of performing. "It's quite hard to get your head around the difference at first – creating and performing to an audience you can't see or interact with in flesh – but I've found the process to be stretching and positive."
Those that caught one of the weekly editions of online show Quarantine Cabaret or the Tiny Changes virtual fundraiser in June, which raised over £19,000 to support youth-led mental health initiatives, would have spotted her on the line-up, and Katungi also performed as part of the Edinburgh Jazz Festival's online programme with Rebecca Vasmant and Saxophonist Harry Weir. Elsewhere, Edinburgh-based label Mind Yer Self released a compilation album with a track that was made in lockdown featuring Katungi and produced by Vasmant, with 50% of proceeds going to Help Musicians, and 50% of the pair's earnings going to black and POC-led charities in Scotland.
Despite enjoying these virtual performances and collaborations, Katungi is looking forward to the return of some sense of normalcy, acknowledging that she feels most inspired when listening to live music or jamming in a creative space with instrumentalists. "As a singer-songwriter, performer, and poet I've always wanted to push beyond any limiting ideas of what kind of artist I can be," she says. "My creative expression brings so many different elements together so I mostly look inside me and respond to what's happening around me."
In the meantime though, she has plenty of exciting projects on the horizon, including a residency with Buzzcut at Glasgow's Centre for Contemporary Arts (CCA) in spring 2021. As for new music, can we expect more under her Paix moniker in the near future?
"Yes, you absolutely can expect to hear more releases and live-work from me. A large part of my practice is rooted in live performance, so I'm really looking forward to being able to get back out there, though I know it will all depend on what the rules are for theatres and music venues. But I'm working towards a visual EP and I have a couple of collaborative projects that are due to be released on indie labels so keep your eyes peeled and follow my social media pages for more info!"
Follow Paix on Facebook, Twitter and Bandcamp.
Photo credit: David Chukwujekwu