KAPROW! KAPROW!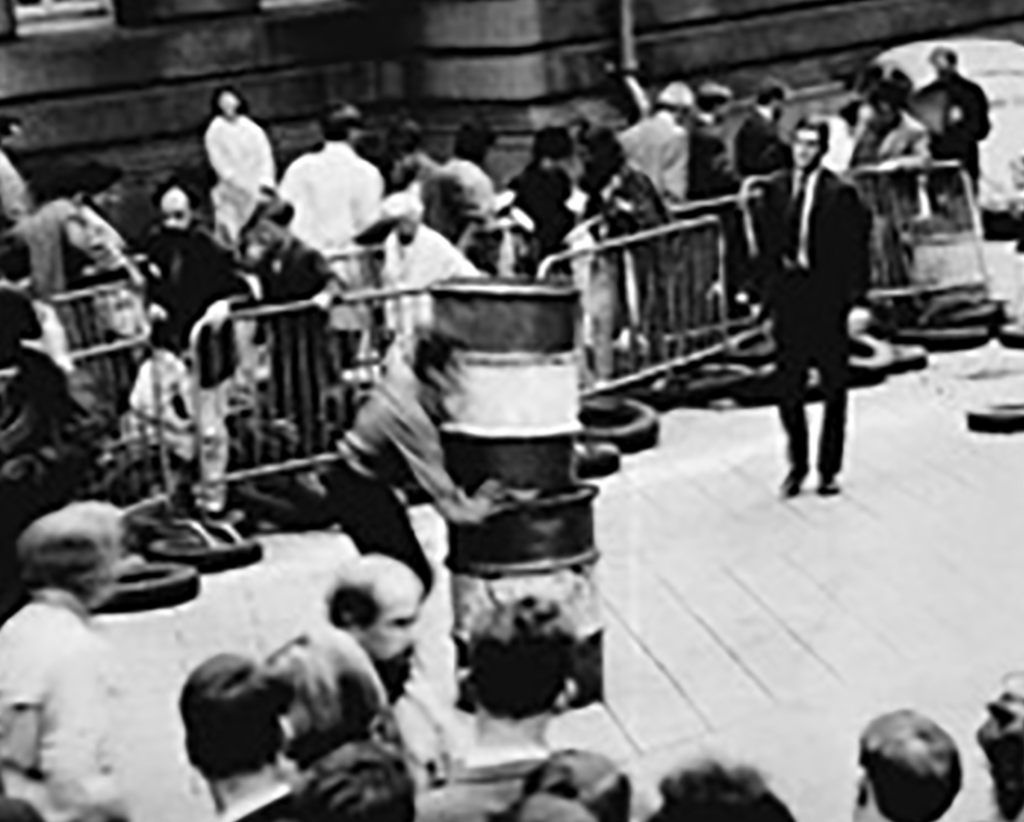 Playing Around in Jupiter Artland – Hopes for Great Happenings in the Time of Covid
'In 1964, in Edinburgh, on the last day of the Festival Drama Conference, a nude lady was wheeled across a balcony in a trolley.' So observed poet, painter and occasional pop star Adrian Henri in his book, Environments and Happenings, published a decade later. 'Ever since then,' Henri concluded, 'the Great British Public has associated happenings with naked ladies.'
While this possibly says as much about Henri's preoccupations as anything else, he wasn't wrong. Apart, that is, from the date of the incident, which actually occurred a year earlier, during the first week of September 1963. One of the event's co-conspirators, theatre director Charles Marowitz, dates it in his memoir, Burnt Bridges, as having taken place in 1962.
Both men's recollections suggests that the old cliché about how if you can remember the '60s you weren't really there might well be more true than anything said by either chronicler of their age. Nevertheless, Henri's highlighting of one of the popular (mis)conceptions of what constitutes a Happening tapped into the encroaching tabloidisation of what became known as the swinging sixties once the underground went Pop.
The carefully choreographed event Henri refers to took place at the University of Edinburgh's McEwan Hall on the sixth and final day of the all-star International Drama Conference, held there as part of that year's Edinburgh International Festival. The Happening was to be an attempt to offset the torpor of what up until then Marowitz and others saw as largely a week of show-boating banality.
This response was instigated mainly by Ken Dewey, an American artist and theatre-maker, who had been invited by publisher and conference organiser John Calder. This was after Calder saw a stage production by Dewey in Paris. Also invited was another American, Allan Kaprow. Dewey described Kaprow to Calder as the main instigator and advocate of something he called Happenings, and had been since the late 1950s, when he presented Eighteen Happenings in Six Parts at the Reuben Gallery in New York. In keeping with Henri and Marowitz's not always reliable tomes, Calder's own 'Uncensored Memoirs', Pursuit, published in 2001, spelt Kaprow's forename as 'Allen', but nevertheless.
Dewey, Kaprow, Marowitz and Scottish artist Mark Boyle had been invited to talk about the theatre of the future, with an emphasis on Happenings. The night before their scheduled presentation, the four met along with actor Charles Lewsen to concoct a plan. On the day itself, Theatre Workshop director Joan Littlewood spoke on her proposed fun palace beside the Thames before Marowitz took to the podium.
Playing the straight man, Marowitz began a pseudo lecture on Samuel Beckett. His po-faced proposition suggested Beckett's then ten-year-old masterpiece of existential music hall, Waiting for Godot, was actually about racial oppression in America's southern states in the build up to the Civil War. This suggested that the play's central double act, Vladimir and Estragon, represented Union general Ulysses S. Grant and his Confederate counterpart, Robert E. Lee. Pozzo was declared by Marowitz to be an expression of Confederate president Jefferson Davis, while Lucky was vaunted as a symbol of all slaves kept in America's deep south. Despite such wilfully nonsensical twaddle, only Lewsen, cast as a heckler planted in the silently respectful audience, attempted any kind of protest.
As Marowitz carried on regardless, Lewsen's arrival at the microphone became the signal for an eruption of carefully controlled chaos, as described in varying accounts by Marowitz, Dewey and Boyle published in Marowitz's book. This began with the sound of an organ drone and broadcast of tape cut-ups of speech fragments from the conference. Hollywood actress Carroll Baker 'clambered over the seats at the back of the hall' in a fur coat she eventually discarded as if hypnotised by Kaprow, who 'Valentino-like, was spooking her from the front of the hall'.
A group of performers pressing themselves against the windows above pleaded for attention with the words "Me, what about me?" As the much celebrated nude model, Anna Kesselaar, was wheeled around the balcony above, the curtains at the back of the stage fell to reveal shelf-loads of somewhere between 50 and 100 sculpted heads illuminated by footlights. Artist Joan Hills stepped into the melee with her and Boyle's children pointing out both the statues and prominent members of the audience as a bag-piper blew his way through it.
As spectacular as all this sounds in its various and varied remembrances, to appreciate it fully, you probably had to be there. As Calder explains in Pursuit, Dewar and co had 'inherited' Kesselaar from Littlewood, who had originally planned to incorporate her into her own presentation. This was meant to include the floor of the McEwan being ripped up by drill-wielding workmen, though Littlewood's enforced departure to London to oversee problems in her production of Oh, What a Lovely War! prevented such a seismic act from taking place.
Kesselaar's fleeting appearance in Dewey and co's Happening nevertheless made both the tabloids and the courts. The latter saw three people connected to the religious Moral Rearmament group attempt and fail to prosecute Kesselaar for performing an indecent act in public. As Calder explained in Pursuit, as the conference director, charges were also brought against him for being 'art and part' of the alleged indecency.
During the discussion that followed the performance of Dewey's creation, assorted delegates proclaimed various shades of outrage, bemusement and far more approval than perhaps expected. Dewey explained that his happening was called Big Head. This was in honour of some of the events at the Drama Conference and those contributing to what Calder called 'pretentious nonsense' over the preceding week.
As if what Calder described as 'certainly the liveliest' debate of the week wasn't enough, at the end of a long and at times unexpected day, Kaprow announced that the audience would be involved in another Happening as they left the building. This was Out, or Exit Piece, in which departing delegates and assorted media hangers-on had their expectations up-ended again when they were forced to clamber over mounds of second-hand tyres piled outside the McEwan, as if barricading an intellectual fort.
As described by Jeff Kelley in his book, Childsplay: The Art of Allan Kaprow, 'Out was conceived as an exit piece in which the crowd in the hall would be led, Pied Piper-like,' into what Kelley called 'a dreary Victorian courtyard,' which was presumably the site of what is now Bristo Square. The crowd were then moved "out the front doors and through a narrow, sharply angled lane of piled-up car tires squeezed on both sides by steel police barricades, while a procession of seven men, walking in circles around the courtyard, carried tires on their shoulders.'
In the courtyard, meanwhile, 'several groups of men repeatedly knocked down and rebuilt randomly stacked columns of red and white oil drums. One man repeatedly crawled on the drums and fell off, while two others lifted drums and let them drop on the drums beneath them, producing a slow, steady booming that resonated with the pulse of the procession.'
As some chose to watch the goings-on outside from an upstairs window, Kelley quotes Kaprow as describing the experience as "a half-conscious memory… of a painting by Van Gogh of men marching hopelessly in a circle around a prison yard."
While metaphors of storming the barricades are obvious here, it's worth noting too that, since Bristo Square was built in 1983, the site has been a makeshift arena for Edinburgh's skateboarding community, and has continued to be so since the site was redeveloped with a new entrance to the McEwan Hall in 2017. Such reformalising of what was once 'a dreary Victorian courtyard' has not discouraged such spontaneous bursts of sporting activity.
The relationship between skateboarding and city arts amenities has quite a history in itself. The long deserted former garage that became the site of Dundee Contemporary Arts was a similar hotbed of skateboarding activity. In London, the undercroft of the Southbank Centre was long used as a skateboard park before a proposed retail development by the arts centre threatened its existence. Following a long campaign by the Long Live Southbank group, a deal was eventually cut in 2014 that allowed the undercroft to remain as a skatepark.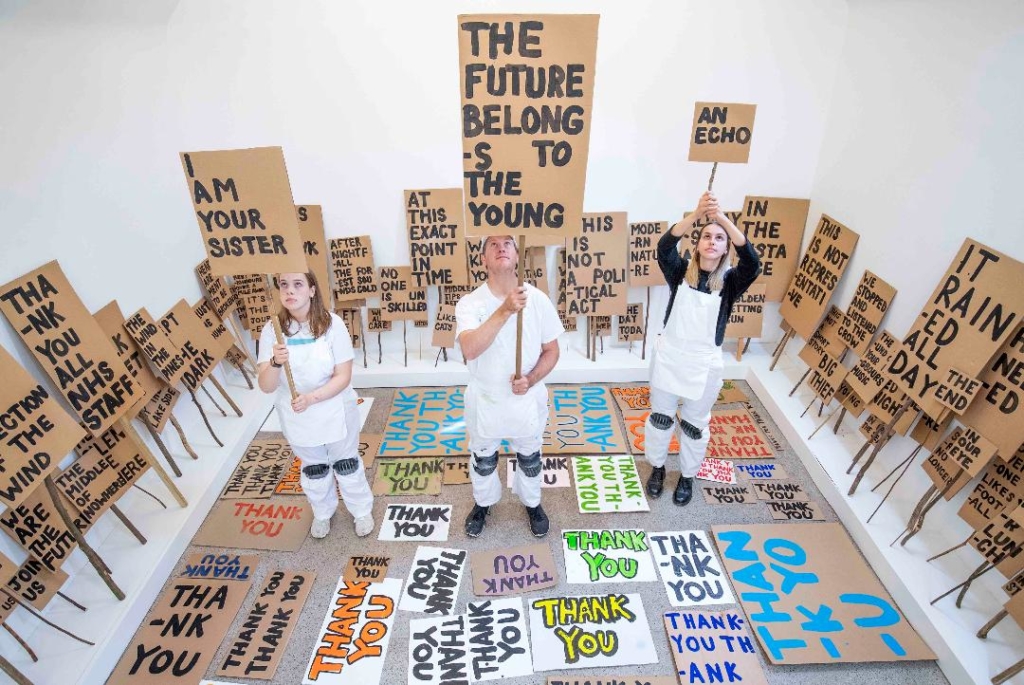 Back in 1963, Dewey's concoction might have got the headlines, but it was Kaprow and Out that set the groundwork for the shape of even more playful things to come. This is evident if you take a trip out to Jupiter Artland in what's left of this strange, self-isolated summer-into-autumn of not-happenings and un-happenings. Here, the West Lothian based sculpture park's slimmed down temporary programme takes Kaprow's series of environmental interventions as their starting point for reimaginings great and small created under lockdown.
This is spear-headed by Peter Liversidge, who, since May 2020, has been working with the Jupiter Artland instigated ORBIT Youth Council to create a series of hand-painted signs. With a name drawn from Jupiter Artland's sense of planetary alignment, ORBIT Youth Council is a group of young people aged 16-18 drawn from schools across Scotland working together to rethink the role of art in the community. This year's group were selected from 70 applications by Jupiter Artland's creative team after recruitment packs were sent out to every school in Scotland. The team worked closely with teachers in building ORBIT, and are keen to bring on board students who might not normally put themselves forward for such initiatives.
The result of ORBIT's collaboration with Liversidge is Sign Painting Studio (for Allan Kaprow). Here an array of makeshift signs are lined up against the walls of Jupiter's Steadings Gallery in a way that resembles the waiting room for a mass protest suggesting the future really does belong to the young.
This follows on from Liversidge's own DIY response to Out/Exit Piece (1963/2020). This saw him post a hand made 'NO BREXIT' postcard to the UK Prime Minister at 10 Downing Street each day of 2019 up to January 31st 2020, the scheduled date of the UK's departure from the European Union.
While the latter is still pending, the Coronavirus pandemic shifted the global agenda even more, with Jupiter Artland's summer opening and accompanying new permanent work by Tracey Emin postponed. With Liversidge unable to get on site due to lockdown, this necessitated him co-opting the family of Jupiter Artland owners and residents the Wilson Family to create work by proxy.
One of the results of this is One Thousand Thank Yous (2020), a series of custom-made cardboard signs mounted on the gates of Jupiter Artland, where they welcome visitors to the sculpture park while remaining visible to passers by in cars and buses. The sense of gratitude emblazoned on the signs tally with the similarly vast array of rainbow-coloured creations mounted in windows in honour of key workers during lockdown.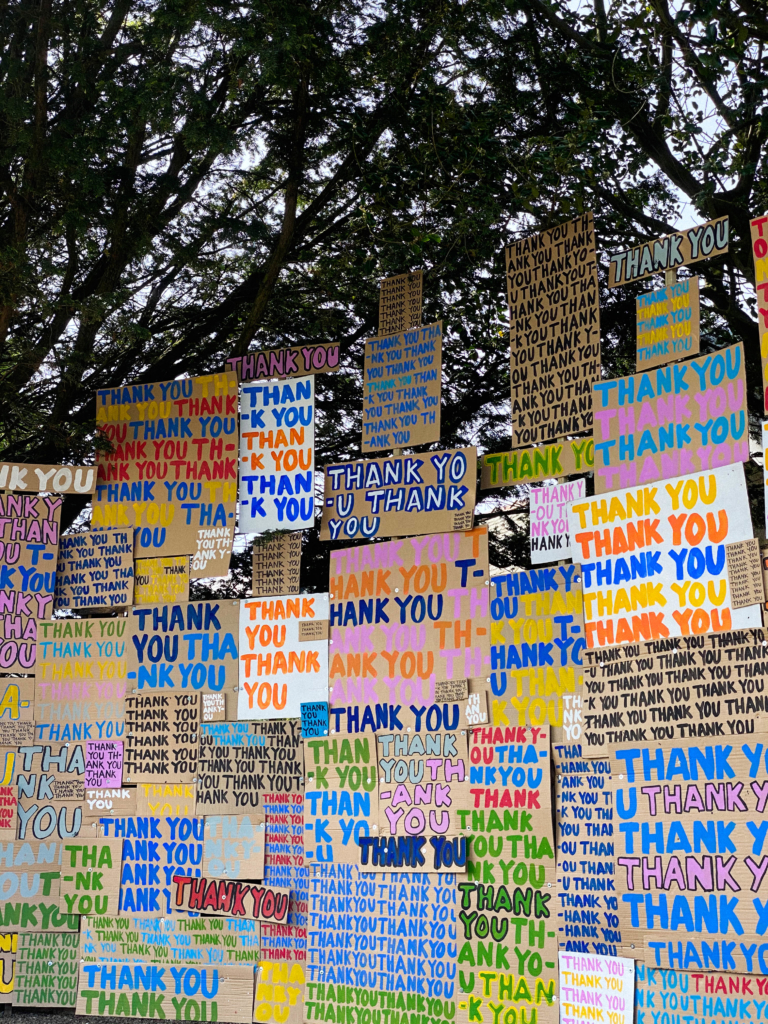 It has also brought the Wilsons presence to the fore in an interesting way. Look at documentary photographs of assorted counter-cultural activities across the decades, and a discreetly placed figure who is invariably bankrolling the entire enterprise will be watching from the blurred edges of the frame. Here the Wilsons have jumped through that frame to become key players in Liversidge's artistic process beyond mere philanthropy.
By reimagining two more Kaprow works, Yard (1961/2020) and Transfer (1968/2020), however much out of necessity than design, the Wilsons' involvement in their creation highlights the inherent participatory democracy of Kaprow's utopian philosophy. This is certainly the case with Transfer, a moveable installation of painted oil barrels, which the younger family members have invited neighbouring households to complete.
This picks up the baton from Kaprow's original, which took place at Wesleyan University, Connecticut, over three days in February 1968. According to Kaprow's score for the piece, Transfer began with a 'Large heap of metal barrels behind chemical plant. People pose among them for triumphal photo. Barrels loaded onto trucks, driven to another site. Unloaded. Stacked neatly. Sprayed silver. People pose for triumphal photo.'
And so it went, with the barrels taken to six different sites, where they were unloaded and painted in turn white, black, Day-Glo red, Day-Glo green, silver and white. With a triumphal photo taken at each stop-off point, the barrels were loaded up a final time, returned to their original spot and painted black. Again, the emphasis is on working together, building a rapport and a rhythm born of co-operation, repetition and collaboration.
The tyres, meanwhile, come not in Out/Exit Piece, but in Yard, which disrupts the landscape with a runway-size trail of tyres. Originally staged by Kaprow in 1961 for Hauser & Wirth's opening New York show, Environment – Situations – Spaces, Kaprow transformed the backyard of what was then the Martha Jackson Gallery into something that was part junkyard, part adventure playground for grown-ups. This meant the audience who came along to view work from a distance became part of what today might be called immersive.
This gave a hint, both of Kaprow's methodology in the early '60s, and of the sort of obstacle course the delegates of the 1963 Drama Conference were confronted with when they attempted to leave the McEwan Hall. The small sign pitched into the grass beside the tyres at Jupiter Artland declaring 'DANGER PLEASE DO NOT CLIMB' kind of neuters its intent somewhat, but health and safety in the current climate is probably a tad stricter than in unreconstructed New York back in the day.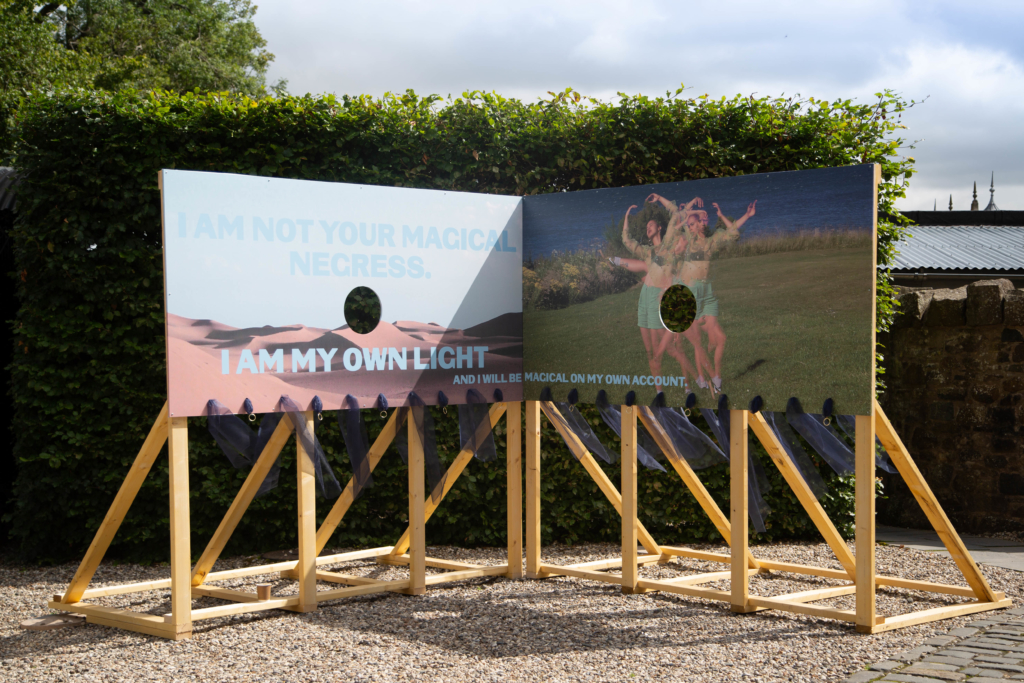 Beyond the Liversidge/Wilson diaspora, Cinzia Mutigli's 19-and-a-half-minute film, Sweet Wall, (1970/2020), reinvents Kaprow's original Berlin Wall-based intervention, in which another wall was built nearby. The mortar used to conjoin the concrete blocks in this new 30-metre long construction was made of slices of bread spread with strawberry jam. Built over one afternoon by twelve people working in unison, what Kaprow called a 'political parody' was immediately knocked down.
Taking this as her starting point, Mutigli's film uses sugar as the springboard for a visual and aural collage of found footage and text-book quotations to tell a narrative of everyday release that begins and ends with the image of a cup of tea. Using kaleidoscopic visuals and close-ups of sugar lumps on Mutigli's own tongue that recalls a much appropriated acid house era image, this is set to a loop of Sheena Easton's sexually charged 1984 hit, Sugar Walls, composed by Prince under the pseudonym, Alexander Nevermind. Combined, this becomes a gateway to meditations on slavery, exploitation and the increasingly addictive rush of everyday consumption – legal or otherwise – that can lead to altered states.
The film is screened in Jupiter Artland's Tin Roof Gallery, wallpapered by Mutigli with patterns from her film and with jam sandwiches to hand made by her along with takeaway recipes. Seen in such an enclosed customised space, the film's multiple strands and repetitive tone have a mesmeric effect that breaks psychic walls in its own self-made environment. At a more prosaic level, the jam sandwiches might be a treat to savour in the lunch boxes of workers building actual building site walls or moving containers around from place to place.
In its mind-expanding premise, Mutigli's film operates in a similar territory to Sugar for Your Tea, a spoken-word based video installation by Kayus Bankole of Edinburgh band Young Fathers. Not part of Jupiter Artland's summer programme, Bankole's work formed part of Message from the Skies, the city-wide series of text-based installations that saw in 2020 as part of Edinburgh's Hogmanay.
Made with film-maker Rianne White and projection mapping company Double Take Projections, Sugar for Your Tea saw Bankole reflect on Scotland's role in the slave trade, the legacy of which can be seen in the city streets named after the seemingly respectable businessmen who made their fortunes on the back of it. With White and Bankole's construction projected onto the walls of the City Chambers on Edinburgh's High Street, Bankole reclaimed lost history as the names of slaves were projected on high.
Sweet Wall also makes one think of Happening champion Adrian Henri's adopted home of Liverpool, a city built on slavery that went on to become one of the most happening places in the world. Throughout the 1960s, the late 1970s and beyond, the city's musical culture exploded outwards as a direct result of its role as a port city. Africa, America and Ireland were all influences thrown into a musical melting pot born of the immigrant experience and whisked into a mongrel hybrid called Merseybeat.
One thinks too of another Liverpool son, comedian Ken Dodd, whose localised myth-making saw him propagate the idea of the Diddy Men, a diminutive lost tribe who lived in the city's Knotty Ash district where they worked down the Jam Butty and Treacle Mines. While the idea of the Diddy Men was previously mentioned by another Liverpool comedian, Arthur Askey, it was Dodd who brought them to life, with the children who played them on stage and TV to accompany Dodd's act resembling fancy dress Irish leprechauns doing musical theatre.
More seriously, Sweet Wall sits well alongside the tellingly named We Can Still Dance (2020), Dundee-based artist Saoirse Amira Anis' contribution to the Black Live Matter Mural Trail, the Scotland-wide public art project instigated by creative producer and curator Wezi Mhura. Anis' piece that sits next to the galleries in Jupiter Artland may not reference Kaprow directly, but her emphasis on a shared experience under lockdown forms a natural umbilical connection with the rest of the programme.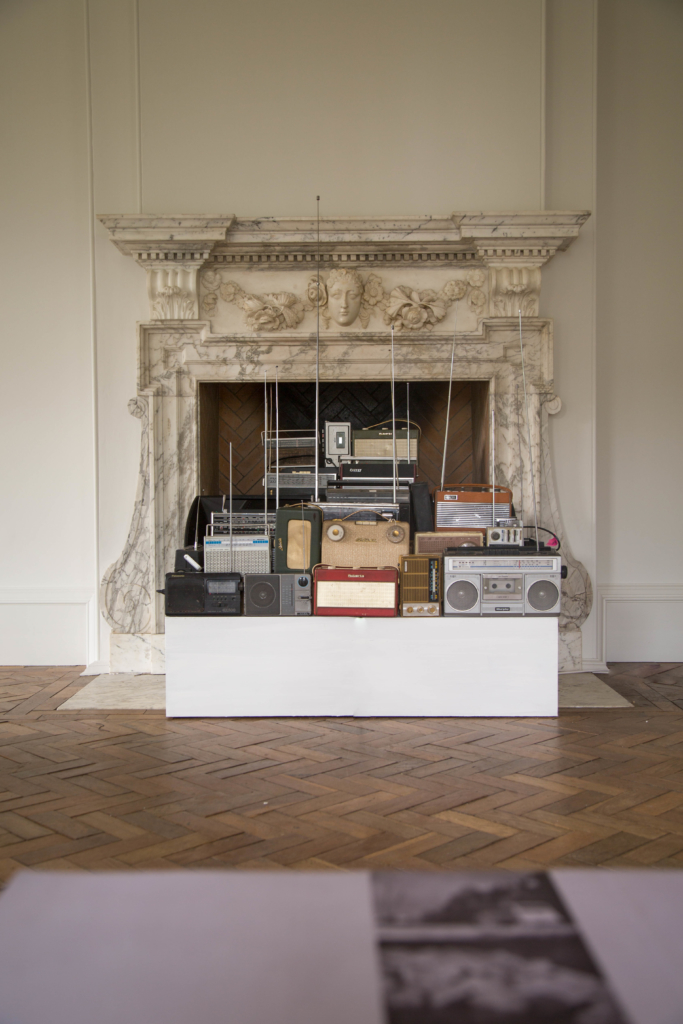 For those keen to get high on Kaprow's vibe directly, James Hoff's How to Make a Happening for 100 Radios (1966/2020) goes back to source. Using a constructed jumble of FM radios, Kaprow's 1966 recording of his lecture, How to Make a Happening, is broadcast inside Jupiter Artland's Ballroom Gallery.
Kaprow's voice rings out with a sternness running throughout his 11 points that punctures popular misconceptions of what constituted a Happening that already seemed to have come into play. These include dismissals of what we now might call multi-media, as well as what Kaprow pithily dismisses as "the far-out types of discotechques with their flashing lights and film projections." While Kaprow never points a figure at anyone, the object of his ire sounds like something that might have made some of its proponents famous for at least 15 minutes.
The more formal tone of Kaprow's instructions is reflected in the piles of posters neatly laid out throughout the rest of the room. These are full-scale reproductions of some 18 scores for Kaprow happenings, which viewers are invited to rubber stamp with Jupiter Artland's imprints and take away for free. Laid out next to each other and seen together, the display resembles monuments in a retro-styled art shop or university freshers poster fairs.
As serious an excavation of Kaprow's canon as all this is, this is also a wide-eyed fanboy's homage to a '60s pop cultural icon. While hardly in the same league as Che Guevara, Kaprow nevertheless quite literally becomes a poster boy of his boundary busting generation. Jupiter Artland's presentation is hardly the first reimagining of Kaprow's work in this way, but one wonders what Kaprow himself might make of such attention being bestowed on his output. Here, after all, is what was originally intended as disposable one-offs, now gathered up from the dustbin of history to have posterity seeking life breathed into them.
Susan Sontag called this a state of 'deliberate impermanence.' In her essay, Happenings: an art of radical juxtaposition, written in 1962, Sontag went on to point out how 'One cannot buy a Happening: one can only support it. It is consumed on the premises.' Before framing – if that's the right word – Happenings in the context of Surrealism, Dada and Antonin Artaud's theatre of cruelty, Sontag again stresses how 'One cannot hold on to a Happening, and one can only cherish it as one cherishes a firecracker going off dangerously close to one's face.'
Having said all that, Kaprow's Happenings pointed towards the future several times over. Seen today, the instructional nature of some of Kaprow's John Cage inspired scores look like pre-cursors to the poster-based works by Bill Drummond, as well as Liversidge's own assorted series' of written proposals. Four of the latter from Liversidge's Proposals for Jupiter series presented in 2008 and 2009 have been brought to fruition, while a book collected and published all 134 of his proposals. This follows on from another volume of proposals for the Scottish National Gallery of Modern Art, published by the Ingleby Gallery in Edinburgh.
Like Kaprow's posters, Drummond's are text-based scores that elevate everyday actions into collective rituals which are arguably already in place. The obsessive repetition and repainting of the barrels in Transfer also seems to relate to Drummond's twelve-year-long 25 Paintings World Tour, begun in 2014 and probably elongated somewhat by the events of 2020.
Drummond's plan is to travel to various cities across the globe that mean something to him, joining assorted communities to carry out assorted actions as he goes. He makes cakes, builds beds, makes soup, and sometimes forgets to form knitting circles. With photographs taken of each action as he goes, Drummond makes connections with people, and the actions become something greater than those done by a solitary individual.
There are clear umbilical links here to the jam sandwiches that both helped build Kaprow's Berlin wall and fuelled Mutigli's film. Some of Drummond's efforts can be seen in Paul Duane's film, Best Before Death (2019), which charts Drummond's adventures in Kolkata, India, in 2016, and in Lexington, North Carolina, two years later.
Drummond's entire anti-career has been based around Happenings of one form or another, from designing the stage sets for Ken Campbell's Science Fiction Theatre of Liverpool arts lab staging of Robert Shea and Robert Anton Wilson's novel, Illuminatus!, onwards. Working with various collaborators, Drummond orchestrated The Crystal Day, a series of Liverpool-wide events in 1984 in the build up to a major home-town Echo and the Bunnymen gig in 1984. This included participants eating at greasy spoon café, Brian's Diner and taking a trip on a ferry across the Mersey. Drummond later fired blank bullets from a machine gun at the audience of the 1992 Brit Awards at the culmination of a performance by The KLF to announce his and partner-in-crime Jimmy Cauty's departure from the music industry.
What Time is Love Tim Rice?
It has been tacitly acknowledged as well that the techno melody of the KLF's stadium house smash hit, What Time is Love?, bears more than a passing resemblance to the frantic guitar overture of Andrew Lloyd Webber and Tim Rice's biblical rock opera, Jesus Christ Superstar.
Rice and Lloyd Webber's musical first appeared on record in 1970, before opening on Broadway a year later. By this time, Kaprow had already distancing himself from the acquired institutional absorption of 'Happening' as a terminology in favour of the less explosive sounding 'Activities'.
As Norman Jewison's wilderness-set 1973 film version of Jesus Christ Superstar displayed in epic fashion, Rice's at times voguishly naff lyrics copped their magpie moves from '60s hippy culture long after it was absorbed into the mainstream. Not for nothing did one of its opening numbers feature a gaggle of apostles asking their grumpy guru in incessant fashion, 'What's the buzz, tell me what's happening?' The guitar overture, meanwhile, goes on to soundtrack Judas' self-destructive demise after selling out Jesus for thirty pieces of silver.
The KLF went on to make a million with What Time is Love? before their own rock and roll suicide at The Brits. Reinventing themselves as the K Foundation, Drummond and Cauty burnt a million quid on the Isle of Jura before reincarnating 23 years later to present a three-day series of events in Liverpool called Welcome to the Dark Ages.
If the world hadn't been turned upside down by the great unplanned Coronavirus happening that will go on to define our times, Jupiter Artland's series of Kaprow-related reboots by Liversidge, Mutigli, Hoff, Anis, ORBIT and the Wilson Family would have culminated at the end of August in the 2020 edition of Jupiter Rising. This is the now annual two-night art/pop mini open-air festival hosted at Jupiter Artland, which arguably embodies the perceived spirit of the Happening in its most familiar setting, back when festivals were free and the brown acid was to be avoided. This is despite Kaprow's square-sounding dismissal of "the far-out types of discotechques with their flashing lights and film projections."
Jupiter Rising was initiated in 2019 following the success of similarly styled events, the Lunarnova Campout in 2017, and ROMANTI-CRASH! the following year. With its name drawn from radical filmmaker Kenneth Anger and a visual identity by artist Jim Lambie, the inaugural Jupiter Rising had an on-site capacity of 700 who could move between events on five stages. This created a speak-easy mini village, where music, art and performance blurred into each other over the event's two days and nights.
Free Love
Scheduled artists at this year's Jupiter Rising included the kooky, spooky and all too appropriately named Free Love, cross-border nouveau ancients Hen Ogled, and electronic euphoria from Auntie Flo. Set in Jupiter Artland's already sculpted landscape, all this sounded like a bijou Eden with the potential of morphing into a Dionysian frenzy. Such communal gatherings these days may be better managed than the freeform freakouts of the '60s and the outdoor raves of the '90s, but they take Kaprow's fourth-wall-breaking spirit of collectivism to its logical all-join-in conclusion. Or do they?
As the ideas of Kaprow and others trickled outwards, Happenings sprung into life all over the world. It was as if the bunged-up repressions of the post-war era had burst forth with a reinvigorated sense of creative energy. Play was the thing, be it from the likes of The People Show, formed in London in 1966, while Albert Hunt's book, Hopes for Great Happenings, (1976) was a personal history of his tenure as a lecturer at Bradford College of Art, where in 1968 he founded Bradford Theatre Group.
Over the next few years, the group took large scale restagings of the Russian Revolution and other epics onto the streets of Bradford with a sense of pageantry and community that was similar in spirit to the later work of Jeremy Deller. In 2001, one-time People Show member and film director Mike Figgis filmed Battle of Orgreave, Deller's large scale re-enactment of one of the key flashpoints of the 1984 British Miner's Strike. In 2009, Procession saw Deller work with an array of Manchester community groups for a parade through the city. In 2012, Deller brought Sacrilege, an inflatable bouncy replica of Stonehenge, to Glasgow Green. In 2019, Deller's film, Everybody in the Place: An Incomplete History of Britain 1984-1992, charted a history of rave culture, which arguably reinvented Happenings for a new age.
As with Adrian Henri's observation that much of the Great British Public associate Happenings with naked ladies, some of the more common (mis)conception of Happenings were gleaned from some of the groovier films of the 1960s alongside the era's more out there sounds. As the new youth culture became a marketable commodity, so its superficial trappings were absorbed by Hollywood, usually in a way that rubbed up against the establishment.
This was certainly the case in The Happening, Elliot Silverstein's misfiring 1967 comic caper, in which a group of hippies go with the flow enough to inadvertently kidnap a mafia boss. The title alone shows how behind the times Tim Rice was with his lyrics for Jesus Christ Superstar, while the situation demonstrated how much the language and ideas of Kaprow and co had been absorbed by the mainstream. 'It's a new bag!' declaimed the front cover of Ellsworth Curry's novelisation of the film. 'Today's generation really turns on at The Happening', while the back cover declared the story's protagonists to be 'Rebels with a cause'.
The film was co-scripted by Frank R. Pierson, who had previously teamed up with Silverstein two years earlier on Brechtian musical western Cat Ballou, a playful vehicle for Jane Fonda and Lee Marvin. Despite this, other than an early sighting of Faye Dunaway, whose breakout role as a beret-wearing Bonnie Parker in Bonnie and Clyde arrived the same year, the best moments of The Happening came from its theme song.
Penned by Brian and Eddie Holland with regular song-writing partner Lamont Dozier and the film's composer Frank DeVol, the lyrics of The Happening bore no discernible relationship with the plot of the film, but the song remains a hip-twitching piece of sunburst joie de vivre anyway. The Supremes took the song to number 1 in the pop charts. An instrumental version by Herb Alpert and Tijuana Brass was also released.
Also in 1967, on the other side of the Atlantic, Smashing Time saw Lynn Redgrave and Rita Tushingham's northern lasses Brenda and Yvonne take the train to London to hit the swinging scene and make their fortune. Desmond Davis' film was scripted by Liverpool born surrealism and pop art bon viveur George Melly, who whisked the two girls through a melee of '60s London clichés, from Carnaby Street clothes shops to a record launch in the Post Office Tower.
Another party earlier in the film takes place in a contemporary art gallery called Jabberwock, one of the film's many references to Edward Lear. Jabberwock's main attraction is an array of kinetic sculptures by Bruce Lacey, who worked with The Goons and developed similar robotic contraptions for Joan Littlewood's proposed Fun Palace she spoke of at the Edinburgh Drama Conference. One of Redgrave's first lines as Yvonne steps off the morning train is "It's all happening," spoken with the eternal optimism of someone who has bought into the myth of swinging London hook, A-line mini skirt and sinker.
The line also echoes fictional TV comedian Danny Boon in Billy Liar, John Schlesinger's 1963 big-screen version of Keith Waterhouse's novel. Billy, played in the film by Tom Courtenay, is a northern English dreamer with aspirations of moving to London to become a comedy script-writer. Unlike Yvonne and Brenda in Smashing Time, however, Billy never makes it out of his local railway station.
Boon, played by Leslie Randall, is a suave showbiz pro, who invokes his "It's all happening" catchphrase as he cuts the ribbon to open a new supermarket. He co-opts Julie Christie's Liz, Billy's free-spirited epitome of life elsewhere, who Danny spots in the crowd after she makes a prodigal's return to her hometown. "It's all happened," deadpans an old woman in the crowd after Danny steals a kiss from Liz for the photographers. Liz did get the train, and will do again, with Billy left behind, the only one for whom it truly isn't happening.
More than a decade after Smashing Time was released too late to cash in on an already past its sell by date scene, Smashing Time became the title of a song by the Television Personalities, the '60s inspired post-punk group led by Dan Treacy. Along with fellow TVPs member Ed Ball, Treacy founded the Whaam! record label. As well as putting out several TVPs records, Whaam! releases included Pop Goes Art! by Ball's band The Times, which included a cover of '60s psych-mod beat group The Creation's song, Biff! Bang! Pow!
Whaam!'s name was co-opted from Roy Lichtenstein's pivotal comic strip panel styled painting of the same name. Kaprow had championed Lichtenstein's work when both artists were teaching at Rutgers University in New Jersey, and Whaam! appeared in 1963, the same year Kaprow presented Out/Exit Piece in Edinburgh.
Midnight Cowboy
Two years after The Happening and Smashing Time, John Schlesinger directed Jon Voight and Dustin Hoffman in Midnight Cowboy. Adapted from a novel by James Leo Herlihy, Midnight Cowboy charts the relationship between Voight's stetson-sporting country hick Joe Buck, who arrives off the bus in New York determined to become a hustler, and Hoffman's sleazy Ratso Rizzo, who takes Joe under his wing.
Like an American Billy Liar in Schlesinger's previous film half a decade earlier, Joe knows where it's all happening, and naively figures he can be part of it. In one scene, Joe and Ratso are approached in a bar by Hansel and Gretel, an outlandish couple who take Joe's picture with a Polaroid camera and invite them to a party, where a film-maker works the room and Joe accidentally gets stoned.
With the film-maker clearly based on Andy Warhol, several of Warhol's real life Factory entourage appear, while the party is filled with Mark Boyle style liquid light shows that Boyle had first used at actual events in London at the UFO and Middle Earth nights.
Arguably the most perfect film for Jupiter Artland's Allan Kaprow season, however – if only for the sculptural largesse of its art direction and location rather than what happens in it – was released the year before. The Touchables remains a little known curio of its era, as it focuses on a quartet of groovy It girls who kidnap a pop star and hold him as a willing hostage at their futuristic looking inflatable see-through pleasure dome. Here he becomes their sex toy by way of an 'Indoor Olympics', before a gay wrestler and his gangster chums also take a shine to him. As the words to the film's theme song, All of Us, by UK psych-baroque ensemble Nirvana says, 'There is no ending to the game that we play.' Or at least not until the bubble bursts, anyway.
With no relationship to the American grunge band of the same name who would appear a couple of decades later, Nirvana was formed in 1967 by the songwriting duo of Patrick Campbell-Lyons and Alex Spyropopoulos, who enlisted numerous musicians to play their studio creations live. One such appearance was on French television alongside Salvador Dali, who splashed black paint on the band as they performed their second single, Rainbow Chaser.
All of Us was the title track of Nirvana's second album, released in 1968. The record's full title was The Existence of Chance is Everything and Nothing While the Greatest Achievement is the Living of Life, and so Say ALL OF US. Which, in spirit, at least, sounds very Kaprow.
The Touchables was conceived and directed by photographer Robert Freeman, who took the cover images for several Beatles albums, including Help! and Rubber Soul. The screenplay for Freeman's film was written by sit-com writer Ian La Frenais, co-creator with Dick Clement of The Likely Lads and Porridge. The duo also penned a short-lived 1979 American TV reboot of Billy Liar. La Frenais' screenplay for The Touchables was based on an original script by David and Donald Cammell, who would go on to take some of its ideas into Performance, released two years later. That film was co-directed by Donald Cammell and Nicolas Roeg, and starred Rolling Stones vocalist Mick Jagger as a former rock star whose life is taken over by James Fox's gangster on the run.
Around the same time, Jagger provided the synthesiser score for Invocation of My Demon Brother, Kenneth Anger's experimental short film that also featured shots of the Rolling Stones in performance. Donald Cammell, meanwhile, would go on to appear as the Egyptian god, Osiris, in Anger's 1972 short, Lucifer Rising.
Much of the action in The Touchables takes place in the Buckminster Fuller styled 80-foot dome, constructed by architect Arthur Quarmby at Frensham Ponds near Farnham in Surrey. Quarmby would go on to design what is thought to be the UK's first eco-home. Underhill, as Quarmby called it, was built underground beneath rural land in the village of Holme, in West Yorkshire. After building Underhill in the mid 1970s, Quarmby lived in his creation with his family up to his death in 2020.
Both of Quarmby's constructions wouldn't look out of place in the grounds of Jupiter Artland nestled alongside Cells of Life, the eight sweeps of landform sculpture created by Charles Jencks, and which go some way to defining the park's visual identity.
Biff! Bang! Pow!
Free-associate a while, and it's not hard to think of the two-fisted onomatopoeia of Kaprow's name as something Lichtenstein might have used as a caption in one of his paintings. If there was a Whaam!, there could easily have been a Kaprow! Or even a Biff! Bang! Pow! Like Lichtenstein's work, the phrase Biff! Bang! Pow! came from the energetically realised action sequences of comic book pulp fiction. The Creation's song of that name was released as the B-side to Painter Man, a stomping psych-pop football terrace chant, which addresses the age-old tensions in the relationship between art and commerce.
During performances of the song, The Creation's original vocalist Kenny Pickett would spray-paint a canvas onstage. There were shades too of Gustav Metzger, whose notion of auto-destructive art influenced The Who's guitarist Pete Townshend, who studied under Metzger at Ealing Art College, to smash his guitar onstage. With The Creation, a roadie would set fire to Pickett's piece of instant action art, ending the band's set with a Bang, if not a Biff or a Pow.
In keeping with Adrian Henri's observation regarding the popular perception of Happenings, The Creation also had a song called All the Girls Are Naked. Painter Man would later be covered in a memorably inexplicable version by 1970s disco bubblegum troupe, Boney M. Biff Bang Pow! would become the name of a band formed by Alan McGee, who would also name his 1980s-sired record label, Creation, after Pickett and co's band.
While already steeped in 1960s pop mythology, Creation would go on to become synonymous with 1990s rave and dance music culture. This came about initially from McGee and co attending clubs like Shoom, which led to Primal Scream's crossover indie-dance single, Loaded.
Loaded was a collage of samples, beats and melodies that saw DJ and producer Andy Weatherall cut up the song's original source, I'm Losing More Than I'll Ever Have, a track on Primal Scream's eponymous second album. This saw the band move away from their janglier '60s-obsessed predecessor, Sonic Flower Groove, to a more thrusting wannabe rock star workout. In its original form, I'm Losing More Than I've Ever Had would go on to appear as the B-side of Loaded, laid bare like a rough sketch of its progeny, with little clue of the masterpiece it would generate.
The title of an earlier Primal Scream B-side, It Happens, probably wasn't intended as prophecy, but by picking and mixing samples from a diverse array of sources, Weatherall's sonic alchemy was transformative, no la-la-la's required.
Encouraged by Primal Scream guitarist Andrew Innes to rip the original song apart, Weatherall cut and pasted a horn break from John Hawkins' 1975 instrumental, Free Style, with the chorus from The Emotions 1976 disco classic, I Don't Wanna Lose Your Love, adding beats from a 1989 bootleg remix of What I Am by Edie Brickell and New Bohemians. Heralded with a speech by Peter Fonda from Roger Corman's 1966 biker flick, The Wild Angels, Weatherall turned a strung-out Memphis-styled dirge into a call to arms.
At the clubs Weatherall and others Djed at, rather than audiences passively watching bands onstage, the dance-floor was democratised as it became a stage for everyone. Like the original Happenings, this was no freeform freakout, but was organised and orchestrated by stealth, with DJs like Weatherall conducting and arranging the scene's moods like rave-age Prosperos magicking up a musical tempest.
Never Mind the Pollocks
Like the narrator of The Creation's song, Kaprow too had been a painter man, weaned on the abstract expressionism of Jackson Pollock, whose energetic and performative way of working was as much about the act of doing it as the finished product. Pollock's death in 1956 in a car crash was a seismic moment for Kaprow's generation of artists.
In his 1958 essay, The Legacy of Jackson Pollock, Kaprow wrote how 'Pollock, as I see him, left us at the point where we must become preoccupied and even dazzled by our everyday life, either our bodies, clothes, rooms, or, if need be, the vastness of forty-second Street. Not satisfied with the suggestion through paint of our other senses, we shall utilise the specific substances of sight, sound, movements, people, odours, touch. Objects of every sort are materials for the new art: paint, chairs, food, electric and neon lights, smoke, water, old socks, a dog, movies, a thousand other things that will be discovered by the present generation of artists.'
Here was a young man's manifesto for Happenings to come. Except, where Lichtenstein and Kaprow's other contemporaries became Art Stars through Fluxus and Pop Art, turning on and tuning in to the marketplace as much as anything else, Kaprow retreated. Rather than join in with the 'far-out types of discotechques with their flashing lights and film projections' that begat rave culture and its new generation progeny such as Jupiter Rising, Kaprow moved into ever more intimate exchanges. He dubbed this un-art, where life itself was a much purer entity than anything that called itself art. As Kaprow wrote in the preface to the 2001 expanded edition of Essays on the Blurring of Art and Life, 'Leaving art is the art. But you must have it to leave it.'
Rave On
The cancellation of Jupiter Rising's 2020 edition comes in the wake of a new age of illegal raves that has sprung up since lockdown and the enforced closure of music venues and club spaces that went with it. In this sense, Covid-19 has achieved what the 1994 Criminal Justice and Public Order Act failed to do. The Act attempted to outlaw gatherings of more than a handful of people within the vicinity of repetitive beats, and in so doing, politicised what had been a largely hedonistic culture.
In the wake of the Covid-19 pandemic, now is probably not the time to fight for the right to party. Yet, as much of the Kaprow-inspired work at Jupiter Artland shows, the same spirit of protest and collectivism can be channelled into something equally vibrant. This is evident in Liversidge's take on Out/Exit Piece itself, which isn't nearly as much of a challenge to navigate as Kaprow's original.
Rather than building a wall of tyres, Liversidge's piece uses the sides of a wooden shed, which are covered completely with more of ORBIT's stapled-on homemade banners. Like the entrance gates draped in home-made Thank You signs, the forever changing display of slogans, messages, greetings and words of wisdom immortalised on cardboard is by turns funny, entertaining and inspirational.
As one sign suggests, the future really does belong to the young. Or, to quote Kaprow from his How to Make a Happening lecture, "they don't merely dig the scene, they make it." Way Out, then, in every way.
Notes
Allan Kaprow related works by Peter Liversidge with The ORBIT Youth Council and The Wilson Family, Cinzia Mutigli, James Hoff and Saoirse Amira Anis can be seen at Jupiter Artland until September 27th 2020. www.jupiterartland.org.
James Hoff's reproductions of Allan Kaprow posters are available at Jupiter Artland and independent bookshops including Primary Information, New York and Good Press, Glasgow.
Some of the sources of this essay can be found in –
Against Interpretation – Susan Sontag (Farrar, Strauss and Giroux) 1966
Environments and Happenings – Adrian Henri (Thames and Hudson) 1974
Burnt Bridges – Charles Marowitz (Hodder & Staughton) 1990
Pursuit – John Calder (Calder) 2001
Essays on the Blurring of Art and Life – Allan Kaprow, edited by Jeff Kelley (University of California Press) 1996/2003
Childsplay: The Art of Allan Kaprow – Jeff Kelley (University of California Press) 2004
Image Credits
(from top in sequence)
Allan Kaprow, Out, 1963, Courtesy Allan Kaprow Estate, Hauser & Wirth. Sponsored by the International Drama Conference, Edinburgh. Getty Research Institute, Los Angeles (980063). © J. Paul Getty Trust. Photo © Alan Daiches
Allan Kaprow Yard, 1961 Environment presented for "Environments, Situations, Spaces" Sculpture garden at Martha Jackson Gallery, New York Getty Research Institute, Los Angeles (980063).v© J. Paul Getty Trust. © Allan Kaprow Estate, Courtesy Hauser & Wirth Photo: Ken Heyman
Peter Liversidge, Sign Painting Studio (For Alan Kaprow), 2020. Photography Jane Barlow, courtesy the artist, the Estate of Allan Kaprow and Hauser & Wirth
Peter Liversidge, Out/Exit Piece, 2020. Photography Eleanor Edmondson, courtesy the artist, the Estate of Allan Kaprow and Hauser & Wirth
Saoirse Amira Anis, We Can Still Dance, 2020, Black Lives Matter Scottish Mural Trail produced by Wezi Mhura. Photography Eleanor Edmondson, courtesy Jupiter Artland
James Hoff, How to Make a Happening for 100 Radios, 2020. Photography Eleanor Edmondson, courtesy the artist, the Estate of Allan Kaprow and Hauser & Wirth