The Spoken Word in Music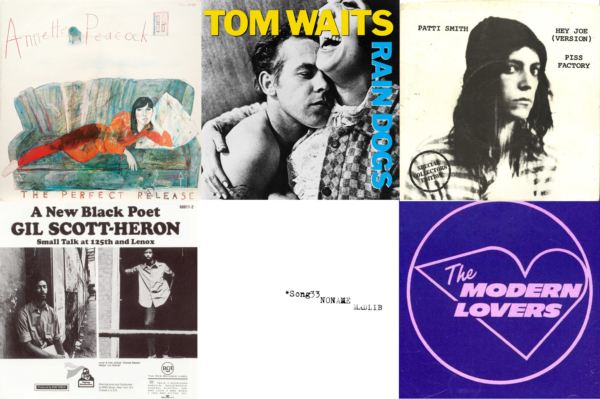 I present to you some of my all time favourite music that features poetry, storytelling or spoken word. Without further ado, I shall pass you over to the sorcerers, raconteurs and sages for some tasty thought morsels . . .
We start with some classics, and Peggy Lee's dulcet, cynical tones in 'Is That All There Is'. Tom Waits, of course, and the moody '9th and Hennepin'. Serge Gainsbourg with 'Melody' from the gorgeous but morally dubious 'Histoire de Melody Nelson'. What playlist of music and poetry would be complete without the godmother of punk herself: Patti Smith? Poetry and punk have a shared history (see the Ranting Poets, John Cooper Clarke, Attila the Stockbroker) and for Patti, I have chosen the proto-punk 'Piss Factory'.
We'll need a beat poet, so I have chosen Gil Scott-Heron and 'Whitey On the Moon' from his debut album 'Small Talk at 125th and Lenox'. One of the best spoken word recitations of all time with Maya Angelou and 'Still I Rise'. On the theme of survival, next is 'Survival' by American composer and performer Annette Peacock.
Then its King Missile, one of my favourite poet-fronted bands, with 'Its Saturday'. (If you're into it, I would recommend 'Jesus Was Way Cool' and 'Detachable Penis'). 'Pablo Picasso' by Jonathan Richman's 'The Modern Lovers', followed by son of Ian Dury, Baxter Dury, and 'Miami'. I love this one. His pithy lines are delicious and while his oeuvre could certainly be compared to his father's, it stands alone.
Next is our own Kevin P. Gilday with his band The Glasgow Cross, and their track 'Sensitive Man'. Kevin is an integral part of the Scottish spoken word scene and it is great to hear his words to music. Staying in Scotland we have Arab Strap and 'The First Big Weekend'.
Starting what I like to call the 'angry men' section of the playlist we have 'Lizard State' from King Krule's debut album '6 Feet Beneath the Moon'. The much lauded Skinny Pelembe with 'Seven Year Curse'. The Relatives with 'It's Coming Up Again', and then father of Baxter Dury, Ian Dury, with a song which spellcheck does not like one bit: 'Clevor Trever'. Contemporary Nottingham band, Do Nothing, with 'Lebron James', and we end our angry men with 'Jobseeker' by Sleaford Mods. (I would highly recommend watching the live version of this on Later with Jools Holland).
"For those of you waiting for hip hop, she's here" begins poet and rapper Akua Naru in 'The Backflip'. Next, the storyteller MC Slick Rick with 'Children's Story'. Embarrassingly talented Bristol poet, rapper and musician Dizraeli with the doom-laden 'Oi Oi', and then, just because I love it so much, we have Richard Burton reading 'Do Not Go Gentle into that Good Night' by Dylan Thomas. This particular recitation stirs me somewhat.
Keeping with the epic mood we have the Comet is Coming's collaboration with Kae Tempest – the secular prophet of our troubling times – 'Blood of the Past'. Poetry is having something of a golden age at the moment, and I don't think that it is any coincidence that its popularity has risen with the world's current uncertainties. We need stories to make sense of chaos.
The drug-fuelled and hazy 'Hell is Round the Corner' by Tricky and Martina Topley-Bird. Then, 'I Know This:' by American poet Rachel Kann. 'Song 33' by the rapper and poet named, as it happens, Noname. Our penultimate track is 'Fire Coming Out of a Monkey's Head' from Demon Days by Gorrilaz, one of the best album's of the century so far. And we finish with Dan le Sac vs Scroobius Pip with 'Thou Shalt Always Kill'. I hope that you do not take that advice too much to heart, and that you enjoyed this wee glimpse into the wonderful world of spoken word with music.
Below are the links to the spotify version of the playlist, that has a few additional tracks, and the soundcloud playlist.