To Hume It May Concern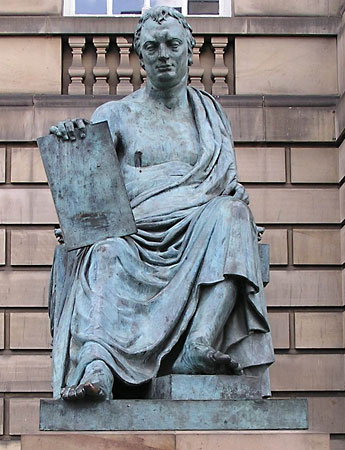 So come on, who doesn't enjoy a good conspiracy theory? The latest, seeded by an irate (but, surprise, surprise, cussedly anonymous) apostate member of the academic community is that Edinburgh University authorities under its principal Peter Mathieson leapt with alacrity at the chance to rename the David Hume Tower not so much because Hume added an atrocious racially prejudiced footnote to one of his essays but because the un-naming fits in perfectly with some imagined plan to 'de-Scottify' the institution and give it a more global appeal to a lucrative stream of full fee-paying overseas students. If this is, indeed, a matter of policy then some might argue that the university establishment is, itself, guilty of a modicum of anti-Scottish racism, and is simply using l'affaire d'footnote as cover.
So now we know – except that nothing is ever quite so simple in the Groves of Academe, and it sounds a bit glib as explanations go, Admittedly this fee income is vital if all these ambitious Citizen Kane like collegiate building projects are to be finished and Edinburgh is to become a 'global super-University'a laHarvard and Oxbridge rather than the original 'Tounis College'. Not to mention the equally vital need to maintain the £400,000 or so annual package which attracted the principal over from Hong Kong in 2018, a sum which may, or may not, have included the £26,000 agreed to relocate his pets – though, in fairness, he did agree to a 20% six-month Covid 19 cut which, given the current meltdown, may have to be extended.
Sadly, although our college panjandrums are stratospherically qualified, I'm not so sure they're quite that clever. The logical fallacy with the name banning is, of course, that Le Bon David, the quintessential 'man of the world', was actually an abolitionist who strongly opposed slavery, which in a way makes his lapse of judgement even worse, and no-one seriously defends his gaffe, even if he was encouraged in such folly by a publisher who would later be an MP in Lord North's Tory government. Anyway, as far as David Hume is concerned, Edinburgh University has form, beginning with its refusal to grant him a professorship because of its disapproval of his sceptical views – and so the greatest philosopher of his age became a librarian instead.
Even so, we have to talk about David. Yes, he made a shocking statement no-one would dream of making today. We should recognise that fact, and weigh it in the balance. I'm with Sir Geoff Palmer and his Dundas statue solution. Leave the evidence where it is, but explain and elucidate everything on a plaque. We should also accept that in an age of slavery Hume, who never owned slaves or profited from slavery, was at least in a better place than his 1771 house guest, Benjamin Franklin, who did.
For that matter, compared to George Washington, a man whose revolution he supported as 'an American in my principle' Hume was a non starter in the human trafficking stakes – the President and his wife owned literally hundred of enslaved plantation workers. Naturally this calls for another petition – the capital of the United States of America really must be renamed – and here it is.
The truly dispiriting thing about this endlessstushie over statues and names of buildings is that it polarises the debate and owes more to impulsive hysteria than any knowledge or understanding of history. It can also be counter productive – every statue of Washington or Jefferson which is toppled in America probably just delivers another 200,000 votes to Trump, allowing him to present himself as a 'heritage guardian' and clouding the argument over all those racist Confederate generals who really should have been knocked off their blocks years ago. Accuracy is another victim in this iconoclastic frenzy, as in the case of the poorly informed graffiti dauber who fluffed the lines, deleting the name of Dundas Street and substituting that of Joseph Knight, an enslaved man who was freed thanks to the passionate defence of a lawyer by the name of – err – Henry Dundas. Whoops.
With statues and buildings, in any case, different people see different things. Some are proud that Edinburgh raised Europe's first statue to Lincoln; others are horrified by the supplicant slave kneeling at his feet. The Dugald Stewart building? Sorry, no. The man was a good friend of slave owner Thomas Jefferson. Appleton Tower? Brilliant physicist, Nobel prize winner, but also Permanent Secretary at the Scientific and Industrial research department under Churchill who actively promoted nuclear weapons. Let's just say nobody's perfect.
Perhaps its time we drew a close to this pointless factional indulgence and tried replacing the negative tropes of assigned victimhood and assumed guilt with something a bit more positive and cheering. How about, instead of toppling statues we tried raising a few to those who, at present, are shockingly under-represented in Edinburgh's al fresco cultural realm. There are plenty of candidates, after all. At the top of this list could be Eliza Wigham, the tireless abolitionist and female suffragist born not far from the Meadows, where statues seem to be in remarkably short supply.
For George Square, preferably at the south east corner, right next to the David Hume Tower, I would strongly recommend Jamaican-born William Fergusson, who enrolled as a student in Edinburgh in 1809, and went on to become the only African-descended President of a British crown colony, Sierra Leone. The sooner an appeal is launched for that particular effigy, frankly, the better – not least because it might be something we can all agree about, for once.