Local Treasure In A Whole New Light
Art galleries have been closed during lockdown. But, there are works of art in public view that we often overlook. Bella's newest feature is a monthly look at public art that you can see for free around Scotland.
This month I look at Light-Up Leith History Mural.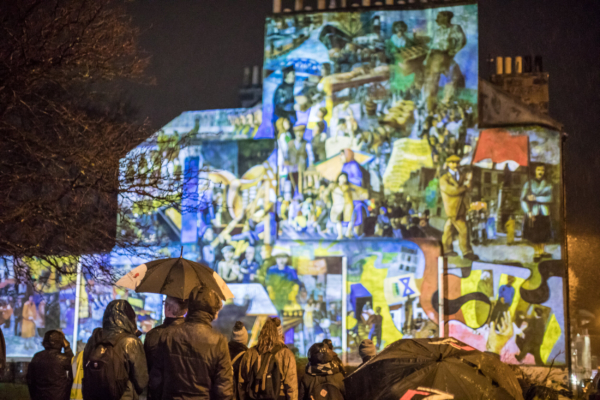 Edinburgh's grand gable end mural, situated on the corner of Ferry Road and Great Junction Street, was painted in 1986 by Tim Chalk and Paul Grime. Originally called 'Into the Future With a Strong Community', its fading palette of blue, beige and brown tells the story of Leith and its varied social history.
For ten nights, from Friday, September 25th, the piece will have new life breathed into it by the globally-renowned, Leith-based Double-take Projections, who have expertly animated the mural through projection mapping, and created a bespoke soundscape which will play concurrently. This free and family-friendly, community event invites audiences to experience the local treasure in a whole new light!
Attendance to Light-Up Leith History Mural is free but ticketed. Time-slots are bookable in advance in order to ensure attendees will be able to maintain a safe social distance. Tickets are available here : https://ctzn.tk/LightUpMural
To coincide with the return of Light-Up Leith History Mural, Cameron Foster will be conducting an in person tour of Leith's murals. This will run on the afternoon of October 4th and is priced on a pay-what-you-can scale of £0 – £4. Cameron's beautifully crafted and researched tours will be archived for posterity online. This interactive online map will showcase murals and art studios found across the Leith community, revealing entertaining and informative audio histories and video tours.