Scottish Queer International Film Festival 2020
2020 has been a challenging year. Against the backdrop of a global pandemic it has been even more difficult for marginalised voices to be heard. And yet, as we have seen with Black Lives Matter and the struggle for Trans rights, they have. Thankfully, the restrictions caused by COVID19 has not prevented the Scottish Queer International Film Festival (SQIFF) from putting together another exciting and innovative programme.  SQIFF started back in 2015 and the event has grown into one of the most anticipated festivals in the calendar, and their sixth annual festival does not disappoint.
Running from tomorrow (Monday 05 October) until the 18th, SQIFF includes queer sci-fi from across the world in Every Utopia is a Dystopia; a retrospective of work from pioneering digital artist Shu Lea Cheang; an interrogation of queerness and the natural world in Queer Ecologies and trailblazing cinematic voices from South America.
A special opening night live watch party screening of Blaise Singh's major new feature documentary Pride & Protest on 5 October. Telling the stories of QTIPOC communities and activists in Britain today and in the wake of the Birmingham protests against LGBTIQ+ relationship education in primary schools, Singh follows various queer people of colour as they challenge homophobia and racism in their communities, and face struggles surrounding the politics of desire, self-care, and found family. They speak out against internalised shame and lack of representation, and we follow them trying to figure out their place in the world in the build up to UK Black Pride. The film will screen live via Zoom and director Blaise Singh will join for a live Q&A.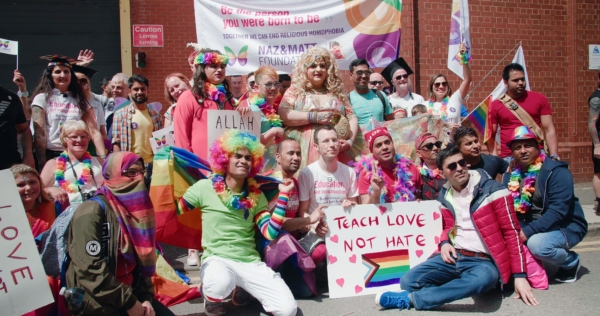 Another highlight is Marlon Riggs' groundbreaking 1989 film Tongues Untied, which aimed to shatter the "nation's brutalizing silence on matters of sexual and racial difference". A challenging and captivating work, many of Riggs' key messages still resonate with the Black queer experience in the USA and Europe. On 8 October, join curator Harvey Dimond for a live discussion about the film, presented in partnership with Coalition for Racial Equality and Rights (CRER) for Black History Month.
Queer Scotland Shorts is a richly diverse programme of astonishing home-grown queer filmmaking. The award for Best Scottish Short (voted for online by audiences) will be awarded as part of a live watch party for the films on Sunday 18 October. Another celebration of local talent is Transdimensional Voices, a collection of shorts which uplifts trans* voices and showcases a wide range of trans* identifying talent based within Glasgow, including Jamie Crewe, Sorcha Clelland and Sgàire Wood. Curated by Glasgow-based artist TAAHLIAH. There will be a live watch party screening of the films with filmmaker Q&A on Saturday 17 October.
All events are available digitally on SQIFF's Vimeo channel and prices are structured as a "pay what you can" with tickets from as low as £2.
SQIFF Producer and Programme Coordinator Helen Wright said:
"We are happy and excited to move SQIFF online for 2020. This allows us to still offer LGBTQIA+ audiences in Scotland a chance to experience amazing queer films from around the world and means audiences from across the UK will also be able to join in. As well as the chance to watch heaps of brilliant LGBTQIA+ feature films from across the world, we are offering a number of online watch parties, workshops, and other events to keep our communities connected. We are also working hard to make the online Festival as accessible as possible with various access measures and free tickets and assistance with internet access for people based within Scotland."
SQIFF is funded by Screen Scotland with support from Film Hub Scotland.
For details of the full programme, tickets to all screenings and events www.sqiff.org