Black History Month Live! by the African Caribbean Society Scotland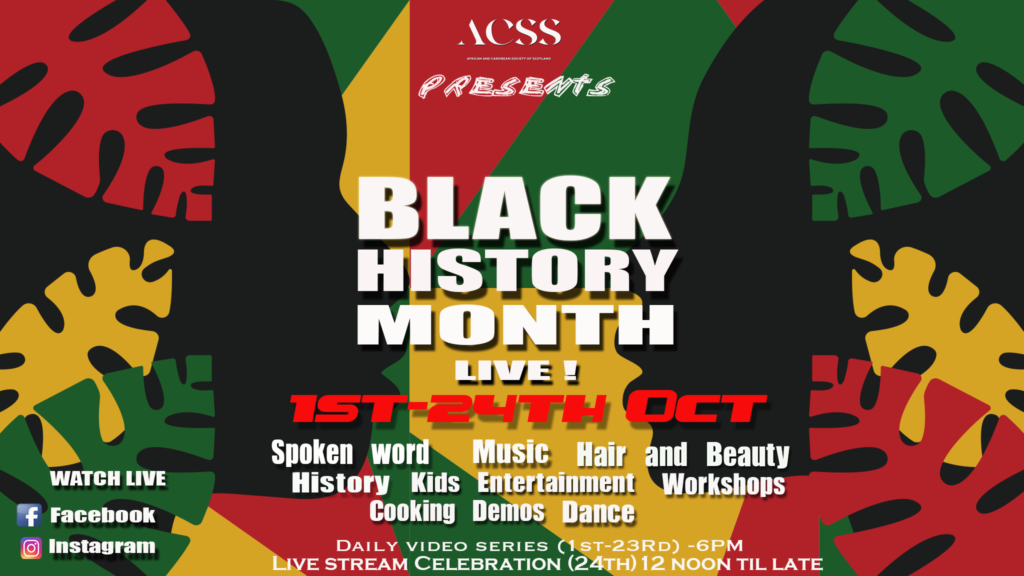 The ACSS presents an online educational and cultural celebration for Black History Month 2020, with daily events via YouTube and Facebook Live
It's fair to say that the tumultuous events of this year have reinforced the need for Black History Month, both in the US and the UK, where Black Lives Matter protests have been significant and ongoing. Commitments have been made universally to do more to educate, support and celebrate the lives of Black people and in Scotland, the newly formed African Caribbean Society of Scotland (ACSS) will be tackling this head on with a huge range of educational and cultural events presented online throughout the month of October, commemorating Black culture in Scotland past and present.
It was members of ACSS that originally organised the Edinburgh in Solidarity with Black Lives Matter protest which took place in June, and the Society was born out of a need to continue the vital work of encouraging and leading change.
"It started off the back of [the protest]. People were already getting together online and so this group was created." Naledi Herman, one of the organisers, explains. "And then suddenly loads and loads of people joined that group on Facebook. I think people just wanted to get together to do something Black Lives Matter-related and then it became something bigger than that."
The ACSS may be a new group, but they've already built up a strong following and have set out some clear aims in their work with the African Caribbean community in Scotland going forwards.
"The first thing is to create a community," Naledi says, "because we're all kind of spread out and we don't have a very close knit community. So we wanted to create a community between us and support each other. And then the second thing is to make ourselves visible here in Scotland, make our cultures visible and make sure that the issues that we face are visible to people."
Naledi notes that the group has split into five subdivisions, with one of those groups dedicated to mental health. "There's a lot of trauma in the community, so that's certainly an area we're going to be working on. It's a really important issue, especially in times like this with Covid, you can't just ignore it. We've got to do something to help people."
Mental health is just one of the areas that the ACSS will be focusing on during their Black History Month programme, which intends to showcase the work of creatives and entrepreneurs living in Scotland.
"We knew we couldn't have a physical event in person, even if it was outdoors. So we thought, let's do an online event and keep everyone safe and let's do some live streaming. That's where it started, and then we decided, why not fill up the whole month of Black History Month with a video series? So that's the first thing we're doing, we'll have a video dropping at 6pm every evening and each week will have a different theme for this video series."
From 1 to 23 October, you'll be able to catch videos suitable for all ages and backgrounds on the ACSS YouTube and Facebook page, and then on 24 October, there's going to be a live streamed event taking place from midday to midnight with a variety of entertainment. Expect everything from cooking demos to music and storytelling throughout October, with a plethora of Black Scottish personalities involved including Lisa Williams, founder of Black History Walking Tour of Edinburgh; narrative artist Mara Menzies; Vogue Scotland, the home and platform for the House Ball community in Scotland; musician and comedian Bash The Entertainer; and Scottish-Caribbean poet and performer Courtney Stoddart.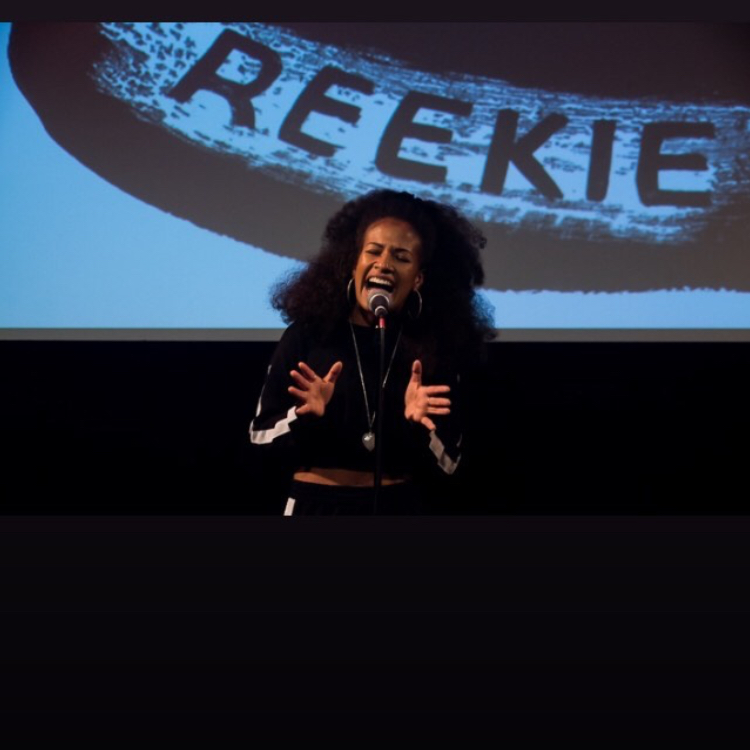 "I'm really looking forward to Bruce Fummey's [comedian and founder of Scotland History Tours] talk about Frederick Douglass." Naledi says when asked about her personal highlights. "Frederick Douglass has links to Scotland because he did a tour and he stopped here and Bruce is going to tell a story about that. We've got an interview with Etienne Kubwabo, the creator of Scotland's first-ever Black superhero which is really cool. And we've got a lot of music as well, from lots of different bands who are local. One that I'm looking forward to would be Gameli Tordzo and the Ha Orchestra, which is an orchestra that plays different traditional instruments from Africa from different countries. We've got storytelling for the kids as well, which we're going to put on just before bedtime on 24 October."
It's a programme that is undeniably packed full of events and massively varied, and one that Naledi is hopeful that everyone will find something of interest in.
"I hope people take away some knowledge. I would hope that the audience is very mixed in age and in background, because I think the whole point is to show all the different things that Black people have contributed and are contributing to Scotland. I hope they enjoy the variety of culture, because it does show that there isn't just one box for all of African culture. It's about getting a greater understanding of what is to be Black and living in Scotland."
While many pledges were made during the Black Lives Matter protests, it's clear that some of this has died down, with promises from organisations and companies not always materialising. But that is exactly why the Society was created; to keep up the momentum so that this work continues, as Naledi notes.
"I think for ourselves and the African and Caribbean Society of Scotland, being part of the group has sustained that movement for us, it has kept it going for us. We feel like we're working on things whether other people are going to continue their support or not. We hope they do and hopefully the events that we put on and the workshops that we do will keep people in the know and keep Black Lives Matter in the forefront of people's minds."
Black History Month Live!, Facebook and YouTube, until 24 Oct. Donate to the crowdfunder now to help support the artists involved.