Nanny of the Maroons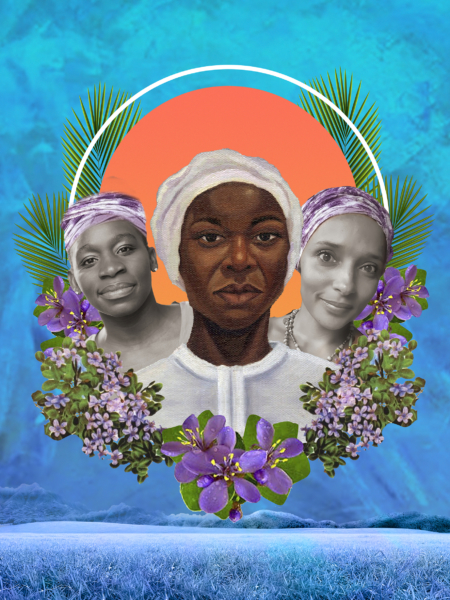 In Jamaica, the $500 note is colloquially known as the "Nanny". Its namesake is Queen Nanny, an eighteenth-century West African woman who not only escaped slavery herself but raised a fearsome army known as the Maroons, freeing other enslaved Africans and waging a guerrilla war against British colonisers. Her story has become synonymous with freedom and anti-colonial resistance in Jamaica, the subject of legends and folklore; yet despite her entanglement with Scotland's own past, her name remains largely unrecognised on these shores.
Nanny of the Maroons, created by local storyteller Mara Menzies and playwright Apphia Campbell and performing as part of this year Scottish International Storytelling Festival, is a move to fill this notable silence, tracing Nanny's story from her childhood in West Africa to her enslavement and subsequent revolt. "The story of Nanny came about because Scotland was so heavily involved in Jamaica, so it made sense to tell a story from [there]," explains Menzies. "The number of Scottish people who were involved in the trans-Atlantic slave trade was huge […] even now, 70% of the Jamaican telephone directory is made up of Scottish names. I think people don't realise, because it wasn't happening on their shores."
Responding to the Festival's "In the Flow" theme, which sets out to explore Scotland's relationship with its coastlines and waterways, Nanny of the Maroons flips the theme on its head, examining the legacy of these coastlines as sites of violence and exploitation. "By telling the story of Nanny, [we can] change people's perspective on what actually happened to people who were on the other side," Menzies demonstrates. "If we're constantly just told one story, then we end up with a very limited imagination, and a very limited view of the possibility of what people can be."
This contextualisation is key to Menzies' and Campbell's approach in Nanny of the Maroons, which works to emphasise Nanny's agency and empowerment as much as it does the horrors of British colonial violence. "We're familiar, or becoming increasingly familiar, with Scotland's role in slavery, but there is this perception that white people stole Black people, and after a few hundred years granted them their freedom, which is not the story at all. There was a huge amount of resistance. [Nanny] had nothing, […] she had herself, and then she built this army, and freed enslaved people. There is such a force of strength, of spirit there."
For Menzies, who is a professional story maker, the format that SISF celebrates is key to platforming these untold tales. "If you're looking at the arts community of Scotland, they are probably the most open to and celebratory of different cultures," Menzies insists, passionate about counteracting the perception of storytelling as a solely traditional and conservative medium. "I think that there is a role for, you know, grandparents entertaining young children, but it has also evolved in such a powerful way," she continues. "Yes, it's traditional in its ambition to keep traditional storytelling alive; however, it's open in how inclusive it is, and in the different kinds of stories that people are able to tell".
This openness makes it uniquely suited to working through complicated ideas of decolonisation. With colonialism itself a metanarrative structuring British society and collective thought, telling a story such as Nanny of the Maroons becomes an act of decolonisation that taps into the specific ways in which stories are told, mediated, and received. Unlike the voyeuristic, passive nature of traditional theatre, Menzies argues, storytelling allows the audience to "take ownership. It's not just about the story, it's about the storyteller, and it's about your role as an audience member." By fostering an atmosphere of mutual exchange and engagement, a storytelling performance such as Nanny of the Maroons has the power to reshape our relationship with history, and to create richer, more complex narratives.
For a work that deals with such heavy themes of colonialism, slavery, and violence, however, Nanny of the Maroons' empowering, vital tone is deeply striking. For both Menzies and Campbell, it was deeply important not to exchange one flawed history for another. "I think it's a dangerous narrative, when we are focused exclusively on trauma," Menzies explains, pointing admiringly to the use of song and levity in Campbell's previous projects Woke and Black Is the Colour of My Voice. "I think that there is real strength in showcasing the other side: this was a woman who experienced real horrific trauma, and yet […] she did all of these things. Whenever we're telling a story, we need to have the shadows and the light."
It is this duality that Menzies and Campbell are keen to evoke in Nanny of the Maroons, and to bring to conversations surrounding Scotland and colonialism. "The whole reason [I am] in Scotland is a direct result of British colonialism in East Africa. That is part of me, and part of my journey. Because my journey includes the journey of my parents and the journey of my grandparents; it is part of my journey and the journey of my children." In finally bringing Nanny of the Maroons' story to these shores, Menzies and Campbell demonstrate its place in Scotland's own journey, giving voice to a legacy of oppression and resistance that has long been silenced.
Nanny of the Maroons is screening as part of the Scottish International Storytelling Festival on Thursday 22 October at 8pm until Friday 13 November. Tickets are by donation, more information can be found here.