Hallowe'en Playlist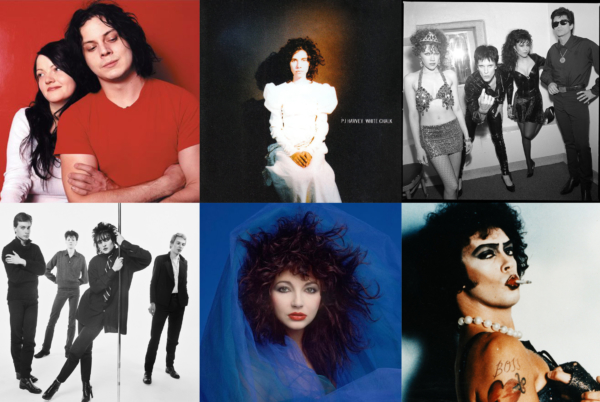 The leaves have gone golden and there is a chill in the air. Hallowe'en (or Samhain) is my favourite holiday and steeped in the spookiest season of an already dark year, I thought that I might make a playlist to celebrate all that is eldritch, unsettling, macabre and uncanny.
I begin with 'Addis', by the American heavy metal band Om. 'Addis' is the opening track of their album Advaitic Songs, which as its Hindu title and Byzantine cover art might suggest, cherry picks from several separate cultures. 'Addis' features the Lord Shiva prayer and fluctuates between sounding ceremonially satanic and divine. Next, the melancholy and magical 'Suspirium', written and performed by Thom Yorke and featured as part of the score for Luca Gadagnino's remake of the 1970s cult horror film about demonic ballet dancers, Suspiria. Then, from the album White Chalk I have chosen 'Grow Grow Grow' by the queen of eerie, PJ Harvey. This song makes me long to wander orchards alone by moonlight.
'Kuntz', by The Butthole Surfers, is a somewhat intense song which I discovered in a thoroughly entertaining article on the most drug addled albums ever made, which you can read here. 'Kuntz' sounds like a bad trip. It sounds like a really, really, life-altering-ly bad trip. It is going mad set to music and I love it. Pioneer of shock rock, Screamin' Jay Hawkins, paved the way for the likes of Alice Cooper and Marilyn Manson with his bizarre stage shows that featured him emerging from coffins and scat screaming into a smoking skull microphone named Henry. 'I Put A Spell On You' was originally intended as a love ballad, but was recorded in the demented fashion that we recognise due to a night of heavy drinking. It was banned from most radio stations at the time.
Hallowe'en is a holiday for your inner degenerate. I had to include something from the musical horror comedy that puts your auntie Maureen in a set of suspenders: The Rocky Horror Picture Show. I have gone with 'Sweet Transvestite', because, Tim Curry. Then, 'The Man With the Golden Arm' by Barry Adamson, a cover of an Elmer Bernstein composition for a film of the same name. Adamson has worked with the likes of David Lynch and Nick Cave, and his rendition of the film noir classic gives me visions of ghoulish burlesque dancers. It was a toss up for me between 'Murder In the Red Barn' and 'What's He Building?' by Tom Waits. I went with the former, but highly recommend the latter. Listen to it with the lights off and the windows locked.
'St James Infirmary Blues' by The White Stripes is inspired by a strange and fantastic pre-code Betty Boop cartoon that Jack White had on VHS. The song, sung from the perspective of a drunken man who has just murdered his girlfriend, is actually an old English folk song, and is performed by Cab Calloway as Coco the Clown. If you listen, at the start of The White Stripes version, you can hear Jack White pine, 'Oh, Coco'. You can watch that cartoon here.
Continuing the murder theme, 'Midnight Creeper' by Eagles of Death Metal is a charming little song about a home invader. 'Well my steel is sharp and silent, the Devil guides my hand, well I just love to slit them throats and creep all around this land.' American guitarist and composer, serial collaborator and ex-member of Captain Beefheart's band, Gary Lucas next, doing an unsettling rendition of the already scary Psycho theme song. Then the British and German singer-songwriter Anika, with a cover of 'I Go To Sleep', by the Kinks. The original is tinged with a delicate melancholy whereas Anika's discordant cover has definite stalker overtones and is absolutely drenched in Weltschmerz.
Norma Tanega, who died less than a year ago, was an American folk singer and painter and something of a one-hit-wonder. Her song 'You're Dead' was made famous by the New Zealand vampire comedy What We Do in the Shadows. 'The Graveyard's Full' by beach goth band The Growlers is about the most colossal existential horror of them all: the destruction and decay of Mother Earth. I love the sinister feel that a lot of 60s psychedelia has, and '(BALLAD OF) THE HIP DEATH GODDESS' by Ultimate Spinach, complete with jangling chains and cadaverous subject matter, really exemplifies the creepy hippy genre. Dusty Springfield is another act emblematic of the 60s, and was, at one time, Norma Tanega's lover. 'Spooky' is not especially so, but it is groovy.
You might remember the 90s, and the British band Space. Being extremely youthful and with my whole life ahead of me, I don't. But, I do enjoy the dark humour of their song 'Neighbourhood', which features a string of grisly characters such as the local vicar and serial killer, Mr Miller, and an antediluvian reference to Saddham Hussein. That takes us into another song that is haunted by ghostly burlesque dancers in my mind: 'The Pink Room' by Angelo Badalamenti. You might know it from Twin Peaks.
Then 'Human Fly' by one of the best bands of all time, The Cramps. Their camp horror is for life, not just for Hallowe'en. 'Trap Door' by King Gizzard and the Lizard Wizard, who bandy twats love to tell you brought out five albums in 2017. 'Spellbound' by Siouxsie and the Banshees is so goth it is wearing a leather trench coat. The bewitching 'Babooshka' by Kate Bush is next, followed by more explicit witch references in 'The Witch' by garage rock band The Sonics.
Canadian punk band Sexual Harassment wrote songs about really cool things, like alcohol and smoking too much weed, and my recent discovery of their song 'I Need A Freak' makes me sad that I won't be able to have a Hallowe'en party this year. Gravediggaz pioneered the hip-hop subgenre, horrorcore, and were made up of members The Undertaker, The Gatekeeper, The Grym Reaper and The RZArector. The lyrics of '1-800 Suicide' feature black humour and cartoonish violence. This leads into 'Organ Donor' by DJ Shadow, the organ being the national instrument of Hallowe'en.
Next, 'Deadly Valentine' by Charlotte Gainsbourg, which would be the climax of my fantasy Hallowe'en house party and finishing with 'Organs' by Pussy Riot. It is a song about police violence, a very real horror that has been at the forefront of this year's cultural conscience, and its music video sees newspaper ink becoming blood.