Many Voices Q&A with Dr Diljeet Kaur Bhachu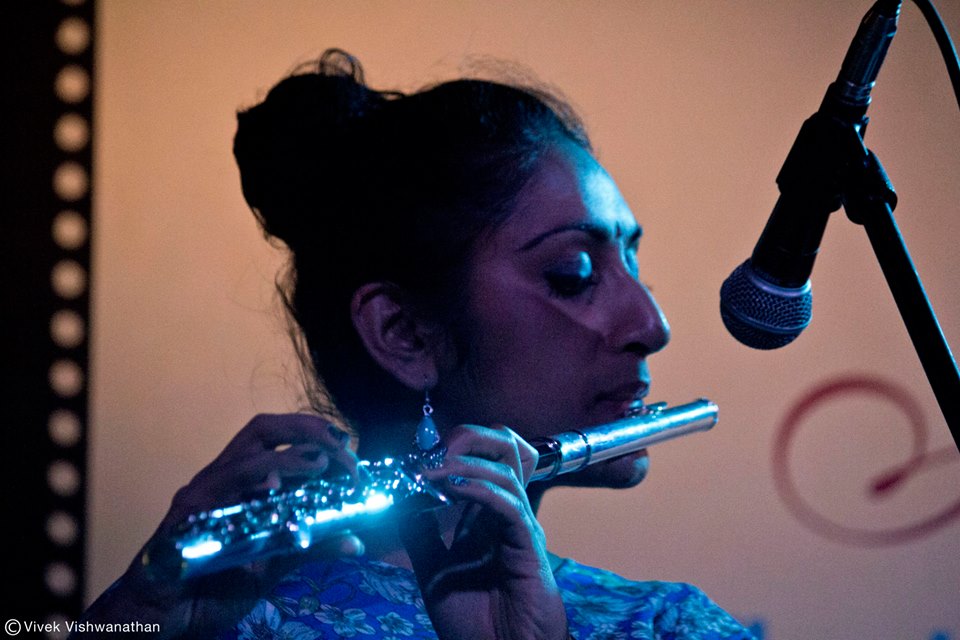 As part of her Many Voices project, Arusa Qureshi speaks to industry figures in Scotland to hear their thoughts on diversity and the inclusion of underrepresented voices in their respective fields.
The events of this year have resulted in a surge in activism in all areas of the creative industries. From greater calls for inclusivity to generally less tolerance for bad behaviour including sexism, racism and homophobia, there has been a switch in both mentality and activity. For many in the industry, however, activism has always been and continues to remain a core element of their practice, with recent events only amplifying the need for their efforts.
Dr Diljeet Kaur Bhachu works as a musician, educator, researcher and activist, having trained classically as a flautist before turning her hand towards more DIY, experimental and improvisational genres. Diljeet graduated from the BA Applied Music programme at the University of Strathclyde in 2011 and recently completed a PhD at the University of Edinburgh, now working in higher education as well as regularly performing with musicians such as Kapil Seshasayee. Aside from her work as a musician, Diljeet is an activist with the Musicians' Union (MU), she is the vice chair of the STUC Black Workers' Committee and is also currently involved in the museum sector doing youth projects around South Asian heritage and identity. In this Q&A, Diljeet discusses why she hopes that the present increase in activism in the creative industries will lead to a change in the relationship that young people will have with the sector in the future.
When you entered the industry in Scotland, did you see anyone like you that you could look to for mentorship or support? If not, did that put you off?
When I went to study music at uni, I'll be honest that I didn't even notice that I was the only brown girl; I was just used to that being a norm. So I never really thought about role models in that way. In terms of being able to go off and do what I wanted career-wise and not be conventional, that was a bit harder. Like I said before, I hadn't acknowledged my race or racialisation until midway towards the end of uni when I started asking questions about equity and access to music education. I guess at that point, I was a bit more aware of how white the sector is and started reflecting back on things like how well prepared I was for higher education.
I basically got into my music degree by the skin of my teeth. It was the only music course I applied for and it's the only one I'd have stood a chance in because they took me as me and not who I was on paper. They really spent time getting to know the applicants on a face to face basis. They asked what I thought the course could give me the chance to do and what my aspirations were. Everyone on the course had a different goal or different combination of goals.
When the course was being proposed to be cut around 2009, 2010, I really started to ask questions like, well if this course goes, if I hadn't already got onto it, if I was a few years younger, what would I be doing? I'd have been stuck in a law degree and I'd have sold my flute by now. So I was just so aware of the need for better support and that's something that I guess I've carried with me, that was why I wanted to be an educator. And it's why I've become involved in particular initiatives. When I did the MU mentoring, that involved me being a mentee and I just think it was so important because you don't always get that type of one-to-one support. So when you do find a good match, it is just magic.
One reason individuals don't pursue such an industry is because they don't see people of colour in senior/management positions and don't feel as if they could ever be in those positions as a result. What's your opinion on this? Is it a concern you share?
I've not really tried to go down a commercial route at all with what I do. But I do know anecdotally, and it's something I experience across my work, whether it's my music, my activism, or in the education sector, that if you want to make it, you don't talk about race. You don't talk about gender. You don't bring up these parts of your identity that other you because it's not mainstream. There is a lack of diversity the higher up you go; it's really, really stark.
If you look at higher education, it's pretty much all white. Music departments don't tend to have hundreds of students so in the entire year cohort, I might happen to have one or two students of colour. I realised the importance of the visibility of role models the minute I clocked on to race and realised that I was in fact brown after years of not wanting to acknowledge that. That's part of that dynamic of growing up, going 'I'm just going to pretend I fit in here and that I'm white.'
I think there are so many different issues in terms of support that it's not just external as well, I think there's a huge role that families and communities play in that. Part of that comes from our histories and there are messy messy histories which can play into how careers are perceived. I think there can be a lack of acknowledgement and an understanding by higher education, by the music industry, creative industries, of that. I didn't grow up in a household where we would just have instruments and make noise. It's not until you get to higher education and you speak to your peers about their upbringings and you're like, oh, wow, that was different. They were being driven around to multiple youth orchestras a week and I didn't even know what one was, that was just not something we engaged with. There's all sorts of subliminal stuff where the gatekeepers, whether it's in business or in education, are not acknowledging the gaps in knowledge. It's a double edged thing; either they have to change the entry requirements, whether it's in industry or in education. You have to change the prerequisite experience or knowledge or criteria or you have to actually go and tell people who are not accessing it what they need to do to access it.
What can be done to get more creatives of colour involved in the arts in Scotland in a way that is genuine and not tokenistic, with attention also given to sustained support?
I think on a local level, we can be doing a lot more to demystify what a career in music actually looks like across the board, whether it's performance or behind the scenes or business or management. Not only for young people, but also for their families, parents and communities to understand what it is we actually do. I still have people calling my music a hobby. I think there's a lot of education that needs to be done there.
For those of us who are in the sector, we're at a turning point. I feel like I know so many women of colour, people of colour in the creative sector and 10 years ago when we were all studying, we felt like the only fish in the sea. Now there's more of a network. In the past five years, I've seen a massive surge in that. Ten years ago, I would have said you need to find people and make a network. For young people now, it's a case of finding the network and joining, because our generation has done that groundwork.
You've got to look at how different communities have overcome hurdles in terms of representation. It takes time and I feel like we're at a very critical point, particularly for South Asian communities who migrated in the 60s. Now we've got our second, third generation people who are starting to make waves in these sectors that we haven't always been a part of and also doing that outside of Asian art. One of my biggest barriers was people saying 'do you play Indian music?' and making assumptions based on a name and not actually thinking about what the person does before deciding whether or not to engage with them.
For young people now it's more a case of us being able to say we're here, please ask me the questions, please tell me if you need me to come and speak to your parents and explain to them that we're doing legitimate work here. That's what drives me and it's been amazing actually seeing lots of different people come together and form little networks and hubs and bubbles in the past five years. This is what we needed, especially when I meet young people who are just going through their degree programmes or even leaving school now.
How open do you feel the Scottish creative industries are in terms of discussions of diversity, equality and anti-racist work?
We've certainly seen a lot of public statements of support and whether all of that has transpired into actual action remains to be seen. But I know that in terms of the thought processes around wanting to make meaningful change, there have been some shifts. If it doesn't look like visible instant action, I know that there are conversations happening around how to make meaningful change. The important thing is that it's not act now and then let it fizzle out. It's that marathon type mindset, thinking we have literal centuries of oppression and oppressive thinking to undo. So I think the important thing for the music industry is to keep it at the forefront.
Within education, there's still a long way to go because academic freedom allows a bunch of nonsense to prevail, basically. A lot of music academia has been showing itself recently. At the same time, it's also been amazing to connect with other scholars of colour within music. I've made some really great connections with people. So it's double edged; awful stuff happens, and awful views show themselves in our disciplines and in our industries. But off the back of it, there's also new powerful connections being made to push the change.
Different people making the change are joining forces and there's more accountability now. So I think even though we haven't quite nailed it, those of us working in the sector who are actively being anti-racist and embedding that in our work are now joining forces to be more vocal, to point this stuff out. There's now more of a sense of we're going to name the issue when we see it, while previously it would have been much harder to do that.
Do you feel hopeful about the future of the industry?
I'm an optimistic person, so I'm going to say yes, because I know there is a huge amount happening at the moment, especially over recent months around the increased visibility of cases of sexual abuse and harassment. 2020 has just collectively brought a resurgence of grassroots activism and joined up working. So at the moment, certainly on the gender-based violence issues, we've got SWIM, BIT Collective, the MU, Keychange and PRS all working together. Those things have been bubbling away for a few years now and we were already speaking to each other before all this happened but this has catalyzed it.
That's been really amazing and gives me hope that we do have some really strong organisations putting pressure on the sector to do better. On the other hand, I do think there's a lot of mess to tidy up. But I'm optimistic that people are in a place where they're willing to make change. Also, COVID has given us the chance for re-evaluation. A need for activism combined with a pandemic has meant a lot more people paying attention to what's going on in the world and taking the time to do the research, do the homework, do the learning, and then come back out and put it to use.