Ruby Gaines on new music, old ideas and starting fresh in 2020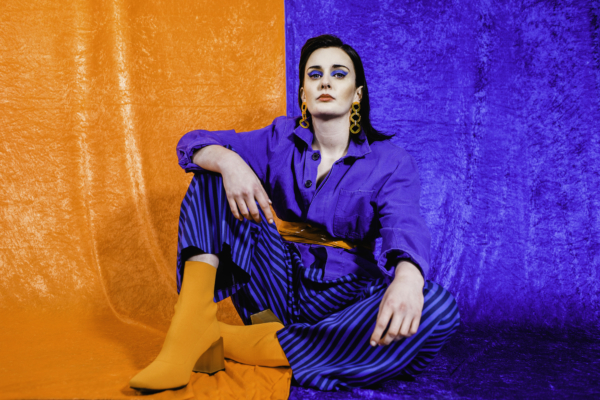 Ahead of the release of her second single 'Without a Gun', Ruby Gaines speaks to Arusa Qureshi about the creation of her new persona and what the future holds for the colourful musician.
While this year has been a categorical disaster for the best of us, the past few months have also allowed for some time to stop and reflect, be that in personal or professional contexts. For musicians across the board, plenty of work and opportunities have been lost as a result of touring being near impossible, but many have continued to write, record and release music, using the period of isolation and lockdown to pursue new and exciting elements of their creativity. Glasgow-based singer, songwriter and guitarist Megan Airlie is one such example of this, having unleashed her bold new alter-ego Ruby Gaines over the summer. As Megan Airlie, she has released three singles, each of which demonstrate her unmistakable skill as a musician and songwriter. But as Ruby Gaines, she takes on an entirely new persona, both musically and visually, incorporating a range of genres, themes and modes of inspiration.
"It all kind of started last year." She explains about the beginnings of her transition from Megan to Ruby. "In 2018 I had released some stuff under my Megan name and in 2019, I was really just ready to quit if I'm honest because a few things had happened and I wasn't feeling hopeful at all. And the stuff I had been starting to write, it just didn't sound like what Megan Airlie was doing originally anyway. I was losing hope a bit but my pal Robert Kilpatrick [of the Scottish Music Industry Association] came to me after I had spilled my guts about how I was feeling and he said, 'I think you should do something else'. I had released demos and covers on SoundCloud years ago under the name Ruby Gaines and he suggested I go back and try that. So I went for it and here we are!"
With Robert and Stina Tweeddale (Honeyblood) having joined forces in late 2019 to create new label and management company Iceblink Luck, Ruby Gaines seemed like the perfect fit for their forward-thinking project. So they got to work with the end result being Ruby's debut single, the jazz and R&B-fuelled 'Cardamom'. But as well as the track itself acting as a stunning introduction to Ruby's glorious vocal delivery and lyrical prowess, it's also the foreword to Ruby Gaines the character, with an audacious blue and orange colour scheme and a sleek visual identity that naturally catches your eye.
"The songs came first and there was a sort of feel for them and then I started thinking 'what do I want to put into it as a performer?'. The whole idea for the visuals and the vibe of it came after. On top of the hellscape that is this year, I hadn't done anything in a couple of years and I hadn't put myself out there at all. So when people were saying really nice things, it was a shock. I didn't know what I was expecting, but it was good."
Following the great reception to her debut, Ruby is now readying herself for the release of her follow-up single 'Without a Gun', a compelling and emotive take on teenage angst and anxieties.
"'Without a Gun' is quite different to what I've done before and especially to 'Cardamom'." She says of the single. "For me, 'Without a Gun' is just the start in terms of inviting people's curiosity to the whole situation that is Ruby Gaines, because I feel it's not one-dimensional. Ruby Gaines is comprised of a lot of new songs, but 'Without a Gun' is probably one of my oldest songs."
Written around a decade ago, 'Without a Gun' explores feelings of abandonment and loneliness, following a tragedy in Megan's life, but it remains relevant and poignant today, especially considering the events of this year. So does she think of it as a song that others could relate to?
"I hope so. I like to think that with all my songs, but yeah for this year I think the words in it are quite suitable, because everyone's feeling a little bit dreary and a bit lonely. So hopefully this connects with some people. With 'Cardamon', I just wanted it to be an upbeat soul song. But 'Without a Gun', I wanted it moody, heavy, Jeff Buckley-style, not as kind of romantic."
"There's that Nina Simone quote where she says 'An artist's duty is to reflect the times'." She continues when asked about the inspiration behind her songwriting. "And when I first saw that I thought, damn, I'm an especially selfish writer. With this year in particular, I think everyone is much more conscious of the climate and what's going on. And I feel like nobody can really help but try to write about it or try to speak about it. So I have no issues with people who stick to only writing about themselves, because that's something I've done for a while. But I think that everyone's perspective is valued and if they can put that into their art, it's very beneficial not just for them, but for the society around them."
'Without a Gun' might be set against the backdrop of Megan's teenage years but it's a song that shows clear creative progression. At the same time, it doesn't attach itself to one particular genre, instead weaving its way around a number of influences. "I feel like I've been quite lucky to have been exposed to a lot of different genres and just growing up and being in Glasgow as well." She notes. "Throughout my writing life I've had different phases like country phases, jazzy phases, soul phases. I think that kind of trickles into my songwriting now. I don't think I'm set in one genre, I like to pull things from different places just to make it a bit more colourful really."
'Colourful' is perhaps the perfect adjective to use when describing Ruby Gaines, both in sound and vision. But there's plenty more to come from the young musician and her alter-ego, even if life isn't completely back to normal soon. In the meantime, she's hopeful that 'Without a Gun' will create some intrigue for her future releases as Ruby Gaines.
"I think I've been working on an album for years now!" She says of the possibility of a debut album. "But I'm definitely working on releasing some more stuff. I've got the songs in mind and maybe another video; it's not set yet. But definitely some more releases in the near future. But apart from that, it's sort of take it as it comes because we'll see how the world is doing!"
'Without a Gun' is out now via Iceblink Luck and available to stream.
Image credit: Marieke Macklon