Molly Hankinson on Social Media, Femininity and Taking Up Space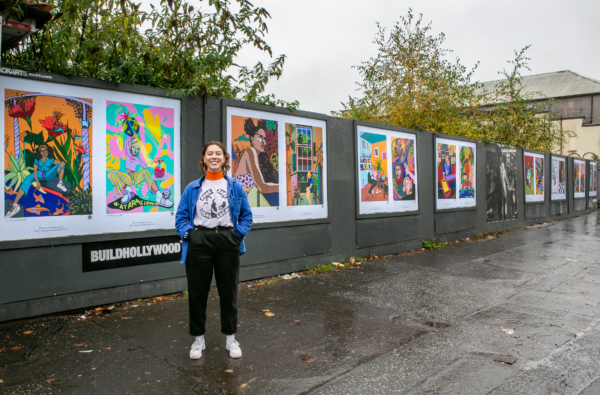 Glasgow-based artist Molly Hankinson creates characterful and colourful portraits of creative womxn comfortably and confidently taking up space. A selection of sixteen of her pieces have recently been put up around Glasgow, as part of Jack Arts UK-wide project Your Space or Mine which has seen city street's becoming galleries. Artists and designers are spreading messages of positivity, in the hope of uniting and inspiring communities during this crisis. Molly's practice concentrates on the honest and unapologetic representation of womxn and non-binary people through painting, printmaking, and hand-drawn and digital illustration. She explores themes surrounding (self)representation, reclamation and celebration within the wider realm of contemporary femininity.
As last week's Mary Wollstonecroft statue controversy illustrated, the depiction of womxn and their bodies in public spaces can be contentious. I was eager to talk to Molly about how as artist's we might reconfigure the way that womxn appear in public art.
What does femininity mean to you?
I suppose that becoming more aware of and feeling safe enough to be able to be my own authentic self –  that feels like my own way of expressing my femininity. There aren't as many obstacles as there once were, but I do think that age has something to do with this too. The pressure that young women and gils feel to behave in a certain way, and to project society's ideas of what 'femininity' might look like is so huge. I'm only really starting to come out of trying to fit into those ideals myself. So, femininity can and should mean whatever you need it to be to feel real. It's not always easy, but it's getting easier.
How do you decide your subjects?
There is really no rhyme or reason to be honest. I take a lot of inspiration from the wide range of womxn and bodies that are championed on social media; sometimes photographs of friends. It could literally just be a pose or a setting that I like and I'll save it into my source material gallery. When I have a particular idea in mind I usually use myself for reference, which means a lot of weird photos of myself taken on timer. I do try to be as inclusive as possible, so I always have this in mind too when deciding on what I am going to draw. I want people to be able to look at my work and not feel excluded. I'm still constantly learning, and I understand that in order to do this there comes a responsibility to advocate and share and uplift the communities that I am representing. I am constantly working on what real diversity looks like and how to portray it, truthfully, in my work.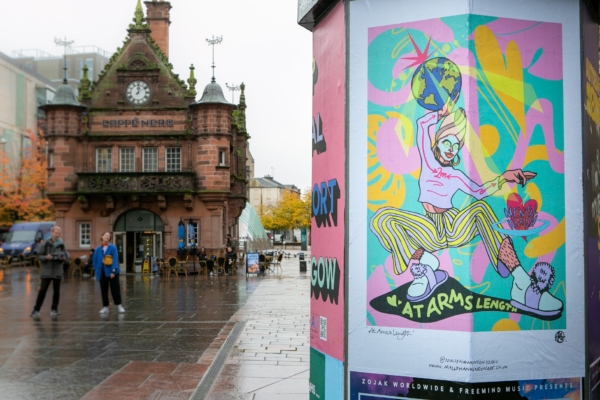 How has lockdown and the pandemic affected your process and your creativity?
At the start it definitely took a bit of a hit. I began having trouble with the fact that 50% of my time working was spent on the computer. I really started to get a hankering for painting again, which was annoying as I wasn't able to go to the studio and get it all out! Instead I ended up decorating my kitchen which was perfect because it had all the cathartic qualities of painting but I didn't have to actually 'paint anything', it was just about making decisions about colour and balance on a really big but simple scale and that did wonders for my mental health at the time. I basically started painting anything that wasn't bolted down in the flat. I painted a lampshade for my partner's birthday which shows the both of us naked in poses from well-known classical paintings (why not?) along with stuff that we love and things that represent each of us: basically what I do for people with my private commissions except completely hand-painted and bespoke. That was so so fun and I'd love the opportunity to do this for someone again.
We are accustomed to seeing female bodies in the public space, especially used as adornments in advertisements. How does your art illustrate, rather than exploit, the feminine form?
In this western, capitalist society, primarily designed for white, cishet men, generations upon generations of womxn's bodies have been used to sell things – it makes sense that we are desensitised to how weird and degrading this often is. These projections are hardly ever about the female or femme experience. Feminism has now become so mainstream that people are actually calling it out. So when someone puts out new and more honest portrayals of what it means to be and feel feminine, with all of the 'undesirable' bits – like having body hair or fat, or just being comfortable with yourself – some people can't handle it. It feels intimidating. I hope that my work shows honest representation of real womxn and people who experience misogyny. I think that some people have trouble processing this because of the way that society has continuously appropriated the female form to suit its own ends, but for me sparking conversation and creating work that people can relate to is what I want to achieve. So I'm so happy that the response has been as such, and that people are talking and taking something from it.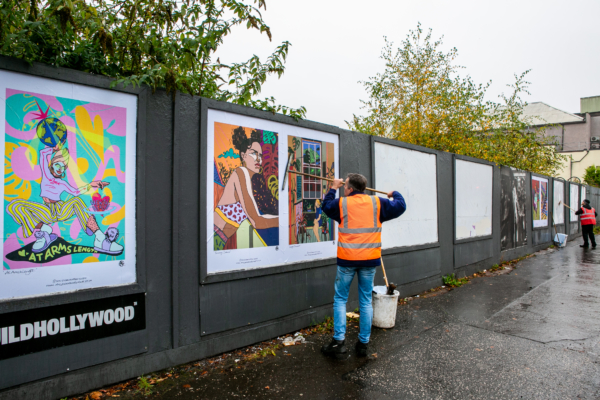 What are you hoping to achieve with each portrait?
I think I want people to look at a piece of work and really believe that each subject has full and unparalleled ownership of the space that they're in. I suppose it's this idea of taking up space the space that we so often feel we don't deserve. There's also a self-assurance that everyone lacks from time to time that I hope people can take from each portrait. Also context is so important and it's been so amazing to see these works 'taking ownership' of these large public sites too.
During this most strange and unprecedented of years, social media has become one of the only platforms available to creatives for exhibiting their work. It is really nice that someone has had the opportunity to put their work out into the 'real world'! What, do you think, are some of the differences in how we interact with art on our phones and social media, as opposed to art in the public space?
Social media is such a double-edged sword for me. On the one hand, it's an amazing tool for artists to be able to get their work out there and to actually sell work without gallery representation or lots of money for funding yourself to success. So for the first time people are able to transcend this weirdly archaic hierarchical system that the art world seems to be stuck in, and that's really positive! On the other hand, it can be really detrimental to mental health – I often find it hard to separate my work from my own self-worth, which can be perpetuated by the way that people respond to my work online. So I have to be careful when putting out new work, asking myself 'who I am doing this for?' It is a brilliant visual platform to take advantage of though, and I don't think I'd be able to properly make a living out of what I do without it. I do think it's important to be able to see and experience art in real life where possible, because there isn't that detachment that comes with seeing art on your phone. You need time and space to be able to fully absorb something, I think. I'm so glad that I've had this opportunity to exhibit my work in these open and public spaces because I think that the power of experiencing and interacting with art in situ, especially at the moment, can be so great for people, and I feel really honoured to have been given the opportunity to contribute to this during these weird and uncertain times.
You can learn more about Molly and support her work at her website here.