Neep & Okra Kitchen + Kushari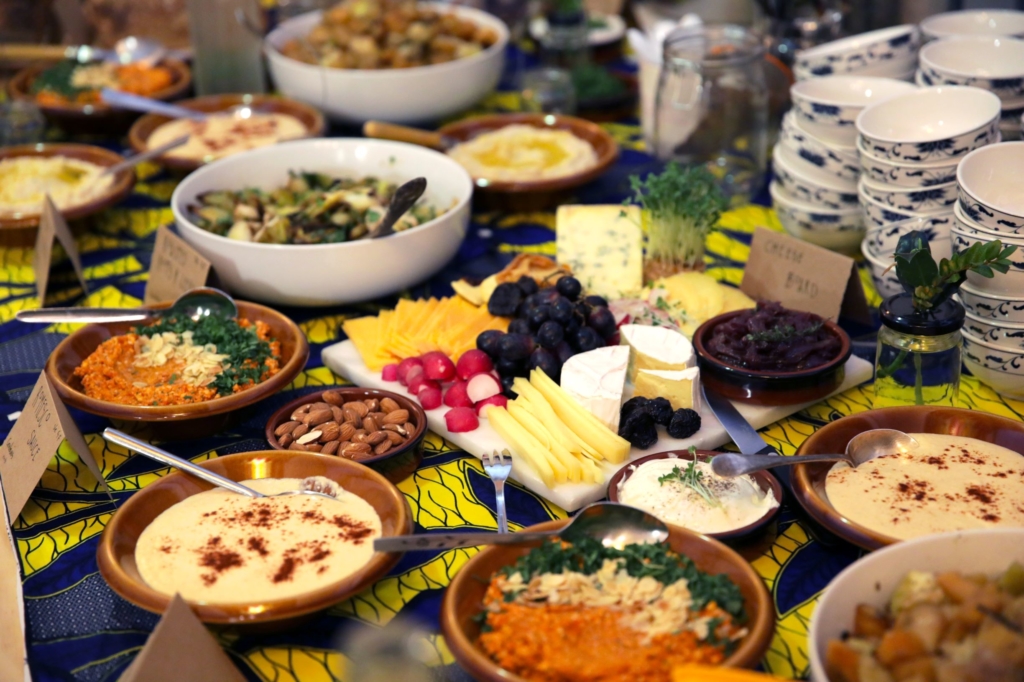 For Many Voices Many Kitchens this week I'm in Huntly, Aberdeenshire, talking to Kawther from Neep & Okra about town regeneration, the World Stovies Championship and the Egyptian street food of kushari.
SWK: In your own words, what is Neep & Okra?
N&O: We're a continuation of a food project called No. 11 Cafe, which was a pilot project in response to the Syrian New Scots, organised by Marc Higgin and Aya Haidar and ran in collaboration with two women who had just moved from Syria to Inverurie. That focused on both town regeneration and providing opportunities for New Scots while also diversifying food culture in Huntly, which is lacking representation a little bit.
SWK: How so?
N&O: Well we have one Indian restaurant, a Chinese takeaway and a fish and chip shop, but not much beyond that. And that isn't reflective of Huntly as a town because there are a lot more diverse cultures and ethnicities here. So in order to reflect this, along with No. 11 Cafe Deveron Projects ran a series of Food-Chain workshops which looked to connect folk and food. Each month a local was invited to share a traditional recipe from near or far and then together everyone cooked that dish and sat around a table to enjoy it!
SWK: That sounds amazing! What kind of food did you have?
N&O: Zambian Christmas, Latvian honey cake, Venezuelan arepas, German stollen, Polish pierogi, Bangladeshi fish curry… and also other recipes from the UK like Welsh cakes and Cornish pasties!
In a way Neep & Okra is just a continuation of those sharing-style projects, where we want to help continue to celebrate local people and produce while offering more representation. Huntly has seen a bit of a decline in terms of local businesses, just due to globalisation factors such as the big supermarket chains arriving, so we want to push against that.
It's also where the name "Neep & Okra" came from – "Neep" representing the local and "Okra" representing the global.
SWK: I love that name so much! It also sounds like a massive undertaking. In practical terms, how do you approach that local/global balance?
N&O: We source fresh ingredients locally and then combine that with foreign pantry items, things like spices and oils. We also try to focus on hospitality, so that means we've organised workshops on a specific recipe that's demonstrative of hospitality, dishes that a host would offer guests, a foodie way of saying "the privilege is mine in receiving you, and this is the best I have to offer" – those kind of dishes often involve careful, tactile preparation, things like rolling folma, stuffing vegetables or layering elements of a dish in a certain way. During those workshops everyone could be involved in aspects of the hosting, the prep and the eating.
Of course, that was all pre-COVID! Now we can't do workshops like that, but instead we do other things like recipe-boxes which contain a step-by-step guide and pre-portioned spices. We also try to pair those with online weekly blog posts which contain further information about the cultural significance of the dish, together with poems or music.These boxes also have to stay faithful to our intention to connect with local agriculture, so they are often related to seasonality and gluts. For instance, if there's a glut of onions available locally, we'll provide a recipe which offers a new way to use lots of onions, that sort ot thing!
SWK: Could you give an example of an at home box?
N&O: One featured Italian recipes, and then on the blog we explored how Italian migration has shaped Scottish cuisine. It used locally available ingredients, things like onions, courgettes, cabbage, to try to inspire people to look at ingredients they may be used to but in a different way!
SWK: I know that you've also organised online events,  including the cooking-and-creative-writing "Month of Sunsets" workshops you ran over the month of Ramadan. What do you think is the power of presenting food alongside things like art, poetry or music?
N&O: There's something to be said about serving food alongside a story. It's nourishment on various levels. We don't want to offer food that's simply transactional, where you just buy and then leave. Instead, we want our cafe and workshop experiences, including the at-home-boxes, to be an access point for meaningful conversations and skill-sharing. People may initially engage with us because of our food, but we hope that they stay and come again for the discourse. After all, if it's just diverse or local food you want then you can get that in other places, but we want to encourage people to connect with each other's imaginations and to reach towards something a bit wider in the world.
SWK: How did you find the process of having to adapt these ideals to an online environment?
N&O: We found that people can become really worn out with online spaces, mainly because they can never be the same as being together in person. So while we have done things over Zoom we also recognise that as a platform it can be quite exhausting – we're all getting a bit Zoombied now! So with something like the Month of Sunsets, we tried to give participants tasks to do specifically away from their screen, either in their own kitchens or by using pen and paper for a writing exercise. People told us afterwards that they enjoyed working collaboratively with others while remaining in their own personal spaces, more so than if it was just sitting and looking at a screen!
SWK:  Overall, then, how have you found local reaction to Neep & Okra?
N&O: Generally, great. Most of the feedback is a joy to receive, people love the food, the stories behind the food and the way our recipes are written.
That said, Huntly can be quite a conservative, risk-averse town. At times it's proved hard to get people through the door. For instance, on the first day we did our takeaways post-COVID, people who hadn't engaged with us before were reluctant to cross that threshold and give us a try?
I recognise that for some people what we do is a bit out-there, but that's totally OK. Maybe some people will never engage with what we have to offer, in the same way that I'm never going to engage with rugby! When offering something as alternative as we are, it's inevitable it won't be everyone's cup of tea.
SWK: And what do you see for the future of Neep & Okra?
N&O: I would love for Neep & Okra to be able to offer Huntly more things to do in the evening, other than going to the pub. Even outside the pandemic, shops shut at 5pm and then the takeaways and pubs open but apart from that there's not much else to do. So in an ideal world I would love for us to offer things like chef residencies and a more full-on evening programme involving food and music and poetry – really make it a destination venue!
For now though, we're very much focused on bringing Neep & Okra to people's home kitchens, via our recipe boxes and our gently simmering blog!
SWK: What other initiative are you currently working on?
N&O: We want to develop our website to better bridge the gap between producers and consumers – a bit like a REKO ring. Aberdeenshire is so rich in arable land, and it's not like there isn't enough food growing here in high season – it just needs to be better distributed locally.
We also currently offer Takeaway Tuesdays which are shaped around an extra large veg box delivered from Tap o'Noth Farm, so every Friday we see what we get in a box and then we have to plan a menu around it.
We also want to collaborate with the Huntly Hairst, an annual harvest festival we have here, and see it develop from a once-per-year event to multiple events which can mark the different seasons. Laura McNeil, who runs the Hairst, recently joined our team. In fact, she can tell you more about it!
SWK: Hi Laura! For an outsider, can you describe the Hairst a wee bit?
Laura: We have a huge farmers market, lots of stalls, kids play areas, crafting, the World Stoview Championship, a half-marathon, so many things! In the future we're also hoping to offer other things like cocktail making classes, and we also really want to expand the World Stovies Championship because from a foodie perspective that's something that nobody else is doing and is really exciting!
SWK: I already love the sound of the World Stoives Championship! Could you tell me more about it?
Laura: Well I think one of the attributes we come up against with local people here is that they often might say things like "oh, my stovies aren't good enough!" even though the rest of their families absolutely love their recipes and rave about them, so we're trying to find ways to break down those kind of barriers and give local people more confidence to share their food. By making it a World Championship it becomes more of a fun space. Last year we had people from Inverurie and other places coming to take part as well, so hopefully by expanding it further we can encourage people from all over to take part and share their own local traditions too! There's so much scope for it to grow and I'm really excited to be able to count on the support of groups like Neep & Okra to help take it forwards!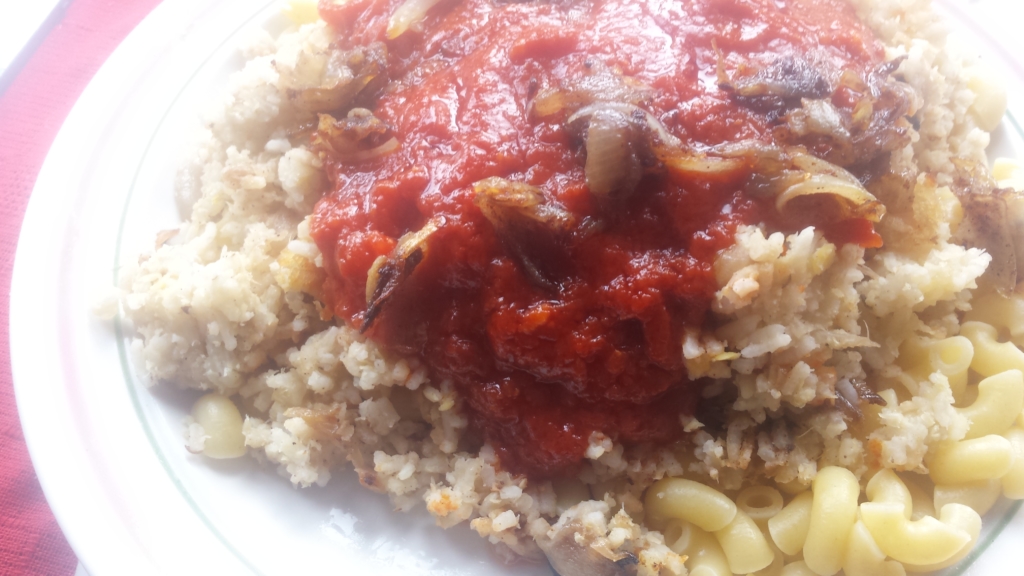 Each week I'm asking the people I talk to if they would like to share a recipe with me to try! This week, Neep & Okra provided me with a recipe for kushari, often considered the national dish of Egypt, along with some context and a poem!
Kushari and Tomato Sauce
"Kushari is a traditional Egyptian dish of the working people, and in 2011 it became one of the symbols of resistance during the Arab Spring. The local people shared this dish to sustain each other in times of hardship, while all other foods were running out. When the country was in the process of trying to rebuild its economic and political structures, food circulation was still restricted and the chain of supplies through the country was badly damaged. Kushari was almost the only food available and it was a symbol of great pride and dignity to offer and share it with visitors."
—
I belong to you like this plot of ground
That I planted with flowers
And sweet-smelling herbs.
Sweet is its stream,
Dug by your hand,
Refreshing in the north wind.
A lovely place to wander in
Ancient Egyptian poem extract from the Harris Papyrus – 2nd Century BC
Ingredients:
Serves 4-6
150g brown or green lentils
150g whie basmati rice
¼ cup olive oil
8 onions, thinly sliced
2tsp cumin
1tsp cinnamon
Salt and pepper
150g elbow macaroni pasta
For the Sauce
1 tbsp olive oil
6 small garlic cloves, minced
142g tomato paste
1tsp sugar
1tsp cumin
¼tsp cayenne or chilli flakes
1tsp salt
2tbsp white vinegar
1 can chopped tomatoes
Method:
Place the lentils in a bowl and cover with water. Let it soak for at least 2 hours, or preferably overnight. To wash the rice, rinse and drain it at least 5 times, or until the water runs clear. Leave to soak for at least two hours, or preferably overnight. Heat the olive oil in a large pot over medium high heat. Fry the onions until they begin to soften, around 10 minutes, stirring frequently. Add the cumin, cinnamon, 1 tsp of salt, and ½ tsp of pepper, and continue cooking until the onions brown – around another 10-20 minutes. Once ready, set aside in a bowl.
Bring a very large pot of salted water to a fierce, roaring boil. Drain the brown lentils from the soaking liquid and add to the boiling water. Cook for 10 minutes, until softened slightly, but still has a bite. Just before the lentils are fully cooked, drain the rice of the soaking water, and add to the boiling lentils. Cook the rice for 3-4 minutes, until it's slightly undercooked, it should still have a bite to it. Once ready, drain the rice and the lentils together in a large colander.
In the same large pot, add half of the onions set aside from earlier, and gently fold it into the rice and lentils. Place the pan on the lowest possible heat and put a lid on it, then leave everything to steam and finish cooking for at least 15 minutes. Please do not be tempted to take the lid off at this stage. Once ready, gently turn the rice and lentils to incorporate all the steam and clamp shut with a lid again.
In a separate pan, cook the pasta as per the package instructions and when it is cooked, drain, coat with a little drizzle of olive oil, and set aside.
To make the sauce, start by heating the olive oil in a small pan over a low heat and then add the garlic, tomato paste, sugar, cumin, cayenne pepper and salt. Fry for a minute or two, until the garlic is fragrant and then add the vinegar. Bring the vinegar up to a boil and then add the canned tomato and bring the mix to the boil again, stirring frequently. Reduce the heat and simmer until the sauce has thickened slightly, around 10 minutes.
To finish, blitz the sauce with a hand held blender until smooth and creamy.
To serve, add the pasta as a bottom layer, then add the rice and lentils, then top with the remaining onions and the sauce.