The Crisis and Opportunity of the Independence Movement
As the collateral damage from Boris Johnson's leaked comments calling Scottish devolution "a disaster" continues to cause shockwaves through the British political system, the consensus is that the Union is facing its end days.
Writing in Open Democracy Peter McColl points out that the contrast between Sturgeon and Johnson's COVID response is awakening a new political imagination: "For too long, political imagination has been squeezed to the margins – even north of the border, given the very limited powers that devolution originally bestowed upon us. But Westminster is now so fragile that almost anything that's done differently breaks its spell. And this is why devolution is becoming dangerous."
As Alex Massie notes of the beleaguered Douglas Ross: "Ross is trying to hold a thin blue line against the SNP and at every turn he is sabotaged and undermined and betrayed by the Prime Minister. If it weren't actually a serious matter it might be worth a gallows chuckle or two. It is, after all, only the future survival of the United Kingdom that is at stake."
Disbelief and Rage
To say that there is some panic in Unionist quarters is an understatement (Andy MacIver, a former head of communications for the Scottish Conservatives, said Tory MSPs were feeling a mix of "disbelief and rage" over comments that were a body blow to the party and its hopes for narrowing the Scottish National party's huge poll lead ahead of next May's elections for the parliament in Edinburgh).
Now we're told that there will be a  "Union Task Force" to boost the case for the UK. The FT reports that government insiders have "confirmed that the new task force, to be launched in the coming weeks, would consist of Conservative MPs from England, Wales and Scotland. It will report to Downing Street, feeding in policy ideas and make the positive case for the union. While past attempts have primarily focused on boosting the pro-union case in Scotland, Mr Johnson is eager to make the emotional case in England and Wales too."
In breaking news that might not exactly set the heather alight we are told that some of No 10's new televised press briefings, set to begin in 2021 under the auspices of the new press secretary Allegra Stratton, will be broadcast from the devolved nations. Hold the Front Page!
Wait, there's more …
One senior Scottish Tory MP said: "We have to make sure the union is at the heart of everything we do, every policy needs to have a Union Jack emblazoned on it."
That should do it.
If there's a blinking incomprehension about much of this, and a post-Cummings / mid-covid weariness too, it's not all plain-sailing.
Yes both the SNP and the Yes vote continue to soar. Yes the clutch of "alternative indy parties" seem to have failed to rise beyond a tiny social media bubble. Yes according to the latest Scottish Social Attitudes Survey 61 per cent of people said they trust the Scottish government to work in the national interest; whilst just 15 per cent trust the UK government to do the same. Yes 14 consecutive polls have suggest that there is a sustained majority in support of Scottish independence. Yes the First Minister's approval ratings continue to soar whilst the Prime Minister's continue to bomb. Support for independence has never been so high.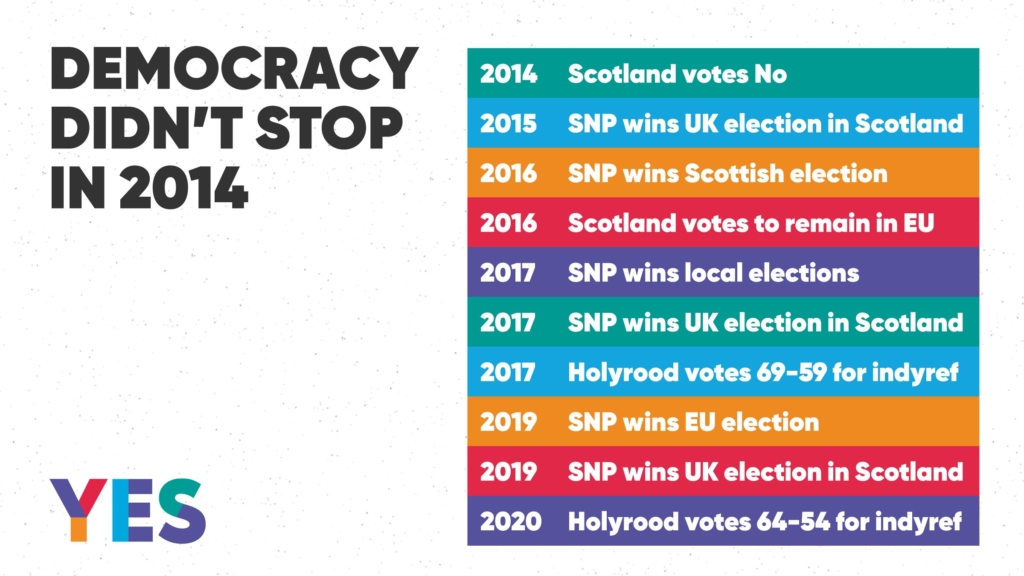 But there are major problems.
Months (years actually) of festering unresolved discontent across a myriad of issues has left a grassroots Yes movement feeling cast adrift from the political party a large part of it is still umbilically attached to. The gulf between the SNP as party machine (often highly professional but cautious and canny) and the Yes movement (often highly unrealistic and incoherent) has never been wider. Complaints of gerrymandering of the SNP conference (the leadership blocked a public debate on referendum strategy, a Scottish currency, and an independent Scotland ratifying the UN Treaty on the Prohibition of Nuclear Weapons) and the publication of a paper from the SNP Westminster group of its submission to the UK Government integrated review of foreign policy and defence have only widened this gulf.
Writing in Conter George Kerevan (also of this parish) wrote: "Amid the verbiage there is a clear shift towards multilateralism, a disingenuous softening of the party's commitment to unilaterally ratifying the UN Treaty on Prohibiting Nuclear Weapons, and a call for Lossiemouth to be the hub for combined Scottish, UK and US P-8 maritime bombers. Again, this has caused deep concern among veteran anti-nuclear campaigners inside the SNP."
In response to this – this week a huge online assembly organised by AUOB came together to create a new grassroots campaign body called YesAlba. The use of a gaelic name may or not be significant and may or not be retained (it's a working title).
One memorable moment was Lesley Riddoch interviewing the SNP's Ian Blackford.
In an exchange that resembled Lucy and Charlie Brown preparing another goal kick, Riddoch could barely contain her incredulity at Blackford asking for the trust of the movement in return for – seemingly – nothing at all.
It was a great example of how alternative media can represent a movement and question and interrogate political power.
But there are problems with this model too.
The AUOB conference is the movement speaking to itself.
For all of the people despairing at the SNP's lack or urgency there may well be people pleased that they are not campaigning in the midst of pandemic. The predicament for YesAlba is the same as the predicament for the 2014 Yes campaign, that is the challenge is not to bring on board those already at your events, on your blogs and on your Facebook group, the challenge is to sway those that you don't know and that don't share your framing and obsessions. This was a key lesson from 2014 – don't be fooled by the phenomena you are immersed in – it's NOT the same as the society you are part of and the electorate you are campaigning in.
And this touches on some of the challenges facing YesAlba.
The opposition to the SNP's approach combines people who are opposed to WMD ('Bairns not Bombs'); people angered by the lack of progress towards a referendum; people who want UDI; people furious about the GRA; people motivated by the Hate Bill; people who are passionate against the 'leadership'; people obsessed with the "woke"; people who fantasise about Alex Salmond's resurrection; people who believe a 'Plan B' is the most important issue we face; people who believe in the importance of a new Scottish currency; and on and on.
The problem, or the challenge is these groups don't really cohere.
A YesAlba will also (presumably) include hundreds if not tens of thousands of people who aren't necessarily motivated by these concerns but are motivated by a belief in the strategy (such as there has been one) put forward by the SNP. These are not distinct categories.
In this context two things will be crucial to a new grassroots campaign/movement. The first is how it navigates these differences, and what mechanisms (technical and political) it invents to manage them. Most importantly how it manages the people in a formative grassroots campaign who aren't just critical of the SNP but want it destroyed and replaced. Secondly is the question of leadership. Is there a figure that emerges to be a figurehead for this extra-parliamentary campaign that has the skills to manage both internal conflict and external outward-facing communication to the wider public? Who would that be?
Or, would the campaign emerge to have multiple points of leadership as happened in 2014?
Finally I find some of the Conteresque framing a little simplistic and a little convenient.
As Kerevan states ("The Week the Gloves Came Off"):
"The advent of YesAlba is only one sign of the emergence of a grassroots, working class independence movement outside of the parliamentary arena."
and
"Though the SNP won a clear majority of seats in Scotland, it lost nearly half a million (mostly working class) votes compared to the 2015 election. This suggested popular disenchantment with the SNP's growing parliamentary conservatism, vacuous political messaging (so not to frighten the Scottish middle classes); and often slavish devotion to EU institutions (which the party leadership uses as an incessant excuse not to take interventionist steps in the industrial economy). Into this political vacuum stepped AUOB, an ad hoc group of working class activists largely outside SNP membership."
There's several problems with the neatness of this categorisation.
It defines political views into linear compartmentalized (and automatic) class categories. This doesn't feel real-world. It romanticises the grassroots to the point of parody.
The grassroots movement – and the SNP – are a bit messier and complex than this, in my experience. The grassroots movement is brilliant in many many ways, but it's not some kind of off-the-shelf proletariat of radical visionaries, and to pretend it is is just a bit weird.  Equally the SNP is not some kind of uniform bloc caricature of reactionary militant centrism, and to pretend it is is just a bit weird too.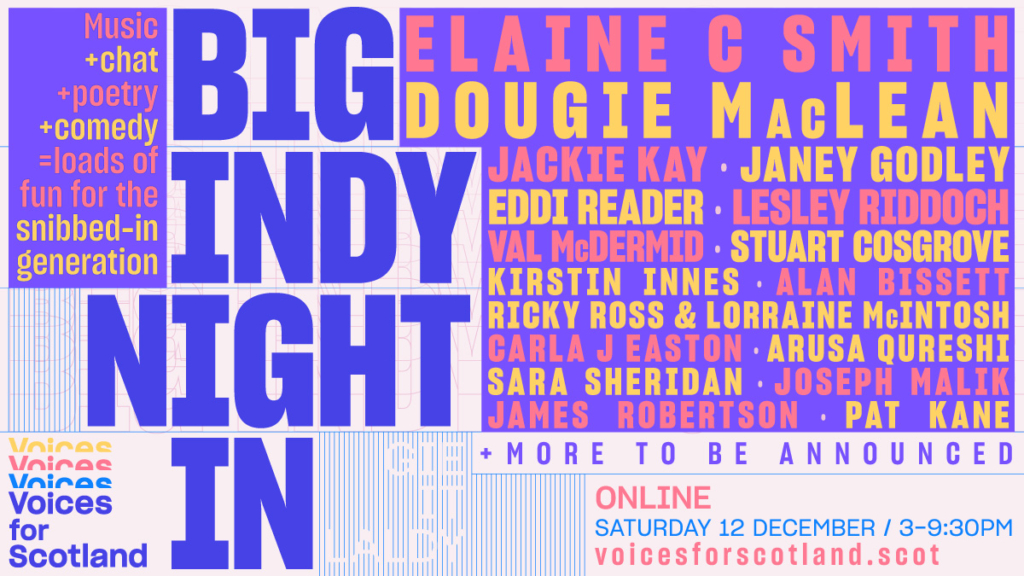 The Good News
If all of this sounds a bit complex and messy and annoying, that's because that's what political campaigning is.
Holding together a diverse movement with different priorities isn't impossible, and it's possibly the best news in very long time to have an autonomous grassroots campaign. Having this explicitly separate from the SNP is probably a good thing, but that campaign will have to transcend the contradictions of having elements within it that want to destroy the vehicle on which it is dependent. It also needs to figure out how it relates to other campaign groups such as Voices for Scotland, the Scottish Greens, Women for Indy, RIC, Business for Scotland and the Scottish Independence Convention, amongst others.
These challenges present the independence movement with both crisis and opportunity as the Union crumbles and collapses in the face of its own ridiculous contradictions.
At our best we can admit 'unity in diversity' and engage different parts of civil Scotland in different ways and play to our strengths. But that's a challenge. Asking these questions is an attempt to meet that challenge. We can do this – and we must do this – as the last days of Britain play out in some tragic exceptionalism pantomime.