Britain's Vision of the Future: Lasers, Rockets and Jobs in the Army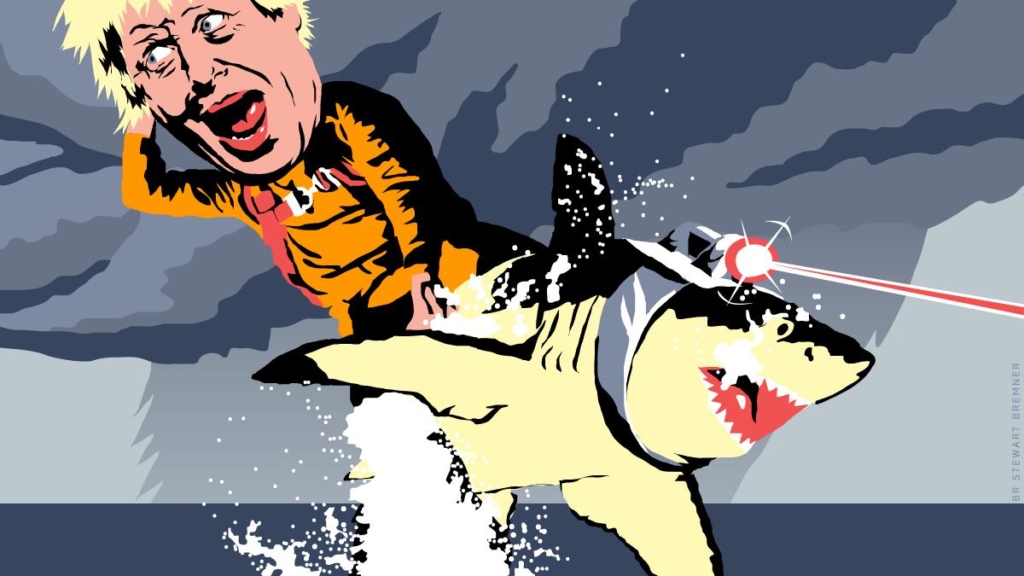 The atmosphere of decay and crisis is palpable in the Conservative Party and British Government.  A week of gaffs by Boris Johnson ended in the resignations of Oliver Mundell from the Scottish Tory Shadow Cabinet and Sir Alex Allan the adviser on ministerial code after the PM backed Home Secretary Priti Patel. Mundell is of little consequence to anyone but the resignation of Allan is a sign of deeper problems within the British state.
Sir Alex announced his resignation as the prime minister released his statement on the report's findings backing Priti Patel. Allan said, in barely coded Whitehallese: "I recognise that it is for the prime minister to make a judgement on whether actions by a minister amount to a breach of the ministerial code but I feel that it is right that I should now resign from my position as the prime minister's independent adviser on the code."
The idea that was put about at the beginning of the week was that Cummings departure was a sure sign of a "re-set" and a new progressive Conservative government: "back to the Old Boris" we were told. In reality he has backed a Home Secretary with medieval views on crime and punishment who has a history of conducting rogue foreign affairs who has just been accused of widespread sustained bullying.
The bullying probe was launched in March, prompted by allegations that Patel belittled colleagues and clashed with senior officials in three different departments. It also followed the extraordinary resignation of the Home Office's most senior civil servant, who announced his intention to sue the government for constructive dismissal after what he termed as a "vicious and orchestrated" campaign against him.
Where are we now?
The idea that Cummings and Cain were somehow the rotten apples in the barrel is a fanciful narrative, the government is riddled with malignant and incompetent people – and the condoning of Patel's behaviour is just a refection of this.
As we face expulsion from Europe on terms that were previously though unthinkable, the UK is shifting under the leadership of Johnson.
Britain is now emerging out of Europe armed to the teeth but totally isolated, promising rockets and lasers and jobs in the army. Predictably the announcement of massive investment in the armed forces was welcomed by Labour leader Sir Keir Starmer who said: "We welcome this additional funding for our defence and security forces. And we agree that it's vital to end what the Prime Minister called an era of retreat."
Opposition as capitulation. is part of the new normal as the smearing of Jeremy Corbyn goes on indefinitely as a sort of blood sport for the media class.
"Our warships and combat vehicles will carry directed energy weapons, destroying targets with inexhaustible lasers. For them, the phrase 'out of ammunition' will become redundant," Boris Johnson triumphantly told the Commons. It's like 2000AD meets Victor in 2021, with Patel as Judge Dredd.
As Johnson blabs about "the defence of the realm" – there is no conceivable military threat to justify this massive change in direction, when the very real threats are mounting up and vying with each other for attention. You don't need to be reminded what they are: they are our lives, peppered with ongoing and pending financial 'uncertainty', a crisis of mental health and social decay.
Britain's response is lasers and rockets and electric cars.
Space Command
Amidst a raft of announcements (ranging from £16 – 25 billion depending on what you read) the PM also announced a new "Artificial Intelligence Agency" and a "National Cyber Force".
Defence Secretary Ben Wallace said: "This is excellent news."
The Sun drooled: "A NEW Space Command to fight in the final frontier is set to be built in Scotland — with the first rocket sent into orbit as soon as 2022. It will make Scotland, and the whole of the UK, better protected and able to play a more active role defending our allies and values following the landmark defence investment."
Who we are to be better protected from wasn't stated, but we can all sleep safer tonight.
The Sun continued: "The existing Space Directorate, based at RAF High Wycombe, will become the Space Command. Investment in weapons and tech, including ships and Tempest fighter jets, will support 10,000 jobs, the government said."
"Successful rocket launches will give Space Command a sovereign capability to put weapons and surveillance satellites into orbit, to defend British interests, without relying on other nations."
War Baby
This war cry comes at a time of great social need but greater political need for Johnson.
The Prime Minister told MPs: "Our national security in 20 years' time will depend on decisions we take today. I have done this in the teeth of the pandemic, amid every other demand on our resources, because the defence of the realm and the safety of the British people must come first."
Like everything there is a backdrop of a rolling constitutional crisis that everything must quietly reference, Johnson also claimed it would help "spur a renaissance of British ship building across the UK – in Glasgow and Rosyth, Belfast, Appledore and Birkenhead".
He added: "If there was one policy which strengthens the UK in every possible sense, it is building more ships for the Royal Navy."
This is Hearts of Oaks stuff, drawing heavily on Brexit Britain's favourite drug: Nostalgia and Military Nostalgia specifically which its has been taking in higher doses intravenously for years. Having exhausted Spitfire Britain Johnson is now hurtling backwards to draw on myths of England as a naval power.
Simon Jenkins in the Guardian writes: "Desperate to make some use for his new £3bn aircraft carrier, Queen Elizabeth, Johnson is sending it to the South China Sea at vast expense with four protection vessels. It is hard to see what this will do beyond offer target practice for China's massive air and submarine defences."
All of this, like the spurious Green Industrial Revolution comes heavily laced with bribes and the promise of jobs in Scotland.
The not-so-subtle tactic is to prey on peoples deep insecurities at the coming economic depression and ask people to cleave to the Union, even if it is one based on a heavily militarised future.
Attack Dogs for the Union
All of this looks and feels like 2021 will feel even more V for Vendetta than 2020.
But if the promise of jobs building warships and rockets in Sutherland protecting our glorious future seem glamorous there's an iron fist in this velvet glove.
This week it was revealed by the Sunday Times that Michael Gove and Dominic Cummings plan to "bring the Union together" included the creation of a special unit to fight Scottish independence. What the Sunday Times didn't say was that this was set up in June this year.
According to the BBC's political correspondent James Cusick: "Instead of this unit being announced and the fanfare being blared – nothing has happened. What I understand has happened is that people have objected – I mean senior civil servants – to the politicisation of the civil service and asked whether this unit is too overtly political."
"They've now come to the idea that they may need to go down the contractors route … these are highly professional "attack dogs" … this is a unity of high-powered attack dogs who need to get on the Gove agenda."
In summary the government is announcing war with the world just as it is at war with itself, but it is also outsourcing war on Scottish democracy.
Image credit: Stewart Bremner