Girls Who Play Guitar
There has been anger recently at the gender balance on 'Scotify', Spotify's largest curated playlist for emerging talent in Scotland. It was noted by Pop Girlz Scotland that of the artists featured, 68.5% were male – with several of those artists having more than one song included. After a week of heated discussion on social media, the playlist has been updated and now features 60% male artists, which is only a minor improvement. There is a plethora of musical talent in Scotland, much of it female.
The playlist's imbalance hints at a wider problem. Music festival lineup's top billings remain depressingly male dominated. There are, unfortunately, relatively few music venues in Scotland available to emerging talent (a steadily dwindling number, I'm looking at you Edinburgh) and it seems that even these are often lazy when it comes to ensuring that they have good female representation in their lineups.
A very helpful man on twitter suggested that perhaps women should just start making better music – which was obviously intended to irk me – but it worked! So, here is a tiny glimpse at women's contribution to music and to that most phallic of instruments, the guitar, and its progeny: folk, blues and rock and roll. I am including the bass guitar, the banjo and the ukulele under this banner, and I am sprinkling, in amongst the legends, just some examples of the incredible number of talented female musicians working in Scotland today. (I apologise if this seems like ghettoising: what I want to do is shine a spotlight on female talent, not do a 'Queen Tut's Stage')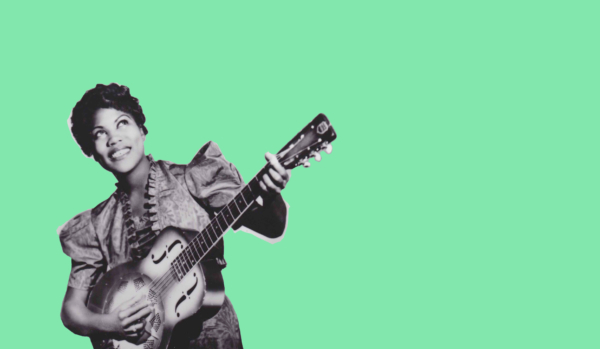 We begin with the 'original soul sister', Sister Rosetta Tharpe: the founding mother of rock and roll. Tharpe was one of the first recording artists to use heavy distortion on her guitar, and this along with her gospel sensibilities paved the way for the world's most popular musical genre. 'Strange Things Happening Every Day' is widely considered to be the first ever rock and roll record. Another legend and early blues pioneer, Memphis Minnie, was said to have played guitar 'like a man'. Whatever that means.
Our first Scottish-based act of the playlist is Cera Impala, with 'Fingernail Moon' from her album 'Tumbleweed'. A truly excellent banjo and ukulele player, Cera Impala originally hails from Arizona and is a fixture of the Scottish festival circuit. You might know her from her stripy tights and her two bands, Delightful Squalor and The New Prohibition. You can see her website here.
Now hopping back in time again to the matriarch of country music and mother in law to Johnny Cash, Mother Maybelle Carter. Carter was so good at guitar that she pioneered a playing style, now know as the 'Carter Scratch'. This technique involves playing a melody on the guitar's three bass strings whilst simultaneously strumming out a rhythm on the three treble strings. Modern day Americana with Alela Diane, and 'The Rifle'. Then our next Scotland-based musician – and another ukulele player – Zoë Bestel. Zoë describes herself as nu-folk, has a singing voice like a particularly charming waterfall, and undoes a good deal of the damage done to the ukulele's reputation by whistling Youtubers. You can see her website here. Staying in Scotland with the honey-toned singer-songwriter Rachel Sermanni, and her plaintive song 'Wish I Showed You My Love'. Sermanni's work is delicate and stately, and her live performances are as amusing as they are moving. You can see her website here.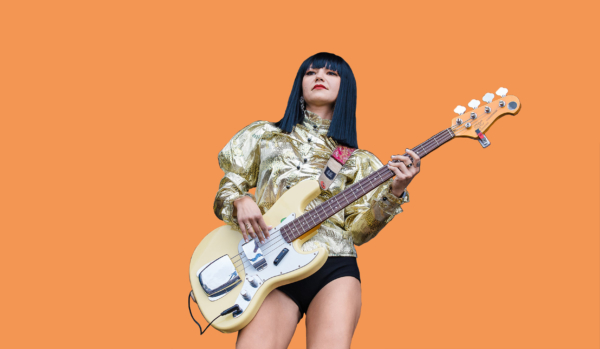 This Is The Kit, another exceptional banjo player,  is the alias of Kate Stables. I love all of her albums, but my favourite, and the one that my pick 'White Ash Cut' appears on, is called 'Wriggle Out The Restless'. Next, the ever-evolving and affecting Laura Marling. I have chosen 'Alpha Shallows' as it showcases her elite guitar skills, but every one of this woman's songs is a work of art. She has resisted the title of 'folk musician', but her melodies are distinctly history-tinged. Tone shift into the virtuoso musicianship of Kaki King. In 2006, Rolling Stone published a list entitled 'The New Guitar Gods', on which King was both the youngest entry and the only woman. King plays guitar in a percussive manner, utilising layers and loops to create enchanting soundscapes. As Dave Grohl once said of her, 'There are some guitar players that are good and there are some guitar players that are really fucking good. And then there's Kaki King.'
Su Shaw's alter-ego SHHE was on this year's shortlist for the Scottish Album of the Year Award, and her self-titled album is a sparse and atmospheric journey of introspection. Our first bass guitarist of the list is Laura Lee, of the tricky-to-pronounce Khruangbin. Khruangbin are inspired by psychedelia and their albums are like lusciously long summer evenings. Canadian singer-songwriter and Rock and Roll Hall of Fame resident, Joni Mitchell, has won nine Grammys and developed 51 different guitar tunings. Mitchell hated the angelic high range that she was known for and has furiously smoked her way to a deep timbre. Our second bassist is Kathi Wilcox of Bikini Kill, Kathleen Hanna's original outfit. Bikini Kill were pioneers of Riot Grrrl, a third-wave feminist punk movement that used music and zines to address issues of domestic abuse, rape, sexuality, classism, racism and anarchism.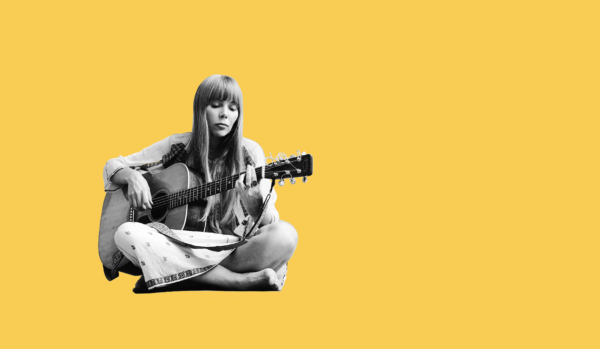 Back to Scotland, and Glasgow-based rock and roll soul sister Emme Woods. Woods has travelled the world with her charismatic stage presence and voice like honey gasoline. In 2019 she released her latest EP 'it's ma party', alongside a short film of the same name, made by Tenement TV's Jamie Logie and featuring James Potter of Walt Disco, and me, wiggling thoughtfully. You can see her bandcamp here.
Another Glasgow starlet follows, with Ruby Gaines, the powerful two-toned project of songwriter and guitarist, Megan Airlie. On her first release, 'Cardamom', Gaines' bold and stirring vocals evoke the warm glow of a fond memory and the blue melancholy of longing for a lost past. Mercury Prize shortlistees Porridge Radio next, fronted by Dana Margolin. 'Sweet' reminds me of the likes of Stealing Sheep and Florence Welch, with its lyrics like an Angela Carter short story. It makes your neck sore from head banging. You can watch a great live performance of it here. A few legends in quick succession here starting with guitar goddess Nancy Wilson's band Heart, then the effortless groove of 'Hit or Miss' by musician and civil rights activist Odetta (Martin Luther King Jr. himself allegedly called her 'the Queen of American folk music'), followed by fellow activist and guitar queen Bonnie Raitt.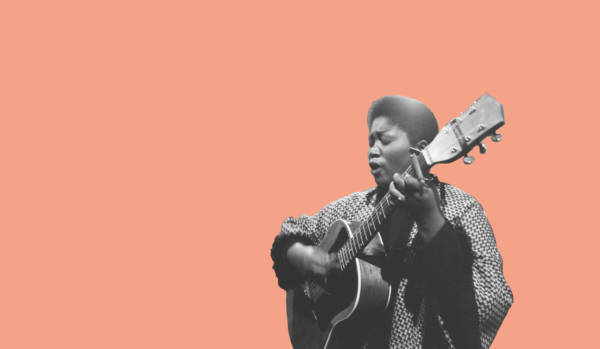 Scottish prodigy Siobhan Wilson has been shortlisted for Scottish Album of the Year and has toured the USA and Canada with her melodic guitar playing and reverberant, sylphlike vocals. You can look at her website here. Glasgow singer-songwriter Lizzie Reid and the recently released 'Seamless' next – a sincere and heartbroken song, opening with tender guitar chords evocative of the most solitary of bedroom concerts. Multi-talented spoken-word poet and indie-folk musician sarya (she/they) has been steadily putting out absolutely stellar work over their last few years living in Scotland. You can look at their bandcamp here.
One half of a husband-and-wife team with Les Paul, Mary Ford was a very accomplished guitarist in her own right. 'Smoke Rings' is a deliciously stoned nap of a song. In similar laidback style we have the Australian Courtney Barnett, whose deadpan, rambling lyrics are incredibly witty and would work just as well on the page. Then the be-fringed Angel Olsen – no relation of the famous twins – with 'Shut Up Kiss Me', followed by inventor of the loop pedal and Scotland's own, KT Tunstall. You can watch her amazing live performance of this song (for which she only had one day to prepare) on Later With Jools Holland here.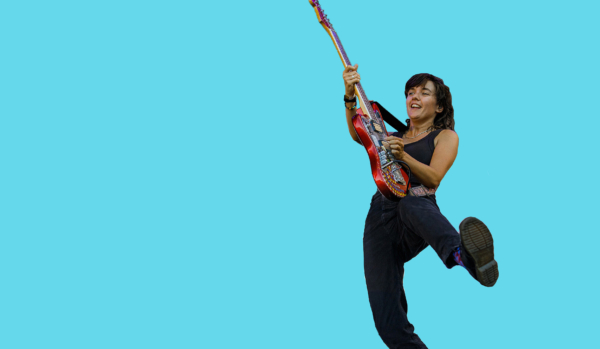 Perhaps the most prolific session bass guitarist of all time, Carol Kaye, played on an estimated 10,000 recordings in her fifty-year-long career. She appeared on such classics as 'Aint No Mountain High Enough' by Diana Ross, 'You've Lost That Lovin' Feelin' by The Righteous Brothers, 'Pet Sounds' by The Beach Boys, 'The Beat Goes On' by Sonny & Cher, and I have gone with 'These Boots Are Made For Walkin' by Nancy Sinatra. The Cramps' lead guitarist Poison Ivy was so rarely asked questions about music or her prowess over her instrument that she said "I'm the Queen of Rock n' Roll and for this to not to be recognised is pure sexism".
St Vincent has been perhaps more well recognised for her musicianship, and has even designed a lightweight electric guitar which is intended to fit the female figure more comfortably. Le Tigre were known for their left-wing lyrics that dealt with feminism and LGBT issues, and 'Deceptacon' is a certified bop for the ages. As is 'Walk Like An Egyptian', the song that culturally appropriates Ancient Egypt, by The Bangles.
Talking Heads, fronted by David Byrne (who your dad loves to remind you was born in Dumbartonshire) features one of the world's most famous female bassists in Tina Weymouth. Honeyblood is the indie rock / pop solo project of musician Stina Tweedale that has seen her tour the world. As the name might suggest, Honeyblood's music – especially her latest album 'In Plain Sight' – is sweet and molasses-dark.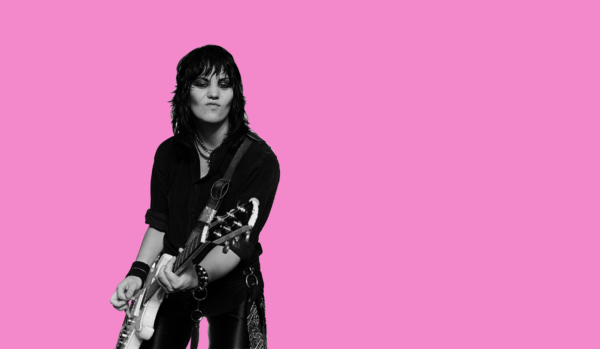 All-female founding members of the original British punk scene, The Slits, are much overlooked. Unsurprisingly, they dealt with a lot of aggressive misogyny in their heyday. Lead guitarist Viv Albertine says, "There were no role models, female-wise, there were no girls who played electric guitar so I never actually made the mental leap that it was something I could do until I saw Johnny Rotten on stage." (Shame that he's a tory wanker now). "I think we shook up the English establishment. It was a very, very patriarchal society. You never questioned a doctor, a dentist, a judge, your father. You never questioned a male, especially as a young woman."
Scotland again, and Dead Pony. Originally making an impact under the name Crystal, their tunes are highly bop-worthy and their stage presence is magnetic and supremely stylish. I imagine there will be a big future for this Glasgow band. Another Glasgow-based band, The Van T's, and their song 'Suis-Je Cool?' makes me miss being storm-tossed and stomped on in a sweaty music venue ever so. American rock duo Deap Vally have two excellent albums and two amazing heads of hair. Glaswegian band Lucia & The Best Boys were included in BBC Radio 1's 'Ones to Watch in 2020', and while the year might not have panned out as planned, their output has remained prolific and polished. And, to finish, Joan Jett, with a great song with unfortunate authorship: 'Do You Wanna Touch Me (Oh Yeah)'.
If you are a woman working in music in Scotland, take part in the POWA Scotland survey here.
Of course I could only include so many on this playlist so if you're looking for more female guitarists then I would suggest Lake Montgomery, Heir of the Cursed, Tongue Trap, Iona Zajac, His Latest Flame, Tal Wilkenfield, Eddi Reader, Suzi Quatro, Hole, Tracy Chapman, Fanny, PJ Harvey, Wolf Alice, Patti Smith, Joan Armitrading, Laura Jane Grace, Lita Ford, Anotonia Jiménez, Marissa Paternoster, Jennifer Batten, Carrie Brownstein, The Runaways, Caroline Planté, Muriel Anderson, Goat Girl, Pussy Riot, Elastica, Badi Assad, Pixies, HAIM, Charo, Felicia Collins, Elizabeth Cotton and Bibi McGill … to name a very small few.