Schooling Covid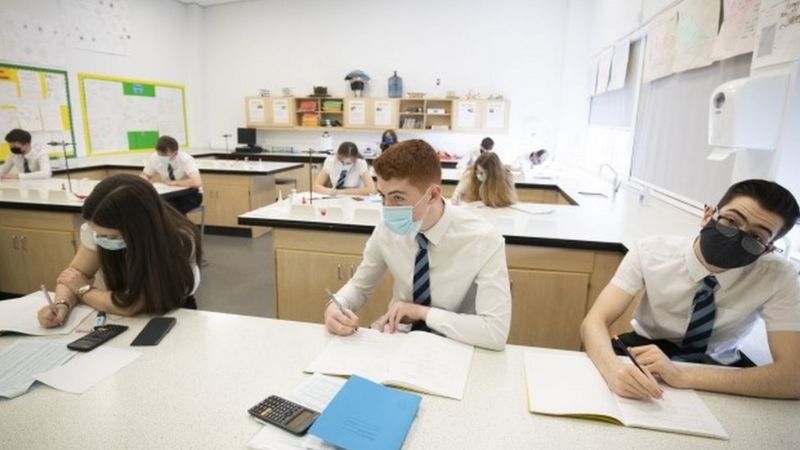 When I first started primary school, I wholeheartedly believed that our teachers lived in their classrooms. That once the bell rang at 3pm, they were folded up, zipped into a dust jacket, and stashed away in the paper cupboard overnight, ready to be brought out again in the morning for a new day of learning, after a quick outfit change and system reboot.
It seemed implausible to me, as a five-year-old, that these wise and authoritative adults had homes, families and lives of their own. That they existed outside their role as my teacher and golden-time granter in their own right as autonomous individuals, whose sole purpose wasn't just to read me the alphabet and referee netball games on Tuesday afternoons.
This naive attitude, while forgivable for five or six-year-olds, has surprisingly been adopted in part by the Scottish Government in its decision to keep schools open as normal in tier 3 or 4 areas, as Scotland continues to move through the coronavirus pandemic.
Under the new tier system, in localities that fall under level 4 restrictions, where the prevalence of virus is assessed high enough, only essential shops are allowed to stay open. Restaurants, cafes, pubs and bars have been instructed to shut their doors again, and meeting people from outside your household in strictly prohibited indoors.
With schools being kept open as usual, teachers have been placed very much on the frontline of Scotland's lockdown effort; mixing with hundreds of households a day and juggling their learning outcomes with new COVID-health and safety protocols. Entirely vulnerable, overworked and expected to put up with it.
As any teacher will tell you; it is impossible to remain socially distant from children. And the younger they are, the more difficult this becomes.
Instructed to stay at their desk, with many wearing a mask, their ability to teach is hampered, as they try to manage classes of children who are already stressed and distracted. With groups of pupils being asked to self-isolate at home on a rotating basis, as each new contact is traced, continuity in teaching and structure in the pupils' days is lost.
For teachers living with vulnerable family members, their working week has become somewhat of a roulette; each passing day bringing a new chance for infection and bringing it back home.
In a survey by the EIS, Scotland's largest teaching union, it was found that 51% supported level 4 areas to move to remote working, with unions warning of future industrial action if staff felt their safety had been put at risk. Although almost two thirds (64%) support the Scottish Government's decision to prioritise schools being kept open, it is clear many feel their wellbeing and safety had been compromised.
EIS General Secretary Larry Flanagan said, "These survey findings confirm that the majority of Scotland's teachers want to be in school working with pupils, and support the aim of keeping schools open where possible. Despite this, however, it is clear that a significant number of teachers (43%) do not feel safe working in schools under the existing arrangements. This feeling of being at risk is particularly heightened for teachers in secondary schools, for teachers in higher risk areas under Level 3 or Level 4 restrictions, and for teachers in vulnerable groups or who live with or provide care for vulnerable family members."
Mr Flanagan continued, "Although members hold a range of opinions on the best means of keeping pupils and teachers safe, there is clear support for moving to industrial action in higher risk areas to protest where teachers feel that the measures required to keep schools safe have not been delivered."
Throughout this pandemic, we have consistently been told that saving lives is the priority. That all our sacrifices and hardship are for a greater cause; for protecting our communities and shielding our most vulnerable. I ask then; why has this common goal has not been extended to our educators.
Why has their safety and the safety of their families and close contacts not been given the same level of care and protection. Teachers do not just exist in the classroom, and whatever they pick up from their workplace, they bring home. I am worried for my friends and family who are currently grappling with the impossible task of trying to teach effectively, and inspire young minds, all the while putting their own health at risk.
Teachers are not invincible, and they are not expendable. They are not just free childcare, and their health and the health of their families should not be offered up as a reasonable sacrifice.