Christmas Crackers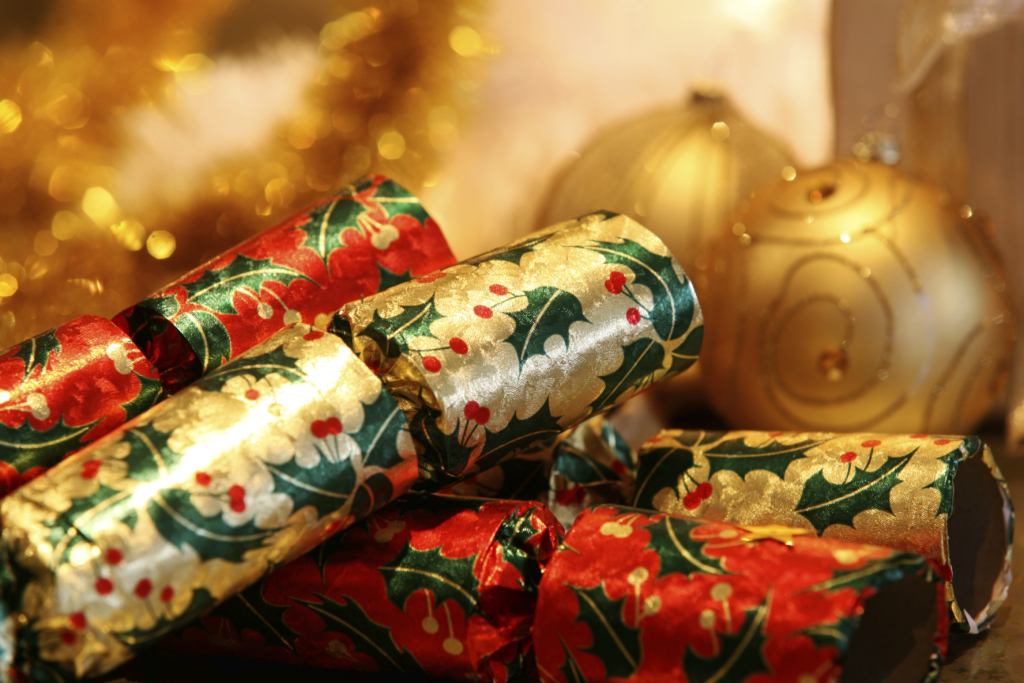 As tinsel time approaches things are getting weird (er). With the prospect of a face-mask and some sanitizer in your stocking and
"It's beginning to look a lot like Covid" ringing out, the festive season just doesn't have the same fuzzy  twinkle. This week the Scottish Government issued the 5-4-8-3  plan (five-day / four nation / eight-people / three households) approach then said: "We'd rather you didn't actually do this."
Politicians seemed to be sensing us all teetering on the verge of turning into an angry pitchfork-wielding mob, though to be fair we're probably too exhausted to mount any kind of revolt beyond a series of irate emojis. The decision to allow us all to get together for Turkey is 100% political, "Give them a bit of turkey and a bit of Cliff, should be fine" (… Christmas time, Mistletoe and Wine, Children singing Christian rhyme…).

Listening to the radio yesterday I heard a report that the govt – apparently in seriousness – recommends that people visiting families for Christmas should "socially distance" around the table, possibly by using pasting tables. Eight people, two metres apart?
Among this rush to have a John Lewis Advert knees-up it's worth noting that the Home Office plans to deport up to 50 people to Jamaica next week. This includes people who arrived in the UK as children. It would separate 31 children from their fathers. In covid times we are literally Turkeys voting for a White Christmas. As we endure this ongoing double-act of Johnson-Patel's Populist-Yulefest-Racism it's like being ruled by Bernard Matthews and Bernard Manning.
Yesterday our Prime Minister bellowed: "Your tier is not your destiny – every area has the means of escape" – somehow managing to NOT capture the mood and sound vaguely threatening. Christmas 2020 feels something like a Maze Runner prequel.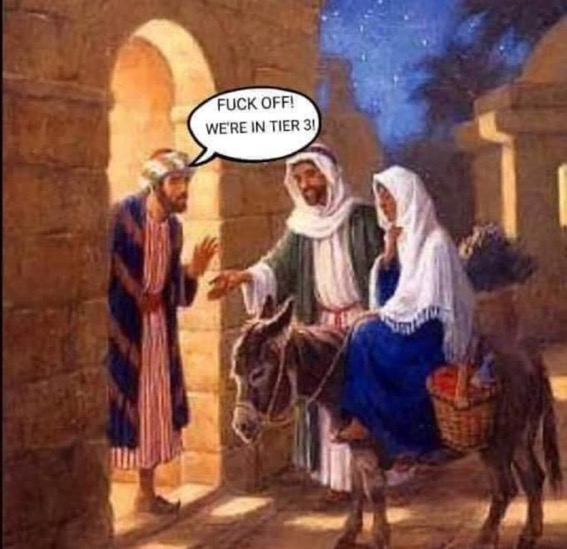 In further cluster**** news Grant Shapps has now said quarantine measures will be relaxed from 15 December to allow people to travel from high-risk 'red list' countries to visit relatives for Christmas.
This means that passengers arriving in the UK can end self-isolation after 5 days if they get a negative Covid test result. Gatwick is saying it will have lots of passengers and flights once Covid restrictions are relaxed in the run-up to Christmas. They are aiming to have around 100 flights per day by mid-December (compared to about four in the main lockdown). This report details how flights-as-incubators destroyed New Zealand's covid response (the study details an outbreak linked to one passenger on an 18-hour flight from Dubai to New Zealand in September.)
Everybody can see that this is profoundly stupid. But we – or rather our glorious leaders – seem incapable of supporting people with genuinely useful advice for mental health or social isolation. They seem incapable of re-designing cities or economies other than just yearning to "bounce back" to the profitable past rather than imagine a better future. They're incapable of facing up to the reality of the situation. They just default to the original setting which seems to be hard-wired into the world: buy more shit, fly away. Repeat.
Even in times of pandemic they are – and perhaps we are – incapable of recognising that unlimited travel for spurious reasons isn't just ecologically disastrous, its actively spreading a deadly virus. It's an odd sort of social compact. The moral code of Christmas – either as winter festival or sharing of food or exchanging of goods – is just drowned out by a soulless consumerism – any conviviality is expunged by being diverted through online shopping.
This might be a well-worn truth but it seems to be codified in covid lockdown evoking a fear of Neo-Feudalism, as the Hacker Manifesto says:
"We do not lack communication. On the contrary, we have too much of it. We lack creation. We lack resistance to the present."

Anyway, get your pasting tables out. Remember: do this, but don't really do it. As you were.