Edinburgh's Ivy League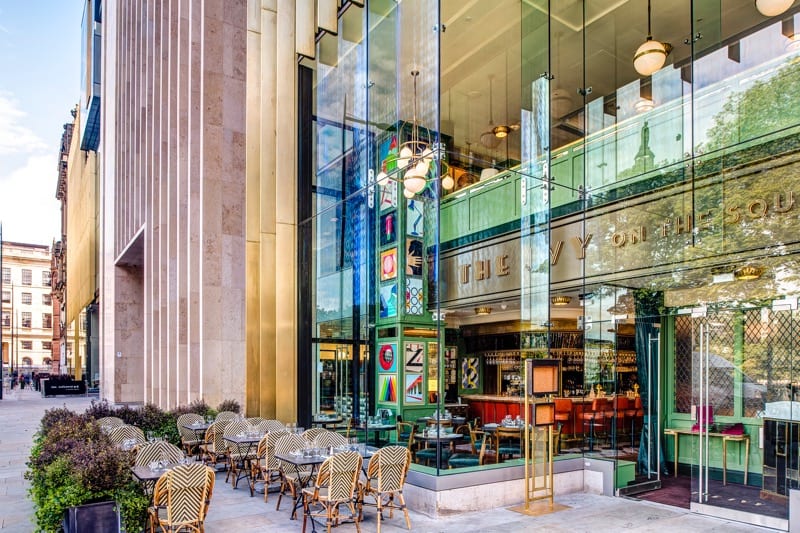 The invasion of cash rich chains is combining with covid to decimate Scotland's home-grown restaurant scene.
Christmas dinner, anyone? While most of us, in the spirit of these dreich times, will be warming up a lockdown ready meal and uncorking the Merlot, there will doubtless be some booking a socially-distanced, alcohol-unencumbered table at some fashionable urban eatery. Fair dos, suit yourself.
Where to go though? Responsible citizens might ponder Jean Jacques Rousseau's wise dictum 'man is born free, but everywhere he eats in chains' (slightly paraphrased, for the purposes of this missive) We should spare a thought for Scotland's indigenous catering trade. Long before Covid struck, that congenial broadcaster and bon viveur, Stephen Jardine, writing in The Scotsman in December 2017, took a sanguine view of Edinburgh's 'restaurant boom' and:
'the arrival of big name brands like The Ivy – This year has seen more new restaurant openings in Edinburgh than at any other time in memory and no-one seems to understand why. Sometimes a rush of restaurant openings reflects a wave of general economic optimism or specific major job growth in an area. Since we don't have either it looks like nothing more than an old fashioned gold rush. Speculators have wrung London dry so are looking at new places to roll out brands. But the great Yukon gold rush was over in just three years and Edinburgh's restaurant boom may be lucky to last even that long.'  
Of the winners and losers in the restaurant trade, the big money and the hedge fund darlings will be the ones to survive the Brexit-Covid downturn. The Ivy, part of the Caprice Group, is owned by the London and Hong-Kong based rag-trade tycoon and Annabels night club king, Richard Caring, a close friend of, and supplier to, Sir Philip Green, his fellow invitee to the notorious 'President's Club' champagne'n grope fest at the Dorchester. 'Nuff said.
Or maybe not. Caring's wife of 45 years tried to get her hands on 50% of his estimated £700 million fortune, having been dumped for a young Brazilian lady, so he sold off the freehold of his London Ivy flagship. Yet his Edinburgh venture is very much wealth-proofed, likewise its neighbouring Indian restaurant Dishoom, offshoot of a London chain operating in Kings Cross, Soho, Covent Garden, and Shoreditch, or Wagamama, with over 140 outlets worldwide, which was worth a cool £215 million when private equity giants Duke Street Capital hoovered it up in 2011, not to mention Anglo-Dutch Gaucho, founded in Amsterdam by chef Zeev Godik in 1976, or another London based chain, The Refinery (part of the Drake & Morgan Group) or the Bonn headquartered 180 outlet fast-casual franchiser Vapiano, alongside T.K Maxx.
A little detail which should not be overlooked that in Edinburgh's highly competitive catering sector this super-rich little cluster will soon outgun the locals when it comes to surviving in an overcrowded market in the Brexit-Covid meltdown. Consider casualties like the award-winning Verandah Indian restaurant at Haymarket, a mid-range fixture for almost four decades, patronised in its time by the likes of Clint Eastwood and Cliff Richard – alas, no more. It put up the shutters just after New Year 2018, a harbinger of worse to come.
This invasion of the chains will not only undermine local catering outlets – their Scottish suppliers will also be impacted. The majority of our home-based restaurants pursue a sustainable policy of local sourcing, something the chains have minimal interest in. Take the case of Gaucho, which proudly boasts that all its steak is shipped in from the Argentine Pampas. For good measure it includes amongst its attractions a Festival of American Whiskey. If you have a grudge against Scotland, then this is surely the place for you.
True, we cannot entirely blame Gaucho's founder Zeev Godik. His family company sold a majority stake to Barclay's private equity spin-out, Equistone, in 2016. By the end of 2017, with the Edinburgh opening imminent, and Paul Mason, former boss of Asda, installed as Chairman, Godik was ousted as CEO. He was last heard of seeking other opportunities in tax-friendly Dubai.
The dominance of Edinburgh's 'new cuisine quarter' owes much to friendly press coverage. Mr Jardine would appear to be alone in identifying a downside for the home grown catering industry. Anna Burnside of The Daily Record, on the other hand, drooled over London-based Mexican 'street food' operator Wahaca shortly after it had opened its Scottish outstation on the St Andrew's Square culinary block. This was as nothing, however, compared to her fawning 'radical suggestion' for a 'hot Valentine's date – Dishoom. 'Or, as I prefer to pronounce it: Dish. Ooooooh. Mmmmmm.'
This evocation of Meg Ryan's climactic scene in When Harry Met Sally seemed particularly queasy since Ms Burnside had gone there 'with my own precious darling and his two grown-up sons – All he would need to do to make it a romantic triumph is to leave the boys at home.' Best not to think of Meg Ryan's ecstatic outburst in the circumstances. In fairness, Ms Burnside had written up home-grown eateries like the Real Food Cafe in Tyndrum, but it would appear to be the chains which truly commanded her affections.
For those who value a spirit of localism this is a disaster. Many of Edinburgh's most acclaimed indigenous restaurants are struggling, or, like Henderson's, after 58 years, have vanished altogether. David Ramsden, owner of The Dogs, Hanover Street, (and a dozen previous ventures – Ed) wrote to the council warning of the almost inevitable effects of the over-expansion of the chains, citing St Andrew's Square in particular. Things were already tough enough when The Ivy opened its doors. In its April 2017 edition foodie's bible, The List, (also RIP – Ed) identified no fewer than 24 local restaurants which had closed down during the year – and there were other gems besides, like Wok and Wine in Frederick Street. Mr Ramsden almost certainly won't be alone in feeling the chill winds. 'Restaurant owners shut up shop over rising costs' was the chilling headline in The Times in September 2018 which went on to report that accountants French Duncan had recorded a fourfold rise in the formal insolvency of Scottish restaurants over a decade, and this total was only the tip of the iceberg, since most were putting up the shutters without a formal insolvency procedure. According to French Duncan's Eileen Blackburn;
'That the number of failures has almost quadrupled over the last decade is alarming, but that the rate of failure is increasing is extremely worrying. The high street is in trouble and the dining sector is encountering unprecedented issues which are resulting in failures for a growing number of operators – the numbers closing voluntarily at a financial loss must be enormous.'
Given this attrition, what of the choice on offer in, say, a post-Brexit, post-Covid Scotland, bearing in mind that these St Andrews Square chains are by no means the end of the story? The St James quarter alone promises 'more than 30 dining destinations'. The majority – if not all – of these will almost certainly be non-local. Glasgow, Dundee, and Aberdeen should take note. Meanwhile, the St Andrew's Square 'cuisine quarter' has piled them in. 'The Registers', based around a former 1930s Royal Bank of Scotland Building, featured a 170 cover Hawksmoor Steak House. Controlled by Wapping HQ'd Underdog Group, this seems like an interesting example of a chain in flight from London – Hawksmoor was set to open in Manhattan in 2019, since rescheduled to 2021.
The invasion of cash rich chains is by no means the only threat to our home-grown restaurant sector. Professor John Lennon of Glasgow Caledonian University has suggested that Scotland's £11 billion tourism sector is 'gazing over a cliff' due to a combination of factors which include widespread low wage growth and the loss of the advantage of the post-Brexit cheap pound as inflation increases the cost of food. His prognosis in January 2017 was not a good one for an industry reliant on migrant workers who will soon be denied entry to the UK. "As we move through January, February, March, expect to see more liquidations in the tourism industry; more businesses going to the wall.' And that was before the nightmare of Covid-19!
Prediction is never an exact science, but don't bet on a pleasant night out in future at The Edinburgh Larder, the Radford family's The Timberyard, Martin Wishart's The Honours, James Thomson's The Witchery, or other award winning Edinburgh gems.
The chances are that Brexit, Covid, and competition from the chains will have wiped many of them out, along with several of their suppliers. Enjoy them, and support them, while you can, and bon appetit.