Savanta ComRes – Endgame for Leonard, Ross and Rennie?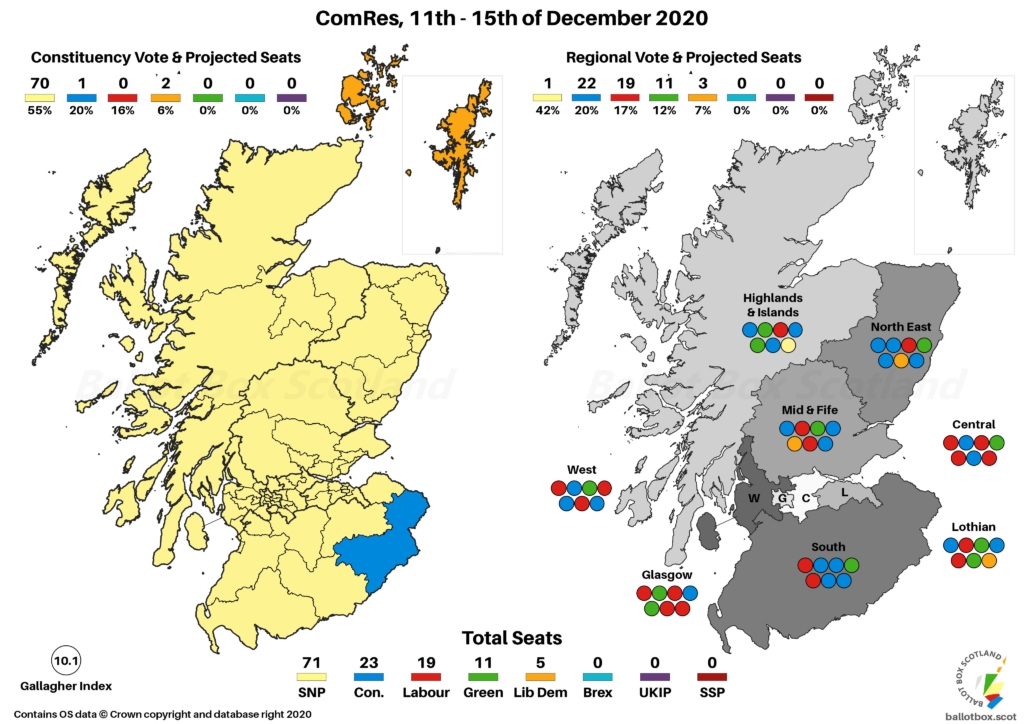 'Yes' with 16pt lead in independence race as SNP look set for Holyrood majority – Savanta ComRes
There's much more beyond the headlines in the brand new Savanta ComRes polling. The stand out fact is that 'Yes' would win a second Scottish independence referendum by some distance if a vote were held tomorrow, according to a new poll commissioned by The Scotsman.
Chris Hopkins, the Political Research Director at Savanta ComRes commented: "The voting intentions are obviously the most striking parts of this poll, with the SNP on course for an unprecedented second majority government in Holyrood under a system designed to limit such executive power. With the SNP's likely hegemony in Scotland showing very little sign of abating, all evidence points at this stage towards Scotland voting Yes if they were granted another independence referendum and, on this evidence, it may not be a close end result."
For both the Unionists and the doom-sayers in the Yes movement that will be a calamity. But there are other big reveals from the polling.
First up it's pretty huge for the Scottish Greens. As James Mackenzie has noted: "In 1999, Labour elected 55 more MSPs than the Greens did. On this projection Labour would be holding the Greens off for third place by just 8 seats." Not only that but by this reckoning they have pushed the Lib Dems, who have served two-terms as a party of government in Scotland, into fifth place.
That's disastrous for the Lib Dems and would surely mark the end of Willie Rennie's ill-fated leadership.
If it's bad for the Liberals it's possibly worse for the Labour Party. Unsurprisingly Richard Leonard's leadership has failed to make inroads and still trails the Tories in third place. Douglas Ross and Richard Leonard appear not just beaten but beaten into obscurity. From this research around six in ten Scots say they have no opinion of either in terms of their favourability, they are just anonymous despite Ross's constant media attention.
Keeping just slightly ahead of Labour may be cold comfort for Ross, who was appointed in the disastrous double-act with Baroness Davidson.
Ross' party's support is 25 points behind the SNP, with the poll also showing the party could lose eight MSPs in May. That could mean an early red card for the linesman with his colleague disappearing to the House of Lords. If that was the case it might be a full house of resignations for the Unonists parties.
This would be a disastrous result for the Unionist bloc with a thumping SNP majority and a huge thirty-six seat cross-party pro-indy majority.
Other factors are worth noting.
Despite a long time in office and a great deal of criticism Nicola Sturgeon's popularity remains strikingly high.
ComRes write: "A net favourability of +28, the only politician in Scotland with a significant positive rating, is reinforced by a majority of Scots saying that she is intelligent (73%), strong (71%), understands ordinary people (58%), is genuine (57%) and honest (54%); all metrics where she greatly outpolls her Conservative and Labour rivals.
Sturgeon even seemingly comes out okay from the Salmond Inquiry. Although she is overall 17 points less trusted after this episode than she was before, Alex Salmond himself is 44 points less trusted, and Sturgeon outpolls both her party (-23% net trust) and the Government (-28% net trust)."
Worse for the Unionist parties the SNP retains trust across a wide portfolio of policy issues, suggesting that the party's appeal goes far deeper than constitutional issues.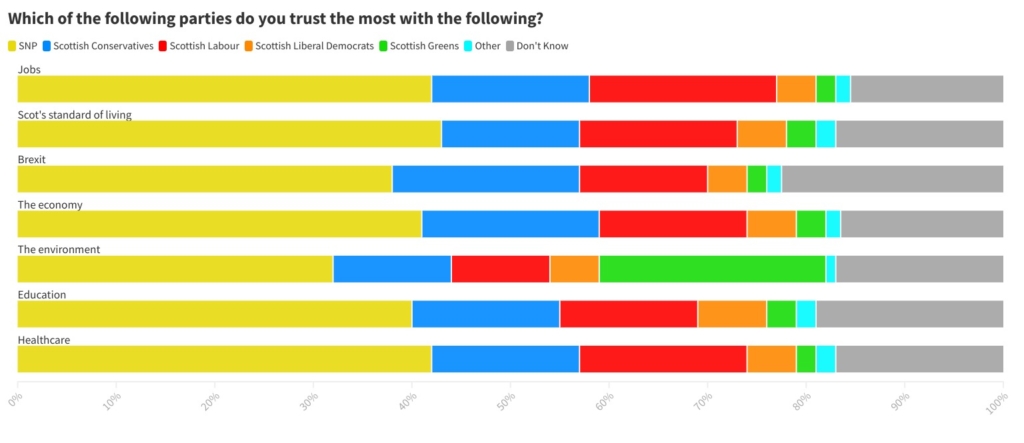 This makes things difficult for the Conservatives and Labour and Liberals.
If these results were to be born out in May it may well mean the end of the line for Richard Leonard, Willie Rennie and Douglas Ross. If this win was to be achieved on the back of a clear and strong manifesto commitment, as it surely will be, the momentum towards a second referendum, and to win that would be completely unstoppable.
Methodology: Savanta ComRes interviewed 1,013 Scottish adults aged 16+ online between 11 and 15 December 2020. Data were weighted to be demographically representative of Scottish adults 16+ by age, gender, region, and past voting behaviour.