Amazon Music's +44 platform highlights Sean Focus as one to watch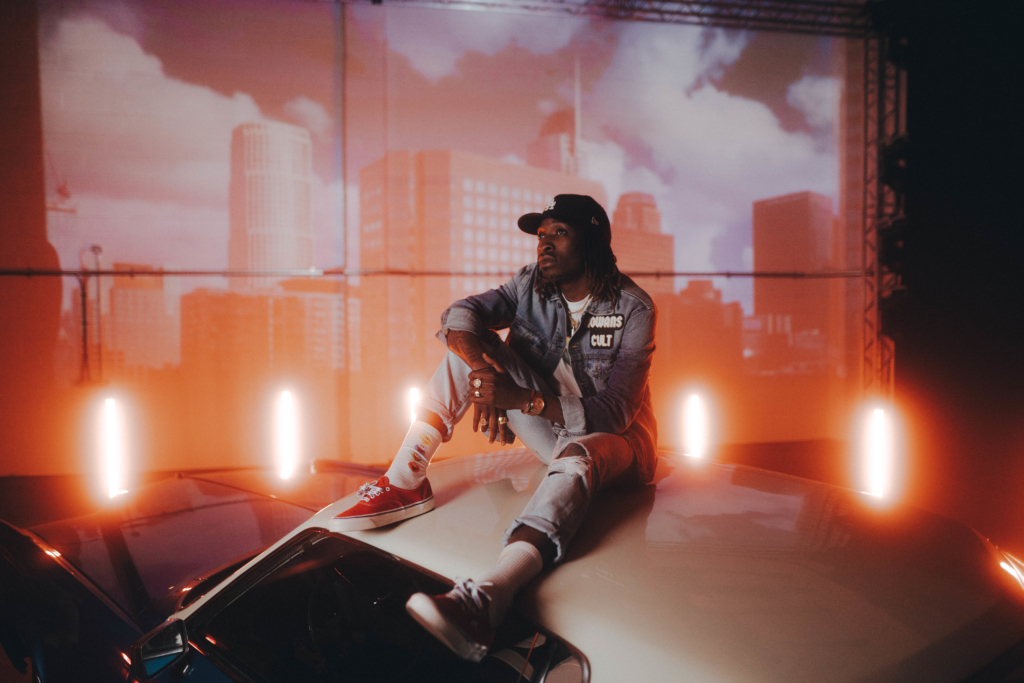 Scottish rapper and producer dubbed as one of the most exciting artists around right now by Amazon Music.
There's something to be said for the sheer level of talent currently coming out of the UK's hip hop and R&B scenes. The quality is not only impressive, but the popularity and success of certain artists underlines the fact that the UK music industry's 'next big thing' will not necessarily include straight white men with guitars. In Scotland, this is perhaps most visible in how varied both the SAY Award and the SAMA shortlists were, and in rapper-producer-DJ Nova's big SAY Award win. There have been plenty of hip hop and R&B acts pushing through the noise in Scotland this year and coming out on top, and the latest to join this elite club is Zimbabwe-born, Edinburgh-based Sean Focus.
Earlier this year, Amazon Music launched +44, described as a brand dedicated to "spotlighting the best UK Rap, R&B, Grime, Drill and Afrobeats". As well as providing a curated playlist of key artists within these genres, the brand is all about creating a space for the amplification of both the genres and the artists behind them, drawing attention to the innovation currently taking place in those areas. As the only artist in Scotland to be selected for their newly announced Development Fund, Amazon Music has dubbed Sean Focus as one to firmly keep an eye on in 2021 and beyond. To celebrate the achievement, Sean has recorded an exclusive session for Amazon Music and is also the star of his own billboard which has been unveiled in Leith.
"My management put me forward for the Development Fund they just launched and they loved the music." Sean says of the +44 platform. "It's really good to see a service that benefits from our culture so much giving back and they have been incredible so far. I'm excited to build with them this year. It's kinda crazy, I'm now working directly with one of the most powerful brands in technology!"
Previous names to be tipped by +44 include 2020 MOBO award-winner Headie One, and BBC Music Sound Of nominee PA Salieu, and Sean is both thrilled and hugely appreciative to be included this time round alongside Anais, Br3nya, Keedz, Murkz and Queenie.
"I feel blessed to be on their shortlist especially being the only artist in Scotland. It kinda makes all the hours of work worth it, to be on the radar of such a big company and their editorial team.
We've only just started but already we work amazingly together. The launch with their huge series AUX Cord which has had the likes of Abra Cadabra and Dutchavelli on it has made my DMs go crazy. Then they kindly gave me my own billboard in my city on Leith Walk. It's been mind-blowing so far.
"I've got some exciting singles dropping in the first part of next year," he continues, "starting with my next one 'Mulholland Drive' on 29 January. Amazon helped me get the video together; trust me it's crazy! I can't wait for everyone to see it. Then it's go go go and hopefully as restrictions ease up, I'll be able to travel, do shows, work with artists and keep releasing music."
Any artist currently sitting on new music is itching to get out and play to crowds again but Sean is also grateful to have had the time to focus on perfecting and finalising new projects.
"I think 2020 for any musician has been a shock to the system." He explains. "My thing was recording, hitting the clubs, shows and getting the energy from there to go back to the studio and cook up more music. I've really missed that but at the same time, it allowed me to spend time on music, uninterrupted and build up my record label Imvaize. I'm dying for a live show; that's definitely my one thing I cannot wait to get back to. We have some really cool festival slots already in place for next year in the UK and Europe; that's my fuel for the fire right now!"
With his electric fusion of hip hop, afro-pop and dancehall, Sean utilises the sounds of his modern day influences alongside his Zimbabwean heritage to create something that is full of energy, rhythm and real fire. Having been championed by BBC 1Xtra's DJ Target, Apple Music's Charlie Sloth, Capital Xtra, Reprezent Radio and BBC Introducing, plus having supported the likes of Young T & Bugsey, J Hus and more, +44 is just the latest in the young artist's list of achievements. As well as introducing new audiences to his sound in 2021, he is also keen to further emphasise the strength and diversity of Scotland's hip hop scene by developing his label.
"I love where the hip hop scene in Scotland is right now. I regularly work with artists from across the country from Ransom FA to India Rose, who just won a SAMA a few weeks back. There's definitely a community building and it's growing. I'm looking to build a studio for Imvaize in the new year to have a base to create with artists across the cities."
Listen to the exclusive freestyle performance of 'You In My Way' now.