Truth and Trust – Correcting the Record and Andrew Neil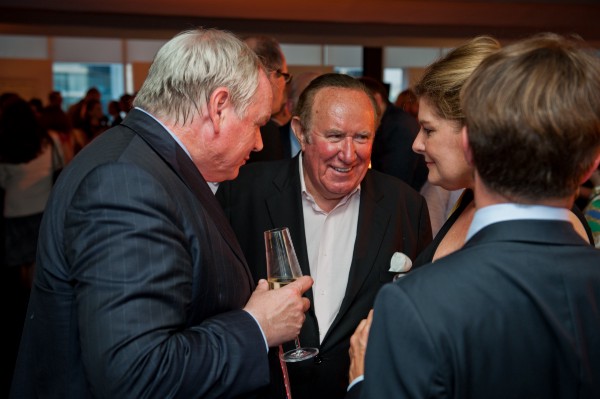 I'm a student of history and I know that truth isn't always easy to identify, but when the truth is observable then it must be shared correctly. Any misrepresentations should be corrected, especially when the person doing the misrepresenting is a figure who people will trust. Sadly, Spectator TV host Andrew Neil, someone who has built up a trusting audience through his years of broadcasting under BBC partiality rules, needs to offer a correction over his comments about the Scottish Government and the Oxford/AstraZeneca Vaccine.
I was watching the most recent episode of The Week in 60 Minutes on YouTube and while I disagreed with much of the right-wing analysis, including that of the recent insurrection at the US Capitol, I don't mind that. How could I? Analysis is fine and subjectivity is OK too. It is important to broaden the analysis and views you see and hear. However, I draw the line when it comes to the distortion of facts. And sadly, that is exactly what happened when host and Spectator Chairman Andrew Neil took aim at the Scottish Government over the Oxford/AstraZeneca Vaccine.
In his own words, "It is interesting that the Scottish Government doesn't refer to the Oxford vaccine. It refers to the AstraZeneca vaccine."
He continued sarcastically, "I wonder why? I will just leave that to ponder in the air."
Unfortunately for Andrew Neil, he is wrong and is therefore misleading the viewers of Spectator TV. The Scottish Government, in press releases and official publications, does refer to Oxford when talking about the vaccine. Does it do it all the time? No, it does not, but then neither does the UK Government who refers to the vaccine as "the AstraZeneca vaccine". Again, not all the time, but the point is clear to see.
Andrew Neil's assertion was false, and that is a problem. When it comes to analysis, we can all differ and that is legitimate and right. It is important for people to air their opinions, but facts and truth are important also. The integrity of an argument should be based on facts. Of course, it is no secret that Andrew Neil is critical of the SNP government. He has criticised them on Television, in print and on Spectator TV. It is his right and I defend that right. It is perfectly legitimate and fair, until the criticisms are provably false as this example is.
I can't speak to whether Andrew Neil knew he was deliberately misrepresenting the truth of the matter, or if he was the victim of human fallibility. What I do know is that the viewers of Spectator TV deserve a clarification and correction. This is important because Neil is seen as "forensic and unbiased" by lots of the people who consume his content and follow him on Twitter. One glance at his Twitter timeline and you will see lots of retweets of praise from his fans.
In a 2017 tweet about "passport fake news" as Andrew Neil tweeted:
"Those who've tweeted about the £500m cost of changing passport colour should delete their tweets and correct the record."
He was correct then and the same now applies to Andrew Neil and Spectator TV. It is important that Spectator TV corrects the record about the Scottish Government referring to the Oxford Vaccine. It should also be pointed out, for balance, that the UK Government does not always mention Oxford when referring to the vaccine.
Why should this throwaway jibe matter so much, you might ask? Well, like it or not, Andrew Neil has a reputation built on his years at the BBC. This, at face value, gives him a credibility which is a powerful tool. When he spreads misinformation for whatever reason, it is more likely than not to be taken as researched and correct. It is therefore important that there are checks and balances, and that he is called to account for falsehoods in the same way he calls out others.
I'm reminded of Scottish Football broadcaster Archie McPherson using his celebrity profile to spread falsehoods to pensioners during the 2014 independence referendum. That was damaging to the independence campaign (the extent to which is open for debate) and damaging to the truth. McPherson is totally entitled to oppose independence and the SNP government, as is Neil. But what they are not entitled to do is to spread misinformation. It is particularly egregious when it piggybacks on trust they have built up with the public.
Neil has tarnished the trust his audience invests in him by misrepresenting the facts and, as Neil likes to tell others, he should correct the record. For the sake of his reputation, credibility and, most importantly, the truth.
Links to sources:
https://www.gov.scot/publications/letter-to-presiding-officer-and-msps-on-the-approval-of-the-astrazeneca-vaccine/
https://www.gov.scot/news/roll-out-of-astrazeneca-vaccine-gets-underway/
https://www.gov.scot/news/approval-for-new-covid-19-vaccine/
https://assets.publishing.service.gov.uk/government/uploads/system/uploads/attachment_data/file/948335/Information_for_UK_recipients_COVID-19_Vaccine_AstraZeneca.pdf
https://www.gov.uk/government/publications/regulatory-approval-of-covid-19-vaccine-astrazeneca