Poem of the week : The Rain in Cushendall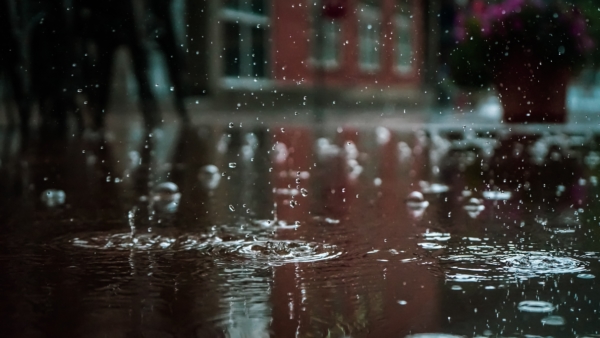 (a poem with a hat tipped to The Rain in Portugal by Billy Collins)
The Rain in Cushendall,
pot plump, runs as if fleeing a trap. Racket mongering
in language stone auld; cheek chiseling—
someone once kissed it with their eyes,
went blind. Stout pearls
prang onto each protruding tongue
daft enough to taste it, skin bearers left reeling:
tongue cannae bruise—cin it?
Full metal jacket rain, porridging the soil,
missiling into Cottage Wood's darkest fissure.
Rain to rattle the rhododendron
out its floral hubris, slake the thirst
of every tentacle, gush the sycamore's nest
of knots. An Irish hare
with two dead legs limps beyond its shooting range.
A direct hit will wreck a chip, six
will flood an open supper; pothole to a puddle in ten
savage seconds. Yet never
has it blasted fierce enough to stop Kearney's Fleshers
slicing rashers or Johnny Joe's filling pints, so as
—warm bellied squelch socked—local seers
might moot the weight in it:
whether it warbles, carries grit,
whether the graves are listening
Michael Pedersen is a Robert Louis Stevenson Award winner, a John Mathers Trust Rising Star of Literature, a Canongate Future 40 and a Callum McDonald Memorial Award finalist. He has two chapbooks under his belt and two collections, published by Polygon books – his most recent illustrated by Scott Hutchison of Frightened Rabbit. Michael co-founded the prize-winning literary collective Neu! Reekie!