Dream State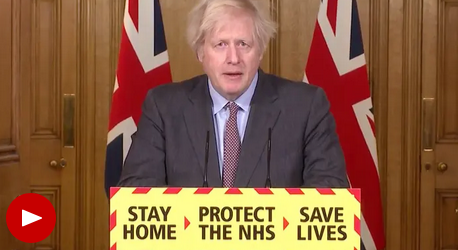 100,162 deaths from COVID. We know it's really much more than that. It's death on a scale we can't really conceive and it's made so much worse by the knowledge that there will be no consequence at all for any of this for those responsible.

Our bumbling Prime Minister stumbles out some barely coherent lines, and it goes on.
The Prime Minister says he's "Sorry for every life lost".
This is devastating failure and behind it we know there's lurking another pandemic, the one of untreated illnesses swept under the carpet, the one of loneliness, anxiety and depression.
We end January with our polished shiny hands and our curly locks but our minds crumbling. Many people have referred to a "covid wall" that they've hit in the last few weeks. The cumulative strain of just keeping going, the relentless lack of human contact, the ludicrous task of parenting, the economic stress, and the tedium have all combined to make this bit feel unmanageable for many.
It now has a dream-like quality. Time seems to have altered some of its features, days seem both long and short, a year has flashed by and it's all the same – but also very different.
Nobody's talking about Banana Bread any more.
Talk of appreciation of bird-song is rare now.
Relationships falter and crack under the pressure. Businesses fold. Industries collapse. The background thrum of endemic corruption continues. The daily reporting of death surrounds you like a fog. The rage and bitterness of Brexit fades as the dumb realities of it roll out in all their dysfunctional glory. Scottish impotence dawns on an angry but exhausted population trying to get through each day.
With all of this the route-map out remains stubbornly vague apart from some mumbling about vaccinations and an ever-extended lock-down. I think we must all know that lock-down will just be extended until significant numbers of the whole population are successfully vaccinated. That may be many months.
A few weeks ago there was talk of it "all being over by Christmas".
Next year maybe.
There is a yearning for a collective experience that is physical not mental. There is a yearning for leadership that has some sense of credibility. There is a yearning for a vision of a future beyond this that isn't predicated on the ridiculous idea of just returning things to how they were before. Yet all that people speak of is the old and the familiar. The ability of all of us to kid-on that this is all fine has been stretched beyond its usual mundane delirium.
Why is it so bad and how do they away with it?
We can point to the governments endless failure and corruption, their instinct to put political advantage over public interest, we can point to our own – as a society's – complete inability to give up our 'rights' for a public collective good. We can point to the lack of testing, to late lockdown, to the Christmas fiasco, to the bizarre un-checked constant international travel.
But the truth is also that the virus landed in a country already riven with ill-health and with extreme social inequality. These things are intimately linked. If you follow the pattern of the virus it's surge is visible in our poorest communities. This is a country disfigured by poverty. That's the simple reason why we are "world leading" in death.
How do they get away with it?
Because we don't have a functioning democracy.
Because as a country we don't have the requisite powers to control our borders.
Because we (sic) are gripped with exceptionalism and triumphalism rather than an appropriate humility and pragmatism.
Because we are obsessed with carrying on as normal in the face of extraordinary tragedy and death.
Because we (sic) prioritise our economy over our society.
Because as a society we are strategically incapable of co-ordinated action as a result of decades of privatisation and encouragement of hyper-individualism.
Because in the face of unimaginable crisis we always go for the most ameliorative – lowest possible intervention we can – rather than respond with the radical urgency required.
Because we are powerless to protest under the conditions we face.
Because the opposition is feckless and useless.
Because we are powerless in the face of failed elite rule.