The Narrow Road to the Deep North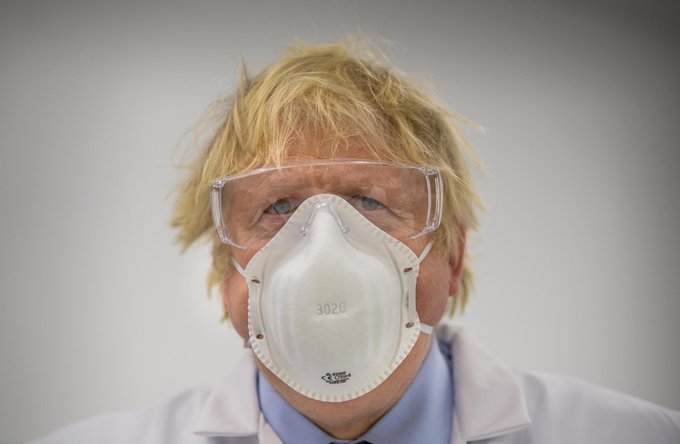 THE NARROW ROAD TO THE DEEP NORTH: From The Province of the Cat by George Gunn
The SNP have published a road map to independence. Boris Johnson has taken the high road North to talk up the Union. He also has a roadmap. Tonight a full Moon hangs in the Eastern sky. The Far North of Scotland is covered in ice. I scratch my head at the absurd wonder of it all.
In my cartoon mind where I publish my own newspaper and comic there are two headlines – both different, both the same. "Boris Johnson comes to Scotland" announces the newspaper. "Bojo's comin! Bring oot yer deid!" shouts the comic. One is factual, the other is truthful.
In 1689 the Japanese poet Matsuo Bashō set off on his epic journey of discovery which he turned into the great poem "Oku No Hosomichi" or "The Narrow Road To The Deep North". "The spirits of the road beckoned me, and I could not concentrate on anything.", the poet tells us at the beginning of his seminal travelogue. So off he goes, to the "deep North", to explore both his country and himself. At one point he comes to a place where there is a mysterious Killing Stone.
"The Killing Stone stands in dark mountain shadow near a hot spring. The gasses emanating from the rock were full of poison still. So many bees and butterflies and other insects lay dead in heaps around it, you couldn't tell the colour of the sand." (Translated by Tim Chilcott, 2004)
As I write this the total dead in the UK from the coronavirus is 102,000. 1,725 died yesterday. By the time you read this that daily number will probably have increased. As this pandemic literally moves through us we have gone on a collective journey from tragedy into catastrophe. From catastrophe we now enter into the realm of the absurd. Everything about this pandemic is absurd. The way we live our lives is absurd, in as much as what we expect to consume (which is everything) and where we desire to travel for pleasure (which is everywhere), with no concern for the consequences. This is absurd. The way the UK government has handled the Covid-19 crisis has, from the beginning, been absurd, and becomes more absurd every day.
Unlike Bashō in Japan Boris Johnson in Britain is not coming to Scotland to discover his country or himself – or to visit the Killing Stone. He is the Killing Stone. If we are not careful we will become the heaps of dead insects obscuring the colour of the sand. It does not matter where he goes or what he says to whom. The result will be the same. Dead bees and butterflies.
Scotland is not Boris Johnson's country. Boris Johnson is his country. He stands before the TV cameras almost daily trying to summon up sincerity from somewhere, but he cannot find it because it is not there. Like all the others of his class and breeding his education, life experience and intimated levels of expectation make it impossible for him to display empathy towards his fellow humans. To have empathy, at base, you will have a cultural background where sympathy and kindness are seen as everyday acts of normal and necessary interaction. Psychologically, in such a culture, you are programmed to embrace co-operation and mutuality as the required implements of social existence and human intercourse. Because such implements have never been required by the members of his class, where everything in life is provided, the Prime Minister of the United Kingdom finds it impossible to feel anything for anybody other than himself. When he stood up and told the television cameras how sorry he was about the 100,000+ deaths he was sorry: he was sorry for the fact that this disaster has occurred while he was unlucky enough to be the sitting Prime Minister. He was not sorry for the dead or their families, he was sorry for himself. That is how the ruling class are hot-wired. It is pointless to expect them to act differently, more humanely, because they cannot. They have been conditioned to believe that the point of life is to benefit oneself. Which is why they are clueless about what to do about the coronavirus pandemic, the Brexit fallout and the breaking up of the United Kingdom.
In the house journal for British constitutional confusion and despair, the Guardian, Martin Kettle tried to articulate his version of the absurd from the Southern end of the Narrow Road. (25.1.21),
"Ministers (of the UK government) say they recognise the immensely delicate issues involved. The Tory mind instinctively fears this is a Pandora's box that could empower separatists from Caithness to Cornwall. But the Tory bottom line is also that they would now lose a zero-sum contest. They cannot appear as if they are arrogant colonial masters, says one minister. So the reform path, however difficult, must be followed. It is an enormous risk, and time is running out fast."
What is absurd about that is the idea that the "Tory mind" will follow a "reform path". Tories, with or without minds, do not naturally embrace reform. Their underlying objection to Scottish independence is that they want everything to stay as it is. Which is impossible. The "reform path" they envisage is a raggedy road littered with a virtual set of abstract changes which amount to nothing more than lightless light, soundless sound and tattered flags blowing in the insincere neon wind. Their "narrow road" is so extreme it is only a pixel wide. Just watch and listen to Ruth Davidson at First Minister's Questions when she rises like a Jenner's mannequin to ask questions she does not care about only to receive answers she does not understand. Or is that the other way around?
As a "separatist" from the "deep North" of Caithness I, along with many of my fellow Gallach's, are desperate to join – re-join, or at least to join in – in the collective task of creating a new emergent Scotland. A country where we will be safe from the "Killing Stone", within or without the Prime Minister of the UK. Everything he says and does is meaningless but fatal. He may walk along the Narrow Road but he will ever get to the Deep North.
The shrinking world forced upon all of us who are constrained by the rules of the present lockdown makes the idea of journeying anywhere absurd, however delicious it might seem or be. The world we currently inhabit is one of absences. It used to be thought that only God makes human actions meaningful in an absolute sense and if there was no God actions and states of mind in the world have no ultimate meaning. If this is so – was so – then life is absurd. Many on the left might argue that the Tories are, in fact, evil. Some septs of Christianity might try and persuade us that the pandemic is justification for believing in the existence of evil. The Killing Stone come to life. There are others, more philosophical perhaps, who would say that there is no sophistry that can ever make sense of why bad things happen to nice, innocent people. You could also save yourself a headache and just accept that the world is beyond understanding, and the best thing you can do is to worry about other people and how we can protect and support one another. In other words living your life is more important than knowing what it means. Yet, as Simone du Beauvoir put it, "We must all answer for everything to the world at large." Or as Boris Johnson has said, "Now is not the time". Either for an enquiry into the disaster of his government's management of the Covid-19 outbreak, or a second Scottish independence referendum. Or anything difficult, in fact.
So what can you do to make human sense out on an inhumanly meaningless world, ravaged by a killer coronavirus? The simple answer, I would suggest, is – stay alive. This is not so easy as you might think when the British government is doing its best to kill you. As it stands the Narrow Road to the Deep North as followed by Boris Johnson leads to a sheer cliff. I wish I could say that Dunnet Head will be the place where the remit of this most reactionary, corrupt and incompetent Tory administration ends and where an inclusive Scottish republic begins. One day I dream that I will be able to do so. To hang onto a vision is hard at the best of times (and these are the worst of times) and even more so when the structure of time itself can simultaneously fall apart and morph into "lockdown time", when the days of the week change their names to "this day, that day, the other day, the next day, what day, one day and some day". This is the calendar of the absurd.
The problem for our new Scotland is not just in clearing up the wreckage left by the pandemic but in coming to terms with the nature of the Narrow Road that got us here: all the decades of austerity, unemployment, industrial destruction and thieving of our national wealth cannot be undone just by having Sir Keir Starmer and his new version of old New Labour in power in Westminster. To implement the idea of Britain careering over Dunnet Head requires some revolutionary thinking as well as direct action. Roadmaps, eleven point plans and formless gestures will not make the oligarchs, hedge fund gamblers and squire-ocracy who sit in power on the green benches in Westminster quake in their boots. Likewise they underwhelm the Scottish people. To counter change, such as a second independence referendum leading to independence, the UK government cite the current state of the Covid emergency, and that everything must wait until it is over. That it is too risky to do anything else. A risk to whom, you may ask? The reality is that amid the hot moving plates of political tectonics the emergency, Covid or otherwise, is never over. Right now even an effective leadership would appear revolutionary, as would a real workable proposal from the Scottish government to address the democratic deficit and to take control of economic resources. Is this a risk? What is there to lose except more of the same British Killing Stone?
At the end of my Narrow Road to the Deep North I would want to find a country where it is the people's government who take the risks in the development of everything, including new technology and medicine. This would be a society where markets are seen as a set of rules for trade that can be re-written and not some mystical realm where only wizards dwell. In this new republic the idea of government as business and the outsourcing of services would be understood for the corrosive and destructive practise it is. How sweet it would be to have a government that would naturally go in the direction that would benefit society as a whole and not just enrich individuals. Brexit, the Covid response, austerity, benefits cruelty, inequality and cronyism: these are our sour UK realities.
In his marvelous epic Basho, a master of Haiku, noted that
"Even a thatched hut
May change with a new owner
Into a doll's house."
In the Deep North where I live the Tories have a history of burning down our thatched huts and forcing us to live on rocky outcrops in the sea. Maybe our revolution will be more in tune with Michelangelo, who said that he carved angels out of marble to set them free.
Much as it grieves us we might have to accept that independence for Scotland is a long road but, as the saying goes, "It's a lang road that disna turn". A long road, yes – but it doesn't have to be narrow, or endless.
©George Gunn 2021