The Multi-Cultural Baking and Cooking Project + Titi's Jollof Rice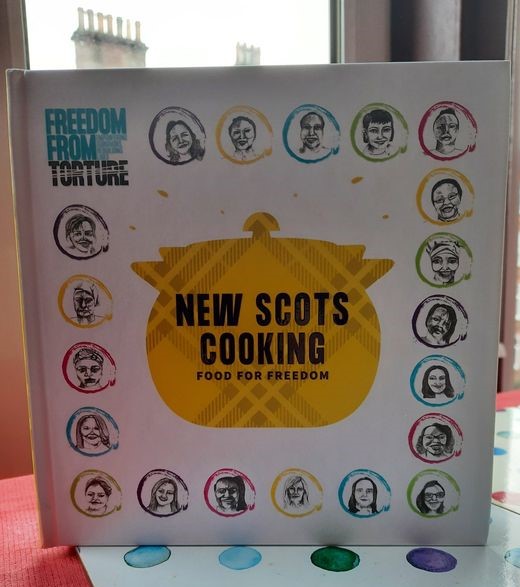 This week I had the pleasure of talking to Giacinta, Ahlam and Angie, who helped put together the "New Scots Cooking: Food For Freedom" cookbook, a collection of stories and recipes published and distributed by Freedom From Torture and Healing Neighbourhoods Glasgow. They talked me through their incredible Multi-Cultural Baking and Cooking Project, and how food can be used as a tool for empowerment.
SWK: How did the project start in the first place?
Pre-pandemic, it was tradition within our women's group that we had some food, either brought by us as staff or by the members themselves. And that was a great starting point, because it was a chance to share a recipe or even just to taste something from another culture, and that would then be a way to start further discussions. So from that, as the women were showing so much interest, we decided to do a proper project, and that's where the Multicultural Cooking and Baking idea came along.
It was all about sharing food, culture and joy, while also encouraging everyone to expand their tastes and experiences, and so while it did start as a casual thing where the women would just share recipes and write them down in notebooks, we realised that we would miss out on certain small things due to linguistic and culinary cultural differences, so we decided to focus on putting something more official together.
SWK: Did you have specific goals in mind with the project?
It was never just about the recipes and we wanted the focus to be much more on togetherness, making food, eating and sharing our collective spirit. To be honest, the project was just a tool in order to create a space and an opportunity for the women to feel empowered to open up, participate and show off what they can do.
Also, we believe that through cooking together we can acknowledge that we do all have our differences, and also that we're all able to offer something to each other.
SWK: How did you find the process of having to adapt to the pandemic?
In the beginning one of the challenges was just making sure that everyone showed up on time, which normally wouldn't be a worry, but because we didn't have a dedicated physical space it was easier for people to get sucked into doing other things, so we'd have people being outside and holding their phone or doing a bunch of things all at once, and because of that it was harder to feel like we were in a cohesive group again. It was through this project, really, that everyone began to get focused, just because cooking and being in the kitchen and eating is so innate to who we all are, it's such a part of everyone's life, and so by encouraging discussion around that it got everyone more centred.
Also, before we continued with the recipe book we wanted to try to get a sense of how the women were feeling and doing emotionally with lockdown, so we worked on making a collaborative logo which recognised our experience of the pandemic, which also became part of our wider health and well-being programme. You can see the logo on the back of the cookbook, along with the new "stay home and connect" phrase.
SWK: Was there anything that particularly surprised you that came out of the workshops?
(Giacinta): One of our members talked about a soup that she used to make and she gave us a beautiful story about how the recipe came from her husband's family, who were from a different ethnic group to her, and how it had become one of her favourite recipes, but that she felt unable to make it here because she didn't know where to find the right grain. And then one of our other members said "Wait a minute – we use that in our culture as well" and it turned out that even though they called it something different it was indeed the same ingredient and that this other woman was then able to direct her to a local shop where it could be bought – it was just this amazing moment of connection between two women from different cultures!
(Ahlam): For me, it was a surprise just how invested the women were. When the lockdown happened we as staff didn't really know what to do, but it was the women who said that they wanted to continue the project online. It was a reminder of just how strong the women are and how they're so determined to break any and all barriers to participation.
(Angie): We first started this whole community project in 2017, and from then we've been trying hard to shift mindsets from experiences of trauma and torture to more positive skills and talents. So for me, it's surprising, in a really good way, to look back and think about just how far we've managed to come since then, and how the women have grown in confidence and felt empowered to lead.
SWK: There's a jump from workshops to putting out a cookbook and having to undertake all the work that goes into the admin/publishing side of cookbooks, what inspired that jump?
It was the women in the group who wanted to expand it. They wanted to share their recipes to a wider group of people in the community, because they could see the power that comes with writing and documenting recipes. We have women from all over the world, members from Africa, the Middle East, but at the same time we also have women who have less of an individual cultural connection to other members, just because they may be from a completely different country or part of the world. But this project helped everyone to equally contribute, because suddenly there were no differences between people – we were all just women cooking and eating together. So we saw women blossom and become really active, which was incredible for their mental health and well-being.
Also, by allowing the women themselves to lead the project, we were able to empower them to take on more of a leadership role, which was so beneficial to their self-esteem. We actually had some women who joined the group during the lockdown, who hadn't been part of the original group, and maybe we had never met in real life before or there were language barriers there, but even then they wanted to contribute recipes and stories. It's a big step just to join the group, because it can be hard to engage with any group at all when there are mental health concerns or negative past experiences, so from our perspective this whole project helped to make the group even more successful and sustained.
SWK: How do you support the women to take those first steps towards engaging with the group?
It's not an easy process, because a lot of the time there are traumas there. But we work hard to prepare them beforehand, and to make sure it's a low-pressure environment where everyone is given permission to be themselves. We want to give them confidence and show them their own potential and to let them know that we are here to support them, not just us as staff, but other women as well. This is why it's so important to include the women themselves in the activity-preparation and organisation.
SWK: I love how the cookbook is flexible with things like Imperial/Metric measurements, allowing each cook to express their ingredients and recipes in whatever terms they feel comfortable with – what influenced that decision?
One of the things about the recipes is that the women have been making them for ages and that they've been passed down or spread by word-of-mouth, instead of from a recipe book, so because of that the women have never used specific measurements. Instead it's just been a pinch of this or a dash of that. And then as they get passed through time it becomes even more instinctual, sometimes maybe you don't even need teaspoons or tablespoons, the women just know how much of an ingredient to shake into a dish. So one of the challenges was trying to figure out a way to translate all that into writing for people who had perhaps never heard of the recipe or the ingredients before.
SWK: What do you hope for the future of the group?
We were established to help women connect with each other as part of the wider Healing Neighbourhood project. So we'll be doing more of everything and anything that we need to, following our human rights based approach principles of participation, accountability, empowerment, legality and anti-discrimination.
One of our women said recently that every time she feels down, she goes back to the recipe book, and looks at her picture and her story and her recipe, and that it helps her to feel calmer. It's become another tool to help with emotional well-being. So we will keep looking at ways to help develop these kind of tools, in whatever way we need to.
—
I had the great pleasure to cook one of the recipes from the cookbook, in this case Titi's Jollof rice, which I highly recommend!
Titi's Jollof Rice, from New Scots Cookbook: Food For Freedom
Serves: 10
Region: Nigeria
This is a traditional dish cooked for weddings. According to our chef, "if you get married without it, something is missing!"
Ingredients
400g tin of tomatoes
400g tomato paste
1 sweet pepper
1 large onion
4 Maggi cubes
4C rice
1tsp curry powder
3-4C chicken stock or water
4tbsp cooking oil
1 hot Scotch Bonnet pepper (optional)
Method
Wash the rice. Bring the rice to a boil and add Maggi cubes and half the oil. Let cook on low for approximately 45 minutes.

While rice is cooking, blend together tomatoes, sweet pepper and hot pepper (if using) in a medium bowl.

Place the other half of the oil in a large stock pot on a medium heat.

Add chopped onion and tomato paste. Stir these ingredients together until they become a brown colour. About 10 minutes.

Add the blended ingredients and cook together for another 5 minutes.

Drain the rice completely and add it to the mixture in the pot.

Add chicken Stock/Water and simmer everything together, covered, for 30 minutes.

Serve hot on a plate with plantains.