Self-Determination: Where We Are, Where We Were

I don't know about you but I rarely meet someone who I'd consider genuinely 'wise'. In our squabbles and over-hyped grievance culture wisdom seems like a rare commodity.
In 2014 RIC organised one of several huge congresses that represented the high-point of the Yes movement. They were unprecedented in scale, ambition and scope, bringing together thousands of people in one space, international, dynamic and radical in a way that Scotland had arguably never seen before. The apparent demise of RIC (challenged by some) represents a turning point, a further demise in the unity and optimism of the movement at the very point where we face the opportunity of success. The scale of this ambition, both politically and practically, should be remembered, both as a marker of how far we have fallen, and as an aspiration for where we need to be.
In 2014 I was privileged to be on the same platform as Bernadette McAliskey at an event that if my memory held 3000 people at the SECC in Glasgow. I remember Adam Ramsay being insightful and funny and self-deprecating and McAliskey astonishing me by saying that we – the Yes movement – had embarrassed Sinn Féin into realising the true message of a democratic and peaceful movement for self-determination.  You can see the full programme here.
As we stand as a movement riven by division in-fighting and factionalism it's worth recognising the scale of this success, and the contribution of Cat Boyd and Jonathon Shafi and many many others who organised it, whatever differences you (we) might now have. RIC would go on to not just organise mass-scale events like this but more importantly to organise in housing estates and working class communities across Scotland to engage people who had historically been completely alienated from politics.
The programme was hugely ambitious. Whatever my own contribution was it thankfully wasn't recorded, but Bernadette McAliskey's was, and it's worth recalling so that we can see what was achieved and what can be aspired to.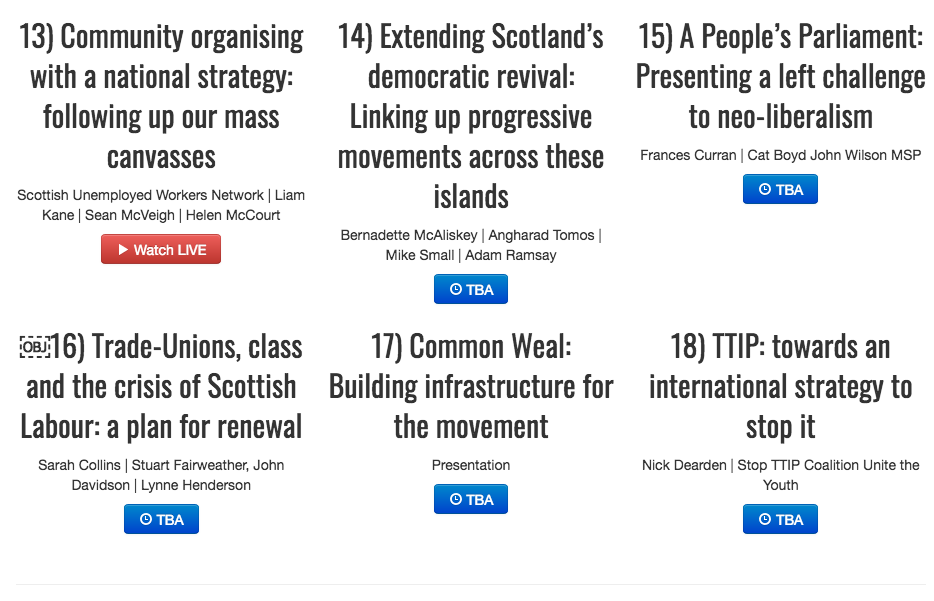 She was very funny, insightful and inspiring. We should watch her speech here and reflect on what we've lost and what we need to reclaim, in whatever form we can. It was a lesson in humanity, unity in diversity, solidarity and vision. She told a story of how the left could work with movements for self-determination and how:
"one of the very big things you have taken back is that the question of self-determination is a fundamental democratic issue … it's a democratic issue for individuals … the right to self determination is the same question as the right for a woman to control her own body without someone else legislating … the right to self-determination is the same question as workers organising themselves to ensure a fair share of the wealth that their labour produces … I think workers should own the means of production … and I cant get my head round why that's an 'extreme' position … "
The need to re-position Scottish independence as a struggle for self-determination and re-claim it from the petty and the reactionary has never been clearer.
Watch it and consider how far we've fallen and what we must retrieve: