Better Than Zero: Organising Against Precarity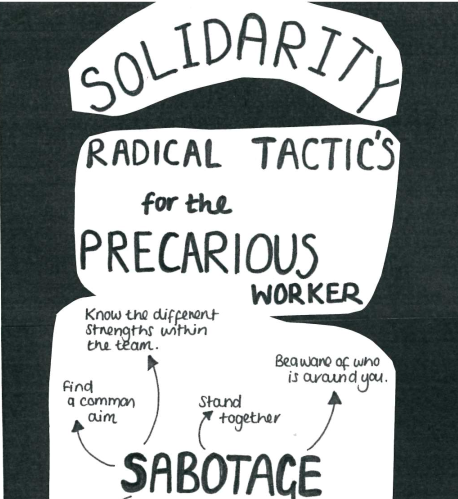 From the gig economy to zero hours contracts, from warehouse workers to online delivery drivers people are facing new forms of exploitation. Maria Elena Carpintero Torres-Quevedo starts a series of reports looking at tenant protest, trade union organising and community resistance as people fight back.
"There's a crisis of precarious employment in Scotland," Tam Wilson, organiser for Better Than Zero, states categorically. Tam is one of a number of young people that got involved in the Better Than Zero campaign after the 2015 Independence Referendum. The campaign, supported by the STUC, harnessed the energy that came out of the referendum and used it to tackle precarious and casualised employment in areas with low union density.
Tam affirms that precarity isn't just a problem with big employers; zero-hour and agency contracts are increasingly deployed in the public sector and by small businesses. Better Than Zero works to shift the narrative about what this means; the problem with these contracts isn't merely the lack of set hours and a guaranteed income, but that "there's that lack of control and that lack of power that [people] have when they're on that zero-hour contract because they're less inclined to challenge things within their workplace. They're less inclined to ask some of the questions that should be asked about making things more productive or making things better for their fellow workers."
Within this context, Better Than Zero aims to build workers' confidence and provide them with the tools and tactics to collectivise their demands within specific workplaces or sectors. It helps workers decide on a strategy and carry it out by writing letters, talking to the media, and organising actions. While Better Than Zero does encourage people to join trade unions, Tam is clear that "it's just a step on the way, rather than it being the entire goal".
The campaign works with people who aren't familiar with trade union structures or how they operate in the workplace, offering training events and different forms of worker education. For example, Tam describes a course called "Take Control" that uses whole worker organising and Jane McAlevey's techniques of leader identification and workplace mapping to teach workers to build power.
Tam notes that some of these programmes and longer-term campaigns have had to be set aside during the pandemic because of the rise of urgent cases. People are reporting being asked to work on-site to fulfil online orders without covid restrictions in place. An ongoing campaign to improve precarious call centre workers' health and safety conditions reveals that they are being denied PPE. Tam notes that "they've never even heard of the risk assessment. They're saying that sometimes they're going to call centres and you wouldn't even know that there was a virus." Similarly, several hotels in Glasgow applied for government grants to sustain themselves and, as soon as that money came in, fired their staff. Tam explains that, while other countries had stipulations for government grants that ensured employers keep on a percentage of their staff, the same wasn't true in Scotland.
In response to these cases, Better Than Zero has helped precarious workers, who often have scarce legal recourse, secure PPE, get furloughed, or claim money they were entitled to after being fired, all while keeping an eye on long-term strategy. Tam states that "The issues with zero-hour contracts and precarious employment existed prior to the pandemic, but the pandemic has exposed the fragility of these contracts. And I think we can use that going forward to help shape what the recovery looks like." This has been no easy task; he laments that workers have become increasingly reluctant to stick their necks out in situations where they can be identified as individuals.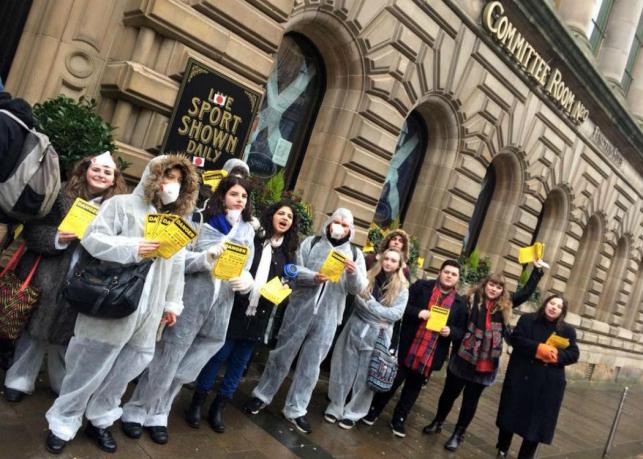 Tam describes the way that rising unemployment is eroding everyone's labour conditions: "although people might not be getting the money that they're due or they don't think they're being treated in the right way, they're still getting some money from their workplace, and they know how hard it is to find a job like right now". He says it's harder to build trust over text, especially with people who are new to organising. But despite these challenges, they've still been able to help people secure significant victories, and he can see the rising number of trained up activists that will be able to put their organising skills to use after the dust from COVID settles.
"I think it's easy to be quite doom and gloom about what's happening" Tam states, "but this has also been a really politicizing moment for a lot of young people. Whether we're talking exclusively about the pandemic or whether we're talking about Black Lives Matter or whether we're talking about housing stuff that Living Rent is doing, I think a lot of young people have found their voice politically, or are wanting to find their voice politically." There's no doubt that Better Than Zero have and will continue to play a considerable role in this. Their narrative framing, as well as the training and the elevation of worker voices they provide, will be essential in shaping a recovery that centres the needs and rights of workers.
The hope that these lessons will empower workers to fight for a better future rather than returning to "normal" is already beginning to bear fruits. Tam's face lights up as he goes on: "the future of the trade union movement in Scotland is looking a lot brighter now than it was a couple of years ago […] there was a real risk that the trade union movement could die if young people weren't engaging with it." Better Than Zero is ensuring that that isn't the case: "[because of] the way that we have been pretty clear cut in our organizing approach, in terms of prioritising organizing rather than providing service as an approach toward trade union activism, there's a whole host of great organizers now coming through."
Get in Touch
If you're interested in organising withing your workplace, you can contact Better Than Zero on Twitter or Facebook. They'll either connect you to an existing campaign or support you in forming a new one. You don't need any previous knowledge or experience.