2000s School Disco Playlist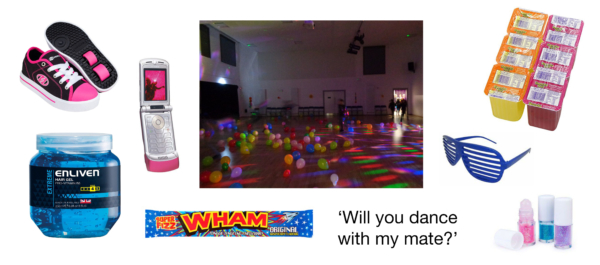 Up until now, my monthly playlists for Bella have demonstrated my refined and impeccable taste. I am nothing if not a connoisseur, an aesthete, an authority. However, today, I am going to let myself down …
Something spectacularly terrible happened to pop culture in the early 2000s, and much like I am startled by photographs of my mother's, particularly spherical, 1970s pudding-bowl haircut, I am certain that future generations will be rightly troubled by the fashions of the new millennium, with its penchant for chunky highlights and lilac eyeshadow, tinny eurodance music and rom coms with questionable attitudes to consent.
I was in single digits at the time, and didn't have the capacity to know any better, but in retrospect, I have a few questions – like who allowed low slung jeans, that most misogynistic of all trousers, to be in fashion for so long? And at such girth? What was children's TV's obsession with gunge all about? Against all odds – and because time is an ever-tightening gyre – certain facets of today's youth are already pioneering a noughties revival. However ill-advised this might be, I have some sympathy for the rose tinted, rimless glasses.
It was a simpler time. Pop culture was cheap and disposable fun, expressing much less of the existential angst and concern with injustice prevalent in today's mainstream. Even the whine-core of emo culture feels charmingly melodramatic and vainglorious now. Additionally, the internet was still a 'thing that one did' for an hour in the evening (see Habbo Hotel, Bebo, MSN) and hadn't yet developed into the all-encompassing, doom-laden death knell that it is today.
Anyway. Why am I saying all this? Well, if you hadn't noticed, things have been pretty dreary for a while now. My life has been reduced to a series of stoic, solitary walks, and I am pining ever-so for colour, conviviality, communal dance, carefree fun! It is an odd task, being an arts and music editor in a time where very little art has been able to take place, so in the absence of any real inspiration I have decided to do like my Gen Z counterparts and self-indulge in some early 2000s nostalgia. Travel back with me, to a time when we all had our hands in the air, and we just didn't have a care.
As synonymous with the noughties as the Sims, Jacqueline Wilson and dresses worn over jeans for me is the school disco. That is why I have chosen to model my sentimental playlist on the likely soundtrack of a school disco of the time, making me, I suppose, the DJ. It is two and a half hours full of sugary shite pop, giving you plenty of time to knee slide across the kitchen, before the lights come up and you wait awkwardly for your mum to arrive with your Helly Hanson jacket. I would recommend playing it on shuffle, so that the surprise slow dance song will be as unforeseen as in days of old. Enjoy!