Scottish Tech Workers: Organising the Tech Sector in Scotland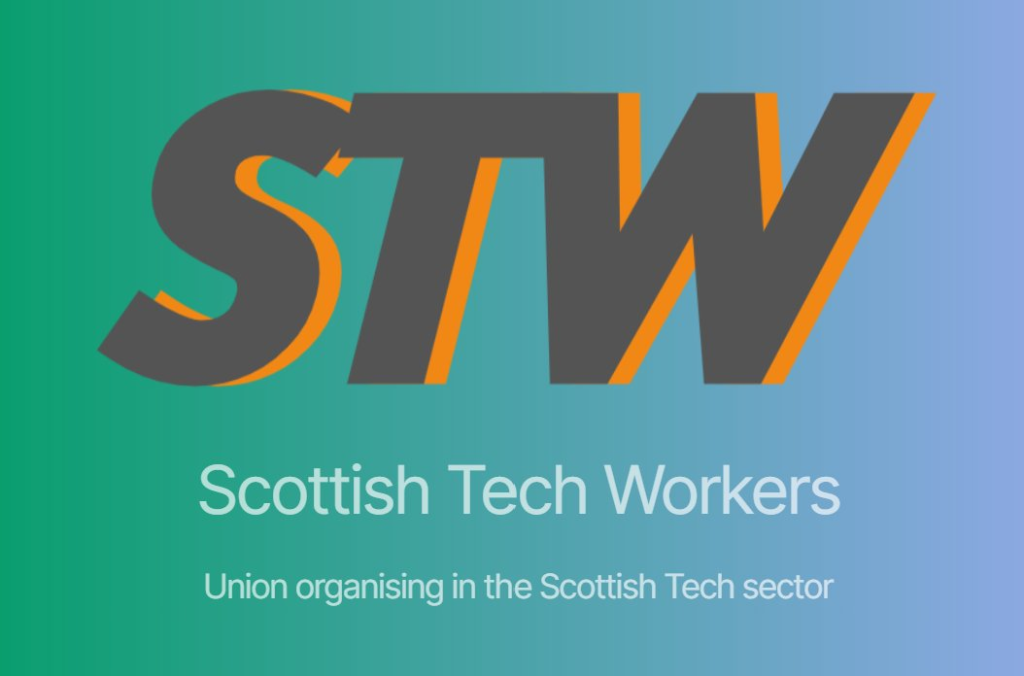 When most people think of tech workers unionising, they think of Silicon Valley. But Scotland has a booming tech industry of its own and, with it, organisers working to ensure it doesn't fall into the same exploitative conditions as its American counterpart. Mike is one of those organisers.
Mike explains that tech in Scotland is "the least unionised industry, second only to hospitality." He notes that this is related to a particular culture within tech work that looks like a revolution in employer-employee relationships, but isn't: "famously, or infamously, tech companies have all of the table tennis tables and free beer and things like that. But, as soon as they start to scale, a lot of that goes out the window. And those are very surface-level perks that don't necessarily translate to work flexibility or equality of pay, or the traditional issues that unions would organise around."
Mike works with the Scottish Tech Workers campaign, funded by the Union Modernisation Fund and supported by the STUC and the trade union Prospect. The campaign came about because of this low union density and because the rise of tech jobs in Scotland has not yet been met with adequate worker protections. For example, Codebase in Edinburgh is a tech incubator, host to hundreds of small companies, a vast portion of which receive funding from the Scottish Government – 1.3 billion pounds just through the City Region Deal. None of that funding, however, is tied to the Fair Work Framework or directed towards protecting workers' rights.
"Scotland is one of the first places that a lot of international tech companies move into to establish a base", Mike explains, adding that "it's different from a lot of other tech hubs in that its draw isn't founded on tax breaks." He emphasises the importance of keeping it that way and working from the ground up to ensure that our tech industry works for the people of Scotland, rather than for the profit of companies; stating that, with the UK Government telling people to "'work in cyber" whatever that means […] it's important to establish Scotland as a worker centred tech base rather than as a kind of tax haven tech base". This work will shape not just how the industry develops for Scotland, but the influence Scotland has on the tech industry globally. Mike notes, emphatically, "as these companies grow and move to new locations, either in the rest of the UK or the rest of the world, unionising at the beginning can have such a compounded effect."
While Scottish Tech Workers endeavour to influence the global culture of tech work, they're also combating the culture the sector has imported from Silicon Valley, one of exceptionalism wherein workers see their labour as inherently politically powerful but rarely exercise collective power as workers. Mike comments on the pervasive use of terms like "disruption" and "revolution" within the tech industry, warning that all too often, these intentions lack grounding in material analysis: "You have to be so careful [about] which parts [of society] you think of us broken, and what narrative you think has made those parts break". While he believes tech workers have the power to create political change, he insists this has to come from their power as workers.
The culture that encourages workers to identify with companies, rather than labour, is key to disguising the inequalities that permeate the sector. Mike explains that, rather than standard pay bands, tech workers often receive a set wage that is then supplemented with bonuses, which make up a huge portion — up to 50%– of a worker's "real" wage. These bonuses are tied in part to a sense of individual success and to how the company is doing in terms of stocks or sales. This is a problem for two reasons. One is that, in an industry where workers are discouraged from discussing pay, these bonuses can change because of reasons that aren't made clear to the workers. This masks pervasive illegal inequalities within workplaces along the lines of gender, race, and disability; "[Scottish Tech Workers] did a survey last year that showed that there was still a huge amount of hidden but implicit, sexual and racial discrimination within the tech companies in Scotland". The lack of transparency also functions as "a massive anti-union tactic because it keeps you absolutely beholden to the good graces of the company". The other problem is that it ties individual workers' sense of self-worth to the wellbeing of the company; it creates conditions wherein, as Mike observes, workers want "to think of themselves as a disrupter and as an individual and part of a meritocracy in which they themselves have to create the status of their own success".
Scottish Tech Workers is combating both problems by "redefining that idea of a worker and how it can be reclaimed in the tech sector" and working to build a "collective understanding of how to succeed and what that means to succeed with each other." They hold regular meetups, support people organising within particular companies, and work on ways that freelancers with specific skill sets can develop collective bargaining power. They also provide training and education programmes, including McAlevey-style mapping and charting, which they refined through Strike School, and teaching workers "how to have those introductory conversations with fellow workers about organising. Giving them tips on what those difficult questions might be– common answers and then common questions around that." This has been hard since lockdown hit; "it's a lot more difficult to get people to make that kind of time commitment over Zoom in quarantine…. you don't have that same buzz of the initial organising conversation– when you get someone to meet you in a cafe or a park or a pub, and they literally cross that threshold between being kind of open, to being interested."
Still, over the past year, their work has been more necessary than ever. The pandemic has revealed what Mike and many others already knew: that tech is not immune to the regular forces of the market. "It was a real wake-up moment where, as they started to put some people into furlough or as they just started to get rid of people, it burst a little bubble," he says. Those still working face their own problems; working from home has only served to highlight and widen pre-existing inequalities in the sector, which is especially concerning since companies are rapidly deciding to give up their office leases permanently. Mike notes that this is a problem especially in "a lot of Scottish cities where the housing stock is primarily tenancy based, and also in tenements"; the problem of space, which brings with it the problem of caring responsibilities, is exacerbated in the tech sector, where a lot of work is tied to non-disclosure agreements that bar workers from carrying out their work in the same room as someone else. This is compounded with the increased cost of high-speed broadband and the enormous amounts of electricity associated with the necessary computing power of many tech jobs, a responsibility now placed on the shoulders of each individual worker. Working from home also aggravates the pre-existing problems the industry has with work-life balance.
In this context, Scottish Tech Workers are developing a Manifesto for Home Working addressing these issues. They've also capitalised on the advantages our current circumstances afford; "as soon as tech companies either started to move to work from home, we started to run a whole bunch of Health and Safety seminars, and we were doing them two or three times a week. They were filling up each time just for people who wanted to get the basics on what they are entitled to legally." Many of those conversations hard led to workers getting involved in organising and unionisation. At the same time, Scottish Tech Workers' education programmes and organising have expanded across all of Scotland, and they've been running events with organisers globally. They've been engaging with Code CWA in the US, who helped workers at Alphabet and Amazon unionise, as well as Union Global in Switzerland and Unionen in Sweden. Mike is clear on the importance of this and the commitment to "make it clear that the tech worker movement is a global movement."
The commitment that Scottish Tech Workers have shown to shaping the future of tech into one that is more attendant to the needs of its workers and their communities is already starting to pay off. Mike notes that "we've got quite a few companies who are just kind of slowly building up members in a really healthy way," though he is clearly invested in going further than that. He explains that they're getting people not just to unionise but to engage with unions and sculpt them into what they want– to move away from a service model into something more democratic and powerful. They're working towards a vision of the Scottish tech industry that is "led by workers and what they want and what they need."
Get in Touch
If you want to get involved with Scottish Tech Workers, you can attend one of their meetups, follow them on Twitter, or email Mike at [email protected] or Sarah at [email protected]