Reporting from the Glorious Wilderness of the Land of Haggis and Bagpipes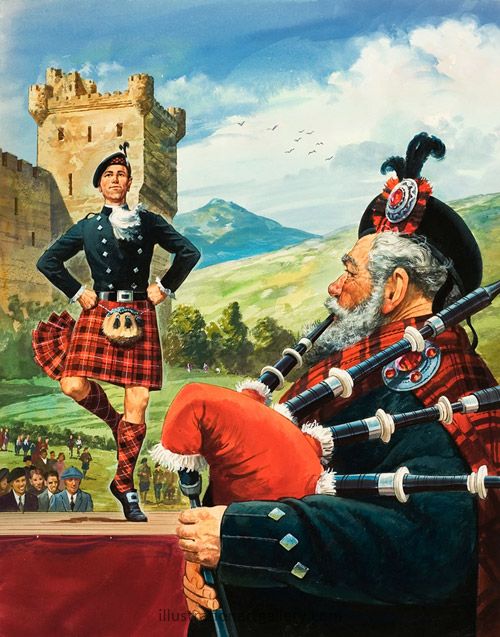 Another week another slew of articles announcing the imminent break up of Britain.
From Simon Jenkins (Boris Johnson can't rely on internal feuds to derail Scottish independence – Guardian):
"Anglo-Scottish relations are heading for an almighty crash and Boris Johnson cannot look the other way. By the time he has finished in office, it is perfectly possible that Scotland will have gone the way of Ireland in 1922 and Northern Ireland will have voted itself back into the Dublin fold."
to Max Hastings (There Will Always Be an England, But Not a U.K. – Bloomberg):
"… the collapse of old industries hit hard the land of haggis and bagpipes. Its disappointed people have found ever more to dislike about the English, and especially English Conservatives, foremost among them Prime Minister Boris Johnson. They resent the English landowners who, since the days of Queen Victoria, have come to holiday in the wildernesses of the Highlands, shoot grouse and deer, fish for salmon and trout, and patronize the natives as tartan peasants."
to Chris Deerin (The End of the Affair –  New Statesman):
"Not so long ago Mike Russell, the SNP president and constitution minister, privately boasted to the Australian high commissioner that a second Scottish independence referendum would be held in late 2021. It's easy to imagine Russell, the kind of character one imagines has a fireplace portrait of himself reclining in leopard skin, luxuriating in the role of global player, mere months away from rocking the world."
to Ben Thomson (Only Home Rule can ensure future of Union – The Times): "It is a dangerous long-term strategy as by trying to cling to as much power as possible at Westminster there is a danger of losing it all. If we can learn from the mistakes of history then one would be the lost opportunity of home rule for Ireland at the end of the 19th century."
to Camilla Cavendish's (A new constitutional deal would avert the UK's break-up – Financial Times):
"…something needs to be done. One answer would be to introduce a new Act of Union: a much crisper settlement with clear accountabilities. This would define the UK as a unitary state with suitable powers devolved and with due respect for each nation's identity."
to Alex Massie performing for his boss (sponsored by Charles Stanley Wealth Managers).
Cavendish it should be noted is Baroness Cavendish of Little Venice, and former Director of Policy for David Cameron.
HOW BRITAIN ENDS
Whilst there's a sort of Unionist Fungasm about internal disputes (see Deerin's masterclass) there's also mass chaos in their understanding. The trigger for this outpouring is twofold, the dawning realisation that Boris Johnson's Ministry for Saving the Union is in deep trouble, and the publication of Gavin Esler's 'How Britain Ends, English Nationalism and the Rebirth of Four Nations'.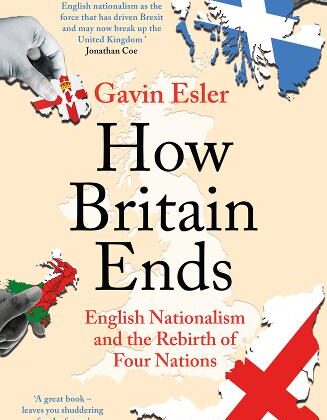 Esler's book gives a respectable 'alarm call' to a process that most would happily slumber through. Hastings writes: "A new book by a respected former BBC correspondent, Gavin Esler, asserts that "Britishness is dead." In "How Britain Ends: English Nationalism and the Rebirth of Four Nations," Esler, a Scot, writes: "Brexit is both a symptom and also now a cause of the widening cracks in the union."
A Scot!  But the right kind of Scot. A blizzard of opinion polls, landslide elections, hundreds of thousands on the streets all mean nothing at all, but a BBC chap! Hang on, somethings afoot!
Esler, who stood for Change UK in 2019, the fleeting home for orphaned centrists, gives credibility to the constitutional crisis for Unionists content in their Brexit victories and triumphant at Johnson's crushing electoral majority. For Hastings (who was one of 200 public figures who were signatories to a letter to The Guardian opposing Scottish independence in the run-up to the 2014 referendum, including Ronnie Corbett, Gloria Hunniford and Kirstie Allsop) Esler's book and the coming elections have been an epiphany: "I have loved Scotland all my life, and still spend several weeks a year in its glorious wildernesses. I understand why the Scots feel sore toward us … Separation could happen. Scots voted decisively against Brexit. They fiercely resent having been dragged out of Europe by the arrogant English, as they see it. They believe that Europe would readmit an independent Scotland, perhaps even welcome it, as a snub to British Brexiteers."
KILTED CELTS
The marvel of the Anglosphere worldview that sees the whole world circle around England is on full display here, but the sense of Establishment Britain waking up is palpable even if the analysis is painfully and comically bizarre, Hastings again: "If Scotland breaks away, it will be largely a consequence of English arrogance and folly. But for those of us Southerners who love the kilted Celts almost as dearly as we cherish our own people and land, such a parting will be bitterly painful."
Chris Deerin has, we're told, been on a political journey towards considering independence as an option. Here, Deerin pours over the travails of the independence movement and the internal disputes of the SNP. It reads like a man thankful to withdraw from the trajectory of history, redeemed from the democratic urges that have tempted him.
Ben Thomson in The Times is perhaps a more credible figure. Observing Boris Johnson's centralising energy "taking greater control over the NHS, wresting back power from local government over Covid and ensuring that responsibilities once held by Brussels are subsumed by Downing Street, suggest a government determined to rule from the centre."
But he's also aware that the Union Unit is in perpetual crisis, noting Luke Graham's removal and his replacement by Oliver Lewis, a 'staunch Brexiteer'. He also notices that the UK government has this month resisted publication of Lord Dunlop's report on devolution commissioned by Theresa May.
But Thomson clings to the idea of Home Rule as savior for the Union, comparing the predicament of Scotland's relations with the UK wit that of 19th C Ireland stating: 'the great Irish debate that culminated in the second bill of 1893 was not about independence, it was about home rule."  This idea that a Home Rule compromise can save the day is nurtured by many media commentators though the details are always a little sketchy, as are the political delivery mechanism.
Thomson's political history seems a little vague when he skirts around some harsh truths saying: "None of us would want the relationship that the rest of the UK had with Ireland for the first 50 years of Irish independence." Well, quiet.
DEVO MAX (AGAIN)
If Hastings account of the state of the nations is a cartoon of elite buffoonery and cliché, Thomson's is more subtle. It is, inevitably, the re-tread of Devo-Max:
"There is another way: Scottish Home Rule. Give Scotland full control over domestic matters and the fiscal powers to finance them. Leave defence, foreign affairs and monetary policy with Westminster. If we are to have another referendum, which seems ever more likely if the SNP does well in the May elections, then let's give the public a proper choice and not just between the two centralist options. Home Rule or its equivalent such as Devo Max should be the third option as proposed in the negotiations before the 2014 referendum but rejected by David Cameron."
Thomson's vision is a quaint one and he suggests this is a model that works in some of the most economically successful countries in the world "such as the US, Germany, Canada, Australia and Switzerland."
But while Switzerland united a patchwork of cantons, none of the other examples is remotely analogous to Britain's uniquely uneven asymmetric national make-up, and the case for Federalism remains fatally flawed from this basic fact.
It is also difficult to take seriously the claims for "more democracy" when everywhere we look we see abject contempt for it.
As Gerry Hassan writes reviewing Esler's book. (Who will speak for a democratic England in the break-up of Britain?):
"The current Tory Government is using the cover of Brexit and COVID-19 to embark on a dramatic reconfiguration and centralisation of powers in Westminster and England in particular. This can be seen in the UK Internal Market Act with huge consequences for Scotland and Wales, which the Institute for Government said "could place tighter constraints on devolved policy making". There is the potential scaling back of the remit of the Supreme Court to aid unchallenged Westminster 'parliamentary sovereignty' with all that entails."
Esler's book is thoughtful and insightful about the need for there to be a debate in England about its future role, identity and constitution. But this seems impossible without a platform for such an internal dialogue, without an alternative to a civic nationalism being hijacked by the far-right and with the political scene being dominated by British nationalism and post-Brexit triumphalism – even (especially) in the face of pandemic collapse and crisis. In this context the "wake up" of hacks and grandees is contained within their own myth-making and their own echo chamber of smug self-satisfaction and profoundly anti-democratic sensibilities.